Back

By Liam Messam
Bledisloe mediator
Some people might find this crazy, but retaining the Bledisloe Cup is just as important to the All Blacks as winning the World Cup.
We've dominated Australia over the last two decades but apart from the odd blowout, most of the matches have been pretty close affairs.
When I was first a part of the All Blacks for a Bledisloe Cup match – a few years after I made my debut for the national team – it actually blew me away at how much onus and importance was placed on the Bledisloe.
From the outside looking in, you could almost think that beating Australia would lose its lustre but it absolutely never felt like that when you were inside the camp. The Wallabies have been dying to get their hands on the Bledisloe and I can't even begin to imagine how terrible it would feel to finally give the trophy up.
My first time watching the All Blacks play live was in 2001. I was playing for the New Zealand secondary schools side against an England team and we were the curtain-raiser for the Bledisloe Cup game in Dunedin, so we got to watch the big event after our match had finished.
Just a year earlier, John Eales had made that kick from the sidelines to keep the Bledisloe in Australia and us young guys watching from the stands – Jerome Kaino, Luke McAlister, Joe Rokocoko – were hopeful that we'd see NZ mount a challenge.
Unfortunately, things didn't go our way, and a pretty exceptional performance from Matt Burke meant that the trophy was going to be staying in Australia for another year.
It was awesome being at that match, even if it didn't fall our way – but you could feel the All Blacks' disappointment after the game. That was also the first time I ever saw the big fella, Jonah Lomu, in person – and that's an experience all on its own.
As a player, I was lucky enough to never taste defeat against the Wallabies, but they did hold us to a draw in 2012.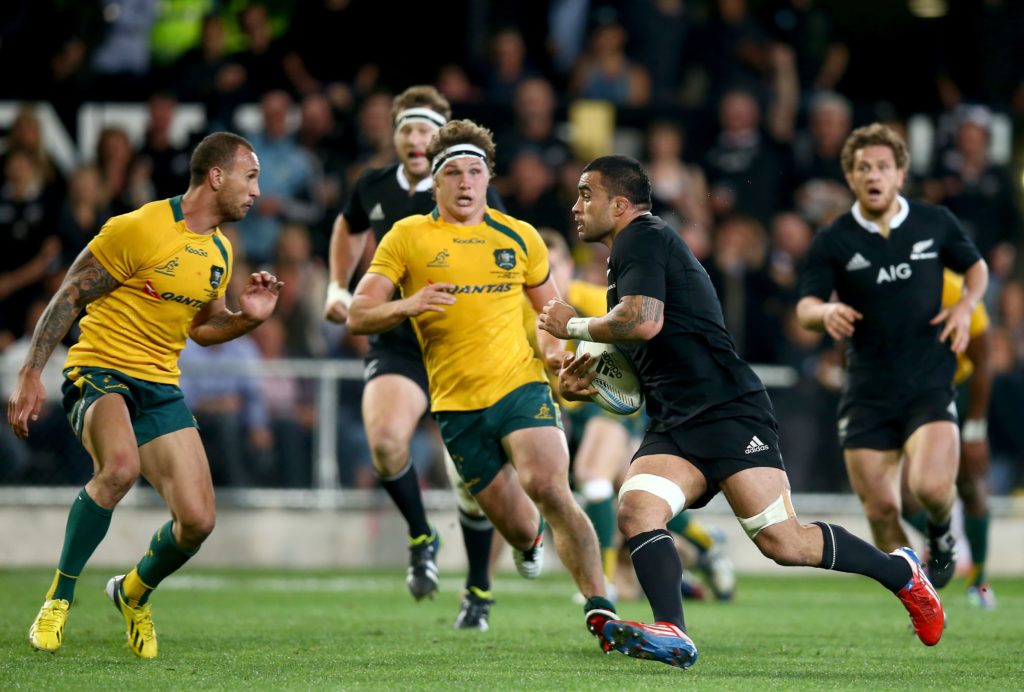 That was incredibly disappointing because it was Keven Mealamu's 100th match. It was gutting that we couldn't get one over for him because he's such a great human being and he's done a lot for the All Blacks legacy and jersey.
You never play the game for the milestones. It's never about you, it's always about the team – but the team are always making it about you, if that makes sense. I still do remember that game quite fondly and the week leading up to it because of the occasion and what it meant for us as players because Kevvy was a great man doing great things.
I should probably also shed some light on what happened when we played against the Wallabies at Eden Park in 2015 – although I wasn't actually in the matchday team.
Just a week earlier we'd been turned over in Sydney so there was a lot of hype heading into the match because the Bledisloe was on the line – and it was also going to be the final home game for guys like Richie McCaw and Dan Carter.
I was asked to be waterboy for the match and I'd always prefer to be jogging along the sidelines than sitting in the stands so naturally I said yes.
We were obviously a little bit on edge because of how important that game was. At one stage of the match, around 30 minutes in, there were some fisticuffs on the pitch and I ended up in the middle of it.
I got a bit of a dressing down by the media after the match and the team was also fined – 'if you're not supposed to be on the field, don't get on the field' was the pretty clear message dished out from SANZAAR.
Everyone thought I was just easily wound up or that I had a problem staying out of fights or something ridiculous, but not many people knew that I was actually given the word from upstairs to get myself involved.
I probably shouldn't say who delivered the message, but one of our players was getting a bit too hot-headed and you could see that he was being goaded by the Wallabies. I think the coaches were worried that our guy was going to throw a punch or something.
It was early, but still a really crucial moment of the game and this little scuffle was unfolding when I hear in my earpiece: "Hunger, get in there, stop them!"
It was early, but still a really crucial moment of the game and this little scuffle was unfolding when I hear in my earpiece: "Hunger, get in there, stop them!". It started out kind of calm but then they started shouting: "Hunger! Get on the field!".
So I jumped on, tried to get between a few guys and basically just keep any of our men from doing anything stupid. Thankfully, we won the game but yeah, I did get thrown under the bus a little bit afterwards.
Funnily enough, I've never been asked to do that again! Even if I do get asked, I'll just take my earpiece out and say, "Oh, sorry. It must have gone flat."
With new coaches in charge of both teams, it's going to be really interesting to see how the Bledisloe matches go this year.
I'm really looking forward to seeing how Dave Rennie goes with the Wallabies, because he's not had a long time to get the team prepared thanks to the coronavirus.
The Wallabies are always very smart in the way they play the game and manipulate defences. They're very well-drilled and very skilled, they work hard and they never stop, they just keep coming. Australian teams will always get stuck into you and you can't underestimate their physicality, even though they're very sound and very smart in what they do, technically and tactically.
Rens will just make them that much more deadly. I had a great relationship with him when he was coach of the Chiefs and although I want him to do well, I still hope we stuff the Wallabies.
Even if my brother or my best friend was playing for Australia, I'd still be cheering on the All Blacks all the way.
It's always good to get one over our neighbours, it's in our DNA.
More stories