Back

By Steffan Thomas
All Blacks motivator who drove Dai Flanagan into the Dragons lair
When Dai Flanagan was offered the head coach role at the Dragons one of the first people he rung for advice was former Scarlets boss Brad Mooar.
From the outside the Dragons job is viewed as a poisoned chalice, one of the least attractive roles in professional rugby, and there aren't many people who could argue against that view while keeping a straight face. After all the stats don't lie; the Dragons have regularly finished near the foot of the United Rugby Championship table, and its predecessor the PRO12/14 for years, while they only won two games all season. What made their latest campaign even darker was they fact they failed to win a single game at Rodney Parade, which would have seemed inconceivable a decade ago when Paul Turner was shown the door.
So why should Flanagan, who had a year left on his Scarlets contract, not simply stay in Llanelli as Dwayne Peel's assistant, and wait for a better offer to come along? All Blacks attacking guru Mooar, whose infectious personality endeared the New Zealander to all he met during his short stay in Welsh rugby, had an alternative view.
"Brad asked me, 'what is the opportunity?' I replied the opportunity is how good it would feel to turn this place around," said Flanagan.
"He then asked me, 'what does success look like?' My reply was to be better next week than we were this week.
"His final question was, 'do you feel as if you can make a positive difference?' Having thought long and hard the answer to that is yes."
The negative narrative from the rugby community surrounding the Dragons is understandable, but a quick scan over their squad for next season offers a glimmer of hope. They have a stronger front five than at least two of the other Welsh regions which has been reinforced with the recruitment of English Premiership second-rows Sean Lonsdale, and George Nott from Exeter Chiefs and London Irish, respectfully, along with Wales props Rob Evans, and Rhodri Jones.
They have capable players littered throughout their squad with the likes of Ross Moriarty, Taine Basham, Sam Davies, and new signing Sio Tomkinson.  It's been suggested there needed to be a counterbalance to Ryan's more draconian methods, with Flanagan playing the role of the good cop.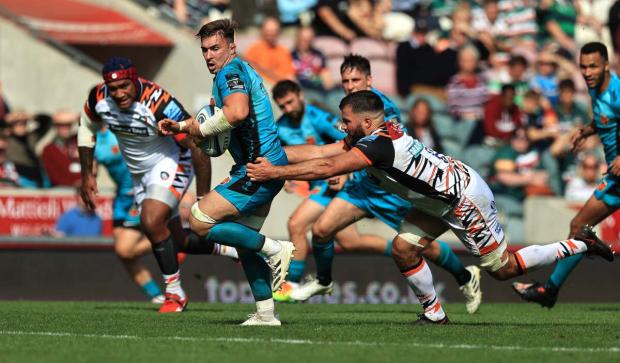 "Brad told me it's not about what you say to the players it's about how you make them feel," said Flanagan.
"At the Scarlets he'd always make players feel good, and he'd always get players to reach their potential. Brad used to say coming into training was like being in Disneyland every day.
"One of my biggest pet hates is when players start calling it work. It's not work. You play rugby for your club, and you want to be the best player you can possibly be.
"I make sure that I push players, and I have a subtle way of doing that. Another pet hate of mine is players who give up on themselves I ask players never to give up on themselves because they only have a short career.
 "There's nothing to say the way I demand high standards that I won't read the riot act and I think that dynamic betweeen me and Dean will figure itself out. All I can say is that me and Dean have had some really good conversations over how we see things, and the more we can align the better. It doesn't have to be the same, mind you. For example, me and Dwayne (Peel) saw the game differently while I was at the Scarlets.
There's no doubt the Dragons have some of the best young talent in Welsh rugby, but this is nothing new. Since the inception of regional rugby, they have always provided many players to the Wales age grade sides

Dai Flanagan
"At the tail end of the season it worked very well where he could come in and coach what he loved, and he could hand over the rest to myself, and I'd be passionate about that. We bounced off each other.
"That's how I want things to work like here." There's no doubt the Dragons have some of the best young talent in Welsh rugby, but this is nothing new. Since the inception of regional rugby, they have always provided many players to the Wales age grade sides, but this hasn't filtered through to the first team as much as they would have liked.
At the Scarlets Flanagan was the man in the shadows, the coach the players would approach when they needed help or advice on how to improve specific aspects of their game. Prior to the days of Covid-enforced zoom press conferences the man from Penallta would often be seen out on the Parc y Scarlets training pitch long after sessions had finished helping individual players with their extras. The former Pontypridd, Cardiff, and Ospreys outside-half is hugely respected by the players but his challenge at the Dragons is stepping out of the background to become the main coach, the man who shapes their style of play, and has a greater say on selection. What excites Flanagan most about this squad is the amount of raw talent at his disposal, and the hope is the former Scarlets coach is the right fit to nurture the considerable talent coming through their academy.
"I know these kids as well which is important because I've worked with them earlier in my career," he said.
"I recruited Jarrod Rosser to Newport High School, and then Dragons under 16s picked him up but then I had to leave because the Scarlets job came up.
"I worked with Rio Dyer at Newport Schools under 15s, Aneurin Owen I worked with as well. I also worked with Sam Davies at the Ospreys when he was coming through the academy.
"I've got good relationships and hopefully the way I do things can help those boys get better. One of the proudest moments for me was watching Tom Rogers win his first cap for Wales because the work he has put in since he was 16, and the number of setbacks he had along the way. All it took was people backing him, and he was able to fly. Hopefully, I'll be able to do the same for the Dragons boys. Aneurin Owen is somebody who can really drive this region forward.
"When I worked for Wales under 20s there's two players who I thought could push Welsh rugby on and that's Sam Costelow, and Aneurin.
We've gone from a situation where we had zero investment to one of the best invested in academies because the growth from within this region is probably as important as any recruitment opportunity

Dean Ryan
"I'm really intrigued to be part of Aneurin's journey and helping him fulfil his future. Working with Will Reed also really excited me. I want to coach him to what he can be not what he currently is. He's a kid but could he be a Welsh international number 10? That's where I want to take him."
While positive results have not been forthcoming on the field of play director of rugby Ryan has been busy working behind the scenes to put this organisation on the right track. Whether his plans ever come to fruition is unclear but the former England No 8, who previously held the role of head of international player development at the Rugby Football Union, has made improving the academy, and the transition of players into the senior side a priority.
"We've gone from a situation where we had zero investment to one of the best invested in academies because the growth from within this region is probably as important as any recruitment opportunity," said the former Gloucester and Worcester boss.
"I see a combination of those two as an opportunity for us to improve year on year. We are pretty lucky to have a few individuals in there who are going to be with us for a long period of time.
"There are also three or four individuals from the academy waiting in the wings. We've got to make sure that it's year on year, and it requires investment.
"It also requires as a region us prioritising staffing levels in those areas. It requires us to build relationships to make sure player plans are suitable.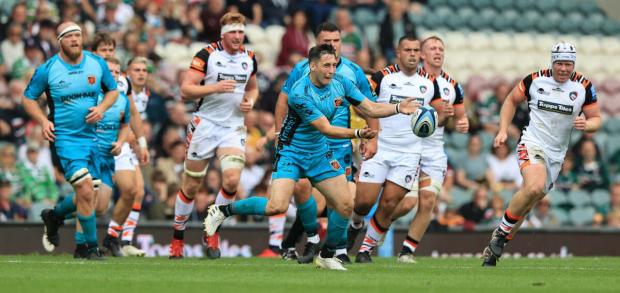 "We've seen Will Reed's growth this year in tandem with Newport and Matt O'Brien's (Wales under 18s coach) support. That's the model, and you definitely need the right pieces at the beginning with a player like Will, and the more growth we get from within the easier it will be to improve.
"I think we need to improve the Welsh Premiership, and we are light years away from England in terms of investment into Academies. One of the reasons I'm excited about Dai's appointment is he has the ability to get the best out of our younger players and push them forward."
Ryan is a different type of character to Flanagan with the former British Army corporal, who also sits on the clubs board, refusing to get carried away with the potential strength of the Dragons squad next season. He is quick to point out the Dragons, who are owned by the Welsh Rugby Union, have the lowest playing budget out of the four professional sides in Wales, while he also urges supporters not to expect them to start beating the likes of the Stormers or Leinster overnight. Ryan is pragmatic, and realistic enough to know turning around an ailing club like the Dragons will take a significant amount of time, and a lot of work behind the scenes. One of the biggest barriers facing the Welsh regions when it comes to improvement is the clash between URC fixtures and test rugby. Privately many involved in regional rugby are asking the question whether having too many Welsh internationals on the books actually lowers their chances of success given the length of time these players spend with the national side. Ryan was conscious of this when it came to recruitment, and he believes there will be a better balance in the Dragons squad next season.
Being able to recruit as we are, especially Rhodri Jones and Rob Evans, has added significant experience to what we are doing. It has also added a significant amount of power and stability

Dean Ryan
"It's been very difficult because it's no doubt our scrum has struggled, and that's eroded a lot of the stuff we have done well over recent years," he said.
"Being able to recruit as we are, especially Rhodri Jones and Rob Evans, has added significant experience to what we are doing. It has also added a significant amount of power and stability.
"A lot of our best players are away with Wales for large parts of the season. That's great for them but we lose a lot of stability when this happens which does hamper us a bit, and that leaves us exposed.
"Even though a lot of the players who come in want to get back into the Wales squad I would hope that our squad is a lot more stable throughout the season specifically around the front five. I've tried to add more experience and depth around that area because it's hurt us so bad. Injuries aside I think we will be more stable next season which should allow us to improve week on week."
Putting financial pressures to one side, arguably the biggest challenge facing the Welsh regions in the URC is the introduction of the South African franchises. The Dragons along with Cardiff, the Ospreys, and the Scarlets were struggling to compete long before the Bulls, Lions, Sharks, and Stormers opted to leave Super Rugby for the Northern Hemisphere. But now they find themselves even further behind, with Welsh rugby facing the insurmountable challenge of how to compete with the size and power of the South Africans.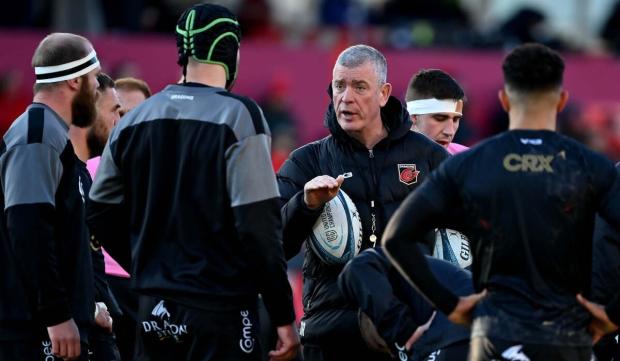 "That's a strategic conversation for the whole of Wales," said Ryan. "That's about investment, academy, and playing philosophy nationally.
"It's not about leaving each region to think how are we going to match the Stormers on a smaller budget than everyone else. Wales has enormous strengths but fails to work collectively to maximise those strengths.
"It's not just about money it's about trying to build a clear philosophy and playing style which allows success at regional and test level. It's about investment over a long period of time, it's about investment in academy systems, and everyone being aligned to the same thing.
"It's also about patience because thinking we can turn up next week against the Stormers and everything will be okay is foolish.
"Those conversations are very live at the moment."
There have been many false dawns at the Dragons over the past few years with every new coaching appointment claiming they have the right plan to get professional rugby in Gwent breathing fire again. Whether the partnership of Ryan and Flanagan fares any better remains to be seen, but one thing is for sure they won't die wondering.