Back
By Jamie Lyall
Alan Solomons: 'Springboks should stay with New Zealand and Australia'
As the lager flowed and the music blared, Alan Solomons sat quietly at the front of the Worcester team bus. He drank in the emotions, revelled in the brotherhood. A Yoda-like figure whose often trying groundwork had borne fruit: the Premiership Cup transported to Sixways with a clutch of young, local Warriors carrying it home.
Solomons is retiring from coaching a month shy of his 72nd birthday, 45 years since an unassuming start with the University of Cape Town third team. The cacophonous bus journey from Brentford to Worcester, packed with the boys to whom he had given debuts, the players who had scalped London Irish, was his final, satisfying reward.
"When we came back on the bus, I just listened to the young lads," he tells RugbyPass+. "This is their club. It's led by Ted Hill, a Worcester boy who I made captain. That to me is just fantastic. That is what I like to think I've left behind here."
Back in the Seventies, Solomons was a burgeoning university player, combining his law degree with captaincy of the UCT first XV when serious knee injuries stopped him in his tracks. He was asked to coach the thirds, then the seconds, then the firsts as he graduated and climbed the legal ladder. He earned regional recognition, leading Western Province Sevens, Select, and the A team, before landing the top job in 1998. From there, it was on to the blockbuster stage of early-years Super Rugby and the Stormers team itself. Nick Mallett hired Solomons and Jake White as his Springboks assistants and under their tutelage, South Africa embarked on an unprecedented 17-match unbeaten run.
I'm still of the view South Africa are a southern hemisphere power and we need to be with New Zealand and Australia, and that's good for world rugby.
As his coaching career soared, so did Solomons' law trajectory. He rose to partner in a prestigious Cape Town firm, a role he gave up when Ulster took him to Belfast in 2001. There followed a brief, acrimonious spell at Northampton Saints and a far more rewarding stint in World Rugby's high-performance department, including a secondment to coach the USA. The South African shot-callers brought him home in 2013 to begin the Kings' journey to Super Rugby then the Pro12, before he spent three years at Edinburgh, blooding a host of current Scotland regulars. In 2017, Worcester signed him up, and he has since busied himself changing the club's identity with young Warriors at its core.
It is only now, in his eighth decade, that Solomons feels sated by full-time coaching. He and his wife settled in Northern Ireland during the Ulster days, but his career has been so all-consuming that he has had scant time to enjoy the fruits of his toil.
"I'm ready for it. I want to return home. We've got a beautiful home in Northern Ireland and we haven't been able to live there – I've had three seasons in Port Elizabeth, three in Edinburgh, and the rest here in Worcester. I will definitely be doing something to keep myself busy, but I'm ready for it."
Solomons is stepping away from rugby at a seminal point for the nation of his birth. South Africa, through the URC, has a foothold in Europe. Their heavyweight franchises have seized this new competition and bossed it. Their two leading lights, the Bulls and Stormers, contest the showpiece in Cape Town on Saturday and the existing teams must find a way of quelling the new power that has unseated them. Next season, five South African sides will compete across the Champions and Challenge Cups.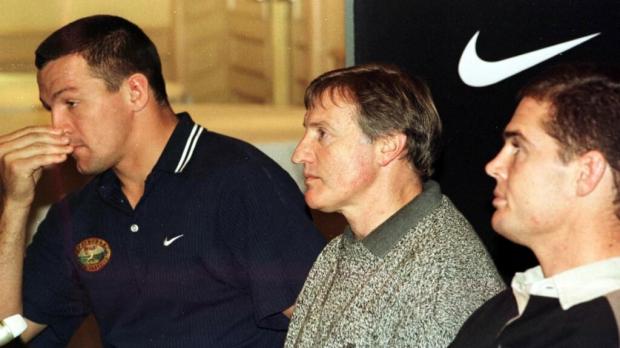 A move north for the Springboks has long been mooted. The money on offer is vast. The time difference is far more palatable and the travel far less energy-sapping than voyages to Australia and New Zealand. A Seven Nations could yet emerge.
"I'm a bit old-fashioned," says Solomons. "I'm still of the view we're a southern hemisphere power and we need to be with New Zealand and Australia, and that's good for world rugby. I don't think it's good for world rugby to have that link broken. The northern hemisphere is very powerful on its own.
"I understand a lot of factors come into play – commercial factors, we are closer to Europe, it's an overnight flight. I think what's happened with the URC is going to endure and we are going to be involved with European competitions.
"And also for me as a traditionalist, New Zealand are our opponents, like England v Scotland. I remember as a little 10-year-old boy in 1960, after the third test which we won 13-0, I went to get the paper for my dad. Virtually the entire Sunday paper was the rugby Test. The whole paper. Your whole life was around that. The All Blacks-Springboks games, those are massive for both teams."
Ask Solomons what aggravates him most about the modern game, and he talks about the hemispherical mishmash of scheduling. The lack of alignment between north and south is a gnawing sore. Since the sport sputtered into professionalism in 1995, a global calendar has been its white whale.
Ideally a player shouldn't be playing more than 25 games per season, absolute maximum.
"In an ideal world, and I know it's not that easy, I would like to see us play from 1 March to the end of November," says Solomons. "That means you're not playing in the depths of a European winter or the height of a southern hemisphere summer.
"If we started with domestic competitions in the first third of the season, the second third is cross-border rugby, and the final third is international rugby, where at the same time we have domestic development competitions for our younger players, that would be incredible.
"That means December and January, everybody can holiday, have time over Christmas with family, and then start their pre-season in mid-January. That would align everything. I can't see it happening.
"It would also take the pressure off players. Ideally a player shouldn't be playing more than 25 games per season, absolute maximum. If you constructed the season as I'm suggesting, a truly global season, that is what would happen. Less is more. You'll get a better-quality product by playing slightly less rugby."
What else does Solomons see? The shifting, increasingly ruthless coaching landscape has caught the eye of the wise owl.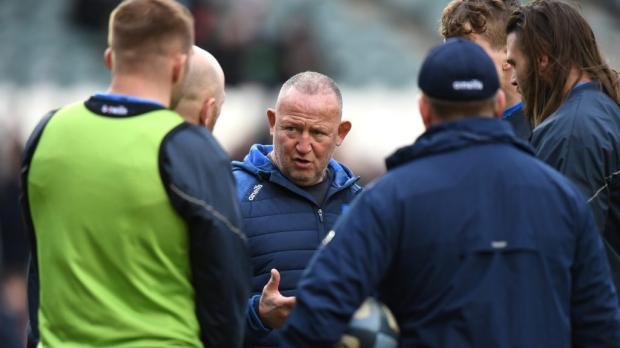 In January, Worcester moved on head coach and Solomons' heir apparent Jonathan Thomas, who was poised to succeed the South African as director of rugby. Solomons says the succession planning didn't work out. Danny Wilson recently lost his job at Glasgow after guiding them to the quarter-finals, where they were eviscerated so horribly by Leinster that Scottish Rugby felt compelled to wield the axe. Geordan Murphy at Leicester, Paul Gustard at Harlequins, Richard Cockerill at Edinburgh and Patrice Collazo at Toulon all departed clubs prematurely. There have been calls for Dai Young, Dean Ryan and Stuart Hooper to do likewise. Even George Skivington faced unrest in his debut season at Kingsholm before propelling Gloucester to within a whisker of the Premiership semi-finals.
"Football has been professional a very, very long time, is very commercialised, and rugby is on the way to that," says Solomons. "The commercialisation is results-driven, and private equity is starting to take a role. That will accelerate the process. Where have the World Cups been held since 2011? In G7 countries.
"I do think it's going to become tougher for coaches. The American way is going to become prevalent. Americans are getting involved in sport all over the world and they're getting into rugby now, and that will be accelerated with the 2031 World Cup being awarded to America.
"Coaching is a tough profession in any event. And it's not ideally suited to family because it is itinerant in nature. That is going to become more and more so.
"The only thing that concerns me is, I don't want the ethos of the game to be lost. It's the ultimate team sport. I do think there have been some inroads made into that and that is a concern going forward as we increasingly commercialise the game."
Instead of Thomas, it will be Steve Diamond, a very different man with a very different demeanour, at the Sixways helm next term. Diamond and Solomons are close from the latter's World Rugby days, when he assigned the bull-headed northerner to lead Russia's rugby programme. Diamond has already began tooling up for the season ahead, but he has a fine core of Worcester-reared talent around which to build.
I realised Worcester had no identity. They produced these Worcester boys who just went elsewhere. I've never been in a place like that.
When Solomons fetched up in 2017, he could not believe how disparate a group he'd inherited. They staved off relegation, and began to prioritise developing and keeping their own assets. When the Saracens scandal arose, Solomons could chuck more youngsters into the Premiership bearpit in the knowledge ceding a few places in the league table would not be catastrophic.
He name-checks nearly 20 players who have risen through the club's academy and won first-team honours. Many are now regular starters. He rattles off so many, in fact, that he forgets Ollie Lawrence, the most box-office of the lot. This, he dearly hopes, will be his Warriors legacy.
"I realised Worcester had no identity. They produced these Worcester boys who just went elsewhere. I've never been in a place like that. We wanted to build a stable, sustainable top-six club, but through the medium of our academy.
"I look at our team and we are as good as anything in England at U24 level and 90% of them are home-grown. Never mind Matt Kvesic and Graham Kitchener, who are older, but Worcester boys through and through. You look at the squad for next season, I would say close to 40% of our wider squad are home-grown. We are now Worcester."
Solomons has always spoken with compelling precision – it's the lawyer in him – but he talks about Worcester with such fondness. The people, the place, the club. The man who lives in the flat below his, a big Warriors fan, recently invited Solomons downstairs for a farewell breakfast spread. It is these memories, as much as the trophies and victories and euphoria, that will endure.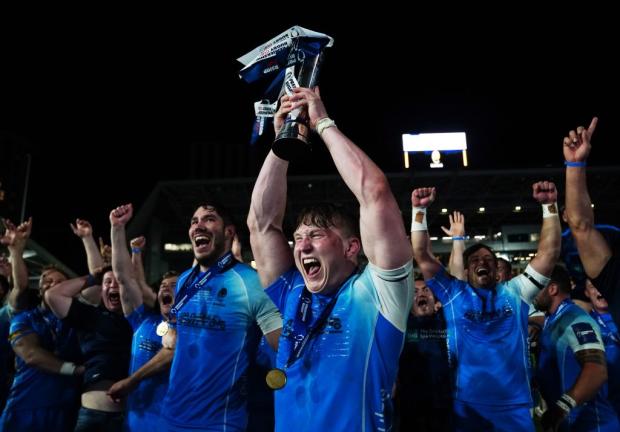 "It's all about the people you coach," he says. "It doesn't matter if the lad is a third-team player at UCT or a Springbok. I'm a university guy, it's natural for me with the younger players. It's never been a problem, the fact I'm a lot older – older than their parents! – I've still got that great relationship with them because of my background.
"The guy who captained our third team at UCT, we won the league for the first time, he emigrated to New Zealand and always came to see me when I was there, even when I went back with the Kings in 2013. I retain that connection."
In the players he helped, the careers he shaped and, yes, the raucous bus journeys he shared, Solomons leaves his mark indelibly.