Why John Cooney never really 'felt part' of Leinster
Ireland scrumhalf John Cooney admits that he never quite felt part of Leinster in the same way he has done at fellow Irish provincial setups in Connacht and Ulster.
Cooney has won nearly 200 hundred provincial caps between the three teams. He made his debut for Leinster back in 2011 towards the end of the golden era of Brian O'Driscoll, Gordan D'Arcy, Shane Horgan and Sean O'Brien.
Cooney would go on to win 27 caps for Leinster over four seasons, but the Dubliner admits that he didn't integrate into the star-studded Leinster squad in the way he would do at Connacht and latterly Ulster. Cooney was asked about what he thought of Leinster's dominant display against Toulouse in the Heineken Champions Cup by the RugbyPass Offload panel, in a game in which the men in blue convincingly beat the reigning champions.
"It was very impressive. Obviously, it hurts to say that. I might be from Dublin but I've played for Ulster for the last five years. I do think they look the strongest in the competition. La Rochelle in France, you never know, but they [Leinster] look pretty impossible to beat there.
"We have to beat them in the league now. This year we've played them twice and won both games. It was a mixed selection so I don't think they had their full strength. We played them away in the RDS but I think they had 50 or 60 per cent of their Irish players."
While the current Leinser squad ain't too shabby, Cooney came up in equally illustrious Leinster company when he was starting out over a decade ago.
"I was lucky enough when I was coming through to play on that team with O'Driscoll, Isa Nacewa, Jamie Heaslip, all the players that played for Ireland. I think that was up there as teams go.
"Brad Thorn was there I first got there. He was so impressive, just his professionalism, no one could get near him.
"I think in Crusaders they use to gym on their own or something. It was so impressive the work he got through.
"He'd lift like 160 on the bench and never want a spot. He'd jump into doing core between every set. He was stacked and ripped. He was so impressive. He wore his cap out to training. His professionalism was amazing.
"He won everything. He'd just won a Rugby World Cup and they made him play for Leinster A versus Connacht A. I think he wanted to play. He was happy out. All this at 36, 37, maybe even more. He put in a great 50-minute shift. Most players would turn their nose up at that."
Despite his high calibre colleagues, the former Gonzaga schoolboy player remained largely unfazed.
"I came in straight out of school. I did'd find it as daunting when you're coming up through the ranks. It's a bit different when you move to a club and you hear stories about people and stuff like that. I think I was a bit naive or something."
Cooney would get a wake-up call when winning his first Leinster cap under future Ireland head coach Joe Schmidt.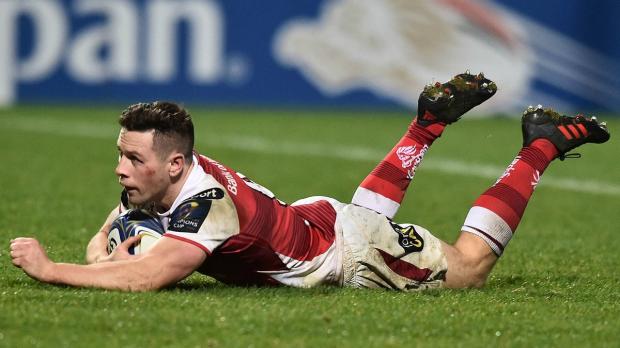 "I think I got taken off in my first ever game. I was naive to what actual professional rugby was like. I remember thinking, jeez, this is way harder than I thought' it'd be. That kind of rattled me I think. How do you come back from that when you've got the shepherd's crook.
"We lost by about 30 points to Ospreys away. To lose like that at Leinster at the time was considered pretty poor.
"I remember with Joe Schmidt after the game, nearly being in tears thinking this isn't half as easy as I'd thought it would be. That humbled me."
The 32-year-old was asked what the difference was between the three provinces, and despite coming up through Leinster's famed academy system, he felt more home at their Irish provincial rivals to the west and to the north.
"It was different eras for me. That was the star-studded Leinster era when I was coming through. I didn't really feel as part of it as I'd like to think.
"I was lucky enough to play in a couple of finals, but I didn't really feel part of it.
"In Connacht, even though I was injured, it was more of the community-type team where some who was playing AIL or the fifth choice hooker could go out for breakfast or lunch with John Muldoon, and be treated the exact same.
"When we won the league with Connacht, the PRO12 as it was known back then, it was definitely the highlight of my club career because everyone was part of it. I dislocated my shoulder in the final, but it was probably the best three days I ever had.
"Then coming to Ulster it's quite similar again. You feel like you can chat to Rory Best or Charles Piutau and feel like you're on equal ground.
"It's different now in Leinster. It's a younger era. When I came through I was 20-years-old and it was a bit more old school. I never really felt as part of it as I did in the last two teams."
Comments
Join free and tell us what you really think!
Join Free