Heaslip keeping the faith: 'This team since the last World Cup is probably the best Irish squad ever assembled'
Jamie Heaslip is back. As a young whippersnapper embarking on the meteoric climb that took him to Leinster, Ireland and Lions honours, he was a courteous, bubbly character never short of a colourful turn of phrase. A media darling, so to speak.  
That affability eventually got lost in the translation the longer he stayed established at the top of his sport. Press conferences became a chore, his personality masked by cliches and a stern game face that rarely slipped. 
Now, though, it's like old times. With his playing career over, the defensive mechanisms deployed with the media in his latter years are redundant and the charming, playful old rogue of yesteryear has re-emerged. 
Ask him a question these days and you get a considered answer rather than being sent you around the houses as typically became the case when he was Ireland and Leinster captain. 
What gives? Life has changed remarkably quickly and the Heaslip now preparing to head to the World Cup to do some work around the game is in a very different place mentally than the guy that was so wrapped up in the 24/7 bubble of being an elite level player. 
(Continue reading below…)
It's easy to discern he is enjoying this brand new chapter, teasing out what next to do with himself at the age of 35 following a stellar rugby career. "It's different, very, very different," he enthusiastically told RugbyPass 18 months on from the February 2018 revelation that he was to retire from the back injury sustained in the Aviva Stadium warm-up prior to the Six Nations match versus England 11 months earlier.   
"Trying out new things and trying to find what the new passions are, I suppose. It has been a rollercoaster of a year. They say that the three most stressful things you can do in your life are move house, have a child and change career and I managed to do all three in about nine months after retiring. In for a penny in for a pound. Just rip the plaster off and do it. 
"It has been a rollercoaster and lot of learnings, but that is part and parcel of the game unfortunately where you have got to move on, carve out a new pathway and start a new chapter. I'm very, very lucky to look back on rugby, how it helped me in my life and the experiences I had with it, how it set me up going forward and hopefully I have been able to take those learnings. That is what I have been trying to do the last 18 months, take those learnings and parlay them into some new career basically."
#Allin was one of the most interesting experiences peeling back the layers of how a boyhood dream became a reality. Thanks to @cooper_m & @gillbooks
Thanks to my wife for her support, feedback&honesty, along with my daughter for whom this is dedicated to. For pre-orders in my bio pic.twitter.com/cgrmmcYIBT

— jamie heaslip (@jamieheaslip) August 8, 2019
At the moment he is a man of many different hats. Rather than blindly stake everything on one single enterprise to tide him through the initial phase of the rugby afterlife, he has interests in a multiple of different enterprises, a list as long as your arm that will soon include All In, the book set to peel back the layers on how a boyhood dream to play for Ireland became a reality that occurred on 95 occasions. 
"When you're playing rugby you get looked after very well financially and it's probably the time when you make the most money of your career. You would have to be very lucky to make as much when you finish rugby. 
"Knowing that playing is a finite time I have thought about it [retirement] numerous times and I knew I needed to diversify, to look for ideas and good teams essentially where the opportunity might lie to create some longer term value for myself. Things like Coco Fuzion, Kitman Labs, Flender, the bars (The Bridge, Lemon & Duke), Urban Volt, these sort of things, even Lovin' Dublin, some might pay off and some might not. I have laid the bets now and we will see if they come in or not."
I'm back baby!!!! pic.twitter.com/3xP6tL6giX

— jamie heaslip (@jamieheaslip) August 23, 2019
He is no longer the ever-consistent fighting warrior he once was. Rugby took a toll on the body and while he was giddily excited last week when the RFU erroneously published on its website an old Ireland team that listed him to start at No8 against Eddie Jones' side last Saturday, playing is very much a thing that is firmly past tense. 
"I can't do what I used to do. I think I might lie if I got to 100 kilos, but I can't lift the weight that I used to be able to lift for various different reasons and once you can't do that and do the things that you did, it is very hard to keep the weight on. 
"Not that you need to. I was never naturally a big No8 but I like to train, so I just change up the training, do different things and it's been great, really interesting to change up training over the last while and I don't have to be as strict on all things all the time."
Highlights: England 57 – 15 Ireland https://t.co/c4bJ7E4kqI via @YouTube

— England Rugby (@EnglandRugby) August 25, 2019
Strict was the way of his world as an Ireland player under Joe Schmidt, a coach he imagines will be raging this week following last weekend's hammering at Twickenham. Heaslip watched on in disbelief as England repeatedly raced through the Irish defence and he believes that Carton House, the team's regular Co Kildare base, will have had a tense atmosphere this week with the countdown on towards the World Cup squad announcement which is only being revealed on deadline day, September 8.  
'If I'm honest, some of the starters last week really didn't do themselves any favours. It was the first game for many guys, but they are not up to match speed. I always thought me I needed a game and a half, the guts of two games basically to get match fit. No matter how much running you did, I needed those two games to be ready and definitely last week you saw a lot of guys who weren't match fit.
"Joe will approach it as the first game for a lot of guys, there is that factor, but there were a lot of basic errors that were not Joe or were not up the general form of teams that Joe has coached. That is what he will be disappointed with. 
"He will be disappointed in those basic inaccuracies and he will also be very disappointed in the effort of some guys. A lot of guys were just standing around and just looking to carry and not doing the job that needed to be done at the time. 
"He will be very disappointed in that effort because that doesn't take any skill. That just takes a mindset and both him and Andy (Farrell) will be calling it out in a lot of guys and just getting those basic and system errors out of their system and getting real accuracy and job role things nailed down," explained Heaslip, who knows only too well from experience what it is like to miss out on World Cup selection at the final cut.
He was excluded in 2007 before getting in for 2011 and 2015 and he feels for the 40 players – already down from an initial 45 – who are still vying for selection in the 31 for Japan. "I can tell you what side is better, getting selected is better. It's harsh. It's tough. There are only a certain amount of spots on the plane and it must be head-wrecking for the coaches.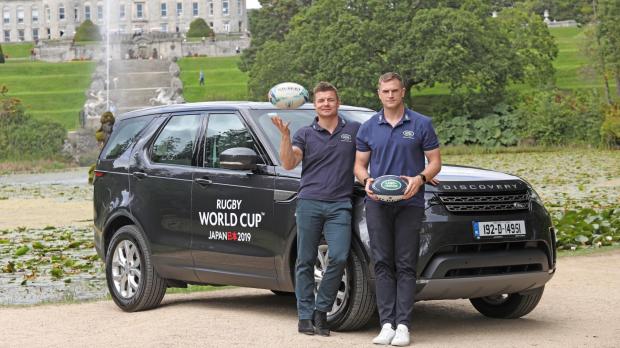 "I would say Joe probably has about 25 guys on the plane and he has just got to find the spots for the rest. Let's say we're all in a room, we can probably get the squad down to around 35 people without much argument but from about 35 down there is going to be a lot of arguments… there are going to be guys who are bursting their balls to get into that squad, who have done everything they can this summer to be ready and they won't make it. There is always guys who are upset and don't make the cut." 
With the humiliating England defeat coming on the back of a disappointing 2019 Six Nations, numerous Ireland fans have written off the chances of seeing their team reach a first ever World Cup semi-final. But Heaslip, who is heading to Japan to do punditry and also work as a Land Rover ambassador during the knockout stages of the tournament, fully expects an Irish party to be in full swing when he arrives in a country he can't rate highly enough.
"It's very, very different. The country, in general, is amazing. It is beautiful but it's one of the few places that is so, so different to the rest of the world. People are going to have a heck of an experience. I will be out there with Land Rover, who are worldwide partners for the World Cup, and I will be also doing some TV work. That will be really interesting and I'm excited.
"My sister-in-law is from Osaka. I have been out to Osaka before and to Hiroshima, but I have never been to Tokyo where I am basing myself from the quarter-finals all the way to the final and I'm optimistic Ireland are going to be there… my message (to Irish fans) is the World Cup hasn't started yet. These are warm-up games and you're rotating players.
"The squad hasn't even been picked for the World Cup and I can't over-emphasis that it is tough enough when you play PRO14 games as your first two games of the season, but when the majority of them, 80 per cent of the starting national team are on the field (at Twickenham) and it's their first game of the season, they are blowing out their ass. 
"It was going to take them until the second half to get their second wind almost and because England were playing with such pace with the ball, there was nothing more tiring than defending. You have to try and get that context.
"I would say this team since the last World Cup is probably the best Irish squad ever assembled. They have beaten every tier one nation in the world since that last World Cup and have done it consistently. This is a good team that have the best opportunity that Ireland have ever had at the World Cup."
WATCH: Part one of Operation Jaypan, the excellent two-part RugbyPass documentary on what the fans can expect to experience at the World Cup in Japan
Land Rover is an official worldwide partner of Rugby World Cup 2019. With over 20 years of heritage supporting rugby at all levels, Land Rover is celebrating what makes rugby, rugby. #LandRoverRugby
Comments
Join free and tell us what you really think!
Join Free