'It's a brutal sport. Look at Fats, Henry Fraser and Hambo... Jono Gibbes is struggling to walk'
For those of a certain age, there was once a popular American TV series called The Littlest Hobo. It last aired in 1986, coincidentally, the year before Ryan Lamb was born. In it, a German shepherd would travel from town-to-town helping those in need before moving on.
Now I'm not suggesting Lamb is homeless, or indeed canine, but the fly-half's nomadic 15-year career has seen him pass through a good few rugby towns dispensing jaw-dropping skills, a shedload of points and putting smiles on faces. Gloucester, London Irish, Northampton, Leicester Tigers, Worcester and La Rochelle have all benefited from his bonhomie before he hung up his boots last summer, with no regrets.
While it would also be a stretch to say there were 'one more year' banners being waved in Stade Rochelais' terraces on his departure, it was not to be the final time he laced up his size 8s. While tending to the tables at his Cotswold-run coffee shop, the Roastery in Quedgeley last summer, he took a call from Scarlets assistant attack coach, Richard Whiffin.
The affable Lamb takes up the story. "I knew Whiffy from London Irish. His first question was, 'how fit are you?' He told me they had Dinky (Dan Jones) and Gus (Angus O'Brien) at 10 and in case they had an injury or two at 10, with only a 17-year-old in the Academy, would I mind helping out? Whiffy wanted a bit of experience around the squad because all the internationals were away on World Cup duty. It was a short-term contract but when Patch (Rhys Patchell) was injured, they asked me to stay on another three months, which takes us up to the end of the month, so I'm still here," he chuckles.
In a season where the Scarlets have had to make do without up to 20 internationals for vast swathes of time, a young squad have emerged in credit, lying third in Conference B, and Lamb has been taken to heart by the West Walian club's supporters.
"I'd fallen out of love with rugby a little not playing so much out in La Rochelle in the last few months but the environment here has been awesome. The locals have been very accommodating, even with me being English! They're very passionate and everywhere you look there are rugby posts. You can see why they say, 'West is Best'.
Continue reading below…
WATCH: John Kirwan and Kane Hames on The Breakdown debate the ref's decision of Paul Willemse slap down against Wales in Six Nations.
Having played under a hatful of coaches, Lamb is well-placed then to judge Brad Mooar and he is unsurprised he was coveted by the All Blacks "The thing with Brad is his enthusiasm. It's infectious and that filters down from the top. He doesn't ram home rollickings about mistakes, it's more learning opportunities and he's got a very good staff around him, who all buy into the same ethos."
Lamb says Mooar is far removed from the dictatorial type and prefers a more modern approach. "He will oversee training but when he does say something, you have to listen. I'd say he's one of the best I've seen at putting across his message. Every team has a structure and options but he gives you the freedom to take choices."
While the former fly-half isn't sure whether he will look to go down the coaching route, he says the time spent with Jones and O'Brien has been invaluable. "The thing with Dinky is he's really experienced already. He had his 100th game the other day and he's only 24. Gus is 25 and has had a few injuries but he's got that searing pace and has been on fire this season. They've been doing grand."
Given the short-term nature of his West Walian sojourn, he has been shacked up with an unlikely team-mate, Tevita Ratuva, the 6ft 6in, 18st Fijian lock. Given Lamb is 5ft 9in on tiptoes and 13st dripping wet, they make an unlikely couple, bundling round Llanelli. Some of the squad have even taken to calling them Twins after the Danny Devito and Arnold Schwarzenegger comedy. "We go into Nandos and have a few odd looks – some people must think he's my security or I'm a mascot, but I'm looking after him and he's done really well. He's had a big impact with the fans."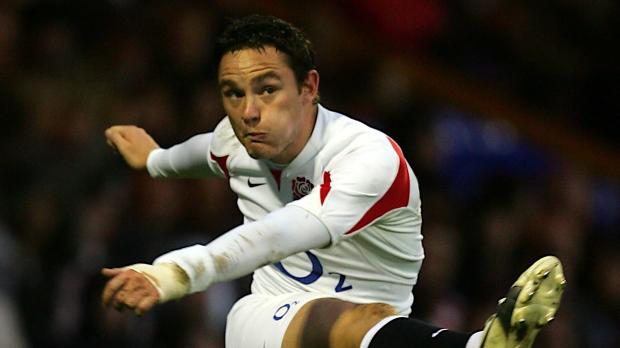 The Gloucester-born pivot will be departing a game dominated by giants and as one of the more modestly-sized participants, he hopes there will always be room for wit over brawn. "If you are a side used to being on the front-foot and have a lot of big carriers in the backline, you want a 10 who is really good playing to the line. Someone who is nimble on his feet, has a good passing game and is a threat to the defence. Take George Ford, Jarrod Evans or Marcus Smith who I really rate. He was 18 when I played against him for La Rochelle and he's going to be a really good player.
"I have to say, England should have taken Cips (Danny Cipriani) to the World Cup because he's someone who can create something out of nothing. Owen (Farrell) is really good in his 'D' and a very good kicker. He's probably the type of 10 you want in knockout rugby but you also want x-factor options to win tournaments and Championships. Teams do too much analysis on you these days."
Having played in the Pro14 and extensively in Premiership Rugby, Lamb says there were parallels but two years in the Top 14 was an eye-opener. "France was completely different to anywhere else I've played. While the way they set up in England and Wales is very similar in France it's clean-off. They have this laissez-faire attitude. I'm not saying it's relaxed, it's more, 'play what's in front of you, or joue'. They tell you to 'feel the situation', which is a novelty. Playing away from home, they shrug their shoulders and say, 'let's see how we go', but you had to win at home or else. Local pride is everything. They have their traditions and I respect them for it but this new French team is proving to be a breath of fresh air, so we'll see if they change their ways."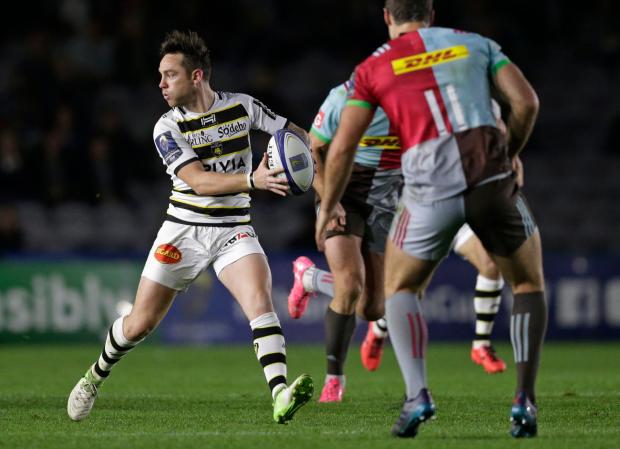 Talking of Les Bleus, while the spectre of the Coronavirus hangs over the last two weekends of Six Nations rugby, Lamb, a proud Englishman and former England Saxon, does believe Eddie Jones' men will have too much for his Welsh friends in TW2. "At Twickenham, Manu is key. He's so important to them to get gain-line because they struggle off first phase without him."
As for Eddie Jones' much discussed propensity for putting players out of their recognised position, Lamb, is a fan. "Personally, I like Eddie's use of players in different positions. It's innovative thinking. We pinch things from rugby league all the time. We stole the blitz defence, in attack, you have a front-line runner and someone at the back. When Eddie was talking about playing Jack Nowell at 7, it sounded far-fetched but when we did our analysis on Exeter and he's one of the best jackalers in the wide channels and means he's in the game a bit more. It made sense."
In fact, Lamb can see the hybrid player becoming more of the norm. "You'll find second row, back row, wingers and centres switching about more and more. I don't think it's possible for specialist positions, like hookers, props, nines and tens but after a World Cup is the time to experiment. I think as a coach, if you have a vision and you don't believe in it, it will filter down to the players. If that's what Eddie believes, he has to go with it. He knows you're painted as a genius one week and a numpty the next. Now is the perfect time to mix it up."
Having left England in 2017 after an 11-year stint in the Premiership, he watched on with interest as the Saracens imbroglio unfolded and revelations continued to mount up.
"It's difficult to comment, but having seen the judgement, I don't blame the players at all. When you hear that Farrell and Itoje getting stick that's harsh. You don't go for a contract offer and ask, 'oh does this meet the salary cap?' You don't ask other players what they earn. It just doesn't happen from my experience. Mind you, I've been in games first-hand where I've thought that we could win and Sarries have beaten us. Deep down you've thought, 'damn, how are they so good?'. It was said tongue-in-cheek but did make you wonder. That said, I wouldn't be blown away if other clubs had been stretching the rules so people in glasshouses shouldn't throw stones. You'll see some people going pretty quiet and players disappearing off to Japan and France."
The Six Nations have told RugbyPass that they are refusing to rule anything out following reports that they are to go behind a paywall.

– @chrisjonespress with the latest #GuinnessSixNations https://t.co/Yezkg6vYhW

— RugbyPass (@RugbyPass) March 1, 2020
Where Lamb does feel sympathy is for Exeter Chiefs having narrowly missed out on two Premiership Finals against Mark McCall's men. "I can understand more if I was Rob Baxter. They are definitely under the salary cap and Rob has great morals in the way they've built the club. It's the blueprint. They are brilliantly managed, sustainable and have a large fanbase, plus it's a lovely part of the world. Saracens are at the other end, where they've chucked money at it. It's frustrating for them because they have produced some incredible players from their Academy, who've gone on to become Lions. For them to have to leave because you can't afford to pay them what they're worth seems harsh."
Lamb believes the high-profile and damaged case could be a turning point in how the game is governed. "Will it change things? I'm all for players getting more money. You do 15 years in this game and see how your body is after. It's a short career. Joe Bloggs on the street will moan but lots of players are on Academy contracts for years, so you only have so much of an earning window. I don't like the salary cap, personally. Players should be paid what they're worth.
"I think a lot more money is coming into the game and salaries will increase. It's a brutal sport that can end so quickly. Look at Fats (Michael Fatialofa), Henry Fraser and Hambo (Matt Hampson). They had life-changing injuries. I was with Jono Gibbes the other day and he's struggling to walk. You don't want to see players walking away from rugby because they can earn more money elsewhere for putting their body through the mill. It is something that has to be addressed for the good of the game."
With that, he's off to find his team-mates, making the most of his remaining time in Llanelli.
Did he think he'd be finishing his career in West Wales? Not for a second. What is clear, however, is that he's loved every minute.
The Ryan Lamb 'favourite five'
James Simpson Daniel (Gloucester)
Sinbad had the skill-level of a fly-half, the pace of a wing and the game understanding of a coach and only had 13 caps for England so make of that what you will. He was unlucky with injuries but what a player. If he was Welsh, he'd have won 100 caps!
Sailosi Tagicakibau (London Irish)
Sailosi was simply unplayable for two years at London Irish. He had the pace, the footwork and the size – he was 6ft 4in, nearly 18st and ran 100m in under 11sec. Just frightening. He's in Australia now, coaching.
Rupeni Cacau (Agen)
Probably the best player I've ever played against and the worst player I've ever had to defend. I played against him for Agen and Toulouse and he could round you or over you. It will be interesting to see how Semi Radadra goes for Bristol, I played against him too, and he's similar.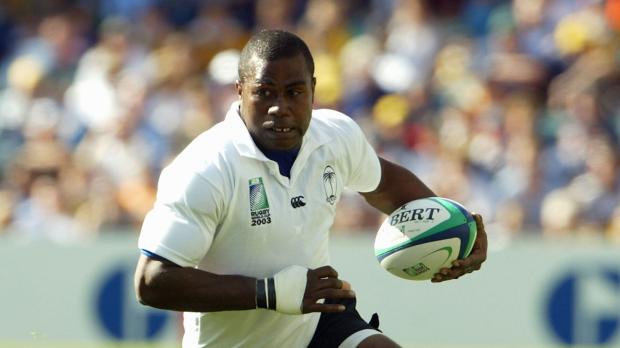 Samu Manoa (Northampton Saints)
No one really knew who he was when he pitched up from a construction site in the US. He didn't play for a few weeks because he was acclimatising but in our first friendly, he plucked the ball out of the air and made a 60-yard break. We were just like, 'wow'. Ball-carrying, offloading, tackling; just a complete wrecking ball. He'd played college football and could throw the ball miles. Credit must go to Dusty Hare for finding him.
Levani Botia (La Rochelle)
Pacific Islanders are just built for rugby. You could put him in at No 8, in at 12 or on the wing. He was a phenomenal player. A freak that you were just chuffed to see in the changing room playing for you. His nickname was 'La Machine'.
Comments
Join free and tell us what you really think!
Join Free