RugbyPass Becomes an Official Digital Partner to Major League Rugby
RugbyPass, the global rugby channel, has today announced a pilot programme with Major League Rugby (MLR) to provide international coverage of selected MLR games, highlights and other clips on RugbyPass TV and the RugbyPass Network.
Under the terms of the deal, RugbyPass becomes an Official Digital Partner to MLR for the remainder of the 2019 season, with delayed streaming rights to full replays of selected games across the competition, which will be made available worldwide on RugbyPass TV, shortly after the end of each game. Highlights, player interviews and other clips will be distributed across the RugbyPass Network, which includes popular websites Rugbydump.com, RugbyOnslaught.com, Rugby365.com and dozens of social media pages and channels reaching up to 30 million rugby fans every month.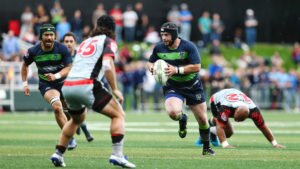 Rugby fans anywhere in the world can subscribe to RugbyPass TV for just $1 per month at www.rugbypass.com/signup and get access to hours of RugbyPass Originals, including The Rugby Pod; Beyond 80: Knocked; Insiders; The Short Ball; Late Tackle; Seven for Seven; The Pride; Kiwis Abroad; and much more. Subscribers also get access to popular rugby vloggers and a library of classic footage and documentaries from World Rugby, as well as the coverage of Major League Rugby and other international competitions.
Richard North, Chief Strategy Officer at RugbyPass, said "We're excited to add coverage of MLR games across the RugbyPass Network of websites and social channels, expanding the reach of this exciting competition to our millions of global users and subscribers".
RELATED: It's official: Bastareaud will take bite out of Big Apple after the World Cup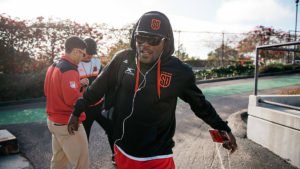 About Major League Rugby
MLR is a professional rugby league launched in April of 2018. It's an initiative of the North American rugby community, in partnership with private investors, who believe that North American rugby can thrive at the highest levels: as a commercial enterprise; as an influential player on the international scene; and as a participation sport at the youth and senior level. MLR will be the pinnacle of North American rugby, and provide a rallying point for local communities, a focal point for North American rugby fans, and an aspirational destination for young athletes. There are already over 40 internationals and players from more than 15 countries playing in the MLR. Twenty-two MLR stars represented the USA Eagles and Canada national teams in the opening round of the 2019 Americas Rugby Championship, with more than 30 called up over the course of the tournament.
The teams competing in MLR Season 2 are Austin Elite, Glendale Raptors, Houston SaberCats, New Orleans Gold, San Diego Legion, Seattle Seawolves, Utah Warriors plus new additions Rugby United New York and Toronto Arrows. In 2020, New England Free Jacks, Old Glory DC and Rugby ATL will bring the total to 12 teams for MLR Season 3.
About RugbyPass
RugbyPass is the World's largest digital rugby network, combining live OTT broadcasting with unique and engaging video and digital content for Rugby fans around the globe. Across 23 countries in Asia, RugbyPass broadcasts live Rugby content including SANZAAR, Six Nations and Autumn International matches though an internet OTT streaming subscription platform. RugbyPass recently launched its service in Australia, streaming exclusive coverage of the Heineken Champions Cup and the Guinness Pro 14, along with its RugbyPass TV service.
RugbyPass.com, and its affiliated RugbyPass network of sites, is the largest independent Rugby audience network in the world, producing and distributing a variety of content including written articles, long and short form videos, shows, podcasts, stats, fantasy and global team rankings.
For Press enquiries, email press@rugbypass.com

Comments
Join RugbyPass+ now and be apart of the conversation with all-new commenting!
Join Now