Rugby World Cup 2019: State of tier two rugby
At no other point in the rugby calendar are the fortunes of the tier two nations cared about as much as they are during the Rugby World Cup.
Whether it's the increased spotlight, the gulf to tier one that becomes apparent, the desire to root for the underdog or even a combination of all three, the rugby world comes together in unison to show its support for those nations unlucky enough not to participate in the Six Nations or The Rugby Championship.
Although upset victories over tier one nations have been limited to just Japan this year, that doesn't mean that there haven't been other impressive performances and sides promising encouraging upward trajectories. The flip side of that is that there have also been disappointing campaigns and a number of teams who face testing four-year periods if they are not only to get back to the Rugby World Cup in France in 2023, but also prove to be more competitive than they currently are.
We run through all 10 of the tier two teams at this year's tournament and review how their campaign went and what their fortunes look like moving forward.
Canada
Unfortunately for Canada, the one game where they would have hoped to make a real impact at the tournament, their final group stage match against Namibia, was called off due to Typhoon Hagibis. Away from that contest, the North Americans were on the wrong side of three heavy defeats and, understandably, weren't able to fire too many shots against Italy, New Zealand and South Africa.
Head coach Kingsley Jones brought an experienced group to Japan and stalwarts like DTH van der Merwe, Ciaran Hearn, Phil Mack and Hubert Buydens will all have likely played in their last Rugby World Cup. Flanker Lucas Rumball could well be the centrepiece of the side moving forward and currently uncapped scurm-half Will Percillier is one to watch, but with the quality of rugby in other nations in the Americas swiftly improving, there's no guarantee Canada will be back in 2023.
Continue reading below…
Watch: The Canadian team help Kamaishi recover following Typhoon Hagibis
Fiji
Having failed to take the scalps of Wales or Australia and slipped to defeat to Uruguay, albeit with a heavily-rotated side, the tournament has to be looked upon as a disappointment for Fiji, who were viewed as one of the tier two sides who could genuinely spring an upset and qualify for the quarter-finals. That said, they were very competitive with the Wallabies and Wales and were harsher punishments handed out on the pitch to Reece Hodge and Ken Owens, those two games could have unfolded very differently.
Fiji aren't in a bad place moving forward, either, and their comprehensive win over Georgia was indicative of where they stand among tier two nations. Away from the second row, the core of Fiji's side are all of an age where they should be in their prime over the next four or so years and the U20 side, who avoided relegation from the U20 Championship this year, is producing difference-makers for both the seven-a-side and 15-a-side codes. They could get a healthy injection of star power following the 2020 Olympic sevens, too.
Georgia
A disappointing campaign for Georgia and Milton Haig, who lost to Fiji and couldn't offer as much trouble to Wales and Australian as the Pacific island nation did. That saw them finish fourth in Pool D and miss out on automatic qualification for the next tournament. Unable to work a scrum advantage over their opponents and lacking the desired top-end pace in the back line, the gulf between Georgia and the tier one nations in their group was shown to be significant.
A tear was in the eye when Georgia's Mamuka Gorgodze departed the Test rugby pitch for the final time on Friday https://t.co/2D5h8mYVqD

— RugbyPass (@RugbyPass) October 11, 2019
Like Fiji, there's a rejuvenation needed in the second row and potentially attentions will be turned to one or two more of the promising young front rowers earning their corn in the Top 14. The half-backs are in very good shape moving forward and there's more talent to come out of the U20s in the back row, such as Ioane Iashagashvili, and midfield, such as Lasha Lomidze, though the lack of speed in the back three is also an issue at that level. That said, Georgia should be confident of qualifying for the 2023 Rugby World Cup.
Japan
Without doubt the posterboys of tier two rugby, Japan have, as the Rugby World Cup hosts, delighted and excited the crowds throughout the competition so far. Not only have they booked their place in the quarter-finals, the first Asian nation to ever do so, they also won all of their pool games, including victories over Ireland and Scotland. The hosts' skill levels and ability to deal with the conditions have been as good, if not the best of any side at the tournament and it came to fruition in their incisive performance against Scotland.
Their place at the 2023 Rugby World Cup is booked and the squad looks in strong shape moving forward, despite some key holes that will need to be filled. Ultra-consistent hooker Shota Horie will need to be replaced, which could be former U20 captain Kosuke Horikoshi's role over the next four years, whilst a successor to Yu Tamura will need to found sooner or later, too. The back row is about to welcome Tevita Tatafu and Shota Fukui on a more permanent basis, leaving the second row as perhaps the most important area for Japan to find some extra depth and competition. Their U20 side won promotion back to the Championship this year, which, if they can stay there, will bode well in the years to come.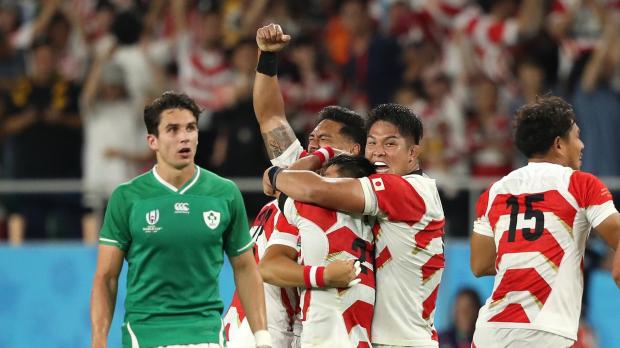 Namibia
Namibia shared two points apiece with Canada on Sunday as a result of their cancelled game and their story mirrors that of the North Americans in that they were unable to offer a threat to the Springboks, All Blacks or Azzurri in Pool B. If you're splitting hairs, though, the African nation arguably did offer a little more than Canada during the tournament, particularly in their game against Italy.
Unlike some of the other nations at the tournament, head coach Phil Davies brought in a number of younger players prior to the Rugby World Cup, many of whom picked up valuable experience out in Japan. Damian Stevens and Cliven Loubser are a promising half-back combination moving forward, whilst the likes of Chad Plato, Obert Nortjé, André Rademeyer and Wian Conradie – all 24 years of age or younger – look like Namibian stalwarts in the making. Barring a big leap forward from Kenya or Nigeria, the latter of who are beginning to tap into their worldwide diaspora, Namibia look relatively safe as the 2023 qualifier from Africa.
Another World Cup match has been cancelled as the typhoon damage in Kamaishi is too much to allow Namibia to take on Canada as planned
https://t.co/p3rzAGGyXX

— RugbyPass (@RugbyPass) October 12, 2019
Russia
Four losses and no points for the European side, though they won a number of fans with their gutsy displays against Japan, Samoa and Ireland. The game against Scotland was a bridge too far for the Russians who looked out on their feet, but with just two players in their squad playing top tier rugby in Europe, it was not overly surprising. If the legacy of this tournament for Lyn Jones' side is professional contracts in the Top 14, Gallagher Premiership or Guinness PRO14 for standouts Tagir Gadzhiev and Kirill Golosnitsky, then it will be a positive one.
That pair are both just 25 years of age and they will be the foundation pieces for Russia moving forward. They were the joint-youngest players in the squad, too, with 15 of the 31 players over the age of 30, and there is a big rebuild on the cards for the Bears. Given their somewhat fortunate qualification for this year's tournament, Russia will be up against it to make it back in 2023, with Georgia favourites for European qualification and the likes of Spain and Portugal both coming on strongly of late.
Samoa
A tournament to forget for Samoa, whose sole win came against Russia. That was not unexpected, honestly, and though they were competitive against Japan, they were lucky not to have two red cards against Russia, something which could have resulted in them finishing bottom of Pool A. Scotland and Ireland, even with the latter reduced to 14 men, dealt with the Pacific islanders fairly comfortably.
Similar to Russia, Samoa relied on an older and more experienced group in Japan. Having been unable to deliver something tangible from the group, e.g. automatic qualification for 2023, Samoa will now go into rebuild mode and try to balance those demands with those of ensuring they are one of Oceania's qualifiers for the next tournament in France. Unfortunately for Samoa, they do not have the abundance of talented players coming through their pathway that Fiji, Georgia and Japan do.
Expectations were not high for Tonga coming into the tournament, partly due to form over the last few years, although also the difficulty of their pool, with them sat alongside three tier one sides. They were comfortably beaten by England, though they came close to upset wins over Argentina and France and could have taken both of those scalps were it not for little moments or contentious refereeing calls not going their way. Their efforts were rewarded with a solid win over USA on Sunday, though.
Continue watching below…
Watch: Tonga: Road to Japan
The balance of power between Tonga and Samoa, which used to reside with Samoa, has begun to swing a little of late, with Tonga picking up the last two wins between the sides and, based on performances at this Rugby World Cup in isolation, the Sea Eagles look the better team overall. Like the other Pacific island nations, Tonga will face a substantial amount of turnover heading towards 2023, although unlike Samoa, the recent iterations of the U20 Trophy have shown Tonga to have a few stars in the making in the forms of Apitoni Toia, Malakai Uasi and Hateni Tafolo.
Uruguay
It's been a thoroughly encouraging tournament for Los Teros, who not only knocked off Fiji in a historic win, they were also very competitive against Wales and Australia, the latter of whom, if they're honest, will feel like the 45-10 scoreline flattered the Wallabies. The only real disappointment came in their 33-7 loss to Georgia, a game where they were coming off a short turnaround after their win over Fiji.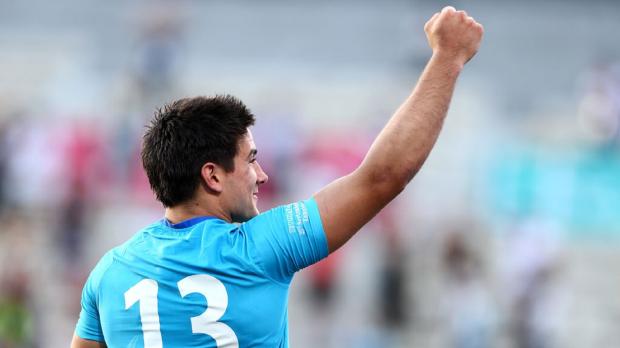 The age profile of the side is also encouraging, with standouts such as Juan Manuel Cat, Mateo Sanguinetti, Santiago Arata et al all set to still be key figures in four years' time. Inspirational captain Juan Manuel Gaminara and wing Leandro Leivas may miss out with both players in their 30's, but Uruguay have ready-made replacements in the forms of Manuel Ardao and Baltazar Amaya. They have been comfortably the most impressive tier two rugby nation from the Americas.
USA
Consigned to zero points at the end of Pool C by Tonga on Sunday, this is not the tournament that head coach Gary Gold will have been hoping for. What the Eagles did show, however, was a resilience and doggedness in defence, as they frustrated France in particular, before Les Bleus had a late flourish. That said, they would have circled the Tonga game and although the islanders were only able to rack up a 12-point advantage, it was a game that Tonga were in control of for the vast majority.
The situation is not as gloomy as it is for some of the other teams finishing fourth or fifth in their pools, however, as the USA not only have the blossoming Major League Rugby to lean on and develop over the coming years, they also trusted a number of younger players in Japan, players who look like they can form the foundation of the side moving forward. David Ainu'u's tournament was sadly curtailed by injury, Hanco Germishuys is a force in the back row and Ruben de Haas looks like the starting scrum-half moving forward, before even considering exciting hooking talent Kapeli Pifeleti, who just missed out on selection. If the Americas again have two qualification spots for 2023, the USA will feel confident.
Watch: Cancellation hit O'Shea's Italy hard.
Comments
Join free and tell us what you really think!
Join Free