Jonny Sexton's 6'5, 118kg little brother and 52 other Irish exports playing pro-rugby in Europe
Not for nothing have the Irish been described as the Samoan rugby players of the northern hemisphere. More often than not, they are excellent value-for-money signings when they head abroad.
Whether seasoned internationals, the likes of ex-Munster duo Simon Zebo and Donnacha Ryan earning glittering six-figure salaries in Top 14 with big-spending Racing, or relative unknowns, such as Munster cast-offs Shane Buckley and Rory Burke pocketing minimal Championship wages at Nottingham, there is a common denominator between the contrasting workplaces.
These Irish exports, be they head-hunted stars or rookies trying to save careers that didn't take off in Ireland, aren't reticent towards putting in the hard work necessary to make a good impression in another country. Well-schooled, mostly in the provincial academy systems, their can-do attitude is attractive.
It's why there are 53 players active in the four English and French leagues in 2019, along with the excellent comeback story that is Ian McKinley in Italy. This number is marginally down on 2018 when 55 exiles earned a crust abroad. The most notable dip came in the Premiership, last year's total of 16 falling to nine.
There were contrasting retirements across the board. Veterans Donncha O'Callaghan and Peter Stringer called it quits after leaving Worcester. Youngster Ciaran Gaffney did likewise following a horrific injury with Zebre, as did Dominic Ryan at Leicester following concussions. Declan Cusack, meanwhile, took up coaching at Doncaster at the age of 29.
Others arrived home in Ireland with a spring in their step. Marty Moore was snapped up by Ulster from Wasps, Tadhg Beirne by Munster from Scarlets, Johnny Murphy by Connacht from Rotherham.
There were also lesser known transfers, even two exiles dropping into the Italian shadows in left-field efforts to keep alive their pro career dreams. Conor Gaston swopped Pro D2 Aurillac for Top 12 Verona, Danny Kenny left Championship London Scottish for Valpolicella in Serie A.
Then there were those whose time in the paid ranks was simply up. Jason Harris-Wright was released by Bristol, Ross Adair is now at Ballynahinch in the All Ireland League after being at Jersey. Similarly, Tim Small can be found at Ballymena after a stint in Aurillac.
The wheel keeps turning. For instance, you'll now find former Ireland second row Dan Tuohy – a 2014 Six Nations winner – at Vannes at the age of 33 in ProD2, one of last summer's more curious moves.
Brive boss Jeremy Davidson has provided refuge in that same division for two fellow Ulstermen, Stuart Olding, sacked by his province along with Paddy Jackson following a high profile court case, and Rory Scholes, who fell down the Connacht pecking order.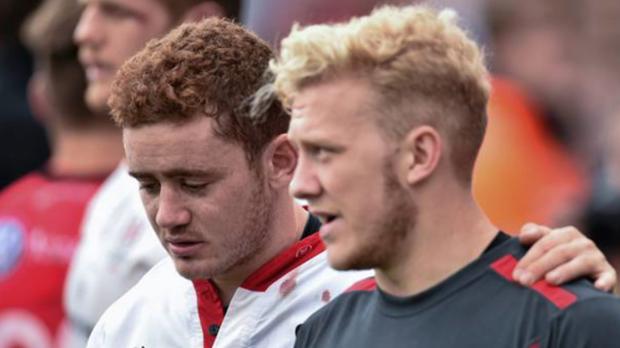 ProD2 has in recent years become a viable option for Irishmen looking to go away. Look at how Steve McMahon, John Madigan and Frank Bradshaw, all youngster surplus at Munster, are finding their way elsewhere in the rugby world. There's even a home at Beziers for Jamie Hagan, capped once by Ireland in 2013 before Joe Schmidt took the reins.
The issue is the Irish system's limited capacity. With just four provinces, there is a bottle neck and a need for a Plan B. With no language barrier, unlike in France, the lower profile Championship in England remains the tournament where the majority of exiles are found.
It featured 23 Irish players last term. Now there is 27 spread across 10 clubs and while remuneration isn't at all generous, the hope is those playing in England's backwaters no longer stoop to the level Robin Copeland did when he was reviving a career that didn't get lift-off in the Leinster academy.
'When I first moved to Plymouth (Albion), I was living in a tiny, shitty apartment attached to the club that had mushrooms growing in the bathroom. It was freezing cold, damp, horrible,' he said in 2014 not long after he arrived at Munster via a flourish in the Cardiff back row.
'My contract was so bad I got a job behind the bar in the golf club as well to try and pay for it. Like, I was skint. But I was playing rugby and I was happy enough. I'd been a student for the last four years ans was still living a student life. Nothing really had changed. I'm not really one to complain, but looking back that was the lowest point.'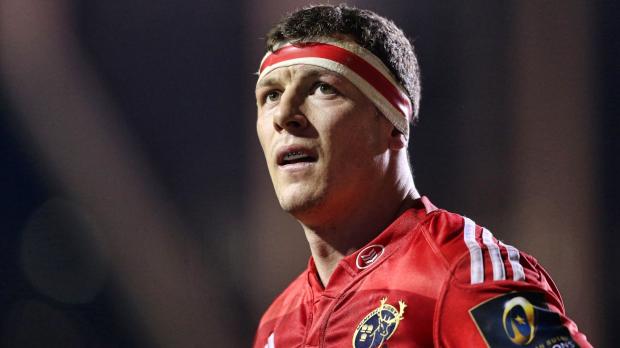 The Championship remains a road well travelled. Richmond filled their boots last summer, bringing in Ulster pair Lorcan Dow and Craig Trenier, while Yorkshire also invested, Cian Romaine joining the Stuart Lancaster-recommended Dylan Donnellan in Leeds.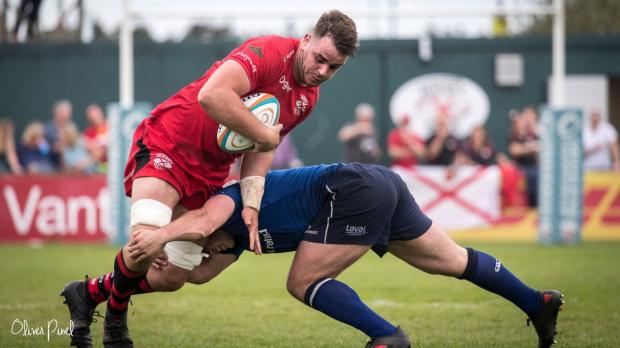 You'll also find Jerry Sexton, brother of World Rugby player of the year Johnny at Jersey. Ben Betts, the 2016 under-20 World Cup finalist, is now at Ealing after earning stripes in Leicester's academy. Rory Parata, released by Connacht, is now at Cornish Pirates after a fleeting stint at Zebre.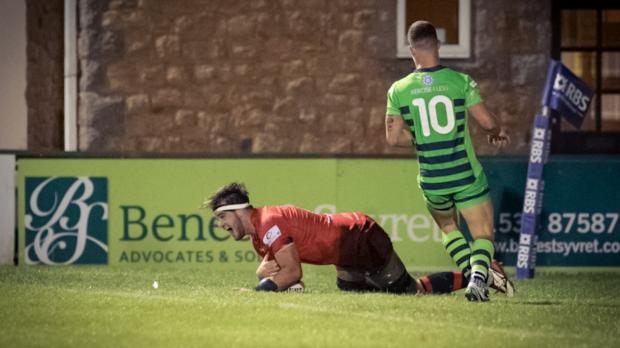 However, unfashionable Nottingham are the club with most Irish numbers on speed dial, their route to market opened by their appointment of Ian Costello as coach in 2016.
The former Munster assistant has since moved on, becoming defence coach at Dai Young's Wasps, but Nottingham's appetite for Irish talent hasn't lessened. They now have eight on their books, up two from when Costello departed last summer.
Both newcomers are trying to make their careers. Oisin Heffernan was released by Leinster after he finished up at their academy, Vakh Abdaladze instead chosen as their 2018 tighthead graduate to the senior ranks. Meanwhile, Shane O'Leary, the Corkman who has played for Canada, arrived in the midlands from Ealing having been let go previously by Connacht.
The Championship is generally an unforgiving workplace. It was December 2016 when this writer caught up with Costello at Lady Bay. Training was over one cold Saturday morning and the shackles came off when describing the commitment players make to succeed in England's second tier.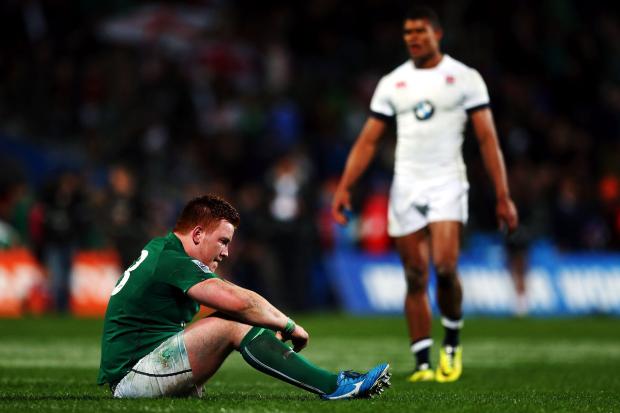 'It's frightening what guys in the Championship are asked to live off and survive on. Players here (at Nottingham) earn the equivalent of a good development contract in Ireland but when we play against Ealing, some of their higher earners could be on £80K-£90K.
'We would lose players at that calibre. If a club came in and offered £60K-£70K we wouldn't be competitive, put it that way. We'd definitely be in the lower end in terms of financial resources. I was a little taken aback by that when I came in.
'Some guys in our team are on match fees and they just decide to invest in themselves for a year or two and give it a crack whereas other guys are well-established pros that have been around the leagues for a few years. It's definitely not lucrative in any capacity.'
Even the rugby? 'The standard would be far significantly stronger than All Ireland League, primarily around set-piece. If I was an Irish forward you get a fantastic experience in the Championship. Scrum and maul is huge. Some clubs, that is all they do. That is why it's not as attractive as you would like it to be.'
There will always be only a limited number of professional contracts available in Ireland for the near 80 apprentices split between the four provincial academies. It's a numbers game which ensures a surplus will always try their luck overseas, a numbers game that intriguingly changed at Munster in 2018.
The province signed two South Africans, Keynan Knox and Matt More, for their academy with the full backing of the IRFU. The pair will now be Irish-qualified before the residency requirement jumps from three to five years at the end of 2020.
Against that, Pau, run by ex-Munster assistant Simon Mannix, brought two Cork 19-year-olds, Eoghan Barrett and Ben Roche, into their academy last summer who can become French-qualified.
Their exit is another Irish overseas development to watch with interest.
IRELAND'S ANGLO-FRENCH EXILES
ENGLAND CHAMPIONSHIP – 27
BEDFORD – Mark Flanagan (29, second row), Sean McCarthy (28, prop), Tadgh McElroy (21, hooker). CORNISH – Rory Parata (24, centre), Callum Patterson (26, centre). DONCASTER – Willie Ryan (28, back row). EALING – Ben Betts (22, prop), Peter Lydon (26, full-back), Jack O'Connell (28, prop). HARTPURY – Des Merrey (26, prop). JERSEY – Mark Best (24, centre), Conor Joyce (25, back row), Jerry Sexton (25, second row). LONDON IRISH – Conor Gilsenan (26, back row), Brendan Macken (27, centre). NOTTINGHAM – Shane Buckley (26, back row), Rory Burke (24, prop), Jordan Coghlan (26 back row), Oisin Heffernan (24, prop), Gearoid Lyons (23, out-half), Shane O'Leary (25, out-half), Danny Qualter (26, second row), Sean Scanlon (30, full-back). RICHMOND – Lorcan Dow (23, back row), Craig Trenier (24, prop). YORKSHIRE – Dylan Donnellan (24, hooker) Cian Romaine (23, second row).
ENGLAND PREMIERSHIP – 9
BRISTOL – Ian Madigan (29, out-half). EXETER – Gareth Steenson (34, out-half), Ian Whitten (31, centre). GLOUCESTER – Paddy McAllister (29, prop). NORTHAMPTON – Paddy Ryan (20, back row). SALE – AJ MacGinty (28, out-half). WORCESTER – Niall Annett (27, hooker), Callum Black (31, prop), Michael Heaney (28, scrum-half).
FRANCE TOP 14 – 8
AGEN – Dave Ryan (32, prop). GRENOBLE – Duncan Casey (hooker, 28). PAU – Paddy Butler (28, back row), Sean Dougall (29, back row), Dave Foley (30, lock) – Eoghan Barrett (19, centre) & Ben Roche (19, second row) are in the academy. PERPIGNAN – Paddy Jackson (27, out-half). RACING – Donnacha Ryan (35, lock), Simon Zebo (28, full-back).
FRANCE PRO D2 – 8
BEZIERS – Jamie Hagan (31, prop). BRIVE – Stuart Olding (centre, 26), Rory Scholes (25, wing). CARCASSONNE – Steven McMahon (23, full-back). MASSY – John Madigan (24, second row), Eamonn Sheridan (29, centre). NEVERS – Frank Bradshaw (23, second row). VANNES – Dan Tuohy (33, second row).
Comments
Join free and tell us what you really think!
Join Free