Jacques Nienaber addresses Evan Roos selection outcry
Springboks head coach Jacques Nienaber has addressed how his management team went about the process of selecting players for his national alignment camps following an outcry over the omission of a number of players.
There was considerable criticism in some quarters after Nienaber snubbed Stormers No.8 Evan Roos and Bulls veteran Marcell Coetzee for South Africa's first alignment camp.
A further alignment camp with overseas players will take place, followed by a second alignment camp for domestic-based players.
"There's been a lot of things in the media about team selection.
"I'm gonna use loose forwards because there's a lot of good loose forwards and I've got a lot of loose forwards currently that's playing well that can be in contention for the Springbok side, so I'm gonna use that position as an example and especially I'm gonna talk about this being this big hype between Evan Roos and Elrigh Louw. So just so that you guys can get a little bit of a backdrop of how we process team selection and how we think about it.
"I'm gonna start with the end goal in mind. So when you remember when we go to the World Cup in France, there are only five spots available for loose forwards. And if you look at the guys that we utilized a lot last year and also the guys that have been with us during the 2018/19 season on and going through into the World Cup and we honestly believe that Duane [Vermuelen] can still make France 2023. We honestly believe Peter Steph [Du Toit] can still make France 2023. We believe Siya Kolisi can still make France 2023.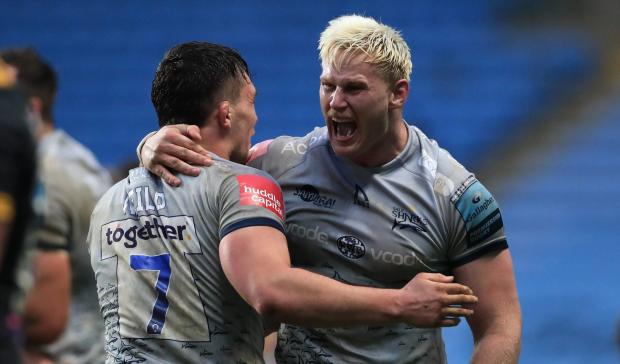 "When I say we still believe. I mean that that that's saying that there's not big injuries. That's saying that they perform on-field and they do the main thing, which is you must play rugby well on Saturday so so if they perform on the field and they play like they are currently doing we we believe they can go to France 2023 then obviously.
"Kwagga Smith joined us at the Rugby World Cup in 2019. If he continues playing good rugby… he can still make France 2023."
"The fifth guy we used in 2019 was Francois Louw and obviously he retired.
"Look at the age of those players. Yes, Duane is 34. Siya is 30, Pieter Steph is 29 and then Kwagga is 26. He's almost a youngster pushing the three older dogs there.
"Then the guys we used last year. Jasper Wiese, he's 26. He's only 8 or 10 caps now. Then we used Marco van Staden. If I name those six loose forwards that we predominantly used from 2018 into the British & Irish Lions series. Then you've got the Du Preez brothers who only played one or two games. That takes us to eight loose forwards.
"If I take those eight loose forwards and I don't even mention the other guys, and I add Evan Roos and Elrigh Louw, who is 22, and they're pushing those older guys, that gives us a total of 10 loose forwards.
"There's only five spots available."
Nienaber explains that it comes down to a numbers game, and the Springboks simply don't have enough spots to carry 10 back rows into a Rugby World Cup season.
"There's 17 Test match before we go into the Rugby World Cup. We are working hard on a warm-up game and we almost over the line, it would be 18.
"If we utilize those then loose forwards that I've mentioned now and we decide OK listen we're gonna give only four test matches to Duane, Siya, Peter Steph and let's say to Kwagga, we gonna give them four test matches then we're gonna take Jasper and Marco van Staden and. And we're gonna take the two Du Preez brothers and give them four test matches.
"Then we take Ryno Eldstadt, Elrigh Louw and Evan Roos and we're going to give them four test matches, then we won't be able to build into the World Cup.
"I mean we it will be impractical to build an and I need to improve on the things that we do and try and do things better and build on your game plan and build continuity and build momentum."
Comments
Join free and tell us what you really think!
Join Free