'It's not the lowest point because you're representing your country at a World Cup' - Tom Wood on England 2015, Lewis Ludlum and his born-again Saints
No one will ever forget the anti-climactic rollercoaster that England experienced in 2015. There was a beaming Stuart Lancaster on the first Saturday of September, optimistically declaring in the wake of a convincing warm-up win over Ireland at Twickenham that his squad had all the necessary ammunition to go all the way and win their home World Cup eight weeks down the line. 
Four Saturdays later, though, the chastened coach was using a very different kind of vocabulary. Billy Williams' cabbage patch had just witnessed the death of a dream and its impact was devastating for the central characters at the epicentre of a pool elimination that has taken place with one game still to spare. 
Tom Wood lived and breathed every moment of that cruel journey, but don't dare suggest that England's exit in the full glare of global publicity after brutal losses to rivals Wales and Australia was a low point in a seven-year Test career that harvested 50 caps in the back row, 
"It's not the lowest point because you're representing your country at a World Cup," he insisted to RugbyPass, looking back on an occasion where England went from would-be champs to chumps inside 28 days.
"I wouldn't describe it a low point in my career, but it was unbelievably deflating and disappointing only because we had such high hopes and we were a far better team than what we achieved in that tournament. We were genuinely training and preparing with a view to going on and competing to win the thing and in the end, we lost two key games and didn't make it out of the pool. They are fine margins. 
(Continue reading below…)
"On another day we could have easily beaten Wales and we have comfortably beaten the likes of Australia in the past, especially at Twickenham, but those two days just didn't go our way for whatever reason. That is the difference between going on and competing for silverware and being in knockout rugby, or going home early from your home World Cup. 
"I remember in the warm-up game we played Ireland, played unbelievably well and had a great result against them, but warm-up games don't count for much. You have got to win the pool games and get yourself into a position to compete for silverware.
"It's a very different thing when you have four pool games and then you go into knockout rugby. It is very different from the rest of the international calendar where you play one-off games or you play a Six Nations with breaks in between and play familiar opposition. It's just a different dynamic, especially on the back of a long pre-season camp.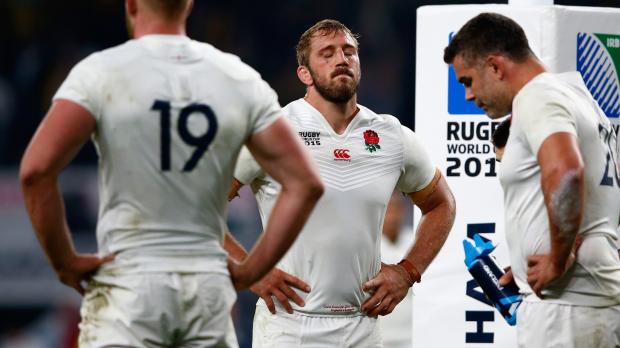 "Both of the World Cups I was involved in (2011 and 2015), we worked unbelievably hard, spent an awful lot of time in pre-season running lengths and getting fit and we probably underachieved in both of those. The high hopes we had in 2015 with the home World Cup, we really fell flat on our face despite training, preparing, being so organised and planning so far ahead and working so unbelievably hard in pre-season. It didn't quite happen for us. 
"You have got to learn to win games, you have got to learn how to play a tournament-style rugby rather than week in week out, manage your resources, get games won in those pressure situations. You can be as fit as you want but it the game doesn't go the way that you want like it didn't for us in 2015, then it is all for nothing."
Now 32 and nearly two and a half years on from his last Test outing, the March 2017 Grand Slam loss to Ireland in Dublin, international rugby is very much a thing of the past for Wood. He readily admits that he doesn't watch an awful lot of rugby these days, but World Cup 2019 will be an exception.
13 years ago I promised my primary school teacher if I ever played for England id get her tickets to my first game to thank her for her support. Can't believe we actually managed to track her down! pic.twitter.com/Wi7060esr1

— Lewis Wesley Ludlam (@LewisLudlam) August 13, 2019
His Northampton Saints have feet in a number of camps. There's Fijian Api Ratuniyarawa, Samoan Ahsee Tuala, Scot Rory Hutchinson, Springbok Cobus Reinach, Dan Biggar of Wales and three Englishman, Courtney Lawes, Piers Francis and Lewis Ludlam, the 23-year-old flanker whose sudden emergence at Test level this past month has caught so many by surprise.
He's living the dream just now, heading to the World Cup that no one a year ago would have predicted he would be selected for. Wood can't but admire his fast-track progress. "Lewis has always had that potential," he enthused. "He has always been a very tough player. 
"He has definitely refined some of his game in the last year or so and had a lot of experience of game time under Chris Boyd. He did do a little bit under Jim Mallinder in his final year as well, but he has really blossomed in the last year. He has always been a tough competitor and it's great to see him do so well on the national stage. He really deserves that after the season at Saints. 
"He's a real leader for us energy-wise. He's a tough guy. He carries the ball well, he breaks tackles, he runs like there is nobody there. He runs through people similar to the way Teimana Harrison does. He's not the biggest guy in the world but he punches well above his weight and his tackle technique is exceptional. You watch him getting off the line, tackling low, chopping low, big guys running down his channel, he drops really low and gets underneath them and puts them back on a regular basis. 
"He is exceptional at that and the areas that he wasn't as strong in he has worked really hard on, things like his lineout are really coming on. In the forwards, you can have all those natural physical attributes but if you can't function in the lineout or in the set-piece, it is really difficult to make it at Test level so that is where he has really brought his game on, made a difference and made that step up."
Ludlam's shooting star is a reminder to Wood how professional rugby is increasingly becoming a younger man's game, a development reflected in his own contract situation at Franklin's Gardens. "It's guaranteed for a year," he explained about the latest deal he signed in 2019, "and then you have to play a certain amount of games to guarantee I get the second season. The second season is all in writing, I just need to play enough games. 
Not sure what to make of that eng v ire score yesterday. England looked so powerful and dominant across the board. Big individual performances all round but @maroitoje stood out for me. @SGUnderhill hustle and low chops and how good to see @Manutuilagi back to that level??

— Tom Wood (@tomwood678) August 25, 2019
"It's just the nature of being this old. I have got to keep earning my keep. but I only really want to be here as long as I'm fit and playing and being selected. If I'm not in contention and I'm not playing well then I will have to hang up my boots for my own good."
His warhorse experience can help him stay the course, though. "There is certainly a place for the old guard," he insisted. "Experience and other things do count for a lot. We have seen a lot of it in training, young guys coming through who are unbelievable athletes but don't know the nuance of the game, lineout and set-piece in particular. 
"You can be a very average athlete and a very good rugby player because you know the game, you know the running lines, you know how to defend. It's not always the fastest person that is the quickest off the line in defence.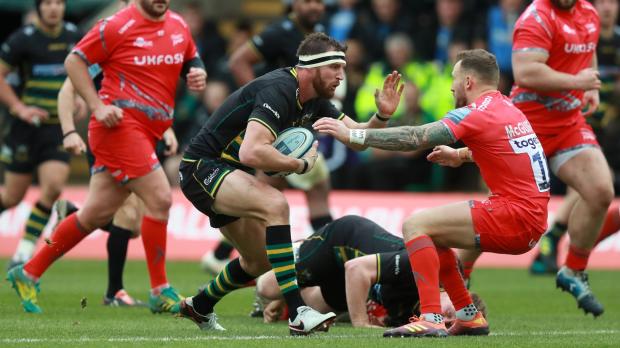 "It's about concentration and anticipation and understanding, those kinds of things. But I do think generally this pre-season has illustrated how good and fit some of these youngsters are and how hard it is to keep up with the old body the days. 
"My focus is still very much on being the very best I can be for the club. I anticipate hopefully playing a couple of years yet. We will see how the body is at that stage and whether anyone is willing to offer me a deal. 
"Realistically if I can play another couple of years at the top of my game and play well in a good Saints team and perform to the standards that I need to then I will hopefully bow out on my own terms with relative grace.
"I have got lots of things in the pipeline. I do my woodwork, do some tree surgery, have got some property stuff going on, particularly with my old man and my brother. But I don't have any hard and fast plans because I'm only really planning for playing and winning rugby matches."
That declaration will buoy Saints fans confident that last term's run to the Premiership semi-finals was no flash in the pan under Boyd, the New Zealander who inherited a squad that was at a low ebb after the momentum of the trophy-winning Mallinder era had ground to a sobering halt. 
"I have loved all my years here at Saints but if I'm honest things got a little bit stagnant and results weren't going our way. We were a bit frustrated within the camp. Everyone was across the board because we have got really high ambitions and standards for ourselves and we weren't quite reaching them. 
Awesome to see the boss man leading from the front here. Engaging with our clubs rich history and honouring those that made all that we have today possible https://t.co/W8XG2BENTG

— Tom Wood (@tomwood678) August 29, 2019
"But with Chris coming in and a lot of new coaches with him, some condition staff as well and a lot of young players who have come through and stepped up, there is a lot of fresh energy around the place, a lot of optimism and ambition, so it's a great place to be at the minute.
"You have got to prove yourself all over again with a new coach, especially someone coming from so far afield who perhaps didn't have an intimate knowledge of the individuals within the team before he got here. You have got to back yourself, though.
"There is a little bit (of anxiety). You have got to acknowledge the fact that all the groundwork, all foundations, all the credit you have in the bank with the previous regime is all out the window and you have got to start all over again.
View this post on Instagram
"But that is the way it should be anyway and I will always back myself to live with that. I obviously did a reasonable job of it having the contract extended," he said seven weeks out from the start of a new Premiership campaign that will see Northampton trek to champions Saracens on October 19.
"We're eager. We are basically out on the pitch doing rugby and fitness, we have not had many philosophical meetings yet. That is yet to come. We are going to have a little mini-camp where we go away for a couple of days and then we will really thrash out what we want to achieve during the year, what is going to be acceptable, what are our goals, what our minimum standards are and everything else. 
"That is yet to come. For now, we are just laying the foundations of physical prep. There is good excitement around the place after last season."
WATCH: Part one of Operation Jaypan, the two-part RugbyPass documentary on what the fans can expect at the World Cup in Japan
Comments
Join free and tell us what you really think!
Join Free