'It was kind of playing with my head': Tupou Vaa'i on the All Blacks season that was
After making his test debut in 2020 on the back of a breakout campaign with the Chiefs, 2021 was another big year for 21-year-old second-rower Tupou Vaa'i.
While he was the most junior of locks in the Chiefs' squad for 2020, only joining the side ahead of Super Rugby Aotearoa, Vaa'i entered last year as the side's most senior lock – with all of seven caps to his name.
Unsurprisingly, that meant Vaa'i shouldered a heavy load throughout the season, starting 12 matches in the second row – more than Naitoa Ah Kuoi and Josh Lord, the Chiefs' other locks, put together.
Despite his impressive form throughout the Super Rugby campaign, however, there were no guarantees that Vaa'i would earn selection in the national side, not with Sam Whitelock, Patrick Tuipulotu and Scott Barrett injury-free, and Brodie Retallick back on deck after his sabbatical in Japan, leading to a "nervous" couple of weeks before the team was named.
"It's always nerve-wracking every time you see a coach's name pop up on your phone when you don't know what it's about," Vaa'i said earlier in the season.
Come the announcement in June, Vaa'i was one of the 38 names included in the squad to set to face Fiji and Tonga the following month – but even that series of matches didn't necessarily quell his nerves.
Vaa'i was the only All Black to not take the field during July and despite reassurances from the coaches that all was well, the ongoing omissions played on the young lock's mind.
Expectations were that a tweaked squad would be named for the Rugby Championship, and what chance did Vaa'i have of being selected to play the likes of the Wallabies and Springboks after not getting any opportunities against Fiji or Tonga?
"It was a weird one because I didn't get any minutes in the July tests and they were obviously making another cut for the Rugby Championship," Vaa'i told RugbyPass. "It was kind of playing with my head a little bit.
"I honestly thought I was going back to NPC. Towards the end of the ABs camp, after the Hamilton game against Fiji, I actually messaged [Taranaki head coach] Neil Barnes saying that I'd be coming back [to play NPC].
"The next morning, Fozzy [All Blacks head coach Ian Foster] pulled me aside and said 'We're going to take you'.
"I was just so glad that he said that to me before they named that second squad in the media. I was stoked to be given an opportunity to go to Oz and give it a crack really."
The moment when Tupou Vaa'i told his family he had made it into the @AllBlacks squad ? pic.twitter.com/f7zZSdflmR

— RugbyPass (@RugbyPass) September 6, 2020
The lack of opportunities during July had been somewhat telegraphed. After his big season with the Chiefs (12 starts was the most by any Kiwi second-rower in Super Rugby last year), the selectors wanted to give Vaa'i the opportunity to freshen up and get over a niggly Achilles injury that had plagued the latter half of the campaign.
In a similar vein, Vaa'i knew that opportunities would present themselves in Australia, especially with Whitelock remaining home in New Zealand.
"There was a bigger picture in the long run," he acknowledged. "During those July tests I was too hard on myself. I was trying to rush the process to get back on the field but I needed to have that hard conversation with myself, really, to tell myself that I wasn't right yet."
Vaa'i earned his first minutes of the year against the Wallabies in the third Bledisloe Cup test, then started two weeks later against Argentina.
It was on the end-of-year tour that his season really came to life, however, when Barrett and Tuipulotu returned to New Zealand and Vaa'i became the third-most senior lock in the squad.
"I found out that Scooter [Barrett] and Patty were going home and [forwards coach] John Plumtree just sat me down and said, 'This is a perfect opportunity for you to get some game time'. I was also given a new role in the lineouts, coming up with strategies there."
Thankfully, that was something Vaa'i already had a little bit of experience with in 2021, with a similar role being undertaken earlier in the season with the Chiefs.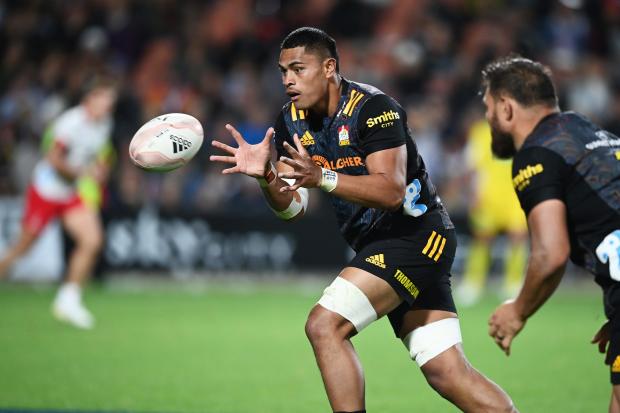 "I had to play a bigger role because Mitchell Brown – who was playing lock in 2020 – was playing loosie now. I had to lead the lineouts a few times and call the lineout a few times, which is something I wasn't really used to, but it's a part of my game I need to grow."
That included against the likes of Crusaders pairing of Barrett and Sam Whitelock, who boast almost 250 Super Rugby caps between them, in the third round of the Aotearoa competition.
"They definitely didn't make my job easier as a caller," Vaa'i said. "It was a good challenge, though. It was a good opportunity for me to see where I was at, a good opportunity to put myself under pressure to execute in those situations. It was a good experience."
And while Vaa'i undoubtedly learned plenty from going up against the best second-rowers in New Zealand during Super Rugby, it was playing alongside men like Whitelock that contributed the most to his development throughout the year.
"Just hearing [Whitelock] speak about his process and what he looks for at set-piece, it blows my mind," Vaa'i said. "When I'm calling lineouts I'll just sort of call the ball wherever and hopefully win it but he definitely has a different way of doing things.
"It's been really helpful for me to grow as a player and as a lineout caller. Sam knows pretty much every single detail about lineouts and stuff.
"When me and Josh Lord started against Italy, I leaned pretty heavily on Sam and was asking him for tips on calling, like what he's looking at in lineouts and the tempo of them, that sort of thing.
"He's pretty much got 10 or 11 years of knowledge in him so I'm just trying to squeeze it all out, take it all in and use it all.
"I definitely learn the most about the lineout when playing with Sam but [the All Blacks locks] have all got different areas they're good at.
"Scotty Barrett, he's a workhorse, he's a strong man, just does his work around the park. Brodie Retallick has good footwork, he's good in space, that sort of stuff. He's pretty physical as well.
"Then you've got Patty who's a good ball carrier, physical in both attack and defence. They've all got different strengths that I'm trying to learn from."
Speaking exclusively to RugbyPass, one-test All Blacks playmaker Josh Ioane has lifted the lid on his decision to move from the Highlanders to the Chiefs this season. #SuperRugbyPacific https://t.co/kP8pNjt1Ty

— RugbyPass (@RugbyPass) January 15, 2022
When Barrett and Tuipulotu returned to New Zealand following the Rugby Championship, 21-year-old Lord joined the team and Vaa'i lost his 'role' in the team as junior lock.
The pair – who'd made four starts together for the Chiefs – both earned minutes against USA on the northern tour before they were entrusted with run-on roles against Italy.
While the scoreboard following the match indicated a comfortable victory for the men in black, the 38-point margin was perhaps not quite so indicative of how the game played out, with almost every player on the team guilty of making uncharacteristic errors – including Vaa'i.
The post-game review was perhaps the hardest of the youngster's career to date.
"It was brutal, that review," Vaa'i said. "It was pretty similar to the review after that second South African test [which the All Blacks lost 31-29].
"It was definitely a frustrating game. We didn't get through as many phases as we wanted to before we lost the ball. I lost the ball a few times and those dropped balls definitely came up in the review.
"That was good and bad; obviously, you're pretty down that you've made some mistakes and you want to be perfect but it definitely gives you a good mindset for the next week and gives you stuff to get stuck into."
Vaa'i was on the bench for the following game against Ireland but didn't get the opportunity to take the field in a 29-20 loss ("It is what it is. The coaches had their reasons and I fully respected that."), but clocked up 16 minutes against France in the final game of the tour.
While it wasn't necessarily a vintage season for the All Blacks, who finished the year with 12 wins and three defeats, 2021 was an important year of development for Vaa'i – both on and off the field.
He clocked up some big minutes for the Chiefs, earned a handful of tests for the All Blacks, and also found he finished the season with a better handle on his mental health, thanks in part to the mentorship of Akira Ioane on the end-of-year tour.
"Aki's been my roommate for the majority of the tour, I've definitely got to know him on a personal level and what his habits are and that sort of stuff," Vaa'i said. "He's a good man and a good mate of mine too.
"He's really big on mental health so he's always checking up on me, every single day, every morning. That's what I love about him, he really cares about you on a deeper level so I've got heaps of respect for that guy and heaps of love for him.
"I didn't get selected for those last two South African tests [in the Rugby Championship] and Aki was the guy I went to and he gave me advice about it.
"You don't really understand mental health until you go through it and Aki's the guy who's been through all those obstacles so he's been helping me out in that area, with stuff like disappointment. He's been my go-to guy."
And now, another year older and another year more experienced, Vaa'i is eyeing up a big Super Rugby Pacific season, where he'll finally have the opportunity to suit up with Retallick in a Chiefs jersey after first lining up together in the third Bledisloe Cup test of 2021, as well as Lord.
2022 is shaping up as a massive campaign for Tupou Vaa'i, and after all the highs and lows of the year gone, he's well and truly ready for whatever the season throws at him.
Comments
Join free and tell us what you really think!
Join Free