'It was somewhat skill, somewhat fortuitous... Most of the boys were just perplexed with how I managed to make it come off'
How typical. Rugby fans across the UK were in uproar last weekend, bemoaning the lack of excitement in the Wales vs England Autumn Nations Cup game that hogged the broadcasting limelight. Yet, away from centre stage at around the same time things were drawing to a drab conclusion in Llanelli, Tom O'Flaherty was igniting fireworks at Sandy Park as reigning double champions Exeter blitzed Bath, last season's semi-finalists.
Five tries were scored in the emphatic 40-3 rout, but there was no hiding the standout five-pointer. Just over a half-hour was gone when Joe Simmonds, near his own ten-metre line, lofted a typical Exeter cross-kick in the direction of O'Flaherty.
What happened next was the stuff of vibrant dreams, though. Rather than look to grab possession with his hands, the Chiefs wide man audaciously, without breaking stride, volley kicked the ball forward from the halfway line as it dropped from the sky and off he went, galloping after it and winning the race to score with a precise dive followed by a slide and a beaming smile.
It was never in doubt that the score would be voted best try of Premiership round two but the fuss it generated largely bypassed O'Flaherty. Why? He's a rare breed, a rugby player who doesn't bother with social media. Doesn't have accounts, doesn't spend his time checking out on his phone checking what other people are doing.
"I don't really like to sit on my phone too much and look at what other people are doing. You can spend a lot of time wasting your time on it so that is why I don't do it. I get out and about, read, go swimming, a bit of surfing, all sorts of stuff," he explained when RugbyPass asked him to reflect on a jaw-dropping piece of skill that was in sharp contrast to the dull fare the England Test match had produced.
ICYMI: Unbelievable tekkers from Tom O'Flaherty ???????? https://t.co/BsQMnrli3D

— Exeter Chiefs (@ExeterChiefs) November 29, 2020
"I don't do social media so I don't really know too much the reaction to it. I mean, it was a lovely try to score. It was somewhat skill, somewhat fortuitous but I was just happy to get on the end of it. I don't think much did go through my mind, to be honest. I just thought I was going to attack the ball.
"It was just slightly out of my reach (to catch) so I just kicked almost instinctively and it just happened to go in the right direction. Thankfully the bounce didn't take it too long away. It just sat up in the dead ball area. It was definitely one I will remember.
"Everyone mucks around in training, you do all sorts of funny skills before and after the sessions but I don't think I have ever practised that. It was beginner's luck. Most of the boys were just perplexed with how I managed to make it [the kick] come off."
Boring was an accusation regularly thrown in Exeter's direction before their 2019/20 campaign culminated in a glorious double, Racing beaten in the European final one week and Wasps eclipsed in the Premiership decider the week after.
"People say we are boring sometimes. They might say that because we are quite clinical when we get in close to the try line but you have to get to those positions in the first place."
Winning was bliss, O'Flaherty playing the full 80 against Racing before sitting out the league decider with Olly Woodburn preferred to start for Exeter. "I face-timed my dad and my family from the changing room afterwards and it was obviously high spirits," he said about his reaction to being crowned a trophy winner.
"It was a shame that we couldn't share it with fans and friends and family but nonetheless, in a funny way, people will remember it even more because it was the year that no one was there at either final.
"It was good to pick up the phone and speak to my dad briefly and then get on with the celebrations. I was elated. I wasn't crying or anything, I was just very happy, it was good to show my dad the cup. He was happy, I was happy, my mum was happy, my brothers and my sister, it was all good."
32 Wow What A Try. Soccer skills!

Tom O'Flaherty volleyed a kick that he had fly hacked ahead. He then won the chase to the line to touch down

Difficult to describe – a joy to watch.

Converted by @joesimmo10
21-3#EXEvBAT pic.twitter.com/f52wrPCbnW

— Exeter Chiefs (@ExeterChiefs) November 28, 2020
It had been quite a circuitous route for O'Flaherty getting to that point, his career starting in the minis section at Old Alleynians in London before getting to Exeter via Ospreys following a university degree at Cardiff that involved a year studying in France and a stint with the Montpellier espoirs.
"I played a bit of football, played a bit of rugby," he said, recalling how it all started began for him. "My dad just sent me down to the local rugby club one day and I just enjoyed playing it and then one thing led to another. I ended up playing with school and carried on into uni.
"In the offseason, I go and do the odd running session there (at Old Alleynians) but I don't really know anyone there anymore. One of the boys I used to play with at the Ospreys, Ben John, does a bit of personal training down there so I bumped into him in the two weeks off. It was nice to say hello to him, but I have more of a connection with some of the teachers at my old school (Dulwich College)."
It was 2017 when Rob Baxter called. There was little or no arm twisting required for O'Flaherty to leave Wales and join Exeter. "It was more I wanted to come here because I knew the success that the club had had and I quite liked the humility of the club and how it had worked its way up from the Championship.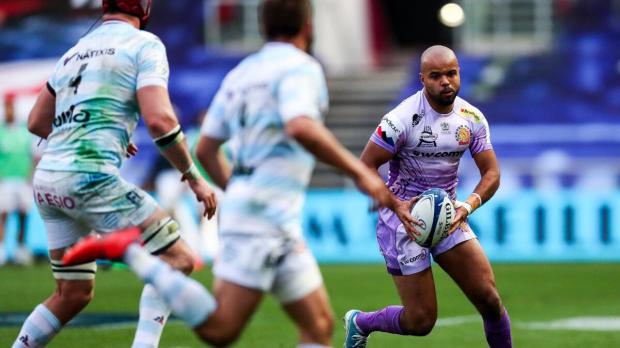 "It wasn't so much Rob said anything to me. When the opportunity came I took it with both hands. It wasn't necessarily a team that was star-studded with loads of internationals, although it is becoming like that now. That was my main drawing point. I like the way that they played and how it had come up from the Championship to be a force in England and in Europe."
Now signed until 2022 following an extension last April, the 26-year-old is on a roll following a short break in between finishing last season and starting the new one. "I actually went to Greece for the week after the Premiership final and then went back to London and saw my family but then at some point, they started to shut everything down.
"I just looked at the list of countries where there were no restrictions to go to and coming back and Greece was the closest one. I just went there because I could and I thought you can't let this virus just completely dominate every decision that you make.
"At the end of the day we have to learn to live with it so I thought I'd get away because was have got another 30-odd weeks of rugby coming and it's coming thick and fast. There's no break so I thought you definitely got to maximise the amount of time off and I wasn't willing to let a virus completely dictate and ruin my time off.
And he's gone!? https://t.co/DqVVEUHzWA

— Exeter Chiefs (@ExeterChiefs) December 1, 2020
"The first week in Greece was lovely. It was pretty nice, and it was also good to see my family. In the third week, I had to go back in, get your Covid test and off we went again."
Exeter have started like an express train, three bonus-point league wins registered, 108 points scored and 16 tries bagged in the Premiership before their European title defence begins next Sunday at home to Glasgow followed by a trip to Toulouse.
"We enjoyed winning both the cups," continued Exeter wing O'Flaherty. "We took our time off and enjoyed it as much as we could. We celebrated as a team afterwards and then had a bit of time away from the club but not too much. It would have been nice to have had longer to enjoy it but the way the world is, you just had to get on with it and start a new season a few weeks later.
"Nothing has changed much in terms of our work ethic and the foundations of our game. We have got off to a good start but it's not just because we have abandoned what we did last year, we are just building on it.
"In some way having just two weeks off has been an advantage because you don't have the long lay off of a couple of months, of getting match fit and it takes you a while to get into it. Luckily we have been able to hit the ground running and we hope it can continue.
"It's about staying there. We are there now (at the top) and it's about working hard to stay there and keep finding that motivation within ourselves which I think we all will have. When you are the champions you are the name everyone wants to take down.
"We are fully aware of that in the Premiership and then going into Europe, it's just about focusing on ourselves as much as the opposition. We know that we can win both competitions now."
Watch European Rugby on BT Sport. Click here to buy now
"The Exeter changing room is a unique place, it was like no other changing room"

– @Toottankwaldrom takes @heagneyl ??? on a colourful trip down memory lane, explaining what makes @ExeterChiefs tick – and it's not just the rugby ? ??https://t.co/kVnf81qsIy

— RugbyPass (@RugbyPass) October 24, 2020
Comments
Join free and tell us what you really think!
Join Free