I really don't get it - Jim's Friday Five
Jim Hamilton looks at five talking points across the game of rugby heading into the second round of the Heineken Champions Cup.
ELLIS GENGE TO BRISTOL
I didn't like the timing of the statement from Leicester and then the next day the content put out by Bristol. Then again, that is the new age. Genge is a big name and Bristol are a club that is really struggling this season, so you can understand why they want to give their fans some good news with the homecoming of Bristolian prop.
I find it very strange that he is leaving Leicester, a club that is top of the Premiership and where he is the captain. I don't know from a rugby playing point of view that you would want to leave the best team in the country. Is it money (Pat Lam says it isn't)? Does he want to go back home to be close to his family?
Regardless, it is a huge signing for Bristol and a massive loss for Leicester. It's not the fact that they can't replace Genge – there is talk of Steven Kitshoff being on the market. But that is another South African player and I'm sure the Leicester fans would like their captain to be an Englishman.
VAN GRAAN TO BATH
Bath have just announced a new defence coach after having had an inquest into their team's performance this season. The review said that defence is an issue. No s***. Of course, it is! Look at the number of tries they have leaked! They shipped 70-odd points to Saracens earlier this season. Big changes are needed. I presume Stuart Hooper will stay in his role as DoR and Neal Hatley as head coach until the end of the season, with Johann van Graan taking over in 2022/23.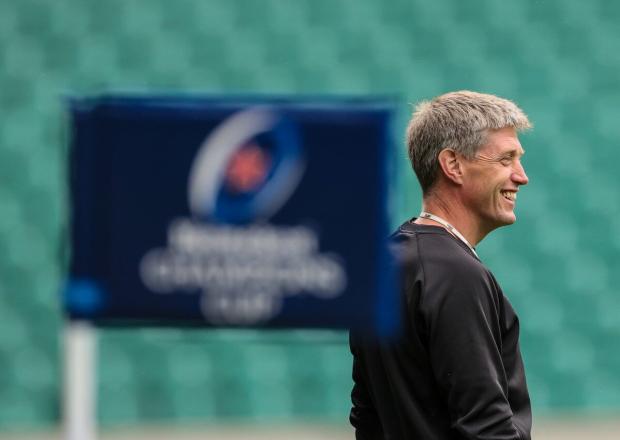 It's a weird one for Munster. They are losing their head coach and also Stephen Larkham. They haven't won anything under the current regime and the province haven't won silverware of any kind at senior level since the 2010/11 Magners League season. They seem to be a team that is again in transition. Forwards coach Graham Rowntree has added massively to the squad. They have struggled with a high profile 10. They have got that now in Joey Carbery, but he is unfortunately injured again.
You wonder who is going to come in next from a coaching point of view. The opportunity appears to be wide open for Ronan O'Gara and Paul O'Connell. Could you imagine the dream team coming back to Munster? They would obviously be welcomed with open arms, but is the timing right for that pair? I don't think it is. O'Gara needs to see out his time at La Rochelle. Is it a move he wants to take now? He has said it isn't.
You don't necessarily want to look at what football does, but the narrative around Frank Lampard at Chelsea, the romance around that – or Ole Gunnar Solskjaer at Manchester United – might be appealing. Or does O'Gara go down the Steven Gerrard route, travel around the world and see different styles of play, cultures and languages and get a more holistic understanding of the game and then go straight for the Ireland job? O'Gara has already coached in New Zealand and France. It's going to be an interesting one. Regarding Bath, time will tell, but I don't think a coach will come in and turn that club around with the click of a finger.
BRAD SHIELDS' BAN AND APPEAL
I tweeted about it. The general consensus in the rugby fraternity is that it wasn't a red. It was probably a yellow card at worst. Shields' high tackle on Dave Kilcoyne was a game-changing moment for Wasps against an understrength Munster team and it was game over. I thought he was going to get off with it at the disciplinary hearing, but he was initially given four weeks. I can't get my head around that decision. I feel like the panel might be trying to look after Romain Poite, with all the controversy around his decisions in the past. I understand that the suspension has now been successfully appealed and he is free to play this weekend if Wasps' match against Toulouse even goes ahead.
JOE SCHMIDT'S SELECTOR ROLE
I'm not shocked to see this decision. The rumour was Schmidt was going to take over the All Blacks if it wasn't to be Scott Robertson. It's good to see Schmidt back in the mix. There is clearly a lot of pressure and questions around current head coach Ian Foster and the team's results in the Autumn Nation Series, even though they won the Rugby Championship. The All Blacks are expected to win every game.
Schmidt will add a different dimension to the All Blacks in terms of his knowledge in Europe and that could be a big thing for New Zealand heading into the 2023 World Cup, having been spanked by Ireland and France. He will be across the Irish obviously and he will understand French rugby as well having coached in Clermont and he will offer a different take on things.
We know the All Blacks are a team that when they come over to the UK and Ireland, they don't even know the opposition players' names. There is an arrogance and a confidence in the All Blacks camp, with the perception being they only think about themselves (Brodie Retallick couldn't name one England player in 2014). They can start learning some names. Schmidt can start teaching them some of the Irish names, although you suspect they might know some of the Irish lads' names now.
RASSIE HEADING FOR TROUBLE
The latest Rassie video features Ice Ice Baby, a packet of cigarettes on the table and him drinking a pint. He seems happy and fluffy, comfortable and safe for Christmas. I know the situation in South Africa from a Covid standpoint but we know he is not allowed near the rugby pitches. Is it making a mockery out of World Rugby? I'm not sure. I'm enjoying his social media videos. He hasn't got quite as many followers as me at the minute but I'm sure he will do by the end of the year. My favourite one was the bulldog one – "You're an English bulldog" – and the dog was going ballistic. It is keeping us entertained.
Okay,but I will probably delete if I get to much "bite" from South Africans!
After all it's for them who we working and playing ?? https://t.co/e780si5w4E pic.twitter.com/tehF9rG4fp

— Rassie Erasmus (@RassieRugby) December 16, 2021
Let's not forget we are talking about one of the best coaches of the modern era putting out social media videos. Out with the old guard, in with the new. I like Rassie, I like South Africa – I like what they stand for. We know that his Lions videos and comments didn't go down well in the Nic Berry household, on a professional and on an emotional level, but I do like Erasmus. He has got to be careful, though. You can see something is brewing.
Comments
Join free and tell us what you really think!
Join Free