'He came from the side and crushed my ribs, it was a big welcome'
Kieran Crowley didn't sugarcoat his brutal first impression of the Italy team he inherited last November in the run-up to their Autumn Nations Series opener versus the All Blacks. The Azzurri had assembled in Verona and with RugbyPass on hand to film the behind the scenes build-up to the glamour clash with New Zealand in Rome, the 1987 World Cup winner fired off both barrels.
"You will make mistakes, I accept that, but at the moment I am seeing players who are just drifting through, who get a little bump and suddenly they are hurt and you're f***in soft," he unforgivingly bellowed on the training ground. "You have got to harden up or else you are going to get f***in nowhere in this world. Monday we come in and we will be ruthless."
Toa Halafihi, the New Zealander of Tongan descent, wasn't part of the squad that featured in Fighting Goliath, the warts-and-all documentary which highlighted that second-best attitudes will no longer be tolerated by a national team trying to alter its status as perennial Test rugby losers.
Instead of the All Blacks, the 28-year-old was waiting for the following month's Emerging Italy match versus Romania in Parma to take his first step into the Azzurri set-up after it had taken him three years to qualify in December to play under the residency rules via the Treviso-based Benetton.
Just seven weeks after that pre-Christmas match came the big time, Halafihi finding himself running down the Stade de France tunnel to make a Test debut he would never have imagined happening when struggling to make his face fit on the unforgiving club circuit back home in New Zealand.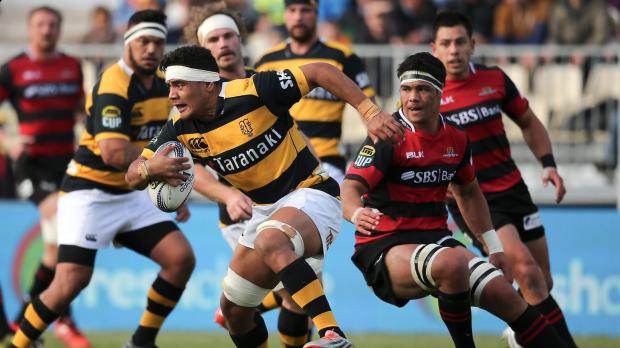 He is essentially the living and breathing embodiment of someone who has brazenly hardened up and shown he could f***in get somewhere in the world. Having started out at Poverty Bay, it was at Taranaki where the Gisborne-born forward first realised success wasn't going to happen overnight.
Halafihi can laugh about it now – and he sure allowed himself a hearty chuckle when talking to RugbyPass on Friday from his team's hotel Rome – but his weight was a thorny subject when he originally tried to make it at Mitre 10 Cup level. "When I came on the rugby scene I was really light," he explained.
"With my strange body type, they were 'you're like an eight but you can play seven but look, you need to put on weight because you are only like 90kgs'. I kind of blew up to 120 and then I had to bring it back down as the weight was tough to carry around the field.
"Basically, they put me on different gym programmes than everyone else and eating a lot more than everyone else just to fast-track my weight so I could get on the field and they thought I would be able to push on to play with the big boys."
Putting the weight on was much harder than shifting it, but he eventually determined that about 108kgs was the weight that he played best at. He started to stand out, shining for Taranaki in their 2016 campaign with the now Scotland international Blade Thomson – another Gisborne Boys High graduate – also impressing.
"Being around people like that you definitely pick up good habits. That definitely was a changing point for me," recalled Halafihi, whose provincial-level efforts tempted the Hurricanes into giving him a shot at Super Rugby. It didn't work out, just two runs off the bench materialising, and it negatively left its mark.
"It was my first stint in a Super Rugby team and it was a lot of mental battles that I need to get into a psychologist and stuff and believe in myself again. It was really a different level and small little doubts in your head turn into bigger and bigger things. You think you have got it all locked down but what I took away from the Hurricanes was you can have your fitness and strength but you definitely need to take care of your mindset."
This determination to bounce back initially took him to France, Lyon snapping him up as a medical joker with Carl Ferns injured. "I had got kids and didn't want to go through the whole New Zealand rugby system starting from Mitre 10 Cup and working my way through to Super Rugby again. Having kids changed the perspective for me that I needed to provide for them and that was my mindset on leaving the Hurricanes.
Big congrats on the debut Toa Halafihi #CanesFamily ?

? @GettySport pic.twitter.com/953hgBQhGs

— Hurricanes Rugby (@Hurricanesrugby) April 7, 2017
"France was definitely different. I didn't expect that type of rugby but in the end, it was a good thing as it grew my physical game even more and I learned a lot." Still, it was only fleeting employment and after nine Top 14 starts, he found himself back at Taranaki and eventually take a leap of faith by accepting Crowley's offer to try out Benetton.
"When Lyon offered the medical joker to me, Kieran was offering me to come to Benetton. I have a connection with Kieran through Taranaki because his family is from there and I was thinking of going there earlier but I went back to Taranaki, got around family and did some soul searching, tried to be happy about rugby again. It was then that I thought I'd give it a shot and go see what Italy is like."
The new adventure worked out swimmingly. "It has been an absolute blast," said Halafihi about life at the Italian franchise where he is now contracted through to 2024. "What I have learned from my past and all the mistakes that I have made have brought me to this moment.
"It was just timing, all the mistakes that I have learned from Taranaki to Hurricanes and things I picked up on the way, I was lucky to pick up someone like Kieran as a head coach and his style of play suited my way of rugby. For some reason, it just worked and I'm grateful for it."
It's here where we get to the juiciest part of the Halafihi story, Crowley's ascension to the role of Italy head coach opening the door for the Benetton No8 to join him on the Test scene once he became eligible after 36 months living in his adopted country.
Toa #Halafihi è il re dei turnover vinti dopo 4 Round di Guinness @PRO14Official #RainbowCup ?
Il numero 8 del #BenettonRugby ha sinora vinto 7?? turnover, nessuno come lui ??#WeAreLions pic.twitter.com/T7MCCCXcxD

— Benetton Rugby ? (@BenettonRugby) June 2, 2021
It's an Italian jersey that the legendary Sergio Parisse made his own for 17 years, but its latest occupant is aiming to do the shirt proud in his own way. That process started last Sunday with a credible showing across the 50-odd minutes that he was on the field for in Paris.
"Obviously it is always around, the comments and things like that (about Parisse) but I just block it out because I need to focus on how I can perform, get my performance into the structure and be able to help the team win because winning changes everything really.
"I know of the old days, the heydays when Italy had the big names and had a bit of a reputation. Looking at it now, I want to give back to Italy for what they have done for me. Coming into it, I know we are always the underdogs but with my heritage as a Tongan, I thought the best place for me to be able to compete was in an Italian jersey and be able to showcase my talents.
"Some people are upset that I picked the blue jersey but my dad always wanted me to make my own choices in life and he would support me in whatever I did. My whole family was there to support me, watching from New Zealand or in France supporting. Everyone was sending good messages. It was positive.
"I was really excited, a bit nervous. I had never been on the international stage before and especially in France, you can't hear yourself think or anything. It was a different level for me. A lot of emotions and it was just my chance to give back to Italy."
Debutants continue to feature strongly this weekend, with Toa Halafihi winning the turnover for Italy here

Great to see him making an impact so early in the game. Will be a great settler for the nerves.#FRAITA #SixNations2022 pic.twitter.com/dR9hq4ym89

— EK Rugby Analysis (@ek_rugby) February 6, 2022
It didn't come without a bruising hello to Test rugby. "The big lock for France, the South African (Paul Willemse), he came from the side and crushed my ribs. That was a big welcome to it."
To blend in, Halafihi even tried to fast learn the words to Il Canto degli Italiani, the booming Italian national anthem. "My Italian is terrible but I'm just fortunate that Italian people are very, very kind and very patient.
"My Italian is not so good but it [the anthem] is definitely something I learned. Everyone was bugging me to learn the words, to get the meaning behind it. That was definitely something I got on fast with."
The softly spoken back-rower hates losing. When interviewed on Friday, even Halafihi's dad had yet to ring him since his Test debut defeat. "He knows when I lose I don't take losing too well so he is keeping his space." It's a characteristic, though, that makes him a kindred spirit of Crowley, who similarly abhors getting beaten.
"Definitely, after that French game, he came out of his shell and basically pointed the finger and said look, we have got to be better than that and we didn't just come to the Six Nations just to play, we came to compete.
Here is how Italy and England will line up in Rome this weekend! ?? ??????? pic.twitter.com/11UnnT1HwB

— RugbyPass (@RugbyPass) February 11, 2022
"In international rugby, we can't make the mistakes that we did. Big mistakes in big moments, especially in that last two minutes of that first half, allowing a penalty and them getting a try. Just weak penalties that were given away in crucial moments.
"We have got a different mindset with our new coach and playing good for 38 minutes is not good enough," continued Halafihi, who explained that the Crowley coaching Italy is much different from the Crowley he knew from Benetton.
"There is a big difference. He is more detailed, a lot more detailed than he would be. He has got a lot of people behind him, a lot of cameras. He has talked to me a lot which is very strange, he never really kind of talked to me, so he is really professional, a lot of one-on-one conversations about how to get better and things that he can see that we can do better personally and as a team. He is very much more interactive which is a good thing for me.
"He has had positive criticism. Just told me that good things happen when I am around the ball, so he said just to get around the ball as much as you can and just be more active around the ball because things can happen around the ball for me.
"France didn't allow it but if I can put myself in more situations around that area then things can happen. I am really competitive and know what I am good at. Anything around the contact area I can help the team. If it is slowing down the ruck or taking people out or doing something in the contact area, that can really help my personal game and the team."
Halafihi gets his second audition on Sunday against England. "They have come off a loss to Scotland so we are expecting the whiplash from them being really prepared with a bit of motivation behind them. It's going to be awesome, the first game in Rome for me and the first game in Rome for our team this year. Everyone is confident, everyone is just raring to go."
Comments
Join free and tell us what you really think!
Join Free