'Danny Cipriani, James O'Connor, they were child proteges... in the international set-up at 18, 19 and probably couldn't handle that'
Steve Diamond loves a challenge. Give him a written-off bad boy and he will alternatively see their potential for greatness. It's how he has survived at the Sale helm for so long. Ducking and diving, wheeling and dealing, making the best of discarded goods alongside some homespun sensations such as Tom Curry. 
It's why he will allow himself a wry smile when Australia's World Cup campaign gets going next weekend versus Fiji. No one would have given the wayward James O'Connor a cat's chance in hell of ever reviving his unfulfilled Test career.  
Yet two seasons of Diamond love and all is utterly transformed, Michael Cheika offering the once fallen star a Super Rugby deal in order to make him eligible to renew a Wallabies career where five years had elapsed between caps.   
It's a yarn that makes Diamond's eyes sparkle, even if the success story came at the cost of Sale losing the player they had offered the lifeline to when no-one else was interested. 'Well, obviously, the only way James could get there (to the World Cup) was by leaving us, so he has gone back here but yeah, yeah, I take a bit of pleasure out of it," he told RugbyPass. 
"He came to us with a slightly tarnished reputation but we managed to get him on the straight and narrow and now hopefully he can deliver for Australia. I take some joy out of it if I am honest," said Diamond before going on to downplay his role in inspiring career revivals.  
(Continue reading below…)
"There is no real secret to it. It is just a lot of lads, once they get to 25 they mature naturally and a lot of these lads have the misdemeanours before they are 25 so there is a maturation involved. We just give them certain guidelines, what we can operate under. 
"Generally if you treat them well they don't mess up and most of these people do mess up but we never tell people about it. It's just a case of management of them really. You have got to firm but equally, you have got to understand where they have come from and what they are about. Danny Cipriani was one, James O'Connor, they were child protégés in rugby. They were in the international set-up at 18, 19 and probably couldn't handle that."
Value for money is at the heart of Diamond's desire to take a punt on damaged young souls. "It's just working for Sale for a long time and not having a lot of money to spend, just working on that. If you can get a kid who has been a bit troubled and you can get him on the straight and narrow he becomes a very valuable player for you.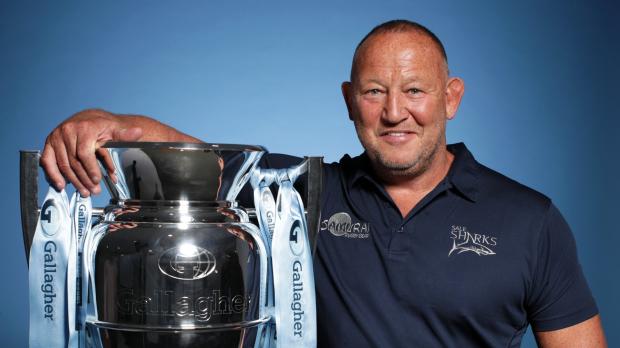 "In the day when we didn't spend anything like the salary cap, that was always important in keeping the team up. We have changed a little bit now. We now have investors who want us to be as successful as we can be, but it still doesn't mean we won't look for those players and give those players an opportunity."
Diamond's latest penchant is for South African signings. He wouldn't have previously been a card-carrying fan, his opinion coloured from experiences during his playing career. But he finally gets what their distinct personality has to offer, understands what they can do for an unfashionable club like Sale who aspire to grow into an outfit that isn't just making up the numbers in the Gallagher Premiership.
"Yeah, there is (something special), which I didn't really understand until Jono Ross joined the club and Faf de Klerk and I got to know them. I come from a generation where the first era of pros in '95/96 came over.
"These South African lads were deeply religious and they were unable to settle because of the difference of culture, whereas that post-Mandela, post-South Africa winning the World Cup in '95 generation of people are a little bit more free-living. 
"You take them into a city like Manchester and it's a vibrant place. The location, to some it is grim and dark, windy and rainy, but it's a cultural city where the lads like living. Most of the South Africans are living in the city centre, so that has worked well for me. 
"They come with integrity and honesty, the South African lads. They were brought up playing rugby since they were knee-high and unlike the Not the Nine O'Clock News song 'I have never met a nice South African', I have never met a bad one," he enthused, giving an insight to the internal influence these imports can wield. 
Denny Solomona isn't everyone's cup of tea but when he talks he gets attention… And this latest message is important https://t.co/6Bi58NOY3A

— liam heagney (@heagneyl) May 26, 2019
"They have some self-imposed embargoes in the building. There is no Afrikaans spoken in work. They get a bollocking off each other and the English lads if they hear it. You will hear Faf de Klerk shout 'English please' many times during the day and it is important that we do that. 
"If you are bringing in able-bodied, top-class players into your environment, there is no better place to go. Some people don't like saying it but with the crime and corruption and sometimes the dismal side of living in South Africa, even though it has its pleasant things, living in the UK is a welcome relief to them sometimes. So it is not just the rugby that appeals to them, it's the whole culture of what they are going to get."
That culture involved trying to make a success of rugby in an area of England consumed by football and world-renowned clubs on Sale's doorstep. Getting regular notice in that populated a market isn't straightforward. 
"One of the best finishes you'll ever see!"

"Even Yoda can't levitate like that!" ?

When @SaleSharksRugby get a bit of space they are simply breathtaking ?#RugbyTonight pic.twitter.com/Jr96LvleTq

— Rugby on BT Sport (@btsportrugby) May 22, 2019
"It's difficult," volunteered Diamond. "But we are carrying the baton for everything (rugby) above the midlands, aren't we? Newcastle, unfortunately, went down and with Leeds going into oblivion, we have just got to put a good side together and generate a crowd.
"The biggest marketing tool we can have is Faf de Klerk, Lood de Jager, Chris Ashton, Denny Solomona, these lads, and there is a pocket of support, a big pocket of support. Football is enormous in the north-west. You don't have to be a geography expert to realise that. 
"Within 50 miles there is five, six Premiership clubs all getting 40,000, 50,000, 60,000 people every week. We can't challenge them really but that is why it is important the sport doesn't take away too much of its brutalness which is what people want to see. People like the physicality of rugby. They love watching football, but there is a different sort of thing on the menu (with rugby) and I want that to continue in the north-west."
Not sure Steve Diamond has got enough quality at his disposal to get a decent back row out for @SaleSharksRugby next year?! ?(Tom Curry, Ben Curry, Jono Ross, Mark Wilson, Dan Du Preez, Jean-Luc Du Preez, Josh Strauss, Josh Beaumont, Cameron Nield)

— Ben Kay (@BenKay5) July 4, 2019
What has helped club rugby's profile in England in recent years is some Premiership teams taking marquee matches to football grounds. Look at Saracens and their use of Wembley and Olympic stadiums, along with their latest deal covering an annual visit to Tottenham's new facility.
Is that a route Sale might consider away from the small capacity, out-of-town AJ Bell stadium? "Potentially," Diamond reckoned. "We have got a fantastic relationship with Manchester City. They have been really good with us. They have helped us out whenever they can with facilities and infrastructure, but the big job for us is filling our own stadium. 
"Once we can fill that on a regular basis then the odd European game – and God willing, we qualify for Europe on a regular basis which is one of the goals we have got – you never know we could do that," he suggested, accepting there is way more expectation about Sale in 2019/20 after the novelty of spending more money and using up their entire salary cap, something they hadn't previously done in the Diamond era.
? FIXTURES DAY ?

Here is your #GallagherPrem Round One schedule ?? Some tasty match-ups for you ?

???

How do you rate your team's chances in the opening round??

? Download the APP for FULL FIXTURE list ?
??https://t.co/ynz3TWGHGC pic.twitter.com/HaG3FBnLWp

— Premiership Rugby (@premrugby) July 10, 2019
"I take it [the greater expectation] as a positive. I'm going into what everybody else has always spent. I have managed to get myself seven or eight internationals with that amount of money, so the expectation is to do better than we have done. First and foremost, we have got to be a regular Heineken Cup qualifying team.
"To break into the top two in any sport is difficult. Decades it takes. Man United and Chelsea ran the Premiership for 10 years, now it looks like Man City and Liverpool are going to be running it. To knock Exeter or Saracens off their spots is difficult but there is an opportunity to challenge below them. 
"What keeps me fresh? Trying to make Sale Sharks a massive team in the north-west of England and if I can do that then we will challenge. I get up every day knowing that one day I want to be talked about in the city like the football teams in there. I really think that can happen. 
"We are the biggest rugby team in the north-west. We would obviously struggle to take over the super clubs, United and City, but within our own rights, our own merits in a different sport, we can quite easily get the support and the sponsorship behind us that can see us be a top-performing team.
"I have always done a fair job recruiting with the money that I had and we have done a good job with the recruiting now. There is an element of gelling that together but the next two, three years I expect us to challenge and the two investors, Simon Orange and Ged Mason, expect us to be challenging. 
FIXTURE RELEASE | Tickets for our first two home fixtures at the @AJBell_Stadium are now on sale from just £3.00 per adult!!?

Read more about this unbelievable offer here ? https://t.co/WZaj88dlMs

Lets grow the #SharksFamily ?#SharkTime?? | @UKFast pic.twitter.com/o5qejC0P2Y

— Sale Sharks? (@SaleSharksRugby) July 30, 2019
"I could quite easily convince my two investors that the best way forward is to spend no money and I will keep you up and we will have a good year and we will have a poor year, but why do we want to do that? 
"In the room today (at Wednesday's Premiership launch at Twickenham) I'm probably the longest-serving, notwithstanding Rob (Baxter) who came up with Exeter and Mark (McCall) who had a different role at Saracens. I have seen people come and go. I want to be here for the next five years. I don't want to be seeing people coming and going in my position. And to do that I have got to achieve success."
WATCH: What happened when RugbyPass sat down with Johan Ackermann, Paul Gustard and Declan Kidney at the Gallagher Premiership launch  
The English domestic season kicks off on September 20 with the Premiership Rugby Cup followed on October 18 – the weekend of the World Cup quarter-finals – with the start of the Gallagher Premiership Rugby campaign 
Comments
Join free and tell us what you really think!
Join Free