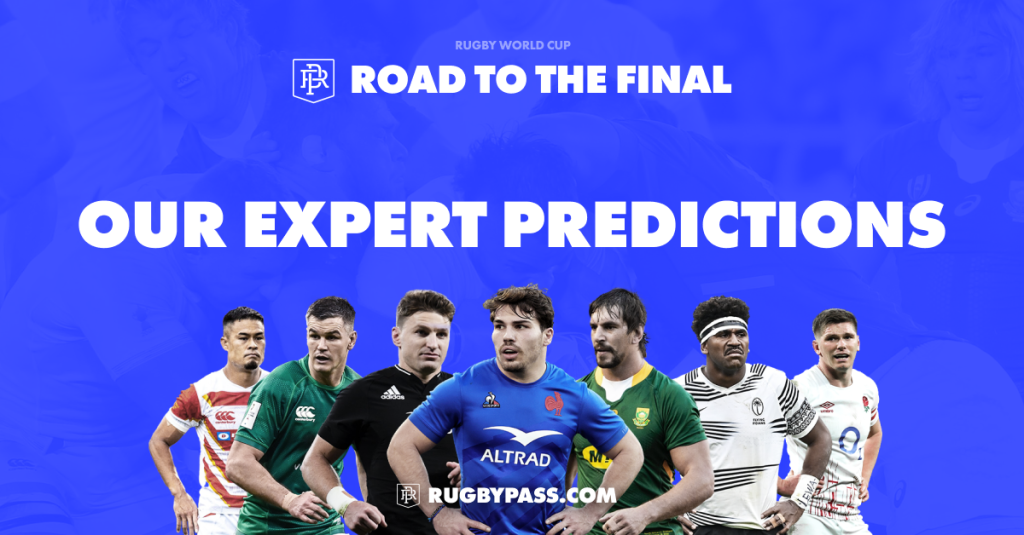 The 2023 Rugby World Cup is finally here, and as we head into the Pool stages of the tournament, it of course begs the question of which side will end up lifting the Webb Ellis Cup on October 28.
Perhaps Ireland will demonstrate why they're the number one ranked team in the world right now? Or might it be the year where the Springboks win a successive and record-breaking fourth title? Or maybe France will make the most of the advantage of being on home soil.
There really are many exciting prospects here and we're also expecting some major upsets as the world's top teams face off.
Our Rugby World Cup Team Predictor
So to help pin this down, we turned to the collective knowledge of our fanbase and the expertise of the RugbyPass team to get their predictions on how the tournament might play out. To do this, we asked each respective group to use our RugbyPass Rugby World Cup Team Predictor to make their selections.
The Predictions of the RugbyPass Fanbase

After collating the latest data - specifically the stats from the opening day of the tournament (Friday September 8) - from the thousands of entries made by the 80,000+ strong RugbyPass fanbase, here's how they collectively see the results going from the Pool stage to the Final, based on the highest numbers of votes for each team: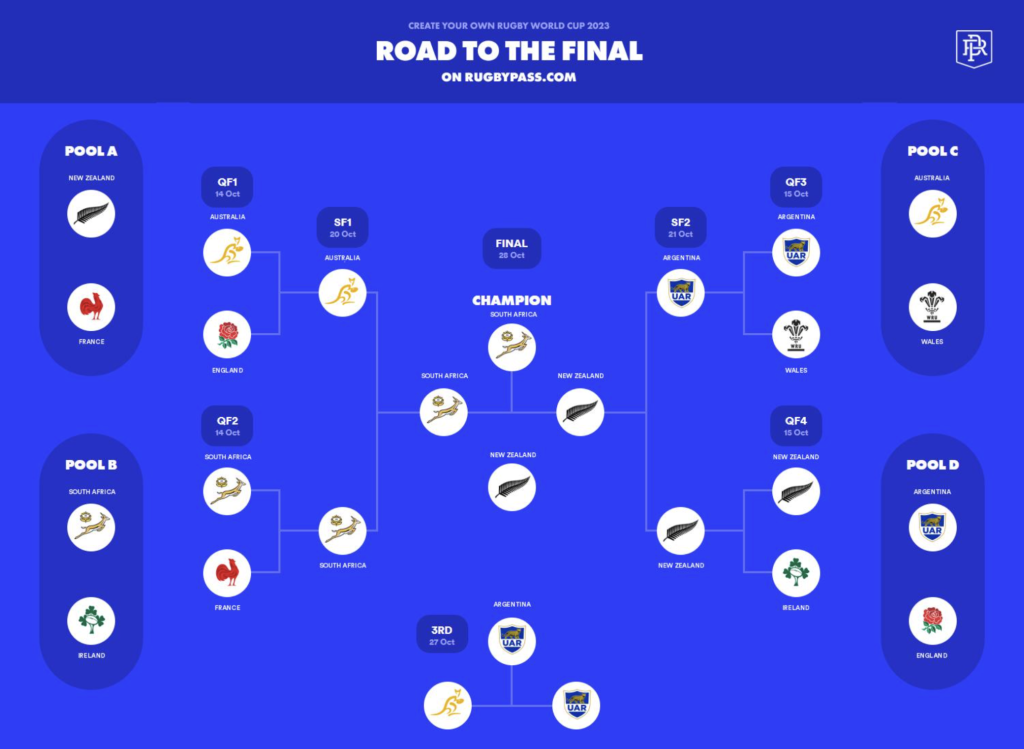 As you can see, rugby fans worldwide think it will be South Africa's year once again. However, this is by a reasonably close margin, with the Springboks being the top team for 29% of our fans' predictions, followed by New Zealand with 26%.
There are also some big shocks with the likes of Argentina beating Wales in the Quarter-finals and Australia beating England on the other side of the draw. Interestingly, Australia were predicted to be the runaway winners of this tie, with nearly half (49%) of those who made this selection believing Eddie Jones' Wallabies would best the side he once coached.
With the Bronze Final, the majority of our fans (38%) think a determined Argentina will finish in third place.
A Closer Look at the Results

The above is just the overall snapshot from the tens of thousands of fans who used our Team Picker, but if we dig a little deeper into all the results and data we've gathered there are some fascinating forecasts - and some pretty grim ones for some sides!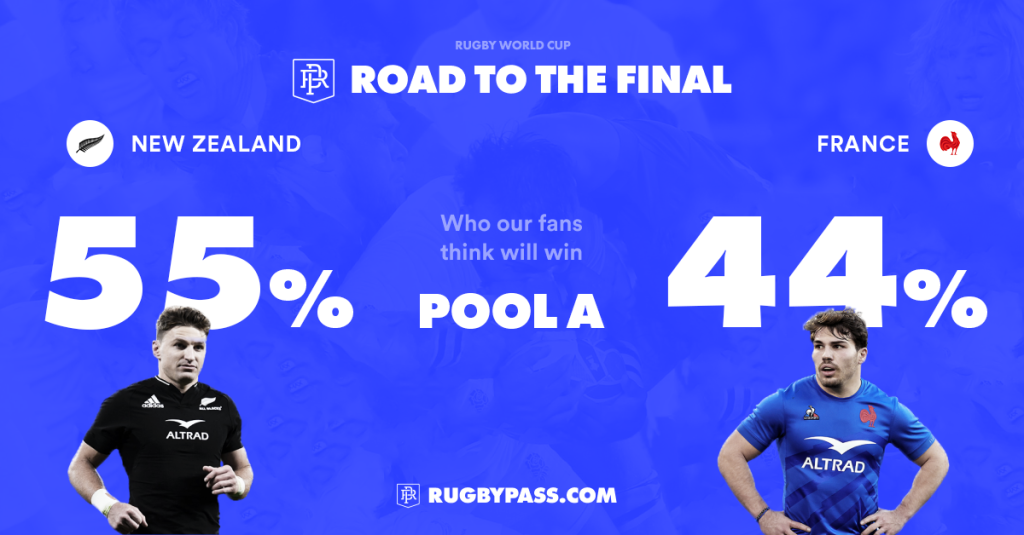 Pool A
This Pool has overwhelmingly been deemed a two-horse race between France and the All Blacks. However, it's New Zealand who will apparently win it here though, with 55% of fans thinking they'll finish top, compared to 44% for France.
If you needed any more confirmation that this is all about these two sides, less than 1% of our fans think Italy or Uruguay will go through to the knockout stages!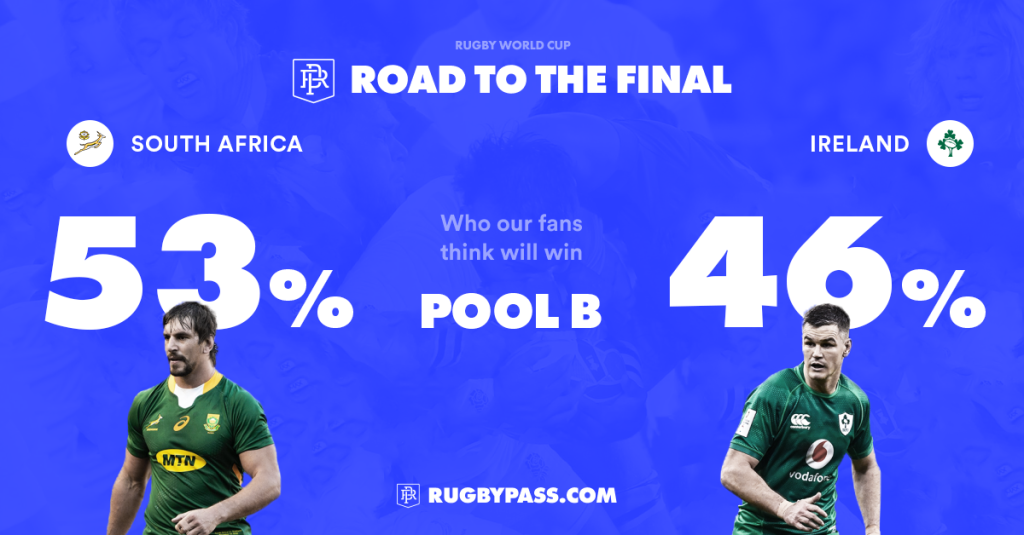 Pool B

The fanbase thinks this is another Pool where two sides will fight it out for the top spots. In a fairly close battle, it's South Africa who our fans believe will win this group, with a 53% majority, compared to 46% for Ireland.

Worryingly for Scotland, only 13% of rugby fans think they'll go through in second, while a mere 1% expect them to win Pool B.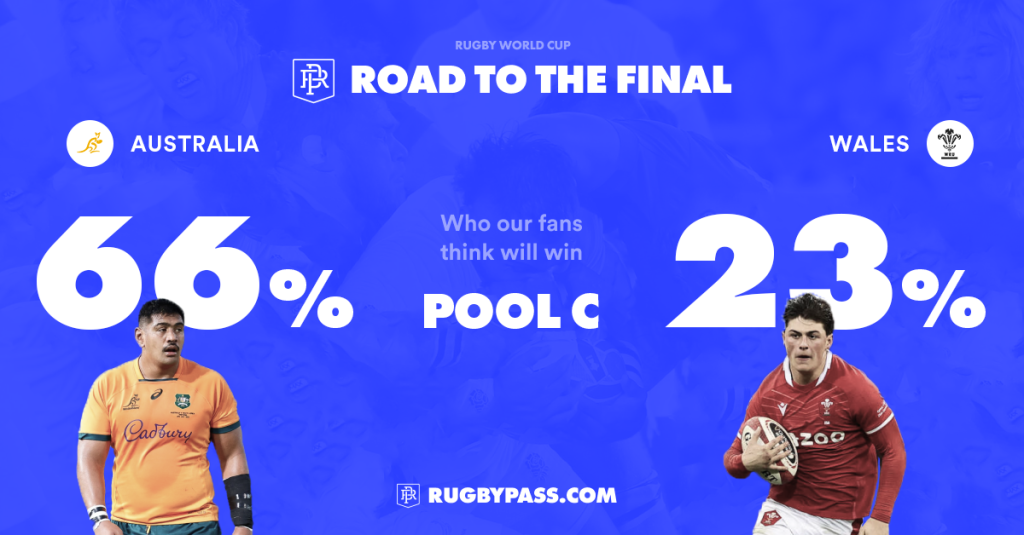 Pool C
According to our fans, this Pool has a clear frontrunner with the Wallabies being the big favourites to win the group, with a huge 66% of voters making this selection. The closest alternative group winner is predicted to be Wales (23%) but Fiji fans may want to look away as only 10% of voters think they'll top the Pool.
However, the runner-up position is incredibly close between these two teams. Wales have 36.69% of fans choosing them to finish second, while Fiji are breathing down their necks with 36.66% - making this the tightest selection in the whole competition. Georgia - who some experts think may do well - are only favoured by 3% of fans.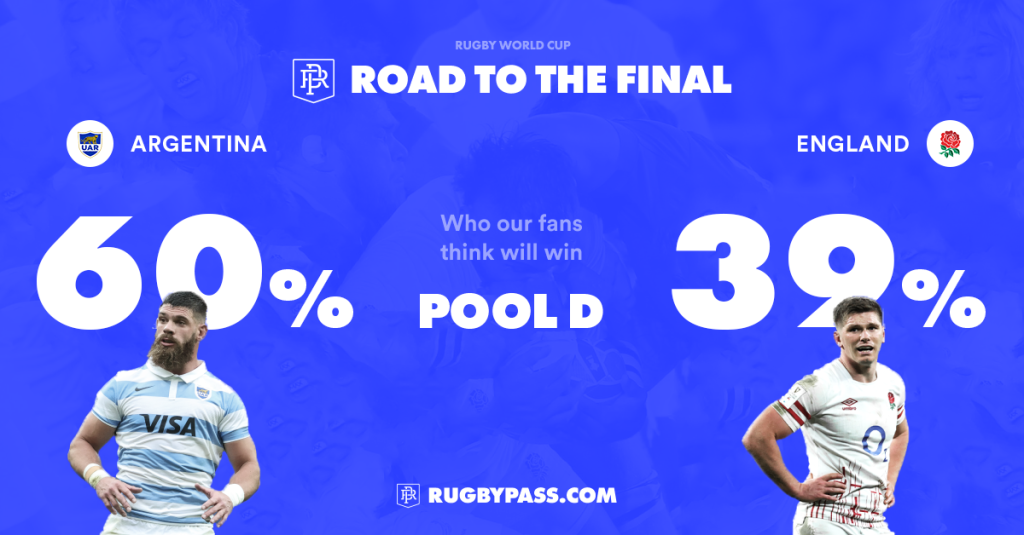 Pool D
The predictions for this group aren't particularly good reading for England fans, as Argentina are the big favourites to win it with 60% of the fanbase's votes, compared to only 39% for Steve Borthwick's men.
England are also the most-picked runner up for Pool D with 49% of fans choosing them over the likes of previous World Cup hosts, Japan (9%) and Samoa (6%).

Knockout stages

As we get into the knockout stages we are of course venturing into highly hypothetical territory, but with our data it's clear the fanbase have definitely made some interesting selections.
A large portion of fans (52%) would expect Argentina to win their Quarter-final if drawn against Wales.
Similarly, a sizeable 44% of fans believe the All Blacks would be victorious in their potential tie against Ireland.
Only 15% of fans think England would beat Australia, if that was a Quarter-final tie.
Also, only 18% of fans think France would beat the Springboks, if that was a Quarter-final tie.
Less than 1% of fans think Scotland, Wales or England will get to the Final.
If these predictions are accurate, it will mean South Africa break the record for the most Rugby World Cup wins.
Here's the percentage breakdown of which countries our fans think will win the 2023 RWC: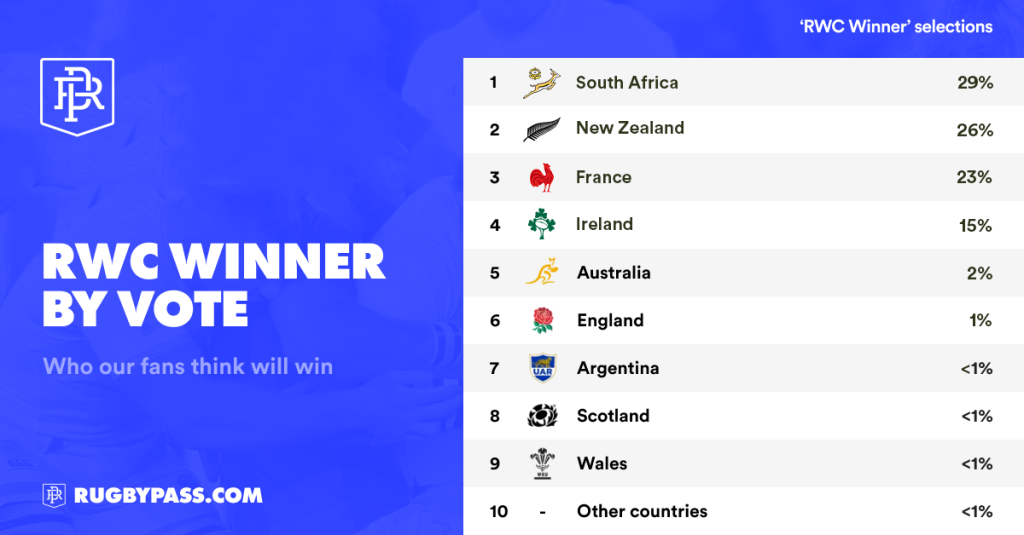 If you've yet to have your say, you can sign up with RugbyPass today and create your own predictions using our Predictor.
Also, you can use our Ultimate XV player picker to select your favourite team of Rugby World Cup legends
The Predictions of Our Experts

We also turned to a selection of our resident experts - including some of our top content creators and former players - to get their thoughts and forecasts.
Jim Hamilton's Predictions

Up first is one of RugbyPass' Creative Directors and former Scotland international, Jim Hamilton.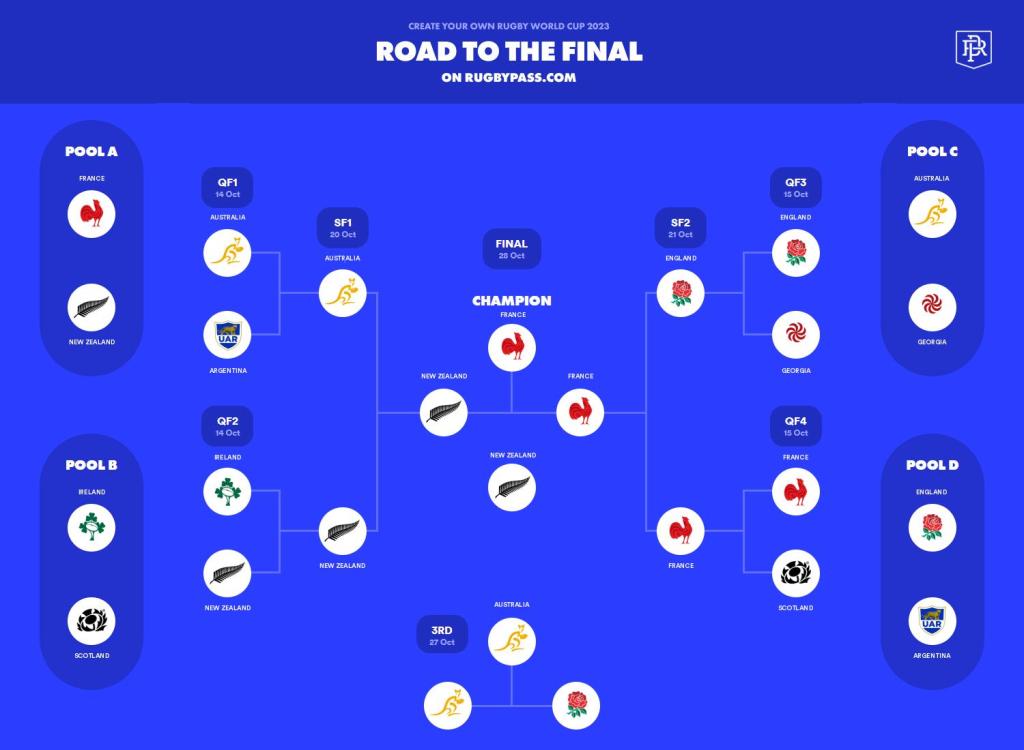 Here's what Jim had to say about the Pool stage:
Pool A: France 1st, New Zealand 2nd
"France to top the group. France will win the opening game against New Zealand and then the All Blacks will finish second. New Zealand are obviously still strong, but the days of their golden generation are behind them now. When compared to the formidable force they used to be, they just don't have as many household names these days.

It'll be close between these two though, but if you look at France's growth within the sport, with key examples being the dominance of French sides in Champions Cup and the quality in the Top 14, it's hard not see them coming out on top. The only detrimental factor for France might be whether they can deal with the pressure of it being on home soil.

Italy might also give a few sides a run for their money in this group too."
Pool B: Ireland 1st, Scotland 2nd
"Well, where do we go with this? It's such a tough group. Although, if I've got to be honest here, my gut tells me that the number one team in the world right now [Ireland] will top the group and I think they'll probably win all their games. But if you look at the rest of the group Tonga have an immense backline, South Africa are the current world champions and Scotland are playing really well right now, so it's all to play for.

"I do reckon Scotland will shock South Africa in the first game and it'll come down to the points difference in this group for second place. I'm going to say Ireland top the group, Scotland come out second and South Africa don't qualify. It's a big call, but I'm basing this on what I want and of course my loyalty to Scotland.

Don't get me wrong though, I know that South Africa are one of the most successful teams in world rugby and I could well be humbled on game one."
Pool C: Australia 1st, Georgia 2nd

"Another tough Pool, but I think Australia top it, and as harsh as it is to say, I can't see Wales doing anything this World Cup. They have a lot of issues on and off the pitch and I'll be surprised if they get out of the Pool stages.

Another upset here is that I think Georgia will finish second and get through to their first ever Quarter-finals. They're building something unbelievable there, with the pack they've got, their power game and the foundations Graham Rowntree put in place during his time there in terms of how to win games and improve their kicking game, should now start to pay off."
Pool D: England 1st, Argentina 2nd.
"I think England are a good team regardless of what's been going on lately and if they can pick the right side and trust in their experience and history in the Rugby World Cup, they'll really do something in this tournament. Plus, they have the easier side of the draw.

It's really hard to call second here with the likes of Japan in there, but I think Argentina under Michael Cheika will go through. They do have some discipline issues, but physically, and with Cheika's guidance, they can be brilliant. Although, I still wouldn't write Japan off.


One player to watch here in this Pool as well is England's Theo Dan, I'm expecting to see big things from the young Sarries man."
Knockout stage: Quarter-finals
QF1: Australia vs Argentina

"Australia are dark horses here and I see them comfortably beating Argentina in the quarters. That said, I'd struggle to predict the 15 that Eddie Jones will pick for the quarters, but you never write Eddie off in a World Cup."

QF2: Ireland vs New Zealand

"I would love to see Ireland go on to win the tournament, it would be massive for rugby union, but unfortunately, I think this is where they go out. The All Blacks are more experienced in the knockout stages and Ireland might succumb to the pressure they have on them as world number one to do well. But, if Ireland do end up winning this, I think they'll go on to win the tournament."

QF3: England vs Georgia

"England will be made up with this draw, and will comfortably win. Georgia will give them a physical game, but this is an easy one to see England through to the semis."

QF4: France vs Scotland

"Unfortunately for my team, I think France will go through here. Scotland have run France close before in recent years, so there's a glimmer of hope an upset might be on the cards."
Knockout stage: Semi-finals
SF1: Australia vs New Zealand

"I think New Zealand will win. There's obviously a big history between these two, but if you look at the stats in recent years and compare the sides like-for-like, the All Blacks have got Australia's number.."

SF2: England vs France

"I'd say France would best England here. France have power in every position and based on what I've seen in the last few years from England, this is an area where they've been lacking. That said, when we do see England play they may well have improved this and I might change my mind! But, until then I think this is a game France would win."
Bronze final
England vs Australia

"In a game where no one is bothered, I'll say Australia beat England and they do it for Eddie Jones."
Final

New Zealand vs France

"A repeat of the 2011 Rugby World Cup final, which is historically a game where France and French fans feel they were robbed - so this is when they'll get their revenge and win. It's been an unbelievable few years for France and everything points towards them coming out on top here and where better to do it than in what will be an absolutely bouncing Stade de France?"
Johnnie Beattie's Predictions

Another former Scotland international turned RugbyPass pundit is Johnnie Beattie, here are his predictions: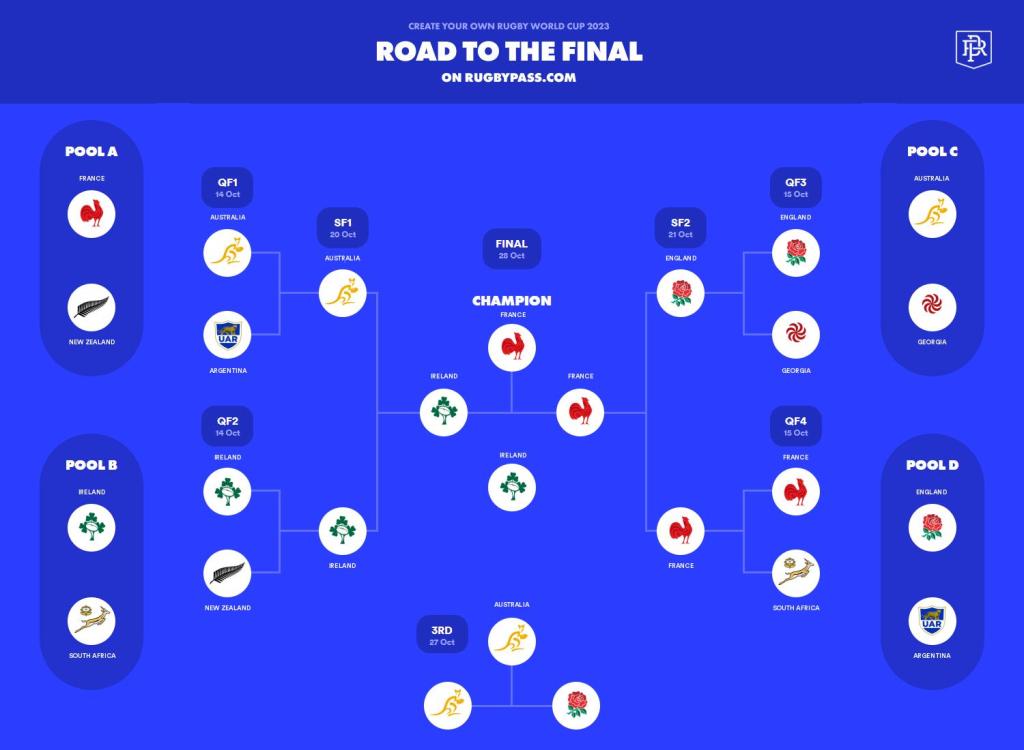 Johnnie's thoughts on the Pool stage:
Pool A: France 1st, New Zealand 2nd

"France will be comfortable winners of the group, with New Zealand second. I don't see any of the other sides in the Pool having enough in the tank to challenge those two sides and I don't see there being many upsets.


France will beat New Zealand in that opening game too, mainly because of how strong they've been in the last few years, plus the atmosphere at the Stade de France; I just think they'll have too much for the All Blacks. France are also now playing with a lot of flair as they've got one of the best attack coaches on the planet right now in Fabien Galthié.

However, you write off the All Blacks at your peril. There's still a wealth of world class talent there, I just don't think they've looked as cohesive as they have in the last 10 years, but when they do turn it on, they can be wonderful to watch."
Pool B: Ireland 1st, South Africa 2nd
"This Pool is the toughest to call, but if I have to give a prediction, I'll back the number one side in the world [Ireland] to go through and top the group. And, as much as I'd love to see Scotland going through, I just think South Africa will be too much for them to overcome. South Africa boss collisions, they scrum and maul really well and they're incredibly physical - so I'll back the Springboks to go through in second place.

It'll be an interesting Pool nonetheless. Scotland don't have a great record against Ireland or South Africa, but on their day they're capable of beating them. It's the same with Tonga, even though they're ranked 15th in the world; I can see Tonga causing an upset against one of the big nations too."
Pool C: Australia 1st, Georgia 2nd

"Nobody has really spoken about Australia here, but for me, with their formidable forward pack and their mighty backline, they're more than capable of beating anyone. They're the favourites in this Pool and I expect them to top the group by the end of this stage.


Wales have a lot of issues at the minute and to me look short of confidence. I can see Georgia or Fiji knocking Wales over and marching into the Quarter-finals, which would be exceptional for the tournament. That said, because of their quality with set pieces, their organisation and their physicality, I think Georgia will have enough across their matches to pip Fiji into second place."
Pool D: England 1st, Argentina 2nd

"Again, there's four sides here that could do well, there's no dominant team and now it's an open Pool compared to when the draw was made. Chile have got some quality players and Japan and Samoa are incredibly competitive sides.

England have not been good to watch over the last few seasons, but they have a playing group and level of quality that's very high, plus it's the first real extended period Steve Borthwick will have had with them to make his mark on the players. They should have a better understanding of what to do and how Steve wants them to operate, even if it's a dull as dishwater kicking game. So with that, England should go through and I'm tentatively saying they'll top the Pool.

Argentina have a quality roster of players to draw on and an excellent coaching setup. They will also use the Rugby Championship to help them get ready and more prepared for the World Cup, so I think they'll go through in second, but it'll be close between them and England as to who finishes top."
Knockout stage: Quarter-finals
QF1: Australia vs Argentina

"I think Australia could beat Argentina quite comfortably in this one. If they finish strongly in the Pool stage, Australia will have too much for Argentina here."

QF2: Ireland vs New Zealand

"This will be a huge, huge game and it'll be close, but I do think with the form they've been in Ireland will win this one."

QF3: England vs Georgia

"I don't see Georgia beating England here, especially if England go through top of their Pool. England will march on to the Semi-finals."

QF4: France vs South Africa

"This'll be another close one, but with the occasion, and if France's attacking flair has shone through in the Pool stage, France will progress to the Semi-finals.
Knockout stage: Semi-finals
SF1: Australia vs Ireland

"Again, really tough to call but if Ireland have got to this stage they'll go on to win this and make the final."

SF2: England vs France
"England will have a point to prove, but I do think at home France have enough to win here."
Bronze final
Australia vs England

"Both sides will be feeling dejected at this point, but I'm sure Eddie Jones would love to get one over on England here. So I'll say Australia will win."
Final
Ireland vs France

"France have enough to beat Ireland. If the draw goes this way, France will have had harder games beforehand, and by this point, they'll have been using the wildcard of playing with the additional support of a home crowd. The Stade de France will be hugely intimidating throughout the tournament making it a difficult place for opposition sides to come and play - which could be the edge France needs to become world champions."
Owain Jones' Predictions

Owain is one of rugby's top and most-respected journalists and has been writing for RugbyPass since 2019, here's how he thinks the tournament will go down: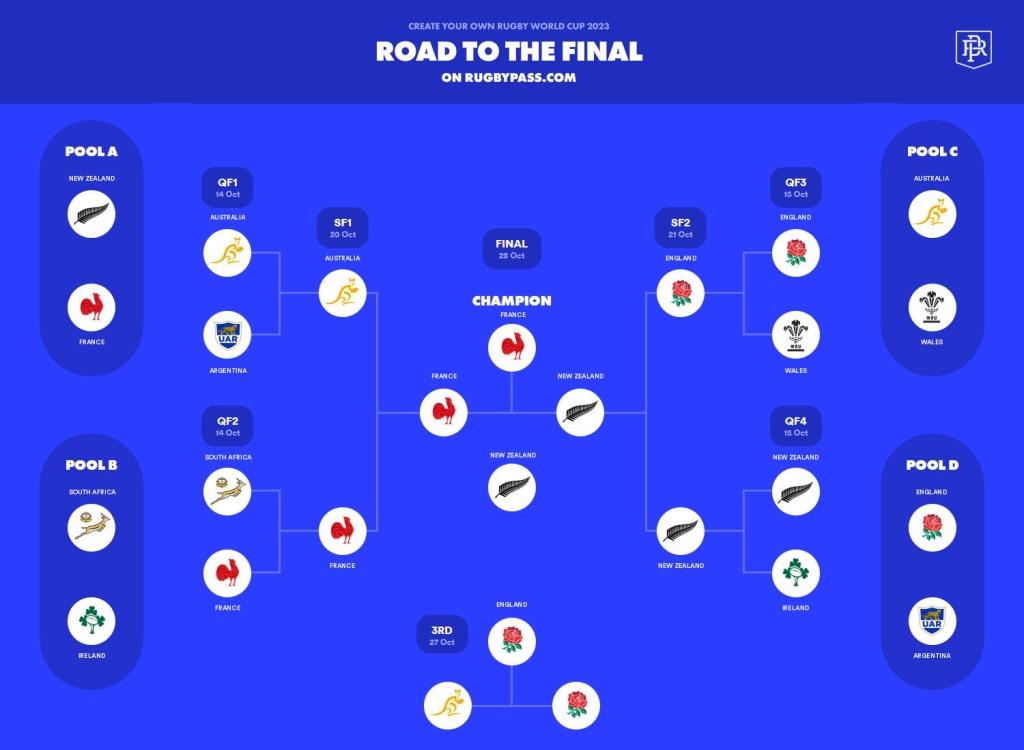 Owain's observations for the Pool stage:
Pool A: New Zealand 1st, France 2nd

"It's an incredibly difficult Pool but I'm going to go for New Zealand to win the group and then France second. There's a lot of pressure on France here too as a host nation, so the jitters might get the best of them in the early games, meaning they'll essentially get pipped by the All Blacks, but does anyone remember South Africa were beaten in the Pool stages by New Zealand before? Exactly."
Pool B: South Africa 1st, Ireland 2nd

"Another tough Pool to call, but I think South Africa will win this group with Ireland second, as they have a little more strength in depth in the pack. They have about five or six great locks and the famed 'Bomb squad'; in some ways it's like they have two top-level packs for selection.

Scotland will come third, and despite them being fifth in the world, I think they're still only a couple of injuries away from being a bit mediocre, and the retirement of Stuart Hogg will hurt them.


Ireland also have an enormous amount of expectation on their shoulders to finally do better than the quarter-finals in a World Cup. You just wonder if these nuggets of doubt will weigh heavily on the Irish player's shoulder's in these initial games, especially with Johnny Sexton shaking off the rust, after a six-month absence."
Pool C: Australia 1st, Wales 2nd

"I'm going to go with Australia winning the Pool and Wales coming second. Fiji have some incredible runners and athletes, but they struggle to see games out and they'll be undone by the likes of Australia and Wales who play in a much more structured way. Georgia are a powerful up-and-coming side and they've got a real drive to be a top tier Northern Hemisphere nation, but I don't think they're quite there yet - maybe it's one World Cup too early for them.

While Wales haven't had a great 18 months, there's still a lot of talent there and a great mix of young players and those with a lot of experience who can get the side out of tight games and situations. The squad will also have a lot of time together to help them gel and get in tune with one another, which will help make them stronger and more cohesive.


If Australia's big players can stay fit and Eddie Jones can get them fired up, they'll walk this group and could be a dark horse for the rest of the tournament, but they'll need to find some form fast, after a sluggish start under the irascible Jones."
Pool D: England 1st, Argentina 2nd

"I'd expect England and Argentina will be the two that get through. Samoa and Japan can skittle big sides on occasion, but neither are quite at the highest level yet. Michael Cheika has helped put Argentina on the map and they have some wonderful players in that squad - and that'll see them do well in the Pool stage.

England are a little like Australia in that they're not the favourites for many and it's rare to see them going so low under the radar. However, they have been very average in recent seasons and really haven't hit their stride since the last World Cup in 2019. That said, they do have plenty of resources to call on and a strong spine of players who are experienced at the highest level.


They're also not as bad as people are making out and can easily do a job in the knockout stages. It won't be pretty and how they play will be very methodical, which is how Steve Borthwick and his team will likely plan it out. There's a shout for them being dark horses in the tournament as well, and let's be honest, English rugby union could do with some positives after the dismal events of the domestic season."
Knockout stage: Quarter-finals
QF1: Australia vs Argentina

"A narrow Australian win here, but this'll be a fantastic fixture, if it happens, with Michael Cheika against Eddie Jones; two combustible coaches going head to head. Australia will edge the game as they just have more street smarts about them, and like I've said, if big players like Will Skelton and Taniela Tupou stay fit, they're a formidable force.
QF2: South Africa vs France

"I'm going to go for France, and only on the basis that Les Bleus would theoretically have a full strength squad that would surely be fired up on home soil, led by the talismanic Antoine Dupont. It'll be an absolutely titanic battle though."

QF3: England vs Wales

"In previous World Cups Wales have given England a fright a few times and it took some real magic from the English players in 2003 to turn it round and win, and my heart tells me if this tie happens we'll see a repeat of this scenario. We will see flickers of a rejuvenated Wales if they get to this stage, but sadly I don't think it would be enough for them to squeeze past their old rivals."

QF4: New Zealand vs Ireland

"Again, Ireland are a fantastic side, but in the World Cup I just feel triple-World Cup winners New Zealand could do something against them here, especially as they're finding their old form."
Knockout stage: Semi-finals
SF1: Australia vs France

"If France can continue to get over any nerves at this point, France will go through. The home advantage is going to be pivotal, but this will be an epic game regardless, with shades of 1987. Let's see who is France's Serge Blanco this time round."

SF2: England vs New Zealand
"It's crazy to say but I have a funny feeling that if New Zealand, who were written off last summer, get to this stage, they'll have the momentum and will just about squeeze through in what would almost certainly be a close game."
Bronze final
Australia vs England

"I'm not sure how up for it either side will be with this game, but if I had to pick, I'd say England."
Final
France vs New Zealand

"Should this pan out it'll be a rip-roaring final, and I back France to win it by 5-10 points. In simple terms France are a marginally better side and it would be some turnaround if the All Blacks were to finish a close game with a fourth World Cup.

Whatever happens it'll be a fantastic tournament and I'm looking forward to seeing how wrong I am!"

Stephen Ferris' Predictions

Another expert who was willing to lend us their thoughts was former Ireland and Ulster legend, Stephen Ferris.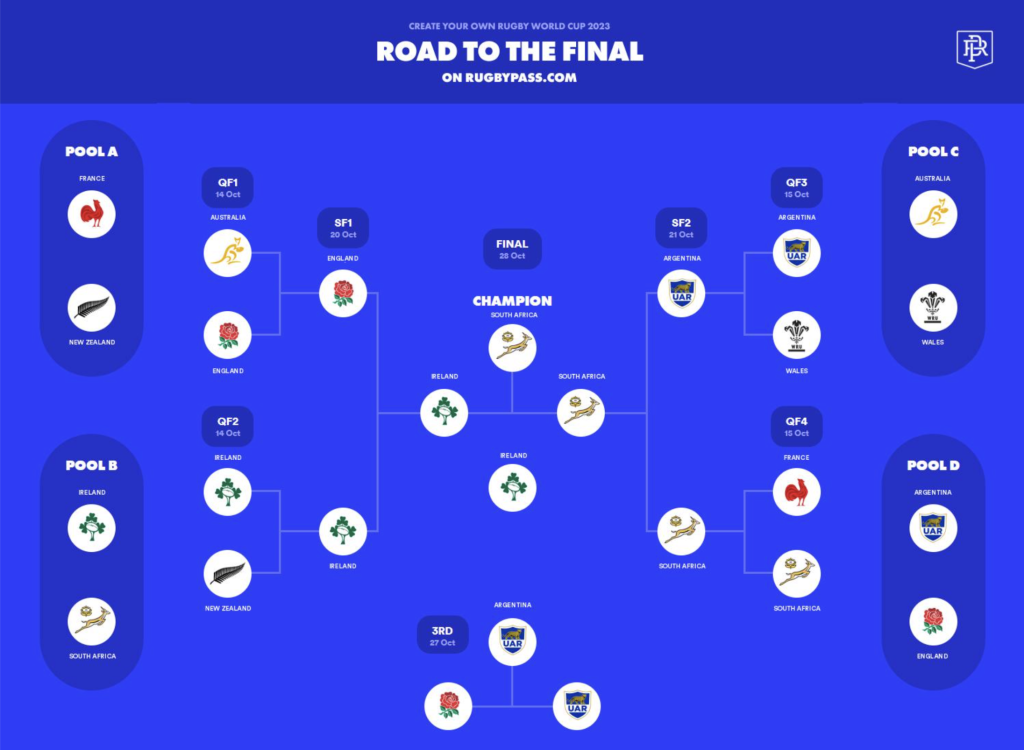 Here's what Stephen thinks will happen across the Pool stages:
Pool A: New Zealand 1st, France 2nd

"France will win the opening game and then the group, but to be honest I don't want New Zealand to win here, because then they'll finish second and end up facing Ireland in the Quarter-finals.

Even though France won't have some key players [Romain Ntamack], they still have a big enough squad to dip into, and the occasion will be perfect for them. I know that France have only beaten the All Blacks once in recent years - and they always seem to have their number - but thanks mainly to the home advantage, I still think they'll do it.

Unless you've played at the highest level, you just won't understand what it feels like to run out at a Rugby World Cup, with that support and atmosphere all around you. On top of this, it gets the adrenaline pumping through your veins, giving you an extra 10 points mentally and an extra 10% in everything you do.

People don't believe in fairy tales, but France are at home, it's their own World Cup and they'll be beating one of the big favourites; it'll just set the tournament alight and give a lot of other teams hope too."
Pool B: Ireland 1st, South Africa 2nd

"This path for Ireland is crucial for them in terms of the draw for the knockout stages, so I'm saying they'll top the group. I think it's the way Ireland play and their pace puts them in good stead here, as most teams can't cope with it.

This isn't to discredit South Africa though. They defend incredibly, if not chaotically, but they're fast and can make up for any mistakes. Back rows are going to be a huge talking point at any Rugby World Cup, as they have such a huge impact on a team's success, and right now the Springboks can change theirs up and it doesn't seem to get any weaker. It's also worth pointing out that the last time they played Ireland, they opened us up quite a few times.

Everyone says about how influential Rassie Erasmus has been too, but if we flip it over to Andy Farrell, you can say the same. Also, because he's not that old, he gets the game more than others and understands how individuals in his squad play on a weekly basis; plus his team selection has been superb since he took over. His style of play has taken a while to get going, but the way Ireland play now, and with their strength and depth, I can see them go a long way in this tournament.

With Scotland, I hear a lot of their fans saying they're going to beat South Africa, and as much as I'd love to see that too, I don't understand where this huge hype for them has come from. Maybe it was the huge comeback against a second-string French team recently? But to me, they just don't have the ability to go out and get a win.

I've watched them so much and played against them on the international stage, and one positive at least is that they have improved in their ability to hang in there when the going gets tough, but that comes down to Gregor Townsend's better team selections."
Pool C: Australia 1st, Wales 2nd

"I think Warren Gatland's main objective in this tournament is to make Wales a really hard team to beat, simple as that. He has a history of doing that at Rugby World Cups, and Wales can definitely win enough games in this group to qualify.

They'll have Fiji's number, and Gatland will already have a plan in place to stop them in their tracks. We should rightly be giving them a chance with the decent warm up they've had and Gatland will also now know what his strongest 15 will be, after smartly mixing things up in the last few games.

With Australia, Eddie Jones just wants his players to crack on, I mean they're not playing particularly well at the moment, and Eddie knows how to deflect the criticism onto himself, but he can do it in a RWC and has plenty of big scalps under his belt.

Will Skelton is an interesting captain choice though, having only recently been catapulted back into the squad. They do have a lot of talent and players who can score a try out of nothing, but can defensively be a little all over the shop. I also think that if you allow them to have a multi-phase position, they can break you down, but if you hold onto the ball they'll give you lots of opportunities and can be broken down way too easily.

There are a lot of young players Eddie is putting his trust in too, but if anyone will eventually get the best out of them, it's him. So with that, they'll finish at the top of this Pool."
Pool D: Argentina 1st, England 2nd

"I saw England lose recently against Ireland and despite kicking it about 20 times in the first half, they didn't even come close to winning the kicking game. The rest of the time it was George Ford getting the ball passed back to him and the England boys chasing the kicks - that's not rugby union.

England should be scoring incredible team tries and showing their talents. Instead, it just felt a bit cringey to see them playing this way and strangely it looked like a planned tactic, which is weird heading into a Rugby World Cup. It doesn't look like the England players are enjoying themselves either, they're being so robotic and regimented, and also every fan is crying out for this to change, but is there enough time?

That said, they have some opportunities in this group stage to turn things around and maybe play with a bit more freedom. That might be enough to get them to finish second.

I haven't seen a huge amount of Argentina, but the bottom line is that they generally perform well at a World Cup. If we think back to 2007, when they handled that pressure in a group of death, this side has shades of that squad. They're full of guys that aren't always the most skillful but they're dogged, attritional, passionate and fierce competitors. That counts for a lot on the big stage, and if they can build on this, they'll top the group and cause lots of teams problems."
Knockout stage: Quarter-finals
QF1: Australia vs England

"Again, it's the favourable side of the draw, and if England have picked up some momentum and confidence, they could beat Australia here, Owen Farrell might be back at this point too which will give them a lift.


England should have more brute force upfront, it's in there somewhere and they have the potential to dominate when they want to. A win over Australia would be a great talking point too, especially considering how poor England have been lately."
QF2: Ireland vs New Zealand

"Ireland haven't beaten anyone at this stage before, but if this is the draw, I guarantee you 95% of the stadium in France would be supporting the boys in green here.

It would be a home advantage - of sorts - for Ireland to help them get the win. Plus everyone loves an upset, and to me, mentally Ireland have New Zealand's number at the minute."
QF3: Argentina vs Wales

"Wales would be extremely happy to get a Quater-final, considering how their season has been. I do think if at this point either side has lost a few players, and has had to dig deeper into the squad, Argentina have a little bit more to choose from. It'll be tight, but for either side, just being in the knockouts will be a huge achievement."

QF4: France vs South Africa

"There has to be a huge upset in the tournament somewhere and this will be it, the Springboks would win.

South Africa are great in the air and I can just see the kicks raining down to make France's back three struggle. France can also be vulnerable upfront, whereas South Africa aren't and I know France are a powerful side, but not when compared to the Springboks.

South Africa are a team that I would've loved to have played for; their physicality and presence and the way they play is just amazing."
Knockout stage: Semi-finals
SF1: England vs Ireland

"[Laughs] Ireland would win by 40 points. Next! In all seriousness though, Ireland should progress here. Even if they're struggling with injuries, it could be a victory by as many as 12-15 points."
SF2: Argentina vs South Africa
"It would be a comfortable win for South Africa. Again, I think Argentina would be delighted to get to this stage and it would be great for the game to see this, but the Springboks would march on to the final."
Bronze final
England vs Argentina

"I think the only reason I would go for Argentina here is so that England wouldn't get a medal [laughs]."
Final
Ireland vs South Africa

"Ireland's consistency since the World Cup draw has had them as the best team in the world, but South Africa have grown and become stronger over the last few weeks. The Springboks have an incredible tournament mentality too, and as an Irish fan and former player, I'd love to see Ireland win a final - and they will fancy their chances - but South Africa will edge it. Also, if we really ask ourselves 'Can Ireland do it seven weeks on the bounce?', sadly the history books have shown they can't.

That said, Ireland have smashed a lot of big teams, they play with a high tempo, big physicality and ultimately Andy Farrell lets them go out there and be themselves. There's nothing one dimensional about them, and if they can keep their best players fit, they do have a chance and I hope that I'm wrong. Also, the lads will never have to pay for a drink again in their life if they bring it back home from France."
Schalk Brits' Predictions

We were delighted to also speak with former Springboks player, legend and 2019 RWC winner, Schalk Brits.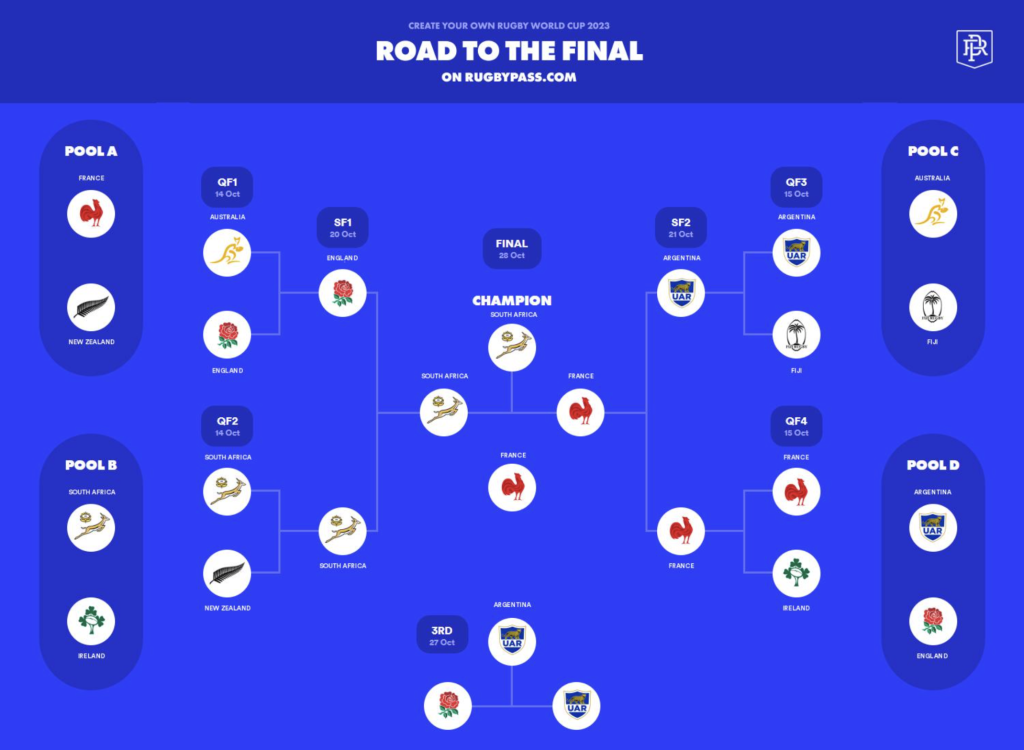 This is what Schalk had to say about the Pool stage:

Pool A: France 1st, New Zealand 2nd

"The funny thing with Pool A is that there are teams that will try their best, but just won't win a game. Italy and Namibia don't have any squad depth and they'll find it so hard against New Zealand and France. They'll just run them ragged.

France have a great pack, great structures in place and they can be New Zealand's kryptonite in World Cups. So I think France are going to win that first opening game against them and will end up topping the Pool with New Zealand in second.

With France playing at home and the emotion of the occasion, the squad will really bring it. The way France play isn't just 'go', it's coordinated and settled, and when he wants to, Antoine Dupont just runs the show. The game could even be a trendsetter for France and may end up dictating their run in the rest of the World Cup.

That said, a few months ago no one was talking about New Zealand, but after the recent games where they've blitzed opposition sides (before they played the Boks)- like they did in Auckland against South Africa - that's all changed. I've never seen such attacking intensity from a team, so you can never write them off."
Pool B: South Africa 1st, Ireland 2nd
"This really is the Pool of death… Okay so there's a lot of emotion here, and I'm of course extremely biased towards South Africa, but I honestly think this group is even better than the 2019 winning squad. They've been together for a long time, and although some pivotal players [Handrè Pollard, Lood de Jager] are injured, we still have very exciting backs and our forward pack is vicious and dominant.

But then you take Ireland who have a point to prove, having never got past the Quarter-finals. Andy Farrell has given them that extra edge, given them real belief and focus, much more than when Joe Schmidt was there.

Scotland, recently beat France with an unbelievable fightback that had real style and intensity. They might not have as many athletes as say New Zealand, but they are great to watch. They might even be a banana skin for some sides in this Pool, in fact they could beat Ireland.

That goes for Tonga as well, if they get their structure together they can be a hard side to beat. Although Romania will find things extremely hard, particularly in this Pool.

However, I do think South Africa will beat Ireland and top the group and Ireland will then finish in second. And if Scotland does beat Ireland - like I think they will - it will have been too little too late in their games, as they just don't have the squad depth to cope with all their matches."
Pool C: Australia 1st, Fiji 2nd

"Australia will finish top, I love Eddie Jones, he's a real character and Will Skelton is a great bloke who will lead from the front. But, I'm going to be controversial here and say Fiji will finish second and they will beat Wales.

Fiji will out muscle and outskill a lot of sides too. They don't always have the best structures in place, but they just want to play beautiful rugby and that works for them. I can see them coming through in this Pool and having a proper go.

I don't really know why Warren Gatland took the Wales job again, he's been rotating his squad a lot lately as well, which I find surprising. I mean, they beat England recently, but when you think about it, is playing and beating a poor England side really a proper means of showing your progress right now? They also don't have the personalities they used to, with no Alun Wyn Jones, who's really going to stand up and have a go when they need to turn a game around?

Some people have backed Georgia to qualify, but to me they play a good set piece, but they don't have the depth you need in a major tournament."
Pool D: Argentina 1st, England 2nd

"I'll go for Argentina to win the Pool. I saw a lot of them in the Rugby Championship and I was very impressed with their passion and aggression.

I think England will come second but they are lucky they have this particular group, as they'll beat the likes of Samoa and Japan, but will still lose to Argentina. It'll be the case that Samoa and Japan will push them hard in their games, but these sides will struggle to get any positive results here.

Don't get me wrong, I've played with a lot of the England squad and they're proper rugby players and Steve Borthwick is a good guy, but I just can't work out why they're not performing right now. Steve has had a tough job taking over so close to the World Cup, but so far things just don't seem to be working and they're not playing the way they should. They should be phenomenal, but they're not.

For me, the England pack doesn't try to dominate. Instead they try all these moves, but if the pack isn't dominating it just won't work. Also, when you look at the squad, who do they have that can turn a game on its head and create something out of nothing?"
Knockout stage: Quarter-finals
QF1: Australia vs England

"Although England will struggle and won't have been playing attractive rugby - a bit like in 2007 - I've a funny feeling that if they get to this stage, they'll have gained some momentum and could beat Australia. No revenge for Eddie Jones, but I'm hoping this tie comes off as everyone will expect Australia to win and it could be a big upset."

QF2: South Africa vs New Zealand

"Well, I can't not back the Springboks, can I? Even though it's New Zealand I think the South Africa pack is more exciting and would have enough to win this one."

QF3: Argentina vs Fiji

"Fiji would do a lot of running and will push Argentina for maybe 60 minutes, but Argentina should win this game."

QF4: France vs Ireland

"The Irish public will slaughter me again for this, but I'm sorry, I'm backing France here and Ireland would once again go out in the Quarter-finals. Ireland will be great, but with that home advantage France would go through."

Knockout stage: Semi-finals
SF1: England vs South Africa

"A rematch from the 2019 Final, the score won't be the same and it'll be competitive, but South Africa would comfortably win this one."
SF2: Argentina vs France
"Argentina would push France at times, but this is another easy one, France would win."
Bronze final
England vs Argentina

"Sorry England, but Argentina would win this match."
Final

South Africa vs France
"Well, this might not surprise you [laughs]… but I'm going for South Africa again.

It would be a close game, there'd be a real wrestle here and France would be hugely up for it, but a Springboks win would break a record, it's probably the last World Cup for a lot of the boys in the squad and they're an unbelievable pack who will want to have a proper go.

The effect on South Africa would be incredible too. If I think back to the impact our win in 2019 had on the country, I remember celebrating with people from all different cities and townships, so I know that sport really has the power to change views and attitudes for the better.

Ultimately, whatever happens I think this'll be the most interesting World Cup I'll ever watch, as there are so many big sides that have a chance. Also, if South Africa don't win, and it's a Northern Hemisphere team - maybe Ireland - it would be great for World Rugby."