Back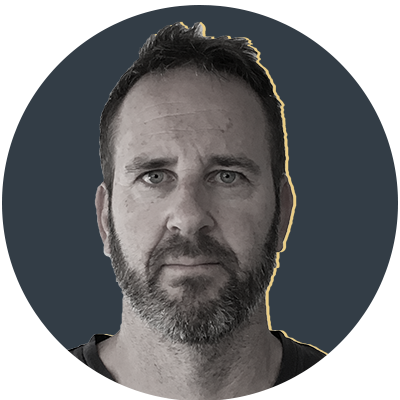 By Patrick McKendry
Will Jordan has one hand on the All Blacks No 14 jersey
A back to basics approach – primarily a focus on the improvement of basic skills such as catching and passing – is seen by All Blacks head coach Ian Foster as a prerequisite for his side to reach their ultimate goal this year, winning back the world No 1 ranking they haven't held since 2019.
There will be others, including an attempted return to the physicality which swept them to their 2015 World Cup success in the United Kingdom in particular, but it was their catch-pass accuracy (apart from one or two exceptions) and running lines of both forwards and backs that was especially noticeable in cold and dewy conditions during the 102-0 thrashing of Tonga at Auckland's Mt Smart Stadium on Saturday.
The gulf in class wasn't unexpected and it was difficult to take too much from an hour and 20 minutes of utter domination but there were some bright points nevertheless in the efficient work of loose forward trio Dalton Papalii, Akira Ioane and Luke Jacobson – all eager to impress after being given rare starting opportunities – and, perhaps more significantly, in the way right wing Will Jordan went about his work.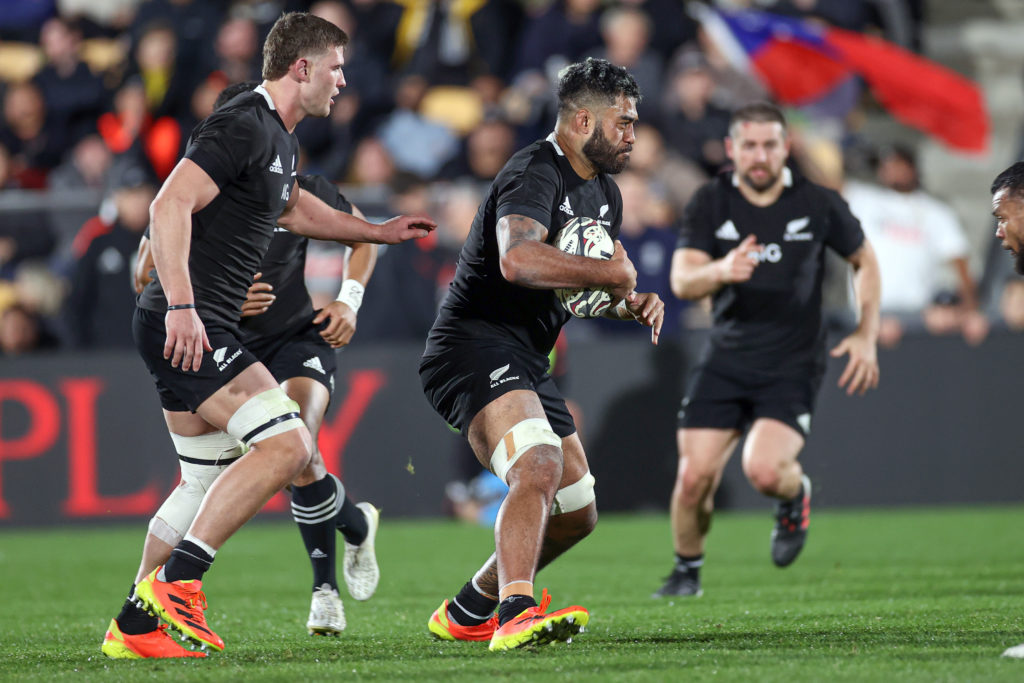 Ardie Savea (knee injury but expecting to return next weekend) and skipper Sam Cane (chest injury which will keep him out until at least next month and perhaps longer) will slot straight back into the starting line-up once fit, which probably leaves Papalii, Ioane, Jacobson, rookie Ethan Blackadder, Shannon Frizell and Hoskins Sototu – the latter two not named in the squad for the Tonga test – effectively competing for one starting spot. 
But the right wing position is far more open. Sevu Reece, another not named in the recent match day squad, would have claims on being the incumbent, but the selectors have also liked Jordie Barrett in the No 14 jersey, although that may have changed given Barrett's eagerness to slot into a problematic second-five position.
It wasn't necessarily Jordan's five tries that would have impressed Foster and company. Remarkably, Jordan crossed the line untouched for all but one, which suggests he was merely the final link in the chain, but it also hints at the 23-year-old's fine instincts in terms of positional awareness – something he displayed time and again at fullback for the Crusaders this year.
I'm probably not as fast as Rieko [Ioane] – his top-end [speed] would be the fastest in the squad.

Will Jordan on the quickest All Black
Jordan is an unflappable type, an old-fashioned outside back a bit like former All Black Ben Smith. As such, he's the poster boy for Foster's back-to-basics approach – but he offers far more upsides than that. He's excellent under the high ball and rarely makes a mistake. He is still learning his craft as a wing but his experience at fullback has made him aware of the attributes and positioning that is necessary and he is one of the most balanced runners in the squad, if not the test arena in general. 
It goes without saying that he's also very quick, although he maintains Rieko Ioane is quicker overall.
"I'm probably not as fast as Rieko [Ioane] – his top-end [speed] would be the fastest in the squad," Jordan said. "Among the backs there are a few guys with speed… it was nice to get a bit of open space tonight."
This was Jordan's first test start and his third in total after making his debut in the defeat to Australia in Brisbane last year. While his Crusaders and All Blacks wing colleague George Bridge is still finding his feet after a long injury lay-off, Jordan is an outside back in the sort of form which may put pressure on the selectors to consider him for the Rugby Championship tests which start next month.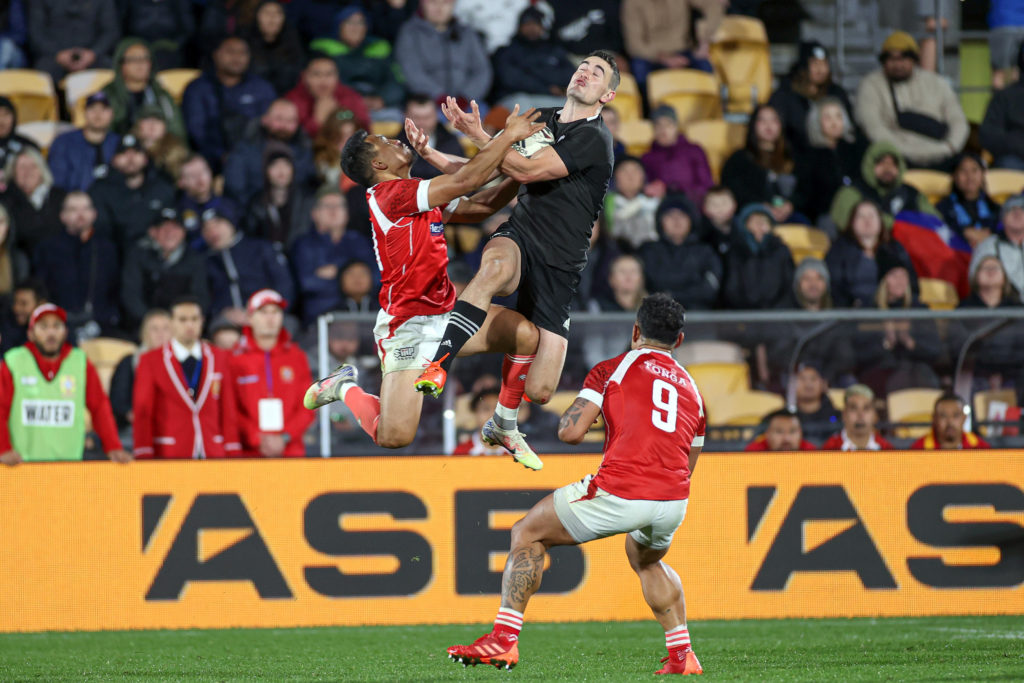 "What he did show with his tries was his speed and his ability to get in the right position at the right time," Foster said immediately after the Tonga test. "He's got great instincts there. I thought he was a little bit like [midfield debutant] Quinn [Tupaea], I thought he started a little bit slowly and there were a couple of things he will look at and might want to do a little differently, but I like the fact he climbed through that, got involved, and got his hands on the ball and that's what we're looking for with our wings.
"On the other side, Bridgey got through 80 minutes after a long period off. He didn't look his sharpest self but he will be a lot better for that 80 minutes.
"I was quite pleased with Damian [McKenzie]. He looked calm. Over the last few months his decision making at the back has been really accurate. He's gone from the guy who just does the dazzling runs and getting some wrong, to now he's distributing, he's kicking well, he's giving us that two-sided attack that we love to have. I thought he should be pretty happy with what he did."
What I've enjoyed about going on the wing after playing a bit at fullback is understanding what Damian is wanting from me at the back. I tried my best to take a load off him.
That Jordan was allowed to shine was due in part to McKenzie's unselfishness and growing maturity and the little Chiefs player is growing as a genuine contender for the No 15 jersey in the big tests ahead.  
"Obviously you're in the front line a lot more [on the wing] so there are a few more tackles to make and a bit more organising to do as well," Jordan said. "What I've enjoyed about going on the wing after playing a bit at fullback is understanding what Damian is wanting from me at the back. I tried my best to take a load off him."
One of the diversions that some All Black supporters may have entertained themselves with as the score mounted against Tonga was whether Jordan could equal or beat Marc Ellis' record six tries for New Zealand scored in the 145-17 victory over Japan at the 1995 World Cup.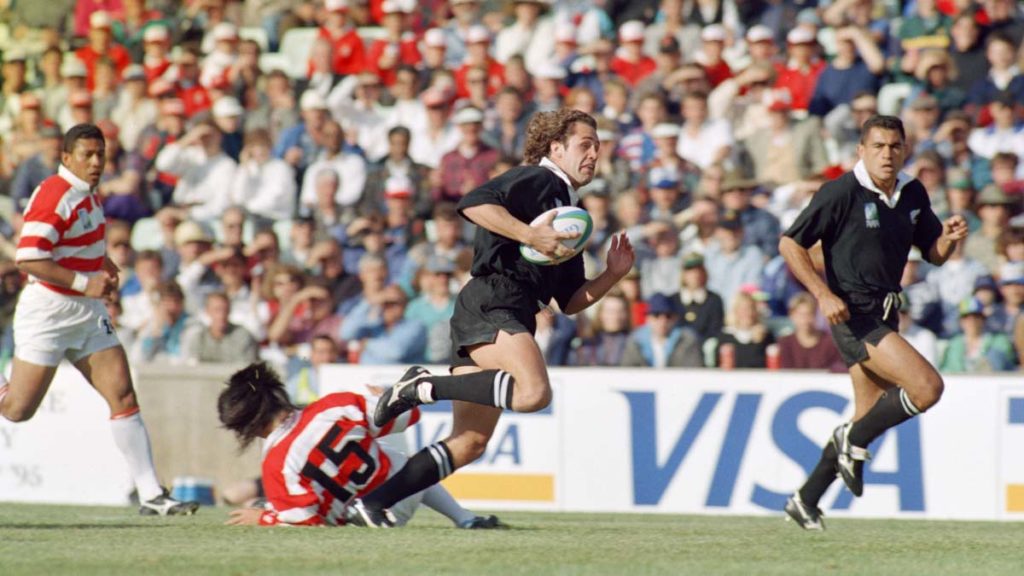 The man himself was aware of the record, but said he wasn't chasing it. "I did know that the record was six but I wasn't searching for it or anything like that," Jordan said. "I probably owe Damian McKenzie a few coffees next week; he put me over for a few easy ones. It was just great to be a part of a good team performance."
Jordan has that rare skill of being a "lucky" player. Beauden Barrett is another. The ball just seems to bounce the right way for them, although it's probably not luck at all – more like constant practice making the extraordinary look more achievable, along with being in the right place at the right time – positional awareness, again. 
It was evident in his two tries in a handful of minutes when he came on as a replacement in the victory over Argentina in Australia last November. He just has that knack of being where his team need him to be.
Luck or an almost supernatural positional awareness? Either way, it's not a bad impression for a young man starting his first steps in what could be a long and fruitful test career to make. Jordan is going places in a hurry.
More stories on Will Jordan