Back

By Lauren Jenkins
Why the French U20 team are favourites to the the World Championship
When charismatic Italian captain David Odiase steps aside and says, 'don't mind us, we'll keep out of your way', as the French team prepare to face the media in the hotel lobby both teams share, you know that respect has been earned.
While it would be hard for most of us to ignore the formidable Odiase, whose stirring speech rallied his team to topple the hosts South Africa at the group stage, the French players found it easy to conduct their interviews despite the inquisitive presence of peers from another team. Les Bleuets aren't bothered by an audience. Far from it, in fact they're unfazed by the media full stop. The confidence exuded on the field is also present off it. An aura of champions?
Well, they're enjoying their rugby in South Africa as well as life in Cape Town. It's not only a hotel they share with the Azzurri, they also share in their success. When the Italians returned to base after beating the hosts South Africa in the group stage, the French boys erupted into song; congratulating them as they welcomed them back through the doors. Nestled in the shadow of the towering Table Mountain, they know all too well how it feels to knock over a southern hemisphere giant, having beaten New Zealand with a mix of power and panache.
At the end of the group stage the statistics told a story; France has made more metres, more clean breaks, more tackles, offloads and entries into opposition 22 than any other team in the tournament. They'd also plundered the most tries, with fingertip passing, all at lightning speed, to bedazzle the watching fans.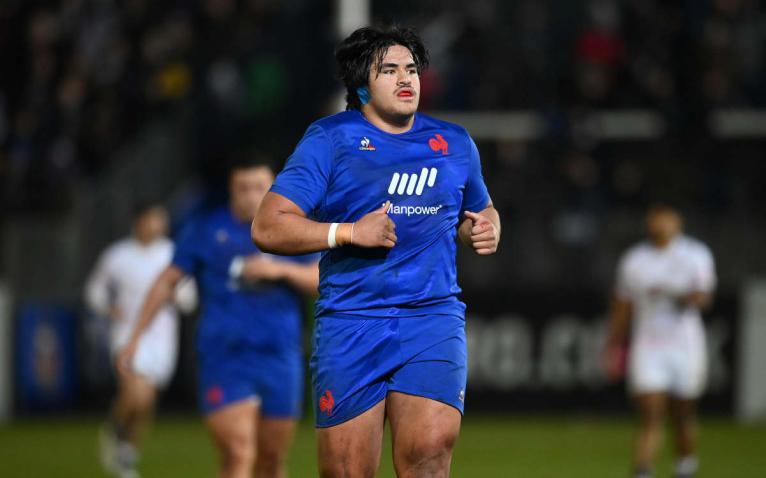 So, what is the secret to Les Bleuets' success?
Having 14 clubs in the Top flight of French rugby certainly helps. More teams and a longer league season than most, means more opportunities to play. Of the current French Under 20s squad, 14 players had game time in the Top 14 last season, with the likes of Baptiste Jauneau, Mathis Ferté and Posolo Tuilagi regulars in their respective teams.  A further five played in the second division Pro D2 – a league which is quickly becoming a more attractive prospect for many of Wales' international stars with Rhys Webb and Tomas Francis among those choosing to ply their trade there next season. But foreign import spots are limited by the Jiff policy, which also determines an average of 16 players per match day squad must have come through the French academy system. It is policy designed to afford plenty of opportunities to the next generation of Les Bleus.
I first started playing for Bordeaux in December, believe me when I say it's another level of professionalism

Nicolas Depoortere, Bordeaux-Begles centre
At their hotel in Cape Town captain Nicolas Depoortere, who appeared 12 times in the Top14 this season told me: 'I first started playing for Bordeaux in December, believe me when I say it's another level of professionalism. It's faster, a lot more powerful and I really feel like everything I learned at that level, I've able to transfer to the under 20s tournament in a short amount of time.'
But game time in the Top 14 and Pro D2 is only a piece of the jigsaw. After all, Ireland have just achieved back to back U20 Grand Slam success with few players featuring regularly in the URC. Undoubtedly though, being part of the provinces would have meant invaluable training time around seasoned internationals and experienced coaches; a factor Cardiff coach Richie Rees, who has been commentating on this year's U20 Championship, believes is key for Les Bleuets too.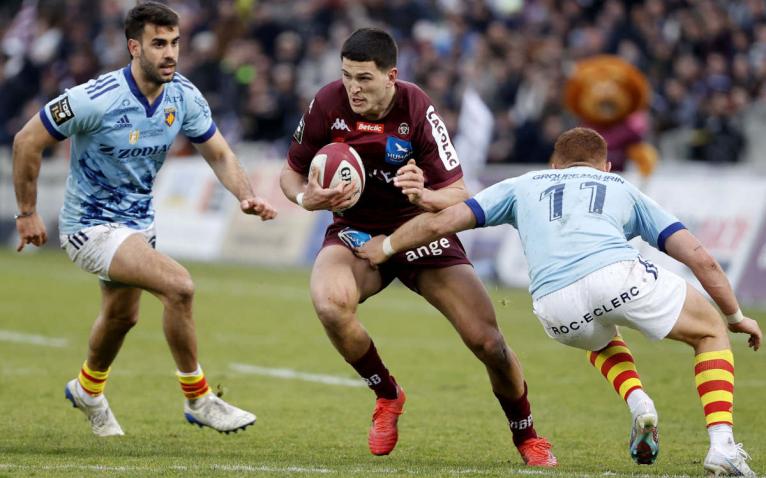 'You train with better players, you get better. If you train with substandard players and play in a substandard league then you're not really going to improve. The further you go up the pyramid, the quicker, the faster, the more accurate everything is and if these guys are training with better players and playing in a more meaningful league, it's really important. This French team have previously experienced the intensity, decision making process, the execution of skills under pressure and fatigue in both training and match scenarios.'
What the French also have across all levels of their game is alignment. A word head coach Sebastien Calvet uses more than once during our conversation.
'We put a lot of work in from an early age. We follow players closely to make sure they have the very best pathway. We work with academies, youth training structures so we're all singing off the same hymn sheet. They also dedicate substantial time and resource to developing the U19s; the top 30-35 players of this age group have regular tours abroad as well as a weekly programme at Marcoussis alongside the France team during the 6N.
We have regular training sessions with the senior team – mainly before the autumn internationals and the Six Nations to ensure the boys get used to the environment

Sebastien Calvet, France U20 head coach
It's paying off. France have more U19s players involved in this year's Championship than ever before and more than most other countries. They made 11 changes against Wales, ten of the starters were U19s, including seven of the pack. During their 43-19 victory,  France played 65 minutes with 14 men but for the most part looked as though they had 16 on the pitch. They're just as adept at winning collisions as they are at avoiding them; their footwork and offloading ability a match for their sheer force. France have power and pace in abundance.
It's no coincidence these are the very attributes used to describe the senior side. 'We have regular training sessions with the team – mainly before the autumn internationals and the Six Nations to ensure the boys get used to the environment' Calvet goes on. This year's U20s Six Nations captain Emille Gailleton and wing Louis Bielle-Biarrey have already made the transition to the senior set-up, the former tipped to make the final World Cup squad on home turf.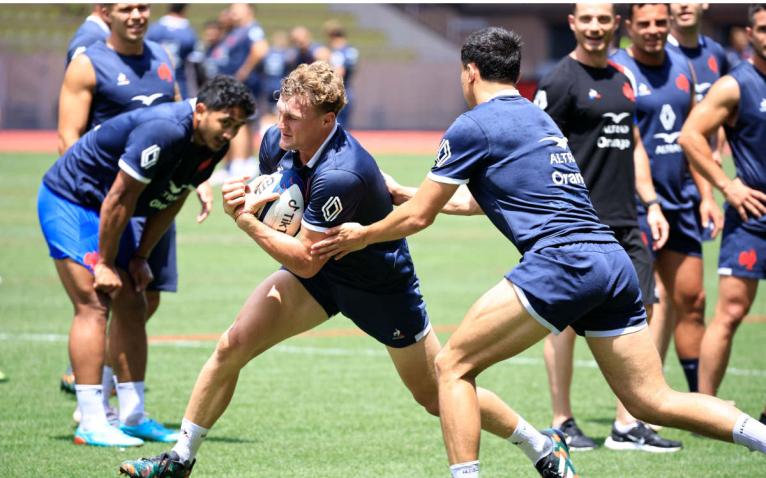 So what are the chances of France holding on to the baton and lifting the trophy for the third consecutive year?
Calvet isn't underestimating the task ahead with a semi final against familiar foes England to overcome, before a potential final against Ireland or hosts South Africa.
'It's a challenge. The players have got to learn to play with the pressure of what's come before them. Because there is pressure. But we're going to try. We're going to try to demonstrate that the French way of doing things is effective."
If the French way equates to a sizeable player pool, sufficient game time, an opportunity to learn from top quality foreign players, alignment, first class coaching and the target of a home World Cup that has become the focus of all involved in rugby in the country, then I'm not sure anyone can argue with Calvet.
While the 2023 title holders are yet to be decided, one thing is certain; this French U20s team will soon be conducting interviews in front of more than just a few reporters in a lobby, and when they do, I very much doubt that will faze them either.
An aura of champions? Mais bien sûr.