Back
By Tom Vinicombe
Time for the All Blacks to gamble on Roger Tuivasa-Sheck
There's a growing expectation that Roger Tuivasa-Sheck will be named in the first All Blacks squad of the year announced next Monday.
For a man with just nine games of professional rugby union under his belt, it will be an incredible achievement.
Yes, Tuivasa-Sheck has had a long and distinguished career representing the Roosters and Warriors in the NRL, accruing over 230 appearances and numerous accolades over a 10-year period, but there are still stark differences between the two codes and other top league stars such as Sonny Bill Williams and Sam Burgess took considerably more time to transition from one sport to the other.
Having announced his intentions at the beginning of 2021 to switch to union for the following season, Tuivasa-Sheck eventually made the decision to cut his ties with the Warriors ahead of schedule and link up with the Auckland NPC team in order to fast-track his development in the XV-man game. It was a sensible call but one that didn't quite pay as many dividends as anyone would have hoped, with Auckland playing just two games before Covid scuppered their season.
In saying that, Tuivasa-Sheck has hardly looked out of his depth with the Blues this season. There have been a few hiccups along the way – some misreads on defence, the odd breakdown penalty – but nothing less than you would expect from any player, regardless of their capabilities or experience.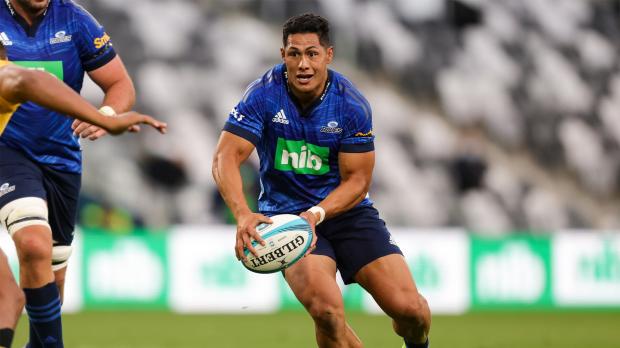 In his nine games, Tuivasa-Sheck has looked a composed figure in the Blues backline and formed a strong combination with Beauden Barrett and Rieko Ioane.
The former spoke has regularly spoken highly of Tuivasa-Sheck this season.
"His physical attributes are freakish," said Barrett in April.
"I've seen him do things that I haven't seen before on the field, one-on-ones and things like that, but I've been really impressed with his professionalism and questions he asks and how much he actually knows about footy.
"I think a lot of people would be surprised about that. He's clearly been watching a fair bit whilst playing for the Warriors and the Kiwis, so he's already picked it up pretty quick. I've been impressed.
"He has a lot more time than, typically, those would playing 12. They're making transition, and he is a bit more calculated and makes good decisions out there rather than just being a pure athlete with ball in hand. He's, tactically, right up there."
He's not thinking about where he should be standing and what a spiral pass feels like. He's thinking about playing rugby

Blues coach Leon MacDonald
"What I'm getting is a lot more solutions, feedback," he added following the quarter-final win over the Highlanders. "Rather than it only being one way, it is a two-way thing.
"That's great, it just shows how well he's understanding the game now and I think Rieko's been a great help with him too, just offering his advice and I'm just happy to see Rog develop the way he has."
Coach Leon MacDonald has also waxed lyrical about his new prodigy's growth.
"He's just starting to play with a lot of freedom now," he said on Saturday. "I think he's not thinking about where he should be standing and what a spiral pass feels like. He's thinking about playing rugby and he's starting to get his eyes up and he gets excited when the ball's around him and he wants to play and that's really great.
"It gives guys like Beauden the confidence to let it go. Now he's starting to become quite demanding of people around him when they're not moving quickly or calling for the ball so I thought tonight's another step forward for him."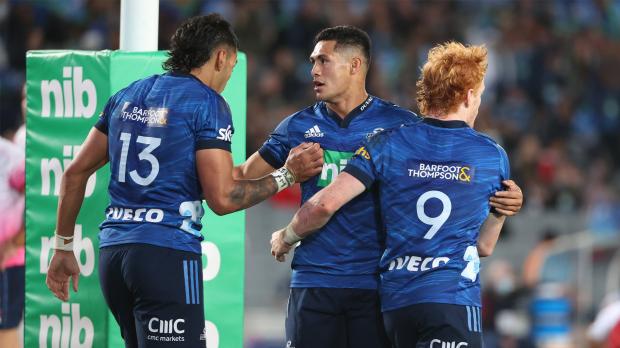 Despite Tuivasa-Sheck's quick improvement and reliable work on the field, however, he hasn't exactly stood out in the Blues backline – and nor has he needed to. With the likes of All Blacks Barrett, Ioane, Caleb Clarke and Finlay Christie around him, and a forward pack that's more often than not dominated its opposition, Tuivasa-Sheck has been able to quietly go about his work without too much pressure – except, of course, for the pressure of expectation.
The simple fact of the matter is everyone in New Zealand wants Tuivasa-Sheck to succeed and all eyes are on him due to his high-profile former life as one of the NRL's best exponents over the past decade. This year, the 29-year-old has rarely set the world alight nor necessarily done anything on the field to really justify the calls for his elevation into the All Blacks.
There have been other Super Rugby debutants this season that have outperformed Tuivasa-Sheck but have simply not attracted as much attention due to being relative unknowns in the game.
Hurricanes fullback Josh Moorby is one who immediately comes to mind. The young outside back has been excellent for the Wellingtonians throughout 2022 and after just one appearance off the bench, coach Jason Holland was confident enough in Moorby's capabilities that he shifted Jordie Barrett to inside centre – where he mostly remained for the rest of the season. That's despite the fact that the Hurricanes weren't exactly lacking for midfield options, with Bailyn Sullivan, Billy Proctor, Peter Umaga-Jensen and Teihorangi Walden all vastly more experienced than 23-year-old Moorby.
And while Bryce Heem is not new to the Super Rugby arena by any stretch of the imagination, he's generally looked equally as at home as Tuivasa-Sheck when called upon in the midfield because he has been happy to leave the big plays to his teammates. Does that mean Heem should be playing test rugby, or is it simply a sign that you don't need superstars in every role to get a team humming?
With the Rugby World Cup just one year away, the All Blacks coaches are running out of time to forge a competent, confident midfield combination ahead of the major tournament.
Had Tuivasa-Sheck been picked up by the Hurricanes or Highlanders, would he have been able to play the understated game he has for the Blues, where he has been surrounded by other X-factor players who are capable of generating plays and making big moves on the park?
The answer is likely no – but that doesn't necessarily undermine Tuivasa-Sheck's likely selection next week.
With the Rugby World Cup just one year away, the All Blacks coaches are running out of time to forge a competent, confident midfield combination ahead of the major tournament. If Tuivasa-Sheck can perform the same way on the test stage as he has at Super Rugby level, the All Blacks could be onto a winner – even if he's not setting the world alight.
However, it's worth asking whether Tuivasa-Sheck would be better served linking up with the All Blacks for the Rugby Championship and end-of-year tour or simply continuing his rugby education with Auckland in the NPC.
With no other rugby to get involved in throughout July, it looms as a great opportunity for Tuivasa-Sheck to continue his development in the highest of high-performance environments but if he doesn't take to international rugby like a duck to water and it's looking like he might spend more time on the sidelines than on the field for the All Blacks, then it might be best to send him where he can get more action and further his learning on the park.
At this point in time, Roger Tuivasa-Sheck's selection for the New Zealand national side looks all but inevitable – but is the former NRL star really ready for the big stage, or could there be better ways to develop him into a top-flight midfielder?