Back

By Nick Heath
The quest for equality
Like all rugby fans I am hugely excited about the next few months. There's the British and Irish Lions tour and series against world champions South Africa, the chance to see the next wave of England players as they are given their bows against the USA and Canada, and the return of the Rugby Championship, all while restrictions are being lifted to allow fans to return to the stadiums where they will provide a noisy and colourful backdrop to events on the field.
I have had the pleasure of commentating on the England women's team since 2012 so I hope that the men will provide as much enjoyment and entertainment as their female counterparts.
Covering women's rugby was my entry point for commentary, and I have ensured that as my career has developed, I haven't turned my back on it. I also work hard to ensure that I report and commentate on it just as I would a men's match. I avoid sounding patronising and describe the sport on its merits, something many players have thanked me for.
It is still the case that women's teams are treated differently to their male counterparts. A lot of women's sports are retrofitted after they have been men's sports. Just look at how long it took clubs to provide female changing facilities or kit designed for the female form, not just hand-me-downs from men's teams. Women's sport will take a little bit longer to get to the place where the men are but that doesn't mean anyone needs to be impatient or belittling.
To be honest, I can't imagine what the world must feel like for a woman given how patriarchal most of society remains. Why do dual-gender tournaments always culminate with the men's final? Who says it will be more popular? Why not see what happens when the women's final is the climax to a sevens competition? If blokes thought long enough about that they'd have a word with themselves.
While I would love to see a women's Lions tour, I realise that it will be a while before that happens. The standard of the four home unions needs to be higher if we're looking at a traditional Lions model.

Nick Heath
South Africa 2021 will be my third Lions tour as a broadcaster, and while I would love to see a women's edition, I realise that it will be a while before that happens. There is already some interest and a feasibility study has taken place. But the standard of the four home unions needs to be higher if we're looking at a traditional Lions model.
Unions also need to look at the wider picture. When you invest to in your women's team, more young girls are going to come into the game. The investment in the women's team means you have more participation overall, so I really think that for some unions it is not about costs but investing properly. Then a women's Lions tour would have more credibility.
Recently I was proud to be made an ambassador for the Women's Sports Alliance. It means I can use my broadcasting experience to help women's sport move forward. One of the things that will really help is ensuring that the varied and interesting stories that come from the women's game are told.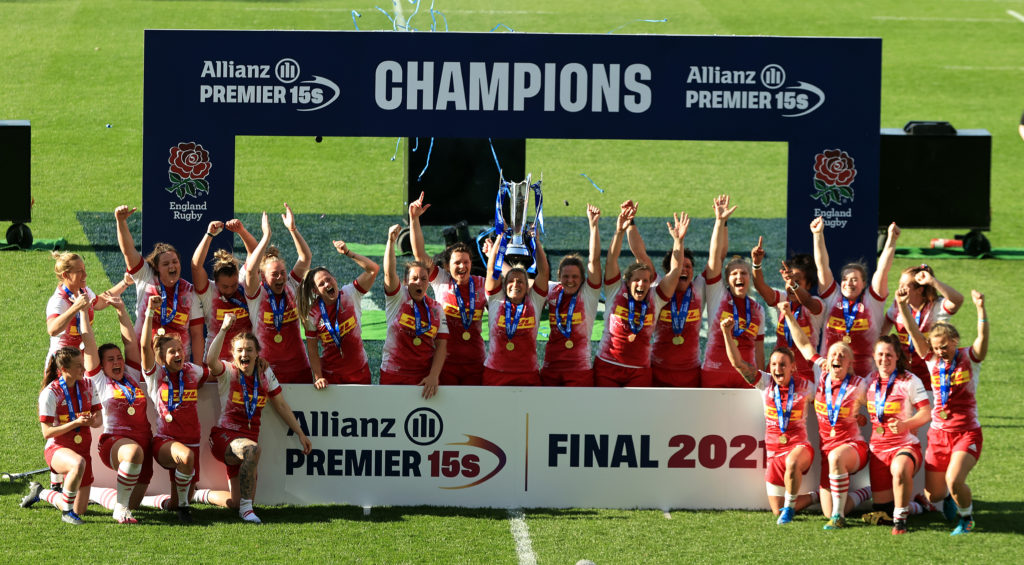 We all like the stories behind sport and we need to be wary as professionalism spreads through the women's game that we don't lose that. They are mothers and that is different, learning how they come back to playing after having a child. Conversations around periods and menstruation affecting women's sport are fascinating and they are finally being heard.
I have also been talking to clubs about how they can promote their women's teams, even if it is simply a case of pointing out that they could publish both the men's and women's line-ups on their website before the weekend matches.
The clubs have been very receptive to ideas that should ensure the genders are treated equally. They have also been working hard develop their understanding of what being gay in a rugby club environment is like.
I held positive talks with former Harlequins' director of rugby Paul Gustard, as well as Dean Richards at Newcastle Falcons and Alex Sanderson at Sale Sharks and I'm hopeful that the other Premiership teams will soon follow.
As a gay man I am often asked when I think a current player will come out as gay. For now, former Lions and Wales captain Gareth Thomas and referee Nigel Owens remain most fans' reference when it comes to gay males involved in rugby union. There is also referee Craig Maxwell-Keys, Sam Stanley, the former England Sevens player who is part of the New Zealand-Samoan rugby dynasty, and Levi Davis, the ex-Bath wing and X-Factor contestant who is bisexual and currently pursuing a music career.
My sexuality has pretty much been a non-issue in rugby circles, and I'm sure it would be if a male player were to go public with his homosexuality. It's funny that in some sports there are a ton of gay men and women, and in others we are waiting for the watershed moment.
The circus will only leave whenever we have the first few current players who have come out, when it ceases to become such an issue.

Nick Heath
However, I can understand why a player wouldn't want the circus of reporters asking about his sexuality. If you were 18 to 30 and wanting to maintain a position in the first XV or break into the England squad, then coming out and people wanting a slice of that side of your life may not be something you'd want to entertain until you were older and had more time to give it.
I can really get that. The circus will only leave whenever we have the first few current players who have come out, when it ceases to become such an issue. Anyone waiting for those headlines are going to be sorely disappointed because a lot of the world is waiting to reply, 'And?'.
If you've done workshopping across all 12 clubs in the Premiership and one player aged 19 decides you've created an environment where he feels comfortable coming out, then you've had a huge win. And I think if it's an 18, 19-year-old coming out, it won't be seen as such a big deal. If they're comfortable in the club, and comfortable with it being known, then it doesn't become a circus.
If you've enjoyed this article, please share it with friends or on social media. We rely solely on new subscribers to fund high-quality journalism and appreciate you sharing this so we can continue to grow, produce more quality content and support our writers.