Back

By Patrick McKendry
Stars of the show have bright futures for All Blacks
Those Aucklanders living under New Zealand's strictest Covid protocols have become used to living under Groundhog Day conditions lately in terms of the same things happening for days if not weeks on end, and there were some incidents during the weekend's Perth test which for some viewers may have pushed the concept almost to the edge of reason.
There was a Barrett red card in the first half of a Bledisloe Cup test in Western Australia – brother Scott was the recipient two years ago in a big All Blacks loss – loose forward Akira Ioane doing his thing in the wide channels at what for the opposition is becoming a frightening consistency, and Will Jordan scoring a try in a test, as he does. For Jordan, the All Blacks outside back, this was his sixth try in six consecutive tests, a record for a tier-one nation stretching back more than a decade.
So, to continue the movie theme, the test, which the All Blacks won 38-21, did not lack for plotlines or indeed potential heroes and villains. It was a fascinating contest in which the All Blacks went to a new level in terms of their defence and counter-attack.
It was undoubtedly the best of Ian Foster's reign because of the intensity that the visitors brought (against a side which had weeks to prepare in Perth), along with their accuracy, and yet while the All Blacks appeared in control almost from the start in the bright afternoon sunshine, they still allowed a Wallabies team which appeared desperate and frantic and almost clueless at times to score three converted tries.
The show-stealer of course was Barrett's dismissal for lifting his boot, studs up, into the face of the on-rushing Marika Koroibete in the act of catching a high ball, an incident which will be discussed in various forums for some time.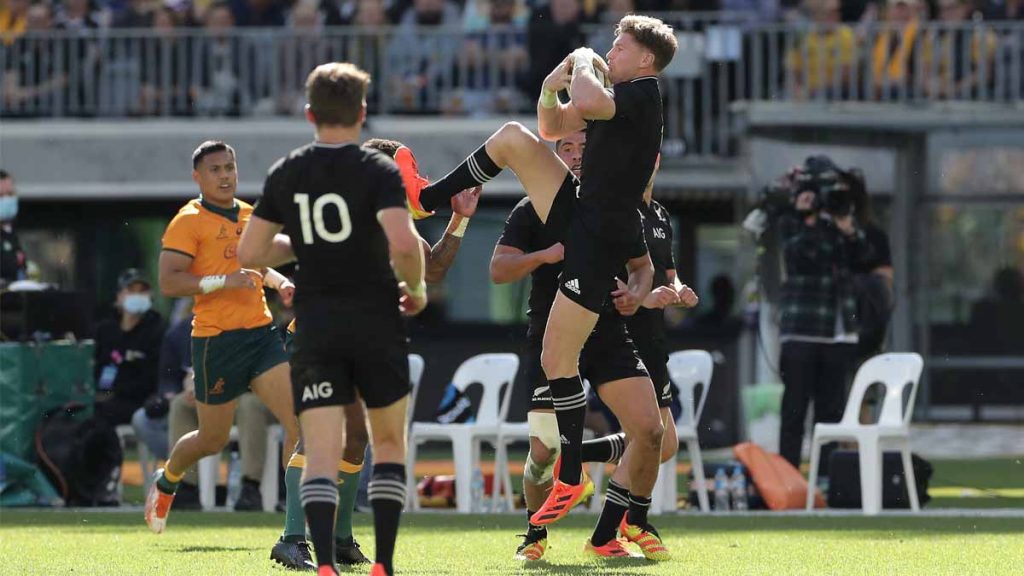 Clearly it was unintentional. But clearly it was also dangerous and those same debates would have a different complexion had Koroibete's face been cut or had he suffered an eye injury. The other side of it is that Koroibete had no chance of winning the ball and that he should have been more careful about colliding with the airborne Barrett. Had circumstances been only slightly different, it could have been the Wallabies wing given his marching orders by referee Damon Murphy rather than Barrett.
Yet more strands that have become unravelled by Barrett's left foot are that many of New Zealand's top players practice this very technique of lifting their boots studs-up towards the opposition in the act of receiving a kick, that it was an accident waiting to happen, that the red card should serve to alter those techniques, and that we should all be thankful Koroibete appeared to suffer few ill effects.
The 23-year-old Jordan, perhaps a minor surprise selection on the right wing given the recent form of Sevu Reece and the fact Jordie Barrett was enjoying a rare recent start at fullback ahead of Damien McKenzie (the All Blacks selectors don't usually like to make pile relative inexperience on top of positional changes if they don't have to), played the perfect support role, as we have become accustomed to seeing.
The secrets to Jordan's success aren't really secrets at all. He has deceptive speed, excellent rugby instincts, and a knack for being in the right place at the right time (probably connected to the previous quality) – and yet he appears to almost effortlessly flummox the opposition every time he puts on the black jersey. 
We got a glimpse of what he was capable of at test match level last year and I think that last test against Aussie he really put his hand up and showed he's made for test rugby.

All Blacks captain Sam Cane on Akira Ioane
He has played seven tests in total and five this year. His scoring run began last year with two tries against Argentina in Newcastle and he began this year's test season with five against Tonga at Mt Smart Stadium and one in each test since against Fiji (twice) and Australia (twice). The lethal weapon with the boy-next-door looks is becoming a compelling prospect for Foster in a cluttered field, with George Bridge returning from injury to also knock on the door.
The true star of the test, though, was Akira Ioane, and quite apart from the success the All Blacks are enjoying under Foster, who was only recently given the opportunity to re-sign with New Zealand until the end of 2023, the head coach must also be given an enormous amount of credit for being able to get the best out of the elder Ioane (and also Rieko, who was outstanding on the left wing at Optus Stadium).
Akira has always been seen as a major project; a player with enormous potential given his size and strength, skills and speed, and yet who for whatever reason couldn't consistently deliver on it. Well, he is now.
Last week, injured All Blacks captain Sam Cane told the New Zealand Herald he was especially pleased with the way the blindside flanker was making the position his own following back-to-back performances against the Wallabies at Eden Park. He also revealed Ioane could be the answer to a problem the selectors haven't been able to solve since Jerome Kaino's retirement from the international game four years ago.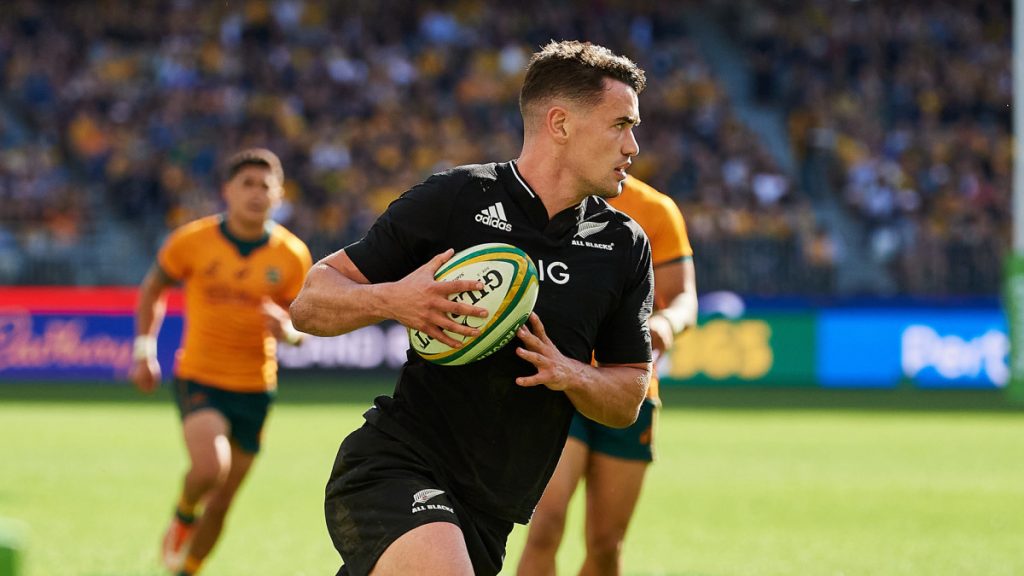 "He's been through a wee bit," Cane said. "He stuck at it. We got a glimpse of what he was capable of at test match level last year and I think that last test against Aussie he really put his hand up and showed he's made for test rugby.
"He's a big physical specimen and he's not scared of anyone. He won't take a backwards step. As the years go on he could equally mould into almost an enforcer role that we've come to expect from our No 6s."
Cane appears to have hit the proverbial nail on the head, as he usually does, because in Perth, Akira was a danger every time he received the ball. But what was especially noticeable was how unselfish he was with it. Several times he could have gone for the line himself, and perhaps should have, but, fully aware of others in better positions, he chose the unselfish option which speaks volumes about his attitude.
For Foster, the key is in how Ioane is preparing. 
He's probably used to being told what he does wrong, and I think he's really responding to focusing on what he can do right – and we're seeing a bounce in his step with that approach

Ian Foster on Akira Ioane
"Where we're seeing the consistency is on the Sunday to Friday which means we're not guessing which player is going to turn up on the Saturday," Foster said straight after the Optus Stadium test win, the first time the All Blacks have swept the Wallabies since 2018.
"He's probably used to being told what he does wrong, and I think he's really responding to focusing on what he can do right – and we're seeing a bounce in his step with that approach.
"He's grown up nicely, and now he's starting to put a couple of games together I believe his confidence will keep growing and growing."
Ioane's importance only increased once skipper and No 8 Ardie Savea left the field with concussion, and the No 6 found himself bounced around the backline to make up numbers during the 20 minutes the All Blacks played with 14 men.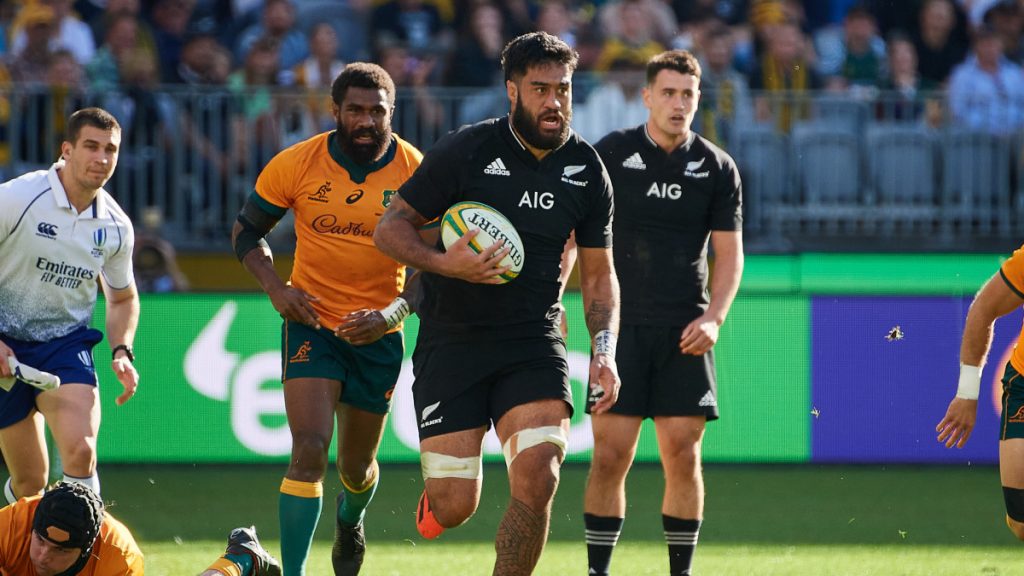 Savea said afterwards: "With Aki there have been a lot of doubters, but we're seeing him grow off the field … he's just maturing as a man, and you're getting to see the fruits on the field. He's an absolute beast and freak, and seeing him out in the wide channels and making tackles is awesome.
"I've known Aki from the start and we've always known that was there. It's just around how do we bring that out? I think you guys are seeing that now."
"It does [feel good]," Akira said. "I have had my challenges, and worked through that two years ago. Being here now it's pretty special and something I don't take for granted. It's been a long journey, and a hard one as well, and to reap the rewards now … I'm just happy in general I guess which is why I'm playing all right rugby."
As for Rieko, he has always been a player close to Foster's heart. In 2017 it was Foster who took a punt on the then 20-year-old to play on the left wing for the All Blacks against the British and Irish Lions. The then-assistant coach pushed his case hard and it was bought by then-head coach Steve Hansen, so for Rieko, improving as a midfielder but clearly excelling as a wing, to re-discover that form will please Foster no end.
"In 2019 he had a calf injury that kept him out for the early part of the international season, and by the time he was coming right it was the end of the World Cup," Foster said. "He just wasn't fast in 2019 – he's fast now. He's got his speed back, and got that little swagger that he's pretty proud of."
To watch the Ioane boys tear it up to Perth was to be transported in time back to 2016 when the pair were doing the same for the New Zealand sevens team in tournaments in Wellington and Sydney, in particular.
That they are now doing it together in test rugby speaks to not only their combined pure talent but also their durability, adaptability and commitment. They have also contrived to ensure the rugby world keeps tuning in to what this All Blacks team produces next because it's hinting at a few blockbusters over the short to medium term.
More stories