Back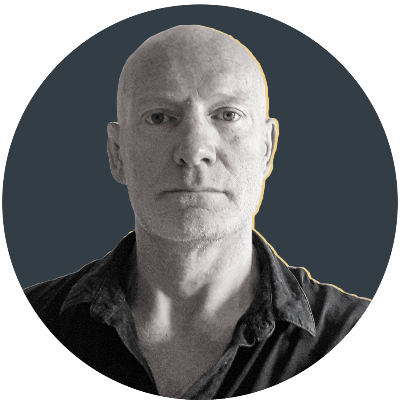 By Gavin Mortimer
Singing the Bleus
Matthieu Jalibert can talk the talk, but can he walk the walk? Against Ireland last week he had a solid game, part of a French XV that ground out a win in circumstances that in previous seasons would have had them crumble in the final quarter. He put in a pragmatic performance, steady in defence and trying nothing overly ambitious in attack. But he missed two penalties, neither too challenging, that had Fabien Galthié grimacing.
Fine lines and all that. If France aspire to be great, if they want to start winning titles, they must acquire consistency in their goal-kicking.
Jalibert thinks he's that man. He acts like it. He's got spirit, a snarl to him, a streak of unorthodoxy in an age of insipid characters. Last November he started a free-for-all after the final whistle of Bordeaux's last-gasp victory against Castres in the Top 14 – and he wasn't even playing! When his Bordeaux buddies barged over for the winning try, Jalibert came racing off the bench to celebrate, giving the Castres full-back Julien Dumora a shove as he ran past. Dumora didn't let it lie and within seconds he, Jalibert and a dozen of their team-mates were pushing, shoving and punching.
According to the French press, when Jalibert joined the French squad a few days later for the Autumn Nations Cup he was taken to one side by captain Charles Ollivon and reminded that rugby is a gentleman's game.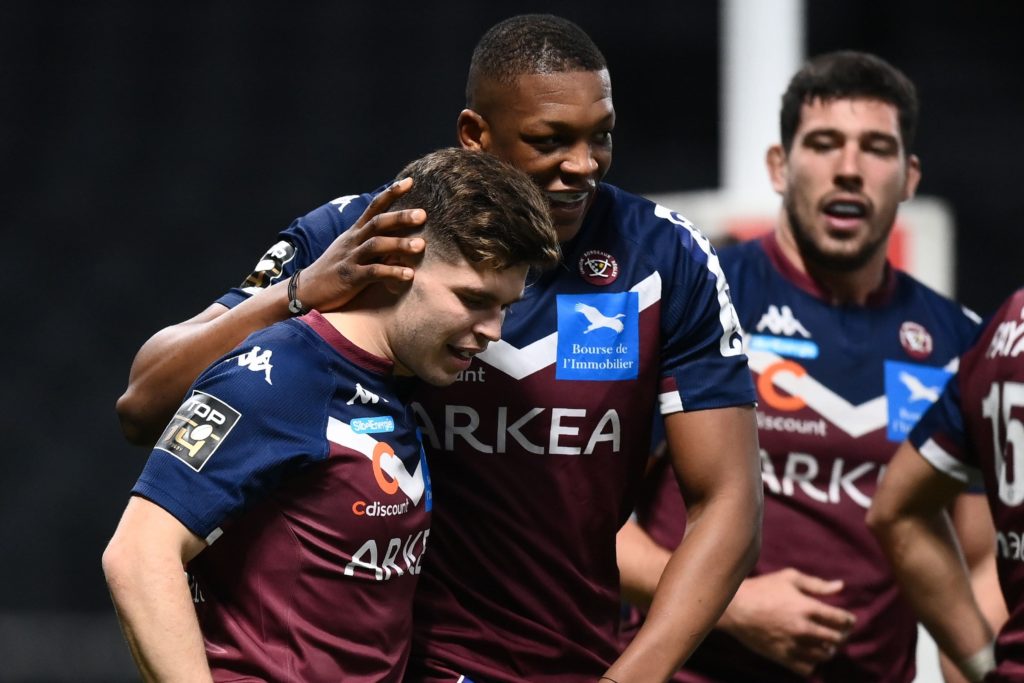 Jalibert wishes sometimes it wasn't. He enjoys getting a rise out of people. He's rugby very own shock jock, sporting extravagant haircuts that he knows won't be to the taste of many within the conservative French rugby heartlands. In an interview with the sports newspaper L'Equipe earlier this month, Jalibert was asked if he had "a footballer's mentality". Nothing wrong with that, he retorted. "Footballers have a lot more freedom in that respect," he said. "Rugby, on the other hand, as soon as you do something quirky it's insinuated that you have a footballer's mentality, a bad mentality."
The Professional French Footballers Union (l'UNFP) misinterpreted Jalibert's remarks, and took umbrage with the insinuation that its members were less clean-cut than their rugby counterparts, issuing a precious statement in which they criticised his comments.
They should have kept their counsel, especially as Jalibert had explained to L'Equipe that he "likes to provoke, pester, wind up, challenge people".
The tragedy, if you're French, is that France have yet to produce in the professional era a player who kicks the kicks.

Gavin Mortimer
It's no surprise perhaps that Jalibert's sporting hero is Owen Farrell, a man who in his time has provoked, pestered, wound up and challenged a fair few opponents. "I really admire Farrell," he said in an interview last month. "First for his playing attributes… but above all his mentality and the influence that he exert on his team impresses me, whether it's with England or Saracens."
Jalibert aspires to match Farrell's success as a fly-half but if he's to ever be talked of in the same breath as the England captain he'll have to weld Farrell's iron mentality onto his own lavish talent. Over 1,000 points in 94 Tests is proof that Farrell can walk the walk.
The tragedy, if you're French, is that they have yet to produce in the professional era a player who kicks the kicks. Look at the stats. There is no Frenchman in the top 10 leading international points scorers, a list headed by Dan Carter with 1,598 points in 112 Tests, followed by Jonny Wilkinson with 1,246 from 97; nor is there a Frenchman in the top 20, or even the top 30, a hall of fame that includes representatives from every Tier One country plus Romania, Georgia, Japan, Fiji, Canada and the USA.
The most prodigious points scorer to wear the Bleu of France is Frédéric Michalak, Monsieur Mercurial himself, who kicked 436 points in 77 Tests. Next on France's list is Christophe Lamaison, 380 in 37 matches, then Dimitri Yachvili, 373 in 61 Tests, just ahead of Morgan Parra's 370 points in 71 appearances.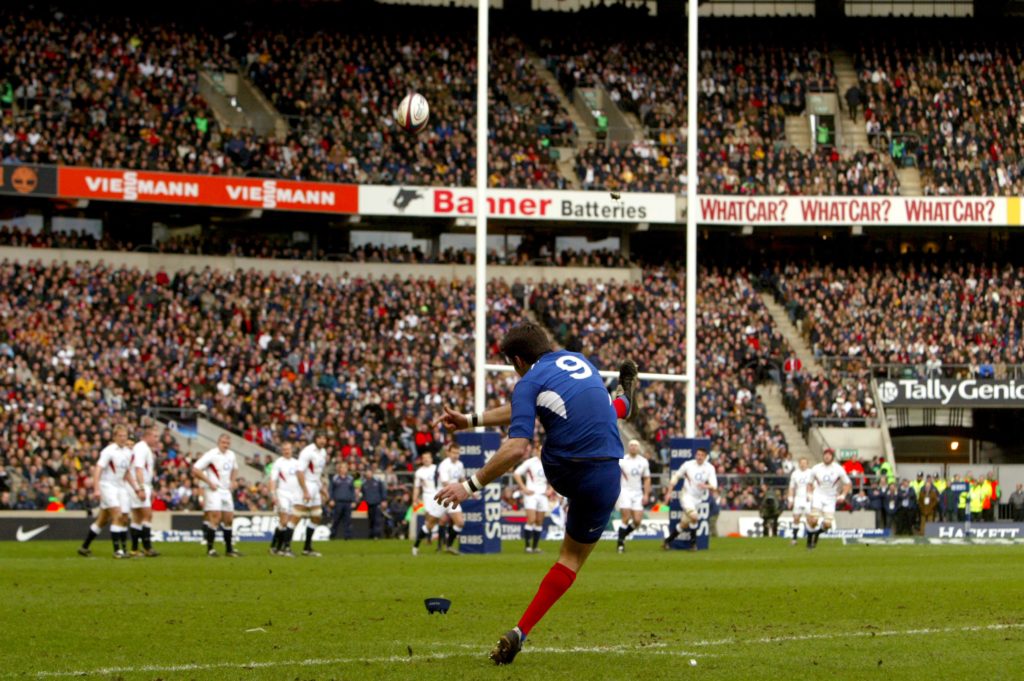 On their day, each of those players could kick sublimely – English fans, for example, won't forget 2005 in a hurry, the last time France won at Six Nations match at Twickenham, when despite outscoring their visitors two tries to none their team lost to six Yachvili penalties – but their careers were bedeviled by inconsistency; inconsistency not just in their kicking but in their selection. Yachvili won 26 caps from the bench, while a good chunk of Michalak's and Parra's Tests were also as replacements. Lamaison started most of his Tests but the selectors could never decide if he was a centre or fly-half, and he even made the odd appearance on the wing and at full-back.
Confidence is key to kicking and that French quartet were never sure of their place or their position in the team.
I recall watching Michalak orchestrate the 33-6 thrashing of Australia at the Stade de France in 2012; he was outstanding, probably the best I've seen him play in a French jersey. He scored 15 points that night, 24 the next Saturday in a thumping win against Argentina and he finished the month with 19 points in the win over Samoa. But three months later France lost their opening two matches in the Six Nations (to Italy and Wales) and Michalak was dropped by Philippe Saint-André, a pattern that continued for the next two-and-a-half years until his retirement after the 2015 World Cup.
This young trio are the first generation in France to understand that talent is not enough at the highest level

Gavin Mortimer
This inconsistency has continued under first Guy Noves and then Jacques Brunel. In three of the last four Six Nations, a Frenchman has been the top points scorer: Romain Ntmack (57) in 2020, Maxime Machenaud (50) in 2018 and Camille Lopez (67) in 2017. Going back a few years further, Jules Plisson banged over a few points in the 2016 championship, Jean-Marc Doussain had the duties in 2014, Michalak in 2013 and Parra in 2012.
In the same period, however, the same British and Irish names appeared in the leading points table: Jonny Sexton, Owen Farrell, Greig Laidlaw, Dan Biggar and Leigh Halfpenny. Consistency.
Will Fabien Galthié be any different? The signs are, yes. Significantly, during his illustrious playing career he was that rare French breed: a scrum-half in the Anglo-Saxon mould. He didn't kick goals and he didn't flit between nine and 10 the way so many French scrum-halves did in recent years.
Furthermore, Galthié has in Antoine Dupont a scrum-half in his own image, and in Ntmack and Jalibert he has two talented fly-halves. This young trio are the first generation in France to understand that talent is not enough at the highest level; that without application it will only take you so far. This shift in mindset is a result of being exposed to the professionalism of Carter, Sexton, Farrell et al. It explains, too, why Wilkinson was so revered in France, and not just by Toulon fans. Here was a good player who made himself into a great one through diligence and determination. The contrast to Michalak was striking; when England played France in the semi-final of the 2003 World Cup, the sub-plot was the clash of the two young fly-halves: Jonny against Freddy. The Englishman won and would finish his career as a rugby legend. Freddy is remembered as a player who flattered to deceive.
How will Jalibert be remembered 20 years hence? Will it be in the same bracket as his hero, Owen Farrell, or will he join the large stable of French fly-half failures: Michalak, François Gelez, François Trinh-Duc, Lionel Beauxis, Jean-Marc Doussain, Jules Plisson and Camille Lopez?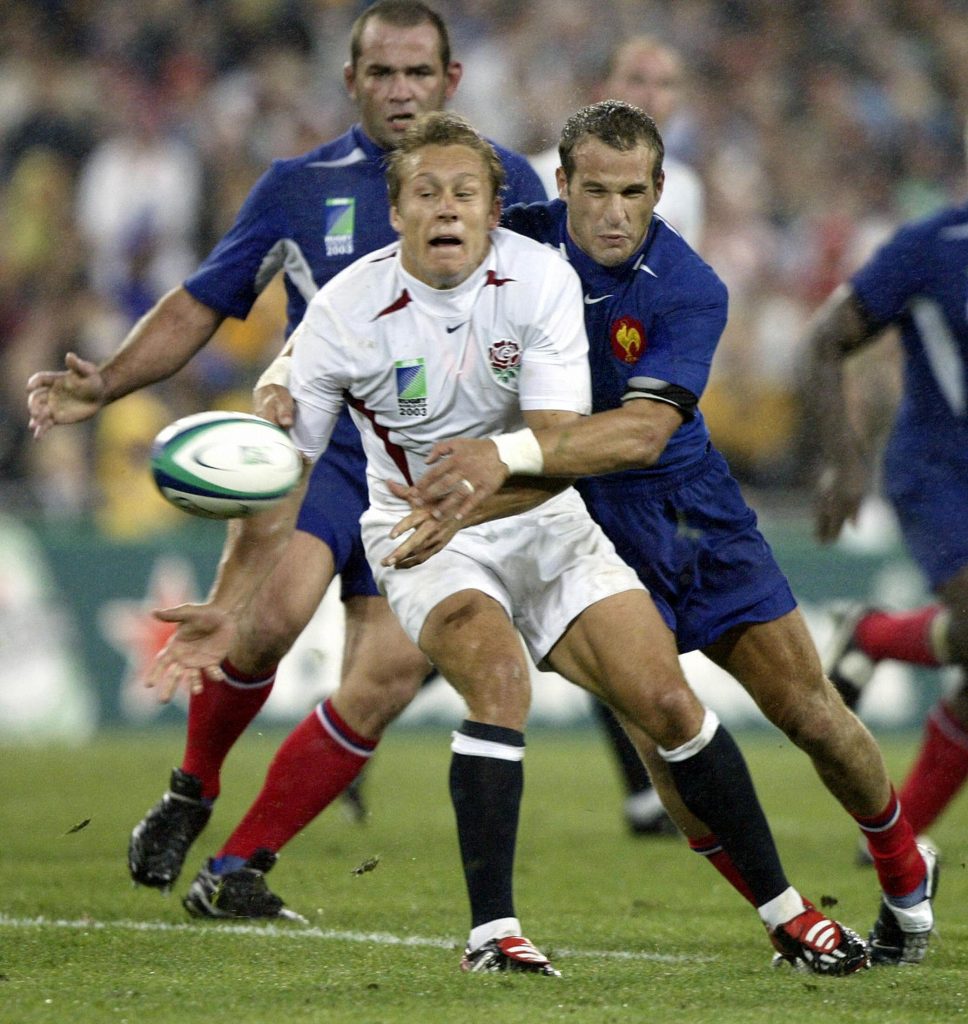 Beneath the wild and unruly image is a tough streak. His father is a military man, and he instilled in his son a self-discipline that manifested itself at an early age. He was nine when he joined Bordeaux, and during the school holidays he would come down to the club on his own and practise his goal-kicking.
On the eve of Jalibert's Test debut, against Ireland in the 2018 Six Nations, then-Bordeaux manager, Rory Teague, praised his work ethic, describing him as "a guy who puts the maximum into his training, and then some".
It was no dream debut for the 19-year-old Jalibert against Ireland. He was stretchered off with a serious knee injury after half an hour. On his first game back, six months later, a pre-season loosener against the Natal Sharks, he ruptured the ligaments of the same knee and wasn't seen again until February 2019. He came back stronger, in body and in mind, and in the absence this year of the injured Ntamack he's got his chance to stake a claim as the top-class goal-kicker that France so desperately need.
For without one Les Bleus, for all their improvement in the last 12 months, will remain an incomplete team. And they won't get their hands on the Webb Ellis Cup in 2023 unless they have a man with an infallible foot.
More stories from Gavin Mortimer
If you've enjoyed this article, please share it with friends or on social media. We rely solely on new subscribers to fund high-quality journalism and appreciate you sharing this so we can continue to grow, produce more quality content and support our writers.