Back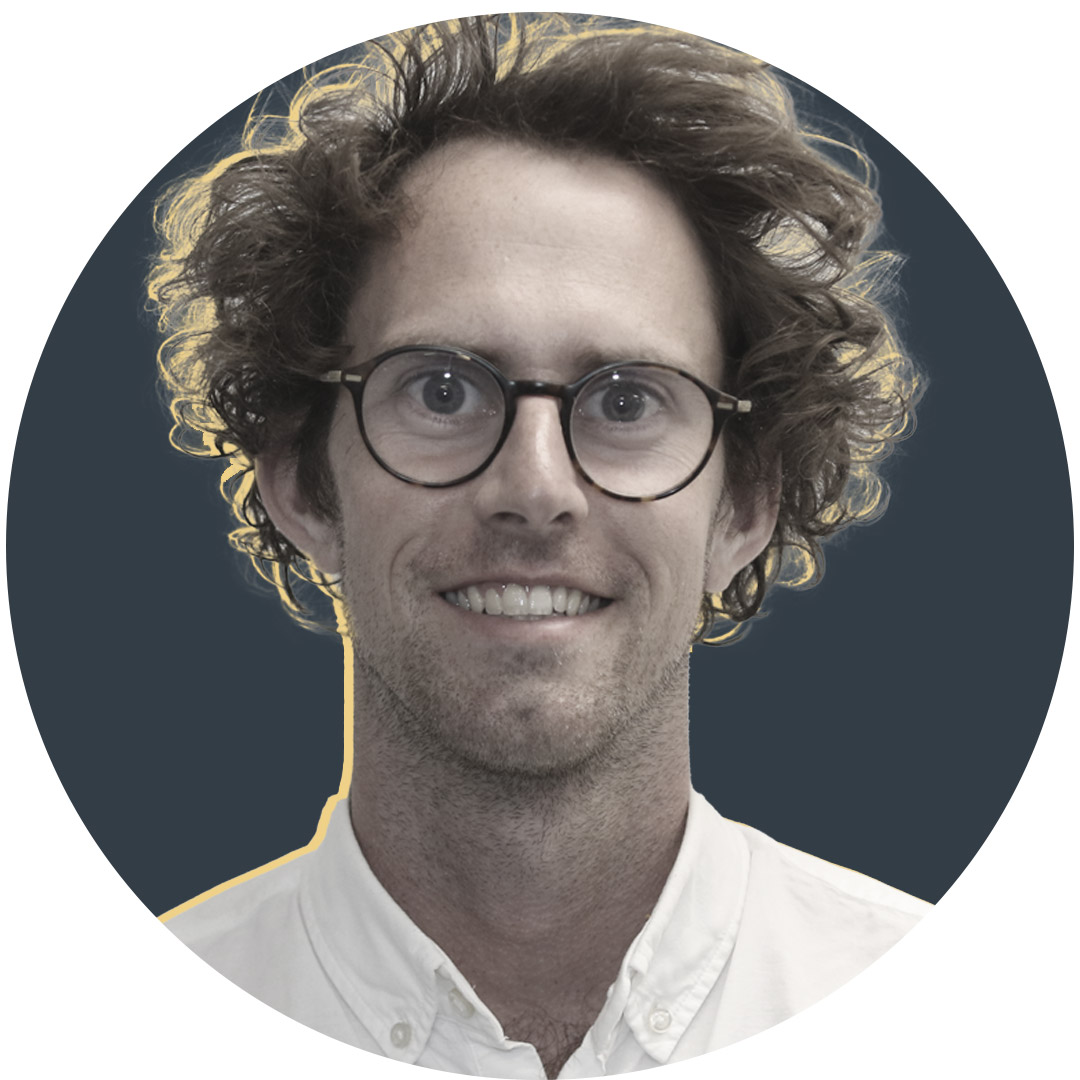 By Christy Doran
Seventh wonder
In June Blues wing Caleb Clarke was generating the headlines in the opening weekend of Super Rugby Aotearoa.
Three years ago it was another boom Blues winger, Rieko Ioane, who took the world by storm. Ioane went on to star against the British and Irish Lions when he was barely 20-years-old. Later that year he was crowned World Rugby's Rookie of the Year.
Last year, All Blacks back-rower Ardie Savea was awarded New Zealand's player of the year and was a World Rugby nominee for player of the year.
All three players are graduates from New Zealand's highly successful sevens programme, which saw both the men's and women's teams crowned World Series champions in 2020.
Back in Australia, the last graduate from the sevens to go on to play for the Wallabies was Sean McMahon in 2014.
In that time, Waisake Naholo and Jack Goodhue also debuted for the All Blacks – and countless others across New Zealand's Super Rugby sides, including Matt Faddes, Akira Ioane, Etene Nanai-Seturo and Scott Gregory have made strong impressions.
"If you look at the history, the numbers of the All Blacks and how many of those guys have come through the sevens programme, you can't ignore that," former Wallaby and sevens assistant coach Stephen Hoiles says.
"They've put so many quality back-rowers and backs through that New Zealand sevens programme and they've transferred into quality All Blacks and Super Rugby players."
Yet, it was only in 2010 that the sevens programme was a breeding ground for future Wallabies. Australian rugby benefitted accordingly.
Seven of Australia's 12-man squad from their silver-medal placing at the 2010 Commonwealth Games went on to play for the Wallabies, including Bernard Foley, Liam Gill, Pat McCabe and Nick Phipps.
"Our Commonwealth Games squad, five us got picked for the end of year tour and I wasn't even in a Super Rugby programme – that's how highly renowned the sevens programme was," 71-test Wallabies stalwart Phipps says.
But the International Olympic Committee's decision to include 'sevens' in the global event changed the way Rugby Australia – previously the Australian Rugby Union – approached the abbreviated game.
With gold medals up for grabs and precious financial support at stake, Rugby Australia, in part, shifted away from using the sevens programme as a development pathway for the 15-a-side game and the Wallabies and instead focused its attention on finishing on the podium.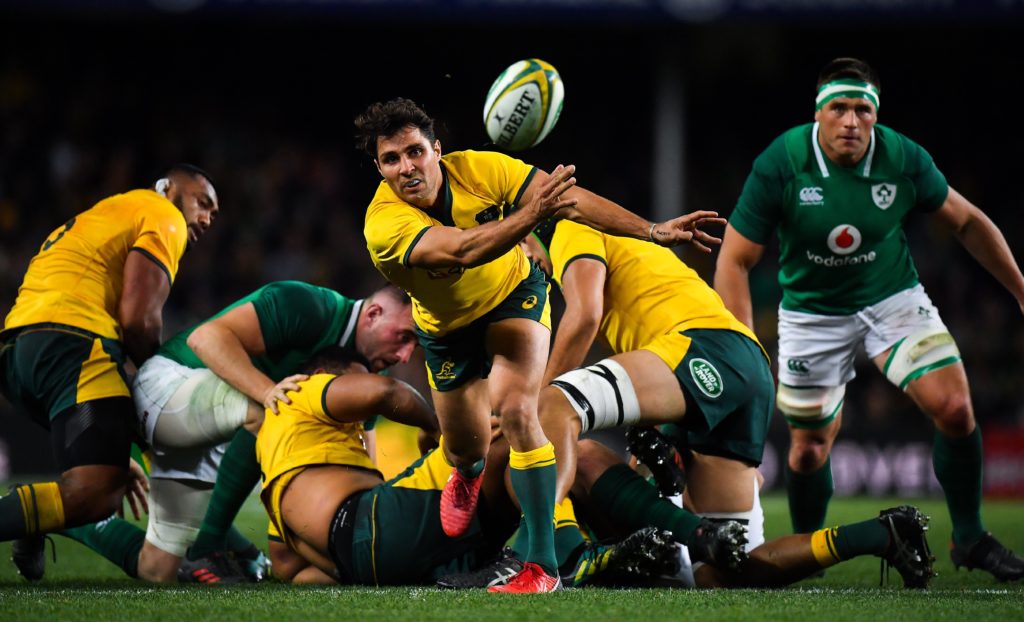 In doing so, the 15-person game and the sevens programme have largely gone their separate ways with those playing in the hybrid format of the game largely pigeonholed as 'sevens specialists' with full-time contracts given to promote continuity in the abbreviated game.
It also meant players – young and old – were locked out of spending short stints in the sevens format of the game, while results haven't seen the upsurge hoped either, with the men's side hovering either side of fourth on the World Series standings and no medals to speak of yet at either the Commonwealth Games, Olympics or World Cup.
"The whole idea of a three-four-year cycle for the Olympics is absurd," says Phipps, speaking from England where he's joined London-Irish.
"Since the programme turned professional, there has hardly been any players going into Super Rugby."
Former dual international, Australian sevens coach and national selector Michael O'Connor adds: "That's because sevens became a full-time programme in 2014, so they are sevens players. They are in competition. The sevens programme was in competition with Super Rugby."
But after six years of being a centralised programme in Sydney, respected figures across Australian rugby are calling for mass changes which would see greater collaboration between the existing Super Rugby sides and allow for those in the 15-person game to float in and out of the seven-a-side game.
It would also allow Rugby Australia to do away with ballooning squads, which in recent years has seen the men's squad grow to more than 20.
The whole idea of a three-four-year cycle for the Olympics is absurd. Since the programme turned professional, there has hardly been any players going into Super Rugby.

Former Wallaby Nick Phipps
It's something New Zealand and South Africa have done well in recent years, with World Cup-winning back-rower Kwagga Smith mixing between the Blitzboks and Springboks.
"What we have learned is that we need to be more collaborative and pool our resources better," O'Connor says.
"The sevens programme could really help some current Wallabies or particular fringe Wallaby players to just hone their skills and I think there's a place for it.
"When I first got involved in the programme it was back at the turn of the century. I took a side over to San Diego and Argentina at the end of the year and Matt Giteau came and I was straight on the phone to Eddie Jones and said 'this kid is going to be a gem'. He didn't play a lot of sevens after that.
"But there's an opportunity for young kids to step up quickly if you have a collaborative approach with the XVs." 
Reds halfback and Wallaby-in-waiting Tate McDermott is one of just a handful to have spent time in the sevens programme.
He played four tournaments in the months after high school and was quickly moved into the Reds' Super Rugby squad.
It was an experience that McDermott says was invaluable.
"It was massive for me, particularly for my running game. It's obviously been a little bit harder being a halfback when you've got to get back into 15-a-side and box kicking and passing off the deck, but if you're looking to improve your running aspect of the game and developing that natural instinct of space I think it's awesome, particularly for younger players.
"I was pretty lucky, I debuted in Wellington, played at Sydney in front of a big crowd and we made the semis as well and that was an awesome experience, and one of my best rugby memories was playing for Australia against South Africa in a semi-final in front of 35,000 people and I also got to go to Vegas and Vancouver. I absolutely loved it.
"For my first taste of professional rugby, there wasn't much that could rival that."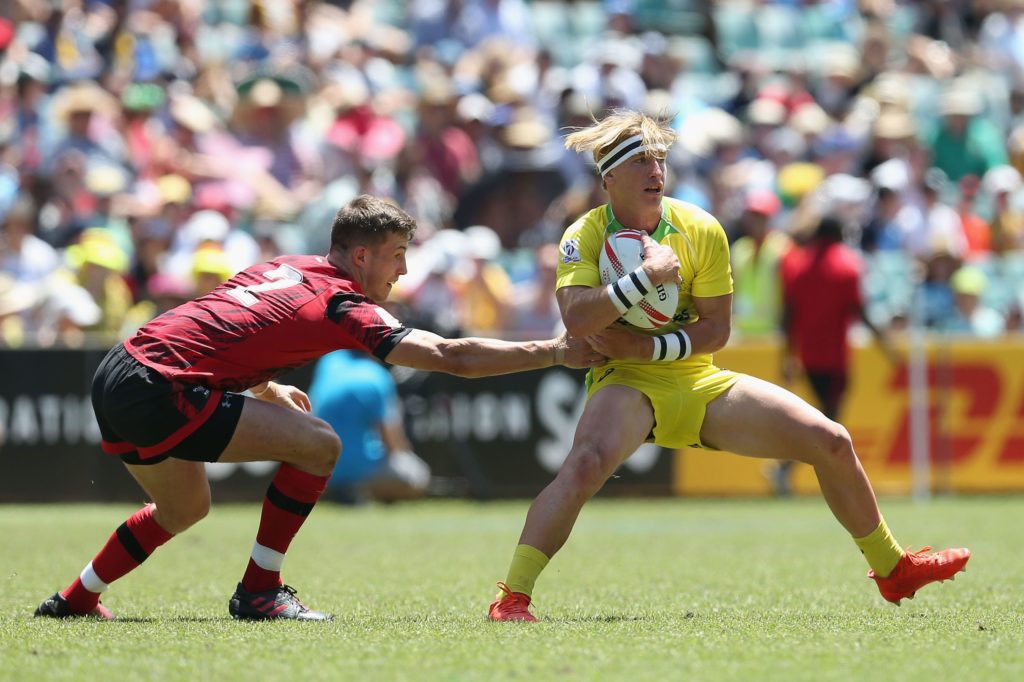 Compare that with his Super Rugby debut where he ran out in front of fewer than 10,000 people against the Rebels in Melbourne.
So what is the upside of playing sevens?
"The reason why it prepared me for Super Rugby is because there's just so many skills you have to instantly get a real grasp at," Phipps says.
"You have to be so good at your breakdown, your wide passing, your support play, your offload, and I was a hooker so I was throwing in the lineout, I was jumping in the lineout, that's why it was so good, and you were playing in front of 30,000 – 40,000 people every time.
"So from going to play colt at St John's No 1 Oval with maybe your mum and dad there, you've gone to then playing in front of huge crowds.
"The tour was just such a good way to expose players to the bigger cauldron and, to be honest, no-one gave a rat's arse about the results because we were playing in Dubai where it was never really reported either, so the pressure's not there either, but it's an opportunity for players to perform and get exposure to big moments."
To be honest, no-one gave a rat's arse about the results because we were playing in Dubai where it was never really reported either, so the pressure's not there either, but it's an opportunity for players to perform and get exposure to big moments.

Former Wallaby Nick Phipps
O'Connor agrees emphatically and says the Wallabies, who last year were knocked out at the quarter-final stage at Japan's World Cup, would have benefitted from greater exposure in sevens, especially at the breakdown and in defence:
"Ardie Savea, for example, I was coaching when he was playing, you look at his game and it's just so rounded.
"He can attack like a back, he's tenacious in the forwards, he's a great stealer and strong over the ball, technically he's a very good footballer, and all those aspects of his game were drilled at sevens with Gordon Tietjens and that New Zealand system.
"When I was coaching it was more of a pathway thing and we saw some good players come through and play XVs, and I was confident, for example, with Bernard Foley, when he played his first game in Auckland (for the Waratahs in their 2011 quarter-final), everyone was saying 'do you think he can handle the occasion?' Shit, this guy has played in front of 40,000 people in Hong Kong. I had absolutely no doubt that he would have a good debut and go well. 
"I think it's a great vehicle for exposing young players, getting them up to speed in areas of their game that they need to work on.
"It's true in Australia that we like to train the things that we do well, but having been involved recently with the XVs you can see that there are areas of the game that our outside backs fall short in around pilfering the ball and breakdown work, work on the ground, defensive decision making. They can score tries, but you need more than that these days."
Hoiles, who has spent the past year with the national sevens team as an assistant coach, wishes he had a similar programme to come from when he was plucked from colts to make his sevens debut.
The former Wallabies back-rower and Super Rugby champion says that it's vital that the governing body has a better relationship with the states to facilitate players moving between sevens into Super Rugby programmes and vice-versa.
"For the men, they need to have a better relationship with the states, there should be a better opportunity to share some of the players," he says.
"There still needs to be a core group of players who are predominantly seven players. If you look at that squad, you've probably got [Maurice] Longbottom, [Jessie] Parahi, [Lewis] Holland, these sort of guys who are seven specialists, they can play XVs, but they're sevens specialists, but I think there's got to be an avenue for the best talent to be put into that programme and there are very few that are ready for Super Rugby when they leave school. 
"It's a very good programme for young players to be involved in who aren't going to be playing Super Rugby, it's better than just hanging around the Waratahs as a fringe player and floating in and out of academies.
"There's a whole lot of physical and mental challenges that you have to go through to be successful on the world series."
Hoiles says a handful of Australia's best young talents, who have been rushed into Super Rugby in 2020, would have benefitted from the experience McDermott had.
"I look at Will Harrison, Ben Donaldson, Mark Nawaqanitawase, these guys would benefit from a year or half a year on the sevens circuit rather than getting thrown into a Super Rugby season when maybe when they're not ready."
Phipps agrees, believing that a balance between having a core group of players involved in sevens coupled with players floating in and out of the programme can be successful.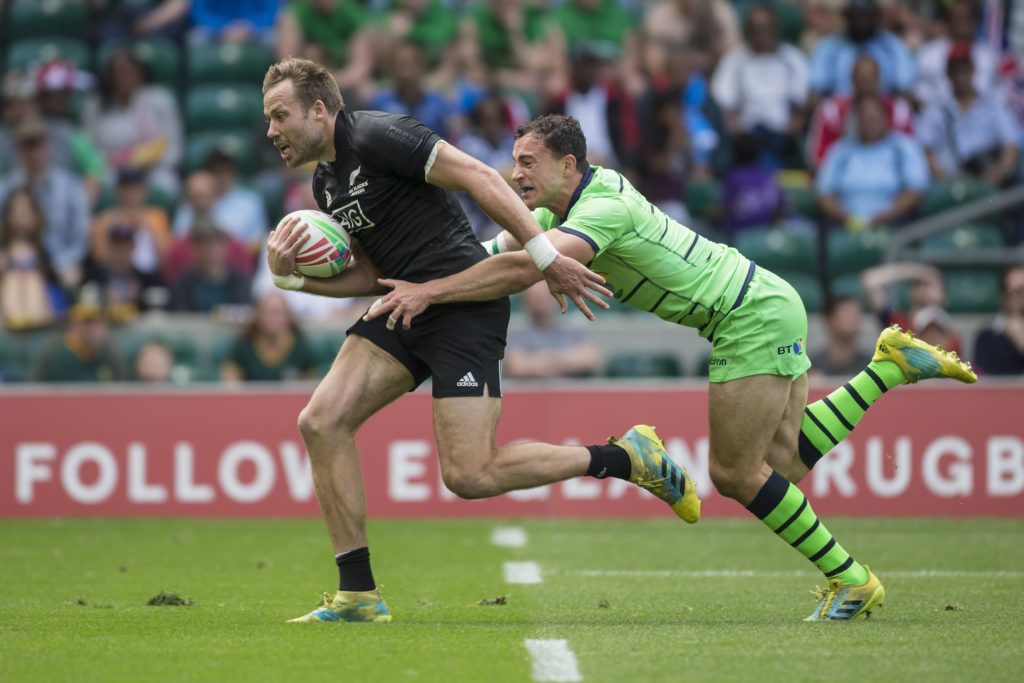 "The way they (New Zealand) do it, they've always had two or three stalwarts, like DJ Forbes, Tim Mikkelson, who could crack a fringe Super Rugby squad, but might not dominate, but they're absolute beasts at sevens so when you're bringing in eight to 10 new faces every year they're there to tell what the style is, little things around what you need to practise, how the game's played, so you're not losing that intellectual property every year, you're still able to pick up where you left.
"If a kid's got an opportunity to play Super Rugby or sevens, they should be encouraged to be playing Super Rugby.
"But, if it was like, come and get this ridiculous exposure for six months, you'll love it, it's better than doing a pre-season and then we'll release you back to the XVs, that's a no-brainer.
"And it's a lot of fun as well. Some of the best cities in the world, you finish the tournament and get pissed, it's the best time ever – they do a good job."
Nor would playing for the sevens side hinder your chances of moving into Super Rugby when the time was right.
 "There's always been an argument that sevens isn't great for XVs, 'they lose too much weight', well that's not right," O'Connor says. 
"With the right programmes, you need to be big now in sevens, the successful sides like New Zealand and Fiji are big boys. They can train, they can put in more miles, and not necessarily have to drop much weight.
"I think it's just a matter of the Super Rugby officials and coaches being comfortable that their players are going to go away and they're going to come back better.
There's always been an argument that sevens isn't great for XVs, 'they lose too much weight', well that's not right.

Australian sevens coach and national selector Michael O'Connor
"They're going to be fitter, they're not going to lose weight, they're actually going to be better footballers for the experience.
Hoiles adds: "The point I'm making is that you could probably have better relationships between the states, so there can be players who go between programmes.
"The reason that this never happened is because everyone used to say that sevens specialists have to be conditioned a certain way – and they do to an extent – but I think with the technology that they use to judge and measure and design training, that there's nothing saying that a couple of weeks of sevens specific training, for say Tate McDermott, wouldn't get him back after a couple of weeks ready to go on an international world series stage easily because he's in a good programme with the Reds.
"It would have been difficult to say that five or 10 years ago because everyone was running different programmes."
McDermott is a supporter of this idea. "If they were going to take it back to the old days where a few fringe Super Rugby players or even the more experienced ones are jumping around, starting the season in sevens when the rest are doing their pre-season, and then falling back into your Super Rugby squads, I don't see the difference in that," he says.
"Your fitness levels would be better and that game conditioning would already be there. I can see both sides of the argument but for players who fit that mould, I think that it would be awesome for them."
The benefits of such a programme could also be a game-changer in attracting and keeping players in Australian rugby.
With sevens now an Olympic sport, rugby could offer something that the NRL can't – an opportunity to play at the Olympics and play for the Wallabies.
"What a great sell to a kid now coming out of school that's got offers from rugby league, potentially AFL and rugby, that all going well, you could go to two or three World Cups, a Commonwealth Games and an Olympic Games – it's a great sell," Hoiles says.
"I think because players are staying on for the Olympics, there's been less crossover and a bit like a World Cup, at the end of a cycle, a large number might transition over.
"There just needs to be better cross-over with the states and maybe because of Covid-19, and we haven't seen the next stage of the high performance cuts, there could potentially be shared resources."
 With Rugby Australia needing to be frugal and the Wallabies slumping to sixth on the world rankings, perhaps it's time to reprioritise the sevens pathway.