Back
By Jamie Lyall
Rupeni Caucaunibuca: 'I spent my money on people who didn't have it. I gave it from my heart'
Rupeni Caucaunibuca left his tiny Fijian village in 1999, spent fifteen years intermittently setting the rugby world ablaze, then vanished back to quiet island obscurity leaving a trail of flummoxed defenders, exasperated administrators and squandered Euros in his wake.
At his peak, Caucaunibuca was perhaps the foremost winger in the game, an irresistible blend of scorching speed, colossal power and beautiful, flowing balance. His performances at the 2003 World Cup catapulted him to superstardom. He was already a Super Rugby champion in a dazzling Blues team by then, later became the Top 14's leading scorer with Agen and won the storied Bouclier de Brennus as a medical joker with Toulouse in 2011.
He was also a vexatious figure; shy, infuriating and unfathomable to some coaches who could not understand his roots and thus, failed to harness his talent. He frequently went missing, drawn back to Fiji as if pulled by the magnet of home, and returned to France weeks – sometimes months – late, defying club orders while carrying significantly more body mass than when he'd set off. He served bans and was temporarily fired for his disappearances. There were suspensions for violent conduct on the field, and after testing positive for cannabis off it. He was fined 250,000 Euros over a pre-contract agreement with Racing 92, the most ruinous in a series of wounding financial blows. For all the trials, seven Fiji caps are a meagre reflection of his startling ability.
Today, 43-year-old Caucaunibuca toils in a state of near-destitution. He returned to Nasau, the village where he was born and raised, in 2015. This modest assortment of houses and shacks sits near the northwest tip of Vanua Levu, the second-largest island in the Fijian archipelago, sandwiched between two wide crescent-shaped bays. It's by turns an idyllic backdrop and a harsh place to make a living. His wife, Sokoveti, is a tower of strength to her husband and the couple's three children, but village life is a constant grind. Work is scant. Caucaunibuca farms crops and goes spearfishing to, literally, put food on the table. Often, he cannot afford the ten Fijian dollars (£3.55) for fuel to take his boat out.
"We struggle," he says. "There are not many places you can find a job. If you want to fish, you have to buy fuel. People can't just give you it. You get it on credit and when you sell your fish, you pay for the fuel. But sometimes the fish buyer doesn't come, we have no ice and we can't sell the fish. It takes six or seven fish to pay for one barrel of fuel."
Caucaunibuca's is a story of how sport can chew up and spit out even its brightest lights. How fissures can become deep crevasses in even the sleekest of talents.
As a boy in Nasau, Caucaunibuca was a poor student, more interested in sprinting than schoolwork. He took up rugby in high school, but playing professionally was never a goal until his late teens. His father was a pastor, preaching all across Vanua Levu. The nomadic existence and low wages left the family with nowhere to call their own.
"When he retired and we came back to our village, there was no help for us," Caucaunibuca says. "There was no place for us to stay. We asked the king of the village if we could stay in the community hall, so we lived there for a couple of months. It was not good because every month, they had a village meeting in the hall, people were coming in around our beds and our clothes. They wanted us to move.
"We moved to one of my dad's brothers' houses. I have four sisters and a brother and when you live in a big family people can talk, eh. Sometimes you feel they are not talking the right way to you. So, we had to move again.
"At that time, I was still 17 years old. My marks were not good. I left school, so I had to go plant pine trees. One pine tree cost five cents. I had to go up the hill, down the hill, planting… it was very tiring. I tried to buy some things for the house but I couldn't because of the small amount of money I made. One day I thought, what if I play rugby?"
I told him, 'have you seen a house was built on the other side of the village? That is your house.' My dad started to cry.
In two years, Caucaunibuca's life changed immeasurably. He played for Bua, his province, in the late 1990s, before being selected for Tailevu on Fiji's main island. There, he was spotted and parachuted into the Fiji Sevens team for a whirl along the World Series before Northland offered him a place in their NPC squad. The merest look at Caucaunibuca's brilliance prompted the Blues to hoist him up to Super Rugby and riches beyond his wildest imagination.
"When I moved to New Zealand, everything was new," he says. "Fiji is small. When I was planting pines and going fishing, I only got five dollars, ten dollars. When I got there, I started to see hundreds and thousands of dollars in my salary. Everything changed. I was not good in school; the only thing that brought me to New Zealand was my rugby boots."
That Blues team was frightening. Carlos Spencer its maverick pivot. Joe Rokocoko, Doug Howlett, Rico Gear, Mils Muliaina and Caucaunibuca the gunslingers out wide. Keven Mealamu spearheading the pack. Xavier Rush, Ali Williams and Dan Braid bossing the tight skirmishes.
When his first paycheques cleared, Caucaunibuca began building a house in secret. A covert gift to the father and the family he loved.
"We called the house Auckland," he says. "I was sending money from New Zealand to the hardware store in Labasa (the largest town on Vanua Levu) and I was telling one of my cousins to go and build the house. When the house was ready, I went to the village, I brought some grog, and I said to my dad, 'I want to tell you something'. Before I spoke, I cried.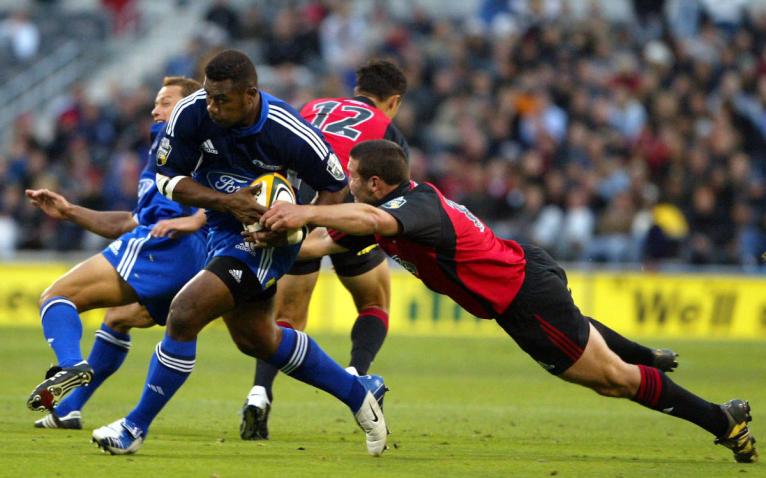 "I told him, 'have you seen a house was built on the other side of the village? That is your house.' My dad started to cry. Our last house was small, no room, not big enough for our family.
"When I built that house, I made one bedroom for every person – one for my dad and my mother, one for my wife, one for each sister and brother. I bought him a generator and that was it.
"Then when I went to Agen in France, I used that money to build my own house. I told my dad he could choose which of the two houses he wanted to stay in. I bought everything inside, the stoves, settees, mattresses, beds. My family were not going to go outside the house to use the toilet or for things like some of the village people do – everything was inside for them."
Caucaunibuca did not simply crash on to the global stage – there was a bang and a wallop as well. His stocky, scintillating figure enchanted imaginations at the 2003 World Cup. He played only two matches, but rugby folk talk about his legend in the same breath as Jonny Wilkinson's drop-goal. In some ways, the World Cup was Caucaunibuca in microcosm. The breathtaking magnificence followed by the utterly maddening.
He savaged France with one of the tries of the competition, a seventy-metre, leg-whirring epic. Watch it back, and it seems as though his limbs are being propelled by a growling motor rather than pure Fijian spring. Aurelien Rougerie is burned and flailing, Imanol Harinordoquy looks like a donkey chasing a thoroughbred, Nicolas Brusque is rounded with contemptuous ease. Caucaunibuca, young and fit and impudent, sticks out his arms to mimic an aeroplane after touching down.
My father, mother and wife took a TV up to the hills, stayed there, cooked, ate, watched the game, then came back down the next morning.
That was the magnificent. The maddening was never far away. Soon after, Caucaunibuca steamed into a scuffle, shoulder charged Fabien Pelous and struck Olivier Magne. He was cited and banned for the next two matches.
"My family were crying when I went to the disciplinary hearing. They thought I was not going to come back to Fiji. They thought I would have to go to jail. I could only speak to them when I got home from Australia."
Caucaunibuca returned to terrorise Scotland in the pool finale, a straight shootout for the quarter-finals. His two fabulous tries drove Fiji to within a whisker of an enormous upset. Only a last-gasp score from the late Tom Smith saved the Scots.
When Caucaunibuca scored his second, another impossible long-ranger, lock Api Naevo perched the wing's boot on his knee and pretended to clean it. This, Caucaunibuca says, was a tribute to the penniless shoe-shiners who worked the streets of Fiji.
"I always gave money to them. When they polished my shoes, those people were looking for money, they didn't have a home, they were always hungry. I dedicated that try to them.
"But the decision-making was wrong against Scotland. Players were supposed to pass and didn't. Small decisions like that made us lose. We missed two or three tries because the ball wasn't passed."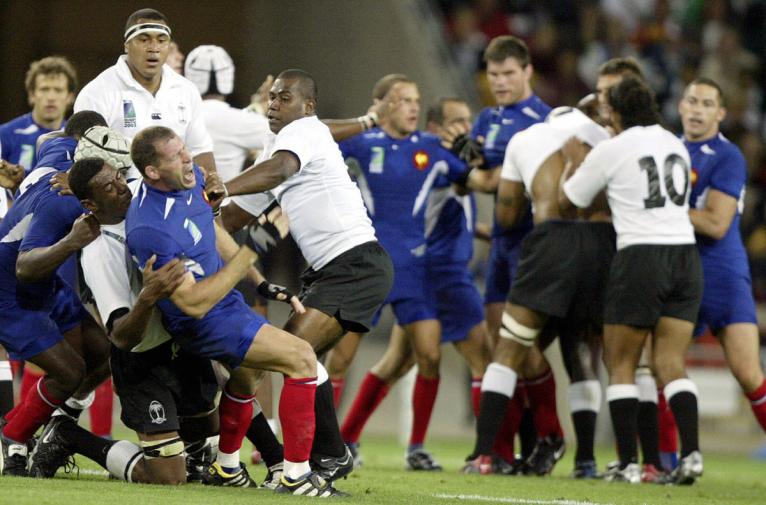 Back home, Nasau was humming like the Las Vegas strip.
"My best memories from the World Cup are not on the field. They are about my family. My father, mother and wife took a TV up to the hills, stayed there, cooked, ate, watched the game, then came back down the next morning.
"They were very proud. When I came back, it was like the president came to my village. There was a big feast, a big kava session, dancing, and the whole village was drunk."
Agen soon appeared toting trouserfuls of cash. France, in rugby terms, was a land of plenty, but a huge step away from the familiarity of Auckland with its Pacific Islands population and proximity to home. It was here Caucaunibuca encountered grave problems. Homesickness gripped him. He drank heavily. He gave money away to those he saw in need and those who asked him for help. Some undoubtedly took advantage of his naivete.
He had no education on how to budget or plan for the future. No financial guidance. No aid in a joltingly foreign clime. No support besides Sokoveti. These tales are mercifully rare now. Most clubs have recognised the importance of settling their Pacific Islanders. That acknowledgement came too late for Caucaunibuca.
I spent my money on people who didn't have it. People in the street. Sometimes I gave them 5,000 dollars. I gave it from my heart.
"At that time, nobody taught you how to spend your money. We didn't think about life after rugby finished. We thought rugby would continue until… I don't know. You don't think it will come to an end. You don't know what injuries you could have. I stopped because I had a lot of injuries.
"I spent my money on people who didn't have it. People in the street. People without fathers, single mothers who needed help. Sometimes in France people are homeless in the street. I didn't give them 100 dollars, sometimes I gave them 5,000 dollars. I gave it from my heart.
"Sometimes people are very kind to you on the outside but hate you on the inside. I didn't want to have my chest puffed out, I just wanted to be humble because I grew up in the village, I knew the village ways, I struggled in the village. I don't like living in the city. You can share food with your neighbours every day in the village, you can help each other, but in the city it is just you, no-one else. Everything is money."
The years with Agen were bountiful, then brutal. Caucaunibuca scored 16 tries in 25 games in his first season, and a Top 14-best 17 in 23 in his second. He bought a house as a nest egg for retirement.
But then his body began to grumble. He says he was given weekly injections to play through the pain. The club didn't want their expensive try machine languishing in the stands. Injury followed injury. The trips to Nasau grew longer and more frequent. His waistline bulged. Agen were relegated.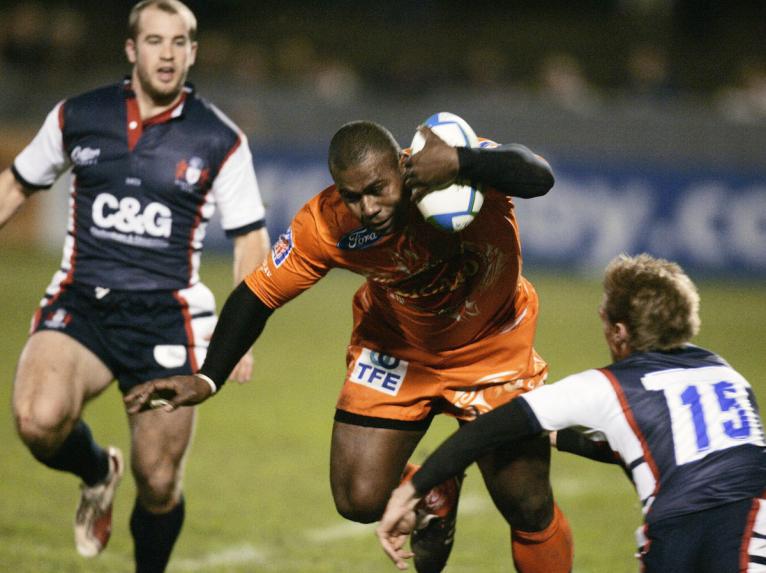 And then, in 2010, when he signed a pre-contract with Racing 92, his world fell apart. The details here are murky. A team-mate claims Caucaunibuca tried to renege on the agreement when he learned of another club's interest. Other reports suggest he was still under contract with Agen. The upshot was an eye-watering sanction from the French authorities.
"Our second year there, we bought a house, and we were going to sell it when I finished playing and that was our money to go back to Fiji. It cost 198,000 Euros.
"Racing came in and I signed the pre-contract with them. I went to Fiji, and when I came back to France, Agen took me to court over the pre-contract. I was thinking, how come? I went to court three times and lost three times. The penalty was 250,000 Euros, so I sold the house for 210,000 and Toulouse gave me 40,000 Euros to help me and signed me as a medical joker.
"I stayed at home for three days. I couldn't sleep. I was just lying in my bed. My wife was trying to get me to get up, I would get up, have my breakfast, go back to bed, get up and have lunch, go back to bed.
"She told me, 'no problem, we can go back to Fiji together, we have our house there, we don't need to borrow any money, we can plant our own food, our brothers and sisters can help us. It's no problem. The good thing is, we are together.'"
They ran away to Suva and brought the car with them. I have called the police to look for the number plate. They didn't give me one cent for it
There followed a handful more years in France, blighted by injury and disciplinary problems. Caucaunibuca was troubled but not blameless in this. He helped Toulouse to the Top 14 crown, then returned for one last, fruitless crack with Agen. After several abortive comeback attempts in New Zealand, Sri Lanka and Fiji, he retreated to Nasau permanently eight years ago.
When the Pacific Rugby Players Welfare group learned of his plight in 2019, they filmed a documentary and raised funds to set him up with a taxi, presented by former team-mate Dan Leo. The vehicle was supposed to provide Caucaunibuca with a stable income, but he says it was stolen during the pandemic.
"The gearbox broke in 2021. My cousin's husband fixed it and told me, 'when you have the money, come and pay me for it and I'll give you the car'. When I brought the money we'd agreed, he said he'd spent eight thousand dollars on the repair, he lied to me because he needed the car.
"They ran away to Suva [the Fijian capital] and found work and brought the car with them. They changed their phone numbers. I have called the police to look for the number plate. My cousin always said they bought the car from me but they did not. They didn't give me one cent for it."
As with much of the Caucaunibuca tale, this is foggy, tragic and hard to verify. He tells another story about a recent trip to Suva when thieves recognised him and snatched Sokoveti's purse. The men made two wrong and costly assumptions that day: firstly, that the purse would be laden with cash, and secondly, that Caucaunibuca had lost his famous speed.
"When I walk around the city, I have to be careful. People tried to pickpocket my wife but they didn't know I was a street kid before. I chased them, I stopped them, I punched them very hard.
"The pickpockets knew she was my wife and they thought we would have money because of rugby. Every time we go to the city, my wife doesn't want to take the money, she always gives it to me to carry. Even when we go to the shop, she doesn't want to hold it because she's scared from that day."
Certainly, when Caucaunibuca's playing career ended and his bank balance dwindled, the 'friends' he had lavished were nowhere to be seen.
"When I had money, they helped me, but when I came back to Fiji with nothing, they did nothing. Every time now my wife tells me, 'don't ask anything of them, you and our children and me, we can do it ourselves. We can plant our own food, we can go diving together.' My wife always pushes me and helps me. She said to me, 'I have not married you because of your money, I married you because I love you'.
"[Spending all the money is] a big regret. But it's a good thing, it taught me to help my son in his future. I always get asked, 'what is your advice for people who want to play rugby?' I tell them my story. Keep money for the rainy days. It's very hard when you think about the money you have lost, you are nearly sick, but you can't change the past.
My son always watches my videos. He knows every single step, every run, every tackle I made.
"Now, my body is sore everywhere. You know how many operations I've had? When we speak about it, my son always cries. My knee, my neck… sore.
"We go to church service every morning and every night. We tell our children our story. We don't want them to do the same things we did. They have to make the right choices."
How does he view the sport that gave so extravagantly with one hand and took so cruelly with the other?
"Rugby for me is a gift from God. You know why I'm telling you that? Because when I watch myself on YouTube, the things I did on the field, I don't understand. I don't know how I did them.
"My son always watches my videos. He knows every single step, every run, every tackle I made. In Australia in 2003 we prepared and trained very hard. I was very fit because I was playing Super Rugby. I could do anything at any time and from any angle. That's the gift."
The boy left Nasau with nothing but his boots and returned home fifteen years later with nothing but his fading gift. It burned so vividly and fizzled all too quickly, but rugby is all the brighter that he bestowed it upon us.
After conducting this interview, RugbyPass contacted International Rugby Players, the game's global players association, on behalf of Rupeni Caucaunibuca. IRP are exploring ways to support Rupeni and his family.
If you know any players who need assistance, please get in touch with International Rugby Players by visiting rugbyplayers.org to find out more.