Back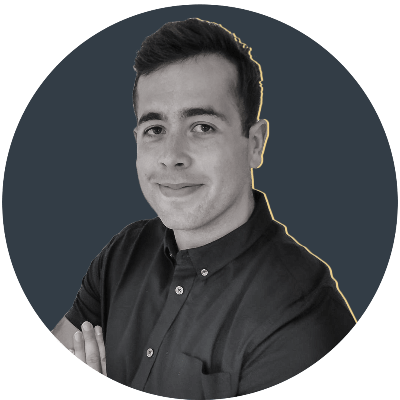 By Jamie Lyall
Premiership final: The key battles
The entertainers against the destroyers. The pretenders versus the champions. The DoR-less comeback kings taking on the juggernaut winning machine.
Saturday's Premiership final ought to be a blistering affair; resurgent Harlequins, rudderless and flailing early in the season, pitting themselves against Exeter Chiefs and their quest for a third title in five years.
The holders have the pedigree and nous, of course. They have been in every final since 2016, they have conquered Europe and they have crafted a brutally effective, wonderfully drilled side. Their odds to claim the crown once more are as short as 1/5 with some bookmakers.
Harlequins have rediscovered themselves; their identity lies in outrageous attacking wizardry and accordantly suspect defence.
Almost nobody predicted Quins would be here in the autumn, fewer still when Paul Gustard stood down as director of rugby in January. But here they are, and here they deserve to be. A ravenous, talented group of players with a canny young posse of coaches remaining from the Gustard era. They have rediscovered themselves; their identity lies in outrageous attacking wizardry and accordantly suspect defence. They concede plenty tries, for sure – only three teams in the Premiership shipped more points than Harlequins – but they do so knowing that they can always score more. The miracle of Ashton Gate attests to that.
Where will this final be won and lost? Which men will decide the contest and which of the individual battles could prove most pivotal?
Set-piece aside, it is rare that two players will duel head to head in a position-specific tussle. Rugby is more nuanced than that. Still, there are tantalising battles in the offing. The XV has picked out the best of them.
Harry Williams vs Joe Marler
Marler has been utterly critical to Quins' resuscitation. His ferocious scrummaging goes a long way to achieving the dominance his team have frequently enjoyed up front, setting the platform for their jaw-dropping attack. Having opted not to immerse himself in England's Six Nations bubble, Marler has unleashed some of his best rugby this season, not only in the tight but in open field as well, with crashing tackles and clever touches.
The Exeter scrum, though, is a force of nature and Williams is its cornerstone. Sale are the most physically imposing team in the league and yet Williams and the Chiefs had their measure in the semi-final set-piece. It was hugely impressive stuff. This will be a titanic showdown.
Luke Cowan-Dickie vs Scott Baldwin
Two international hookers and two turnover machines on the deck. Baldwin, heading for Worcester next season, is a nuisance in the loose and a very reliable lineout operator. Were he not ineligible under the WRU's 60-cap rule, Wayne Pivac might very well have called upon him earlier in the season when the Welsh set-piece floundered without Ken Owens. This has been a fine campaign for the former Osprey.
Cowan-Dickie is a very strong contender to be a starting Test Lion this summer, his excellent throwing allied to a fearsome presence in the loose. In only 11 Premiership matches, he has amassed 21 turnovers. That is a fabulous amount of pilfering and he was, as usual, a complete pest at the breakdown in the semi-final.
Exeter do not make a huge number of turnovers since they so often boss possession and do not typically field an out-and-out fetcher in their back row. Harlequins win more than any other side – and by a decent margin. The battle on the deck will be furious.
Sam Simmonds vs Alex Dombrandt
Exeter won a mountain of collisions against the Sharks. When Sale had to chase the game, they went to their heavies, the Du Preez twins. Until their late flurry, the big boys were washed away over and over in a Devonian tsunami.
Dombrandt is Harlequins' go-to man on the carry, a colossus in the semi-final and a player on the brink of deserved international honours. Exeter, you would assume, will attempt to smithereen Quins through sheer brutality and dynamism. It will be Dombrandt's task to gain vital yardage and use his bulk and deft handling when his side are on the front foot.
He is a phenomenal rugby player at the peak of his powers. His threat with ball in hand, from five metres out or 55m, is deadly.
What more can be said about Simmonds, the irrepressible, record-smashing Chief and his barnstorming form over the past two seasons? He is a phenomenal rugby player at the peak of his powers. His threat with ball in hand, from five metres out or 55m, is deadly.
The numbers, though, suggest Dombrandt can make just as telling an impact. He has amassed 31 clean breaks – 10 more than Simmonds – and averages more metres per carry and has made more turnovers. He has gained only 5m fewer than the Exeter man's haul of 983m, and 28 tackles short of his rival's 224 count. He has 10 Premiership tries to Simmonds' 20. The key for Quins will be ensuring he is not their constant and only big carrying option or else the Chiefs defence will swallow him up.
It is not so much Dombrandt vs Simmonds, as which No8 can exert the greatest influence on the game.
Joe Simmonds vs Marcus Smith
Mouth-watering stuff. Smith, at last, will be involved with the England squad proper this summer following a dazzling campaign. His leadership and mettle have strengthened, no doubt. He is able to whip his pack around the paddock and weave his magic on the ball. He has also delivered some monumental, match-winning salvos. This will be a seismic challenge for the 22-year-old, behind a set of forwards that face an awesome physical task.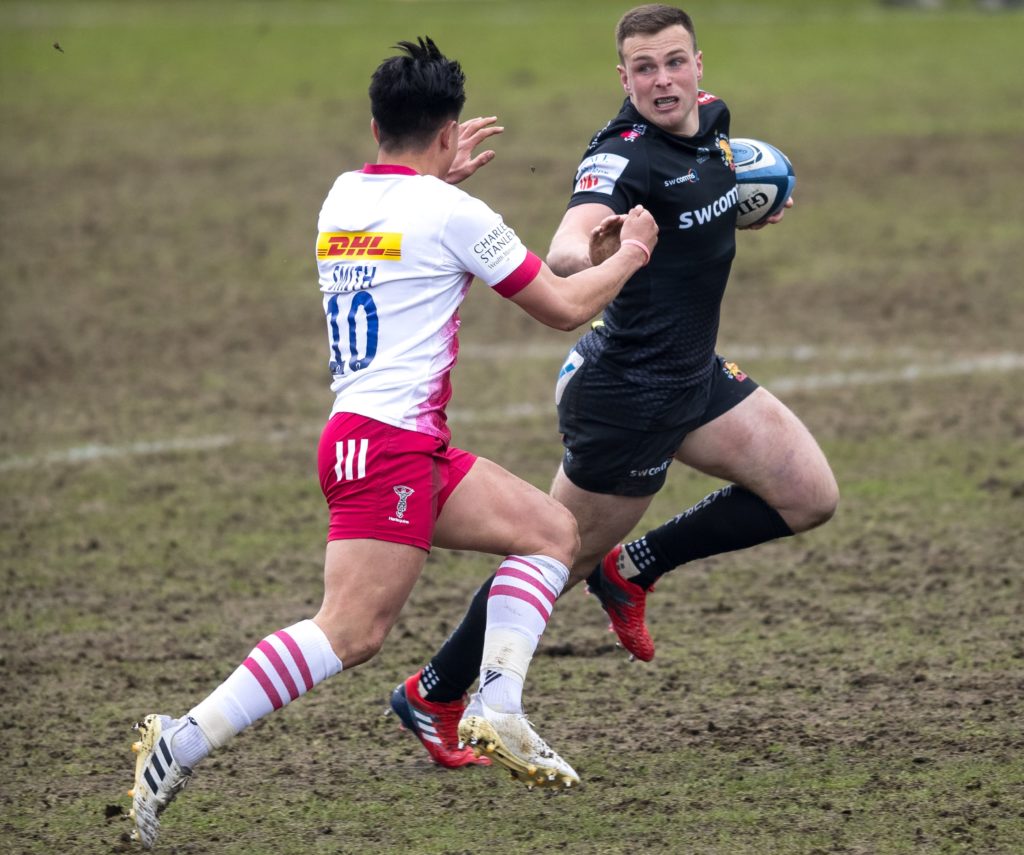 Simmonds cannot compel England coach Eddie Jones to pick him. Sound familiar? He runs the Exeter game plan so brilliantly and so effectively behind his pack of monsters. Simmonds does not wow as much as Smith, but seldom does he make an error or a poor decision. His identification of space in behind Sale's defence and kicks for Alex Cuthbert to chase were exquisite.
Who will have the best possession and make the most of the it? Who can better boss the game? And who can deliver on this grand stage?
Henry Slade vs Joe Marchant
Two game-breakers who play in very different styles. Marchant was electric in the semi-final, his terrific running threat carving Bristol open and his two tries settling the bonkers affair. He has made more clean breaks than anyone else in this season's Premiership and is third for defenders beaten, with Exeter rapier Tom O'Flaherty topping the charts. His attacking prowess will be vital.
Slade must have been desperately close to Lions selection and is hitting something close to top form at the business end of the season. His kicking from hand is outstanding, he can act as a second playmaker or step in at first receiver and he can also be a predatory line-breaker further out.
Both Slade and Marchant have lethal finishers outside them. Exeter will, in particular, use Slade's guile to set O'Flaherty and the in-form Cuthbert galloping away. Quins will want Marchant to create and Tyrone Green, star of the semi-final, to pounce.
If you've enjoyed this article, please share it with friends or on social media. We rely solely on new subscribers to fund high-quality journalism and appreciate you sharing this so we can continue to grow, produce more quality content and support our writers.