Back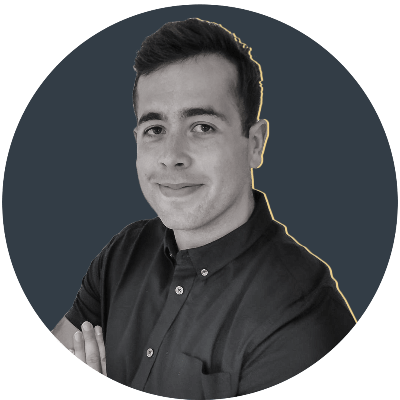 By Jamie Lyall
'People believe it was a fluke' - Cadan Murley's Harlequins ambition
There will be naysayers, no doubt. Those who regard Harlequins' blistering ascent to the Premiership title as a freak outlier in a period of chaos.
They will point to the bonkerdom inflicted by coronavirus. They will highlight the absence of supporters and the mid-season departure of Paul Gustard, the director of rugby. They will crow about Quins' mesmeric, concede-a-boatload-but-score-a-few-more blueprint and how it cannot possibly bear longevity in a ruthless league laden with power.
Players feel that scepticism and bristle ever so slightly. So far, they are doing a pretty fine job of ramming humble pie down the throats of their detractors. Third in the Premiership, a point behind Saracens, and guaranteed passage to the Champions Cup last 16 with Friday's visit of Castres to spare.
"This year is about showing it wasn't a fluke," says Cadan Murley, the electric young winger and mainstay of the club's scintillating backline. "I still think a lot of people believe it was a fluke… 'There were no fans, Quins fluked it, they won't go as far this year'.
"We're massively out to show we're here to get top four, put a real challenge in and try and go back-to-back. We know we can go again. It's about proving it to everyone else.
"The massive thing last year was belief in ourselves, and it's the same this year. You just need to look at our season – three from three in Europe, third in the league. We're very happy but we're looking to up our individual performances because we haven't fully clicked."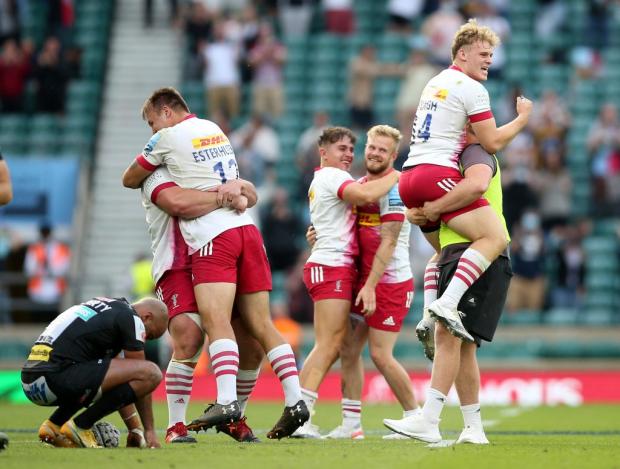 Harlequins are in Murley's blood. He has just signed a new long-term deal at the club. His father Jon, an army major who recently earned an MBE, played at The Stoop in the Nineties.
Jon instilled an infatuation with rugby in his boy dating back to Murley's early years in the Westfalen Garrison, a British base in western Germany where his father was stationed.
"He basically started his own rugby club out there for me and all the kids on camp," he says. "My mum was the secretary. There was massive buy-in from the community. It was a pretty special thing to have.
"He coached me from then, when I was four or five in Germany, all the way through to when I played for Bishop Wordsworth's and Salisbury RFC.
"My mum always tells this story: I used to play football and rugby when I was a kid, and my mum had to sit my dad down and go, 'listen, he might choose football – you have to be okay with that'. He was always a massive advocate for rugby. The amount of miles he used to do driving me around. He coached me all through my young years.
"I look up to my mum too. She had two young kids when her partner was working, she was away from family in England, and we'd have been an absolute nightmare. To do that on her own was an extraordinary feat.
"I just want to make them proud. Doing it for my family is a massive part of why I play."
You saw how much it meant to him. There have been times when he was in tears after games when things hadn't gone right for the whole team.
If family love forms the why, Mike Brown played a major role in the how. Murley was a dynamic centre when he broke into the Quins first team. Gradually, he was shuffled to the wing, where it was reckoned he could do more damage. The shift brought its own unfamiliar challenges and skills to learn, but the ultra-competitive, vastly experienced Brown took him under his wing.
"I'd never really played in the back three," Murley says. "The high ball is massive these days and it was the ones in training that didn't go to plan. It was the tips and guidance from Brownie I found massively helpful. He was the best in the world under the high ball for a number of years.
"He won't know this, but it's the little things he used to do – before I catch the ball, I swing my arms like him just to get my elbows tucked in nice and tight. He always played 100% and being in a back three with him, you had to give the same, because you wanted to be like him. You saw how much it meant to him. There have been times when he was in tears after games when things hadn't gone right for the whole team.
"The passion he and the other senior players brought into the club, when we won the Prem, seeing the smiles on their faces, the amount everyone loves this club and buys into this whole environment is pretty extraordinary. The biggest thing is we've got this shared goal of wanting the club to do really well – to do it in a fun way, the Quins way, and having a laugh with your mates, but knowing you've got to switch it on."
To the outsider, that's exactly how it looks – a bunch of talented young lads tossing a ball around and revelling in each other's skills and brotherhood. Of course, Harlequins' hypnotic rugby is underpinned by tactical rigour and a hugely effective set-piece, but the youth peppering their squad is compelling.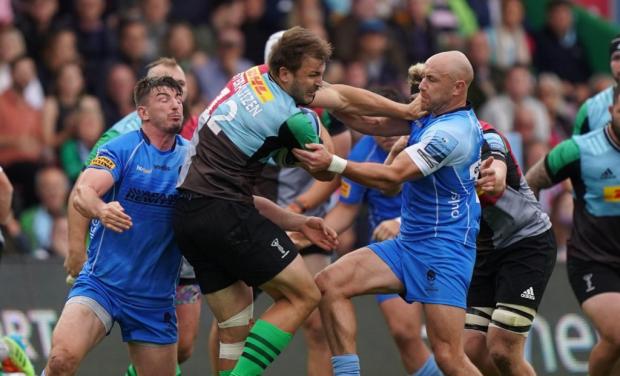 In another sense, it's frightening. Take a look at their backline, for instance. Look at the age profile, and wonder how much more these tyros might achieve, how much better they could still get. Louis Lynagh has not long turned 21. Murley is a year older. Tyrone Green is 23, and Marcus Smith, the great shining light of English rugby, will celebrate that birthday next month. Luke Northmore, who received his first England call-up this week, is 24, Joe Marchant 25, and even Springbok behemoth Andre Esterhuizen is not yet 28. Indeed, of the front-line backs, only wily fox Danny Care is the far side of 30.
"Look at the age of our backline, we're all so young," Murley says. "That's what excites us the most. None of us have reached our full potential – the likes of Lynagh, Marchant, Marcus. We've still got a long way to go.
"It's a very player-led, very happy, very safe environment. No matter if you're in your first year or you're a Danny Care with 80-odd England caps, you all mix in and by the end of your first day, you feel you've been there for months and years.
"It gives you that instant confidence to back yourself. We do make mistakes, but playing the Quins way, we want to distribute the ball, offload the most. We expect there to be balls down but we can shrug that off, review it in training, and at the time it's a very loving and positive environment.
"And it's very different. We've had changing rooms where we were all singing and dancing before a game, let alone afterwards. It's very unique in that respect."
Murley and Smith, in particular, are kindred spirits. The pair have been friendly since their days in the youth ranks and now live together.
"I love it," Murley says. "We've always been close, we lived in the academy house together. I joined the academy at 16 and we've known each other six, seven years now. There are some stories I can't share…
"I'm more of the chef, he's more of the dish-washer. He needs to focus on his skinfold tests a little bit so portion control. The club nutritionist jokes that I'm Marcus' part-time nutritionist.
"When he's in the club, he is very switched on and does have that spark, but he's focused on switching off when he's away from rugby. He's got a lot better at switching off at home."
When I get touches, I like to think I can do stuff. But rather than standing on the wing, being a winger, you can work off your wing, get touches off nine and off ten.
Where Smith has emphatically cracked international rugby, Murley is eager to follow. Though English rugby boasts lavish riches on the wings, he hopes more eye-catching performances will put him in the frame. There were whispers he had been on Eddie Jones' radar, but Ollie Hassell-Collins of London Irish made the Six Nations squad ahead of him.
"I've had nothing (from the England coaches) yet, but I've spoken to the coaches at Quins on how I can make that next step," he says.
"Last season it was more about keeping my body fit and getting all my strength and speed work in. I've got a bit quicker, been a lot fresher on the pitch, now it's about refining those little skills – the kicking, the high balls – and also trying to get as many touches on the ball as possible.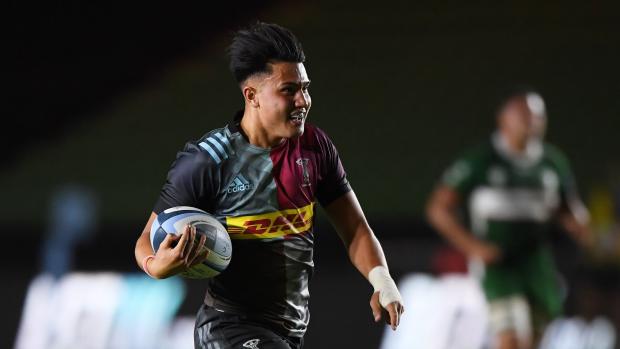 "When I get touches, I like to think I can do stuff. But rather than standing on the wing, being a winger, you can work off your wing, get touches off nine and off ten. Not only does it open up the game for Danny and Marcus, but it gives me an opportunity to put more of my game on the pitch."
And so to Castres, a game Murley starts in a heavily rotated line-up. Although Quins, sitting at the Pool A summit, have already qualified, finishing in the top two would guarantee a home quarter- and semi-final, should they make it that far.
Not since 2013 have they made it out of their pool, and never have they gone beyond the last eight.
"We're three from three, but we haven't actually put in a complete performance," Murley says. "We want to put a game on the pitch that really knocks a bit of fear into everyone else.
"A home draw would be massive for us; we love our home support. All the leaders have spoken this week about how this is a real opportunity for us to go far in Europe, which Quins haven't done for a while."