Back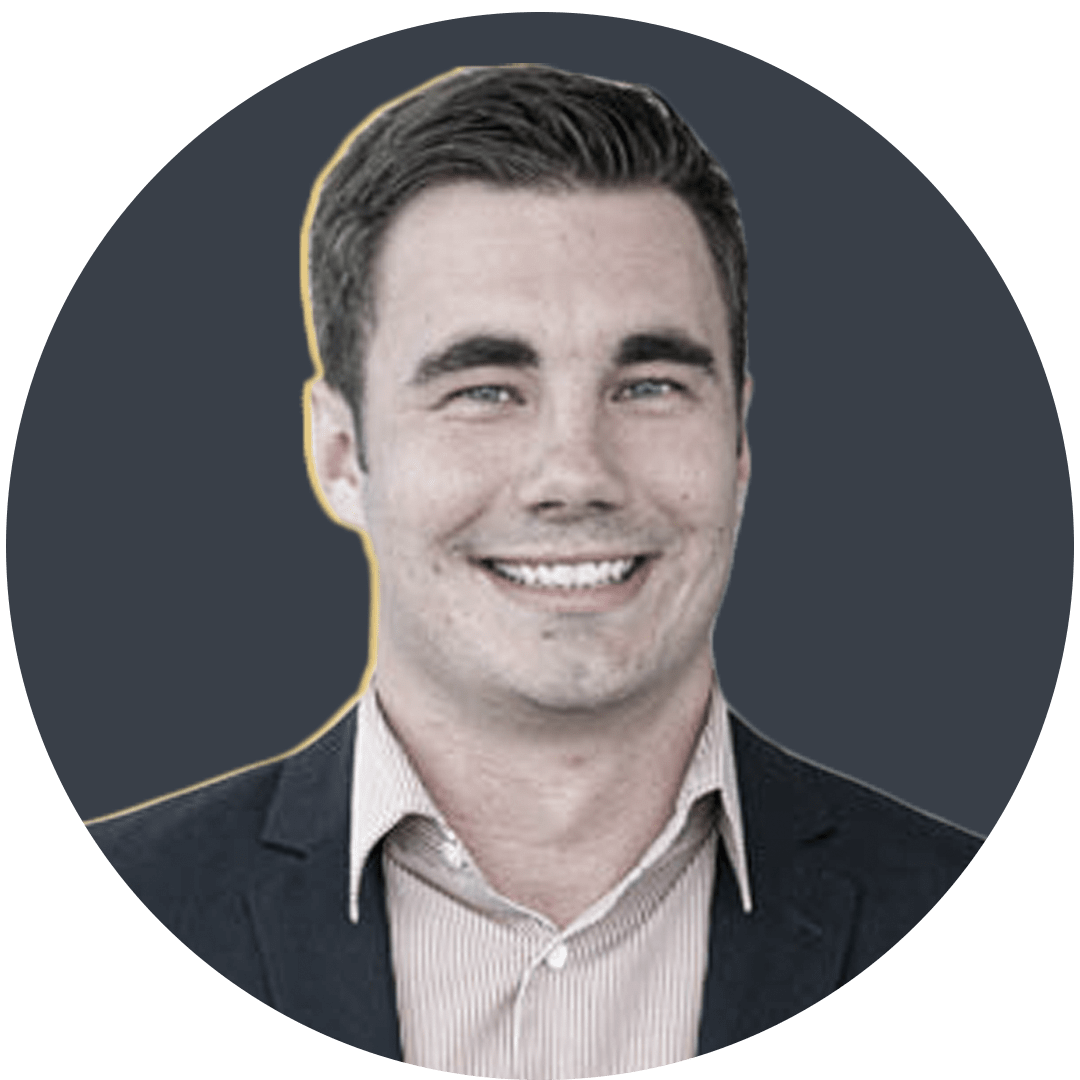 By Tom Vinicombe
Pain, pleasure and patience
Following the Highlanders' loss to the Hurricanes in Dunedin two weekends ago, there was one major silver lining for the home side.
Towering 24-year-old lock Pari Pari Parkinson ran on to the field for the first time in almost seven months and managed to get through a solid 50-minute shift before taking a well-earned breather.
"No one in New Zealand can play rugby like Pari Pari Parkinson," Highlanders coach Tony Brown said after the match.
"He plays the game a different way to anyone else in New Zealand and when it's on it's unstoppable. For me, we've just got to let Pari be himself and go out and play the game he loves playing."
There's certainly a lot to like about Parkinson.
With a height of 2.04 metres, he's taller than all five locks the All Blacks brought into camp last season and on par with 2014 World Player of the Year Brodie Retallick.
He's also added almost 10 kilos of mass to his frame over his extended stint on the sidelines, bringing him up to 133kg and making him the heaviest professional second-rower in New Zealand by some margin.
Outside of his physiological make-up, Parkinson has deft hands for a tall man and never shies away from big collisions.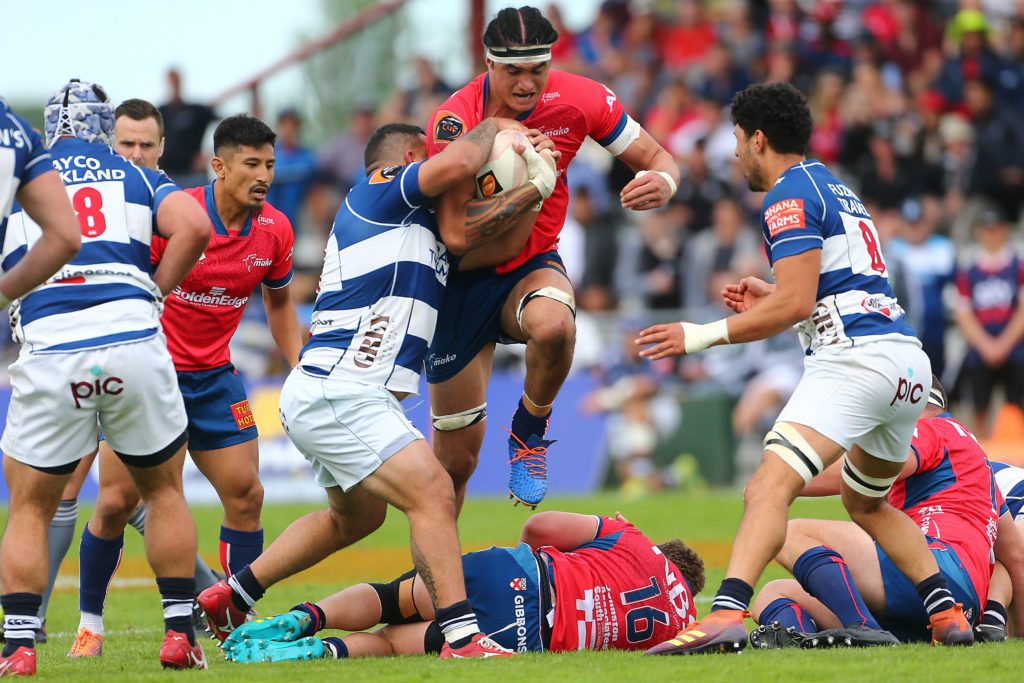 In short, he's exactly the kind of player the All Blacks will be looking to bring into their fold – provided that Parkinson, 24, can get back to full fitness following the harrowing injury that ruled him out for six months.
While it was against the Hurricanes that Parkinson was helped from the field in the final round of last year's Super Rugby Aotearoa season, the problems started in 2019.
"I injured it originally in the Maori All Blacks game against Fiji, which was like two years ago," Parkinson told The XV.
"I went up in a lineout. It was a defensive lineout in the second half. We had it set up so that my back lifter would shoot off to cover the inside of the 10 off the lineout, so he did that and then obviously no one was there to help bring me down so I just landed straight on the side of a dude's foot. My ankle just went bang, rolled, and everything went."
"I sort of rehabbed it but I wasn't really sure how bad it actually was, so I just kept playing on it."
Parkinson played through the pain – first for Tasman during their title-winning 2019 campaign and then for the Highlanders during the 2020 season.
I didn't really want to acknowledge surgery as an option until it got to the point where it was painful to walk on.

Pari Pari Parkinson
Like for so many professionals, surgery was a worst-case option, one which Parkinson resisted until it became impossible to carry on.
"Surgery takes you out for so long and it's only really something you do if you really have to, so I waited until I really had to," he said. "Although it's important, it's incredibly boring and I didn't really want to acknowledge it as an option until it got to the point where it was painful to walk on.
"If I had an MRI and looked at it properly, I probably would have seen that it was like a ticking time-bomb and just bit the bullet then and there but obviously I didn't want to go that way. I thought I'd just keep chugging away."
The ankle became progressively more troubling for Parkinson, often sending shooting pains up his leg when he was running, setting a scrum or jumping in a lineout.
Things culminated last August against the Hurricanes. After a few issues at training during the week, the ankle gave way close to halftime and Parkinson was pulled from the pitch.
"I tried to play on it but everything felt loose," Parkinson said. "I was thinking to myself, 'Whatever's in there is cooked'.
"I knew as soon as I came off field against the Canes that I was going to need surgery because of just the way it felt."
The damage was severe and a 12-month prognosis was considered the worst-case scenario – Parkinson's season was certainly over, at the very minimum.
"Everything inside there was a bit blended up," Parkinson said. "My foot was collapsing in on itself.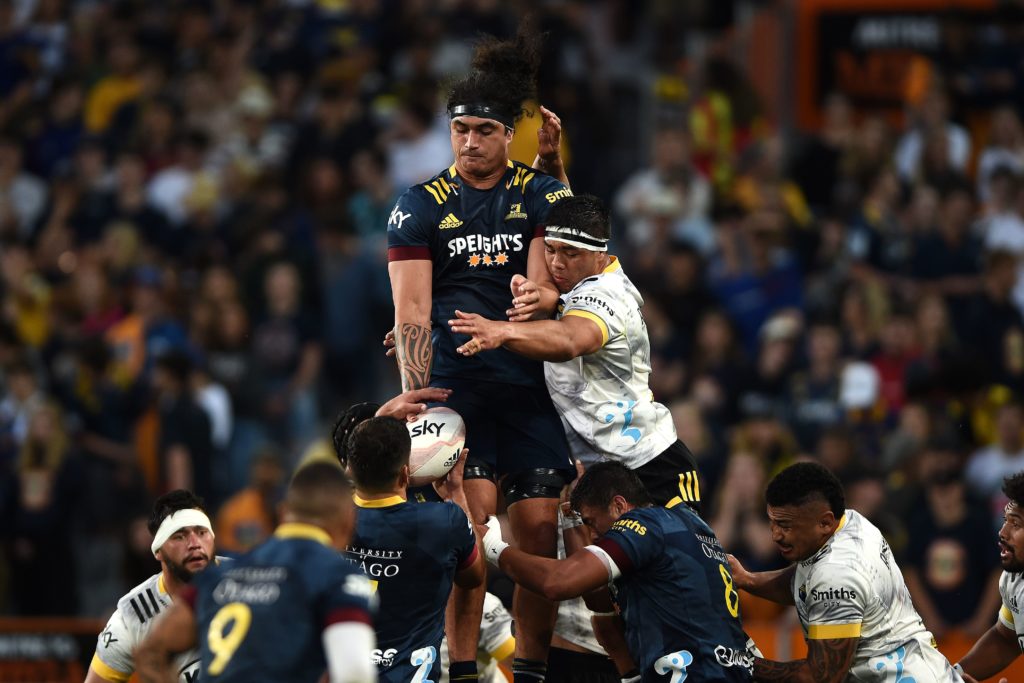 "All the ligaments and the tendons and stuff that are meant to hold all of your foot together in one piece, they had all either been stretched or snapped. When I was running, everything would kind of just move about. It wouldn't be cohesive and go in one fluid motion. Everything was a bit scrambled.
"They went in on both sides to open it up and, I obviously wasn't awake at the time, but they told me afterwards that at the time, they were like, 'What the hell is this?'
"They folded everything over, stapled it together, reattached the ligaments and tendons, sawed my heel in half, shifted that back underneath my shin, and then put a screw in to try and keep it in place. It ended up being a pretty hefty operation in the end, but I'm glad I got it done because the whole leg was no good before."
While the weeks following surgery weren't the most comfortable of his life – and the fear of a year-long recovery played at the bag of his mind, Parkinson was philosophical about the whole experience.
"There's a silver lining to it," he said. "The reality was I got to have a break for six months which not a lot of people get to do. I just sort of made the most of that.
"I couldn't get into the gym and do the things I wanted to do, so there wasn't any real point in worrying about strength drop off, or whatever else, my skin-folds or my fitness. There was nothing I could do about it. In a way it was kind of calming."
Once he was allowed back on the training field and back in the gym, however, Parkinson made the most of his opportunities.
Now I'm probably the heaviest I've ever been but also the fittest and strongest.

Parkinson
"Now I'm probably the heaviest I've ever been but also the fittest and strongest. Mainly just because once I started training and stuff there wasn't really like a contact limit. A lot of the guys who are playing kind of to have to slow down because they're taking a lot of hits; you don't want to bang up their bodies and stuff. Whereas I was just running purely on the sidelines, doing conditioning fitness and stuff.
"If I was on my own I probably wouldn't take even half as good care of myself but my partner cooks up all my meals, so I've been putting on heaps of weight – clean weight. The other day, I weighed myself in at 133kg and my skinny is around 65, so I'm feeling lean and good."
Of course, packing on extra pounds – whether it's muscle or fat – isn't always going to be desirable. Some athletes operate better at lighter weights while, in the case of a lock, you also have to take into consideration the fact that your teammates are required to lift you in lineouts.
For Parkinson, however, the extra mass is a blessing – and entirely appropriate given his sizeable frame.
"I was yarning to one of the trainers about it," he said. "For me, I feel a lot more confident with the weight on. Instead of trying to trim the weight down so the other guys can lift me, the trainers want to make me stronger and my belief stronger so I can jump higher and therefore make it easier for them.
"So far I've still jumped not too extensively but I've sort of been gauging stuff and it's felt fine going up. To be fair, I didn't really ask the lifters what they thought – they might say 'Nah, you feel like a fridge'. But it felt good getting up there. It's just on me really, if I can build up the strength to keep that going."
There are still recovery work-ons for Parkinson, who told The XV that it felt like he was running with a peg-leg when testing his ankle out for the first time following surgery.
Speaking more holistically of his game, tackle technique is also a major focus – primarily so that he can avoid further concussions beyond the ones he's already experienced throughout his relatively short professional career.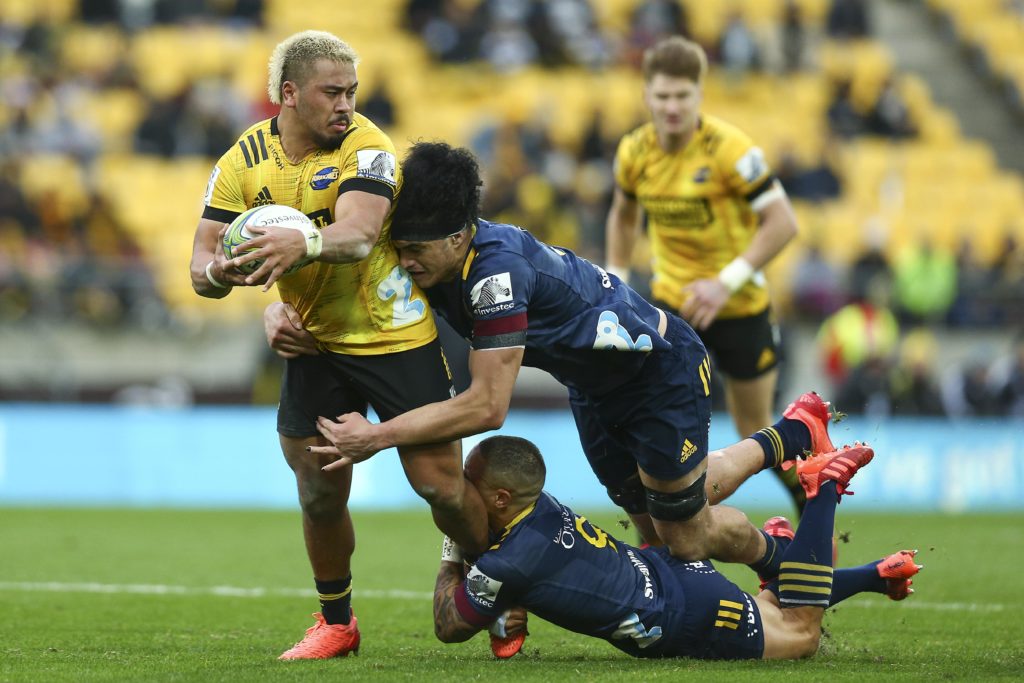 "If I had to do it again, if I got to pick between six months of concussions and six months of surgery on your ankle, I'd take the surgery on my ankle every time," Parkinson said.
"Back in the day, I had real bad head placement so I tackle with my chest now, keep my head out of everything just because it's pretty risky. Too risky. I've had far too many head knocks for my own good.
"Now, I don't really get so low with my head because that's when I found I would get knocked out because I'd commit too early or something and I'd catch a stray hip. I just tackle a bit differently. I'm trying to work on that this year. That is something I want to adjust, putting on the hit properly."
That doesn't mean that Parkinson tries to avoid contact altogether, however – far from it.
"I love tackling. There are few things more satisfying than putting the hit on someone. It probably sounds a bit twisted to say, but there's a lot of fun inflicting pain on people.
"If you're doing a clean-out, you just smack them real good. You're in the tackle, smack them real good. Then you feel them gasp and then you know your job's done. Those are the only tackles that count to me.
"I just enjoy the physicality of the game. I enjoy hurting people, smashing people, even to a degree, getting smashed. It gees you up a bit when someone comes up and just snots you."
I just enjoy the physicality of the game. I enjoy hurting people, smashing people, even to a degree, getting smashed.

Parkinson
That approach has landed Parkinson in some hot water before, with the Highlander sin-binned in his first-ever match for the Maori All Blacks following an illegal tackle on USA halfback Shaun Davies.
"For my debut in Chicago, I got real geed up doing the haka and then body slammed this little halfback. I was really gutted about that. I was like, 'Come on, I brought him down horizontal, I just did it really hard.' Normally, it doesn't warrant me getting sent off.
"Like I said, it was my first time doing the haka and I got real geed up. It was like, 'Oh, well, I got my hands on this dude. 'Later bo', and slammed him."
For a young man still in the early days of his professional career, Parkinson acknowledges that he's far from the finished package.
With Retallick, Sam Whitelock, Patrick Tuipulotu and Scott Barrett all likely selections for the 2023 Rugby World Cup, but also all possible departees following the tournament in France, Parkinson is in no rush to force his way into the national selection frame.
"I've been a lot more diligent in the last few years about acknowledging what I can control and what I can't," he said.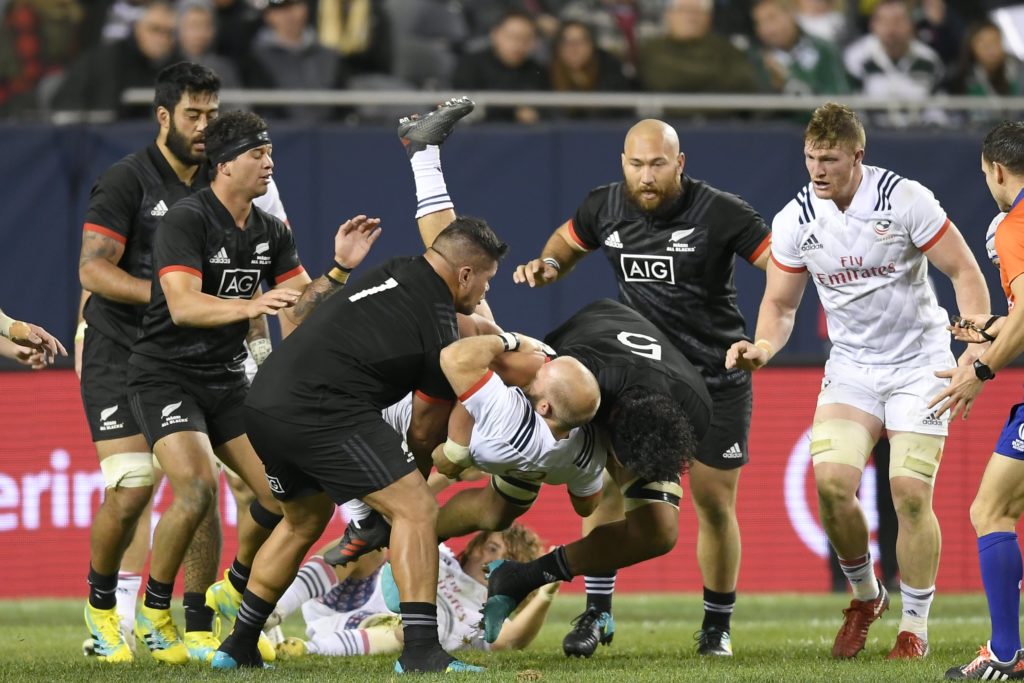 "For me I guess, there's no point me worrying about All Blacks. I don't control that. If it happens then I will look at it for what it is in front of me, and be like, 'Okay, this is what I've got to do now'. For me, my only goal was just to do the best I can and be happy playing 'Landers and Tasman, because those are the only things I have guaranteed."
It's a mature approach – and the kind of mindset that's honed thanks to having spent more time on the sidelines than your average player.
For 2021, however, the goal is to get back to full fitness, stay on the park and continue to chalk up minutes with the Highlanders.
It should come as no surprise to anyone if Pari Pari Parkinson eventually does stake a claim for an All Blacks jersey – he has the physical attributes and the mental fortitude.
The immediate future is all about the here and now, however. Parkinson has done his time on the sidelines and is readying for a mammoth season – one that's still only really just beginning.
More stories