Back
By Ben Wylie
Much more to Will Jordan's game than meets the eye
There is a certain type of rugby player whose on-field value requires a trained eye to discern.
Then there are preternatural talents like Will Jordan.
Only two minutes of last month's test match between the All Blacks and Springboks in Townsville had elapsed before the Kiwi outside back — in his first appearance against South Africa at international level — emphatically announced his presence in a way that even a casual observer could not have missed.
The path he wove between four retreating defenders in order to reach the outside shoulder of Codie Taylor after his teammate had broken the line looked deceptively simple, belying the speed of thought required to see the play unfold and the physical gifts necessary to get himself into the perfect position to receive a pass.
And the opening sequence of that game ended as Jordan's injections into the action so often do: with the 23-year-old streaking clear of a number of helpless defenders, and dotting the ball down over the try line untouched.
In only his ninth test — and sixth start — it was already his 12th try for the All Blacks, a rate of try-scoring that no other winger at the top of the men's game comes close to matching.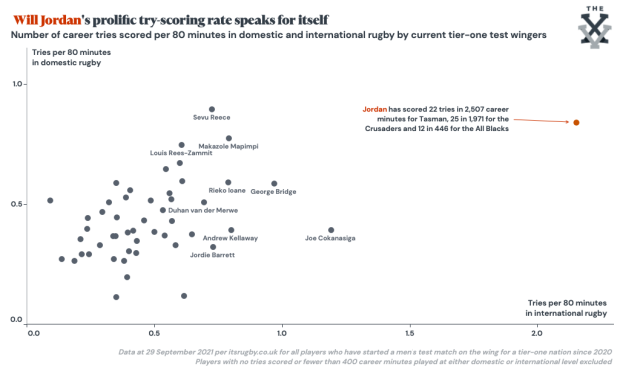 Of course, this is a pace that even the most talented player would struggle to sustain — and his current figure of 2.2 test tries per 80 minutes played is elevated significantly by the seven scores he recorded in only 137 minutes against Fiji and Tonga back in July.
But even after stripping out those fixtures against tier-two opponents, his record — 1.3 tries per full-game equivalent in 307 career tier-one minutes to date — still stands apart from any other current test player at his position.
Taken together with a return in domestic rugby (0.8 per 80 minutes) that can be bettered only by his Crusaders colleague Sevu Reece, it is not an exaggeration to say that Jordan is already one of the most dangerous try-scoring threats in the men's game.
However, it is not just this predatory instinct that sets him apart from others in his position.
Throughout this edition of the Rugby Championship, he has played a much more varied role in his team's attack than other wingers — and in the process, shown how he has grown as a player since the beginning of his first-class career back in 2017.
So far in the competition, when Jordan has come onto the ball he has passed to a teammate almost as frequently he has elected to run with it. His peers, in contrast, run the ball more than twice as frequently as they pass it.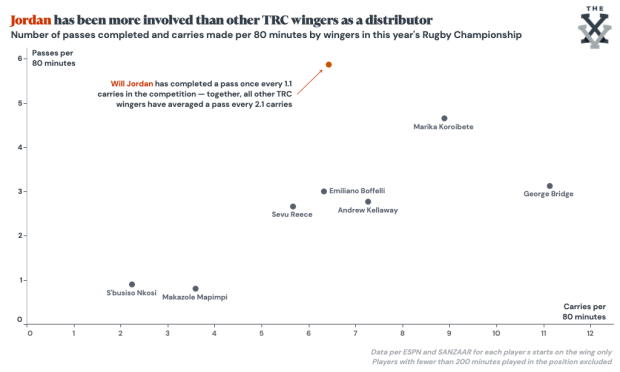 The trust the All Blacks place in his handling and his ability to transfer the ball effectively under pressure were both on display during New Zealand's second fixture against Argentina earlier this month.
As they attempted to break through Los Pumas early in the second half, Jordan positioned himself 15 metres infield behind centres Quinn Tupaea and Rieko Ioane — leaving flanker Ardie Savea and hooker Samisoni Taukei'aho to fill the space he had vacated on the right edge.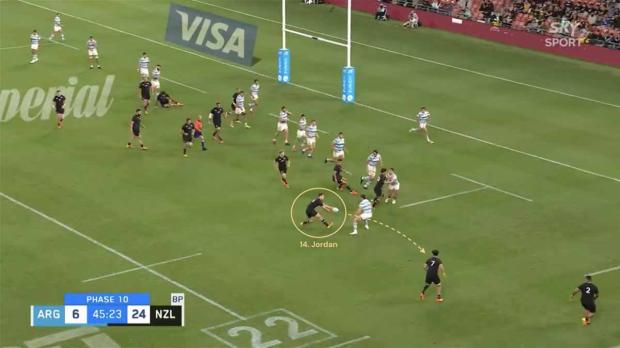 Even with Emiliano Boffelli in his face after the left wing made an aggressive read, the Christchurch native was able to collect Ioane's screen pass and flick it adroitly past the last defender, giving his teammates the time to finish off the score in the corner.
It's in situations like these that the benefits of the minutes he has spent at fullback at domestic level are clear — but even at the Crusaders his comfort on the ball is something that has had to develop over time.
In 2019 — his rookie year in Super Rugby — head coach Scott Robertson deployed him with instructions to run the ball first and foremost, as Jordan made 2.1 carries for every pass he completed that season.
The next year, his distribution became incrementally more prominent — with his ratio of carries to passes dropping to 1.8 — before finally being given a much more rounded attacking role this past season.
Across the 2021 editions of Super Rugby Aotearoa and Super Rugby Trans-Tasman, he completed almost as many passes per 80 minutes (9.1) as carries (10.2) — and found himself on several occasions as a playmaker in similar situations to the one that recently unfolded against Argentina.
In this sequence against the Waratahs, for example, Jordan had to adjust under pressure from the defending side's left wing and retain his composure to transfer the ball accurately to an unmarked player on his outside — in this case, second five-eighth Dallas McLeod.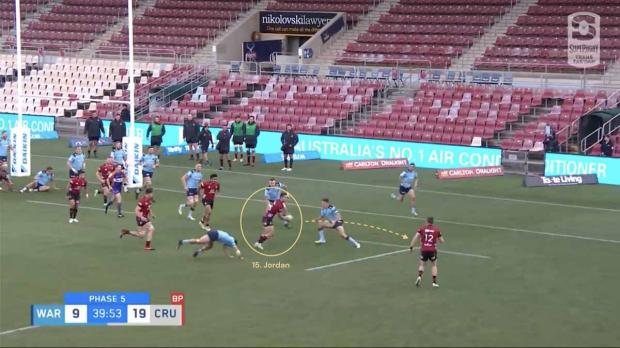 Playing regularly at fullback for the Crusaders has also allowed him to accelerate the growth of his tactical kicking game — another skill of his which has become more prominent in the test arena in 2021.
While not yet as frequent a feature of his play as his passing, Jordan has shown that he can add value with the boot a number of times over the last month.
In particular, during New Zealand's match against Australia in Perth he threatened the Wallabies with probing kicks into their backfield from inside his own half — a ploy that, after the recent introduction of the 50:22 law variation, has the potential to be incredibly lucrative.
Again, this is something which he has shown he can execute with greater frequency than other wingers.
Jordan has had 54 touches in the 2021 Rugby Championship, and kicked 10 times — equivalent to 19% of the times he has had the ball. In contrast, other starting wingers have kicked on only 9% of their touches — less than half as often as the Kiwi.
All in all, his performances for the All Blacks this year demonstrate that — somewhat counterintuitively — the best thing for his development as a test wing may be to continue playing at fullback for the Crusaders, a role which allows him to hone further the broad range of skills he already possesses.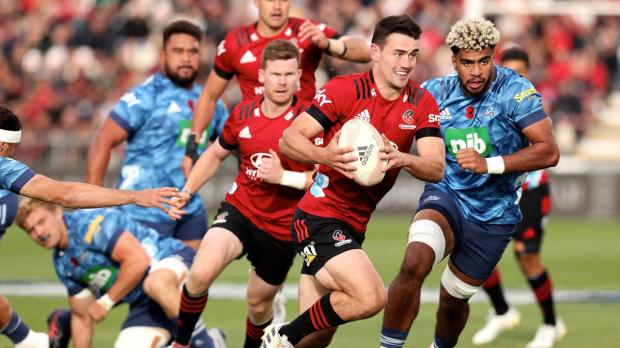 In fact, there's a real possibility that both New Zealand's first-choice wingers in the near-term will be selected there despite playing elsewhere in the backline at domestic level.
In a similar fashion to Jordan, Rieko Ioane has benefitted immensely from playing in the midfield for the Blues in Super Rugby over the last couple of seasons.
As a consequence of spending more time closer to the middle of the field in the 13 shirt, his already promising distribution has improved considerably — and he too has been able to bring these skills to bear in international rugby.
Between 2016 and 2019 for the All Blacks, Ioane averaged 2.3 carries against tier-one opponents for every pass he completed. However, in his four starts on the left wing since the beginning of this World Cup cycle, he has completed 30 carries and 27 passes — a much more balanced run-to-pass ratio of 1.1 to 1.
Looking at the roles filled by the other players Ian Foster has selected in the 11 and 14 shirts makes clear that this isn't a result of a wholesale tactical shift. Leaving Jordan and Ioane aside, the team's other starting wingers have passed the ball only once every 2.6 carries across the 2020 and 2021 seasons.
Rather, there appears to be freedom within the team's attacking structures for these players to make use of the other skills they possess if opportunities arise.
Both Ioane and Jordan have made names for themselves at the international level through their try-scoring exploits — and, at 24 and 23 respectively, they will likely continue to wow viewers with impressive feats of athleticism for years to come.
Such obvious talent can sometimes shine so brightly that it is difficult to see through to the subtleties underneath — but it's crucial not to mistake this phenomenon for their absence. In the case of Will Jordan in particular, there's even more to his game than first meets the eye.