Back

By Martyn Thomas
Marcus Watson: 'I'm glad we made the move'
Marcus Watson is in a good place as he prepares to line-up for Benetton Treviso in the club's first ever European semi-final this weekend.
Watson admits he had little time to think – or fret – about moving to northern Italy last summer, coming on the back of his "abrupt" departure from Wasps. Having overcome the Achilles and groin issues that restricted him to only three appearances during the 2020-21 season, the Olympic silver medallist thought he had done enough in the following campaign to earn another contract in Coventry.
In a harbinger of the financial upheaval that would ultimately lead Wasps into administration, though, no new deal was forthcoming and in June, Watson found himself out of a job. On the eve of his 31st birthday and just weeks after his wife had given birth to the couple's first child, the timing could hardly have been much worse.
Fortunately for Watson and his young family, an opportunity in Treviso was about to present itself. Marco Bortolami, approaching his second season as Benetton coach, was on the lookout for some back-three magia and the Englishman fitted the bill.
"It was a bit of a strange one, really," Watson tells RugbyPass+. "It was so abrupt towards the end of my time at Wasps that I didn't have a huge number of options at that point. 
"Treviso came through and at the time, my wife had just had a baby. So, it was a big move for us, but she was quite excited for it and I'm glad we did make the move.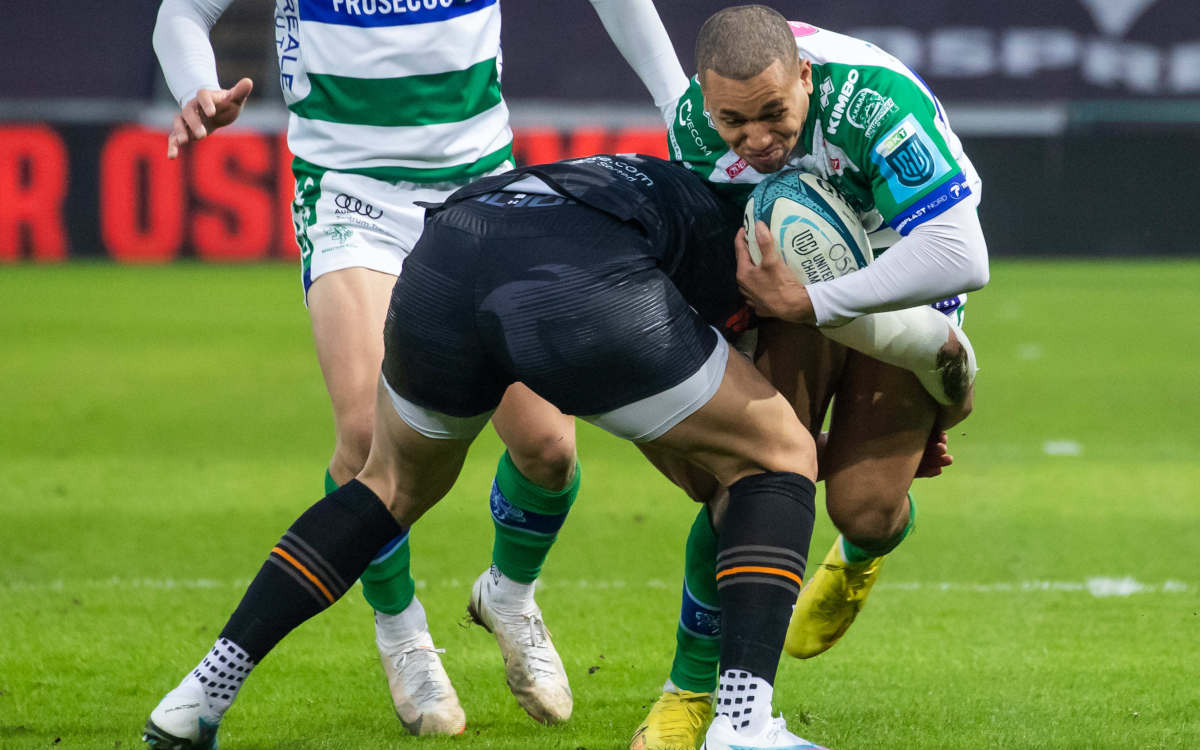 "It wasn't the easiest decision with some of the things that went on, inside rugby and outside of rugby, but it's a decision I'm pretty happy I made."
Within six weeks of receiving the offer from Benetton, Watson, his wife and their baby packed up their lives and boarded a flight to Italy to begin their new adventure. Even though the club helped the family settle, quickly finding them a house to rent and making sure the transition was as smooth as possible, it still felt like a whirlwind.
"It was pretty hectic," Watson smiles. "The fact that you [have] the language barrier and stuff like that and making sure my missus was settled and she felt comfortable.
"It's a different situation being on holiday in Italy to moving here, so it's definitely taken some adjustment."
Watson has certainly found his form on the pitch, helping to fill the void left by the explosive Monty Ioane, who returned home to Australia on the eve of the United Rugby Championship (URC) season.
If anyone's watched the way I like to play over the years, I like attacking rugby.
The Englishman had scored two tries in seven appearances by Christmas before hitting a rich vein of form in March and April, crossing the whitewash five times in only four matches to help the Italians to the verge of a URC play-off place as well as into the Challenge Cup semi-finals.
Watson scored twice in the Challenge Cup round of 16 defeat of Connacht and followed that up with the late try that secured the club's historic 27-23 quarter-final victory. "It was very cool," he says of the scenes that greeted the final whistle against Cardiff. "The crowd get pretty into it." 
"I'm pretty happy that I've come here in my first season and done pretty well," Watson adds. "When you come to a new club, I think it's important to start off well, just to get the respect of players and coaches and things like that. Hopefully I've done that this season.
Following his struggles with injury, Watson knows his body and has been trusted with an adapted fitness programme to help keep him on the pitch. It seems to be working and the Englishman is in line to start his seventh successive match on Sunday. He is certainly a fan of the way Benetton approach the game.
"If anyone's watched the way I like to play over the years, I like attacking rugby," Watson explains.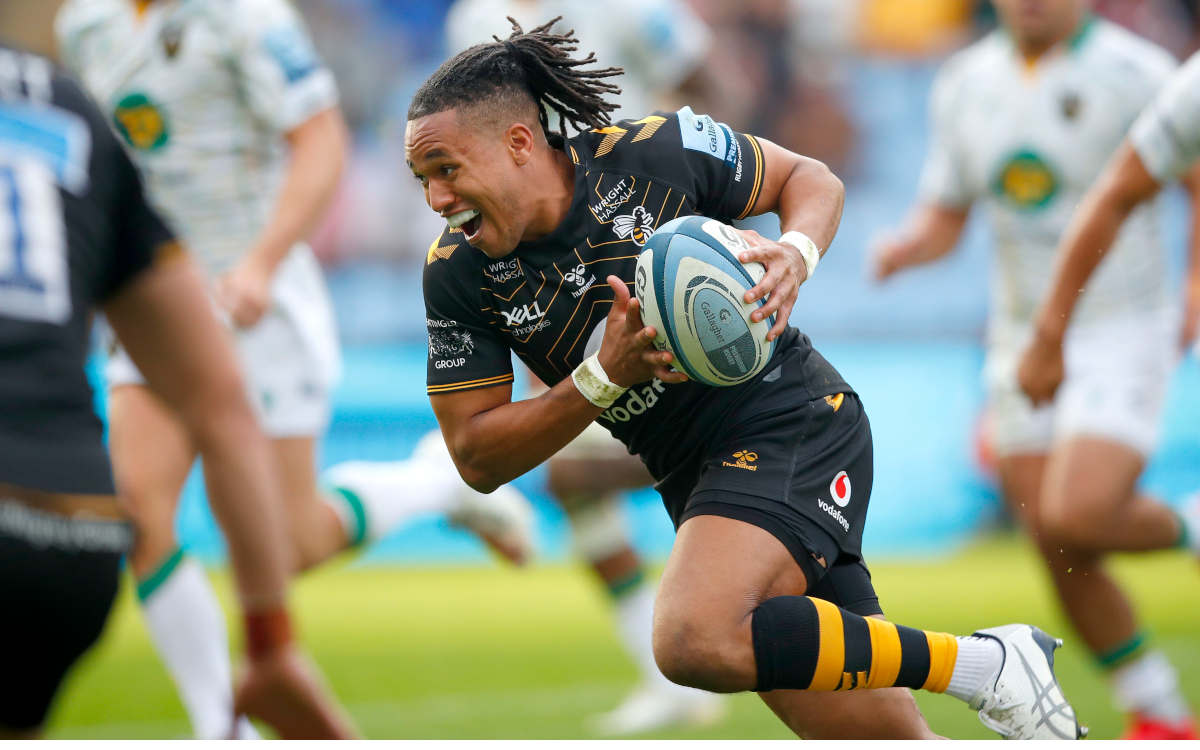 "I think we've got great attacking shape, coached by Andrea Masi, who I think is very, very good when it comes everyone knowing their roles, and that's great to be a part of.
"I said to Mich (Michele Lamaro), our captain, the other day that I really enjoy playing for our side at the moment."
Back-to-back defeats against the Sharks and Stormers in South Africa earlier this month ultimately ended Benetton's hopes of forcing their way into the URC quarter-finals. But the club still has an unprecedented opportunity to end their season on the highest of highs.
Watson and his team-mates are 160 minutes from becoming the first Italian side to win a European trophy. Three-time Champions Cup winners Toulon stand between them and the Challenge Cup final; however, Benetton do not fear their trip to Stade Mayol.
Toulon won the only previous Challenge Cup meeting between the sides – a home victory in last season's round of 16 – but they needed 19 points in the final quarter to do so after the Italians recovered from going 17-3 down to level the scores at 17-17 midway through the second half.
"We know the challenge that we're in for. Some of the players were saying the [match last season] was pretty close," Watson says. "The boys will certainly be up for the challenge, but we are also aware that it's a big one."
I think he's going to be a big name.

Watson on Benetton centre Tommaso Menoncello
Watson is not surprised that the club find themselves in the position they do. Around the time that he agreed to make the move to northern Italy, Bortolami outlined his vision for the team as well as where he envisioned the winger slotting into it.
The former Italian Test centurion told Watson how he wanted to help turn the club into one that challenges for trophies, an aim bolstered by the arrival of the winger's former Wasps team-mates Matteo Minozzi and Jacob Umaga after the Premiership club went bust. 
With Malakai Fekitoa due to join them ahead of next season, the winger jokes that he's part of "a bit of a Wasps group all of a sudden".
That certainly wasn't always the case. Watson knew attack coach Masi from Wasps and had crossed paths with defence coach Calum MacRae during his time in sevens, but otherwise he knew no one when he pitched up in Treviso last summer.
Having a link to those two coaches was "very helpful", he says, while those first few months also enabled him to get to know his new team-mates. Among those to catch his eye were Tommaso Menoncello – "I think he's going to be a big name" – and his Italy centre partner Ignacio Brex, who the Englishman likens to Chris Harris defensively.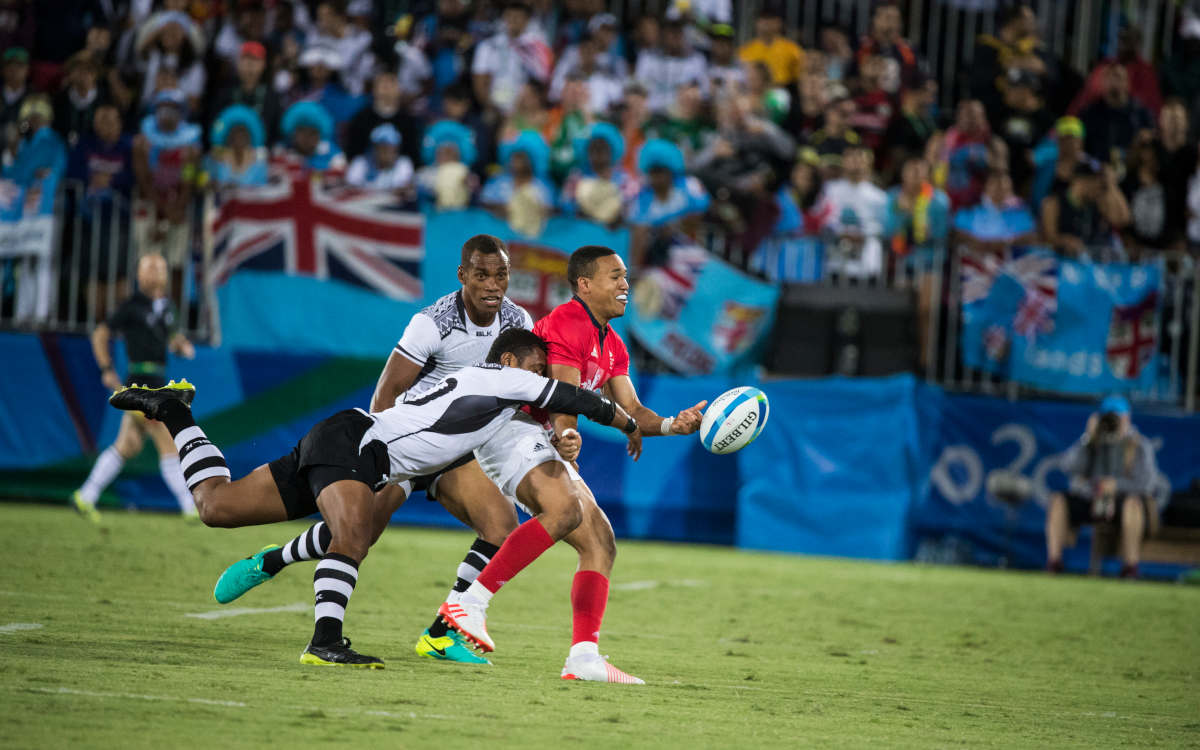 One area in which his time in Italy has not progressed as quickly as he would have hoped, however, is in learning the language. "Everybody in the team can speak English," Watson says, "which is great, but it's probably halted my Italian learning a little bit!"
Regarding those language lessons, the Englishman adds: "I was hoping that I'd be further ahead than I am, shall we say.
"Some of the foreign boys in the team, Sam Hidalgo-Clyne especially, is doing pretty well. Rhyno Smith was here a year before me but he's very good and I think at the bottom of the class at the moment is me and Scott Scrafton, which isn't a good place to be."
Watson can be forgiven for finding it difficult learning a new language while adjusting to parenthood and continuing a distance learning course from Northumbria University. There is competition in his studies too, however, as both of his brothers have completed the business management degree, middle sibling, Anthony gaining first class honours.
"Unfortunately, I think that's slightly out of reach at the moment," Watson, who only has his dissertation to complete, says. "I'm looking hopefully to try and get a 2:1."
Before he has to worry too much about that last piece of coursework, Watson hopes to help Benetton turn a season of promise into one to remember.
When you're younger and you get to semi-finals of competitions, you don't really know what it means. But as you get older, you realise they are few and far between.
"In terms of expectations [at the start of the season] they kept saying they wanted to obviously be more competitive than last season, and so far we've done that," he says. 
"There's a semi-final to win for sure but so far, this season has been a step up from last, which has been good. But it would be nice to actually bring some silverware back, that would be awesome for the club and also for myself.
"In terms of my 15s career, I've not won too many trophies. I've been in a fair few competitions but not really won too much, so it'd be nice."
Having experienced contractual and injury uncertainty over the last few seasons and watched on as former team-mates have had to leave England, or rugby, in search of opportunities, Watson does not take his place on Sunday's stage for granted.
"It makes you realise that you're not necessarily always in control of your situation. All you can do is get on with things and try to play as well as you can," he says.
"When you're younger and you get to semi-finals of competitions, you don't really know what it means. But as you get older, you realise they are few and far between. 
Watson is approaching his vintage years, but the Mediterranean lifestyle appears to suit him and he has a chance make Italian rugby history. The gamble has paid off.