Back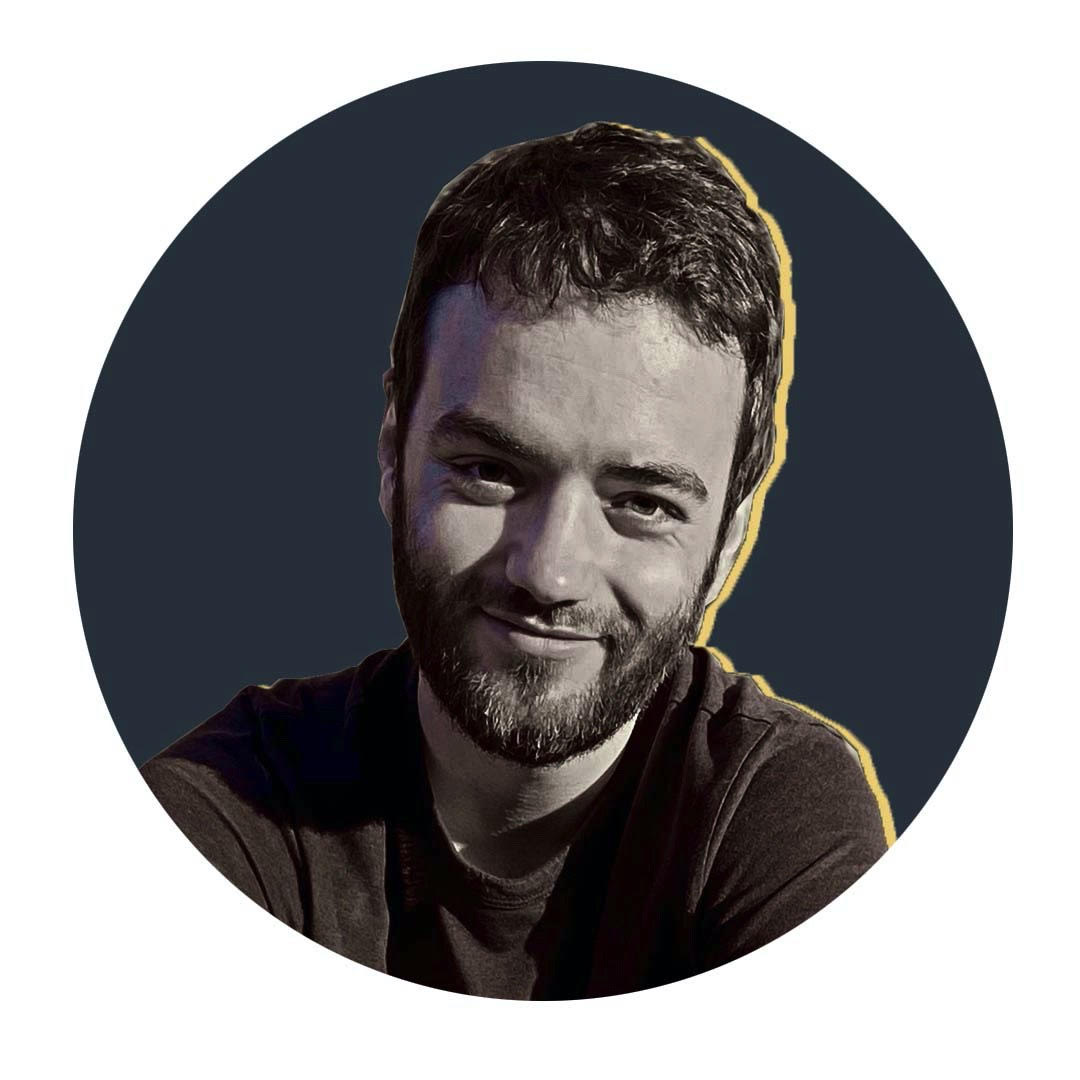 By Will Owen
How Julian Montoya perfected the dark arts of Test rugby
When it comes to the front row, prime Argentinian beef always delivers in spades. After Mario Ledesma retired in 2011, the rugby public wondered how they would cope at hooker. Up stepped the legendary Agustin Creevy as skipper, and a fixture in the Pumas' XV for the next decade. As Creevy crept into his mid-thirties, the question once again arose of whether the quality in the 2 jersey would drop off. In comes Julian Montoya, upholding the Pumas world-class reputation in the shirt. 
Montoya has always been a good player; a strong replacement hooker at international level, but even the most optimistic among Argentine fans could not have seen Montoya's rise to the top coming. After scoring four tries in the 2019 World Cup pool stages including a hat-trick against Tonga, it became apparent that even in a squad boasting the quality of Creevy, Montoya was a test starter. Since signing for Leicester Tigers 18 months later, the hooker has gone from strength to strength and established himself as one of the world's best.
Steve Borthwick has spoken openly about Montoya's remarkably narrow room for improvement, after the Pumas captain has scored countless tries and won crucial turnovers underneath the Welford Road floodlights. Montoya has not only proven to be one of the key cogs in Borthwick's formidable pack, but carried that form back onto the international stage.
With Argentina boasting a record 48-17 win over the Wallabies, Montoya was one of his side's many standout players, so let's have a look at some of the niftier aspects to the hooker's performance, and highlight just what makes him such an effective cog in Michael Cheika's machine.
This first example of Montoya's dark arts comes from the 28th minute of said Australia test, after a Wallabies line break.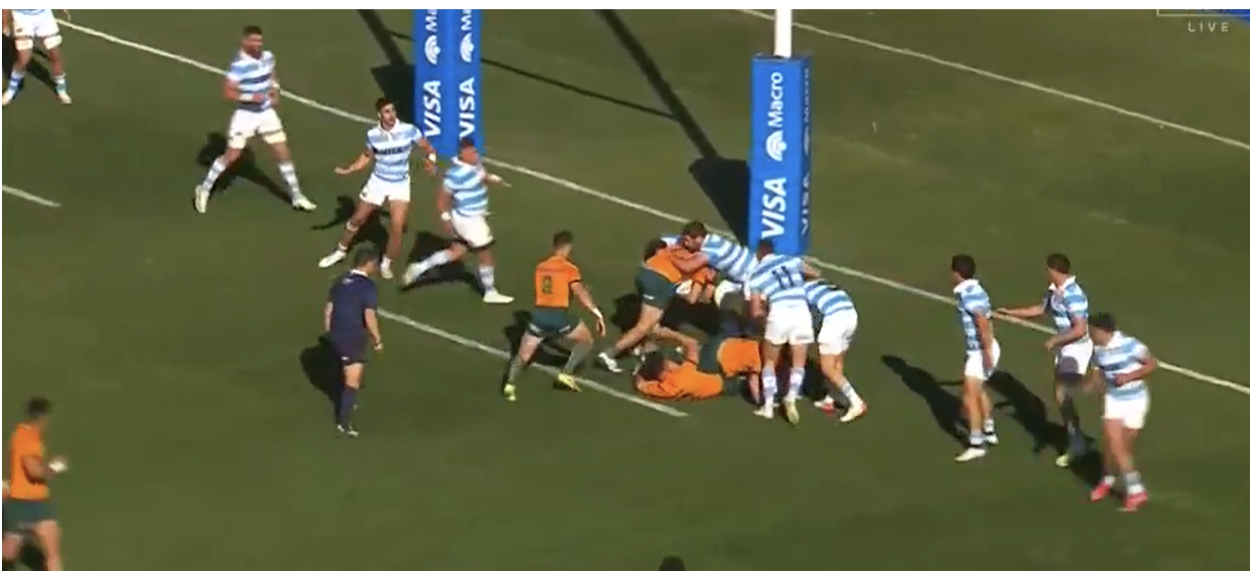 As Fraser McReight picks up the ball to drive over, Montoya is super quick to not only get onside, but make the tackle alongside Juan Cruz Mallia. With Mallia being significantly lighter than both McReight and Montoya, his role is just to go low and get McReight to the floor. The 113kg Montoya's job is to assert some form of dominance or have a go at the ball.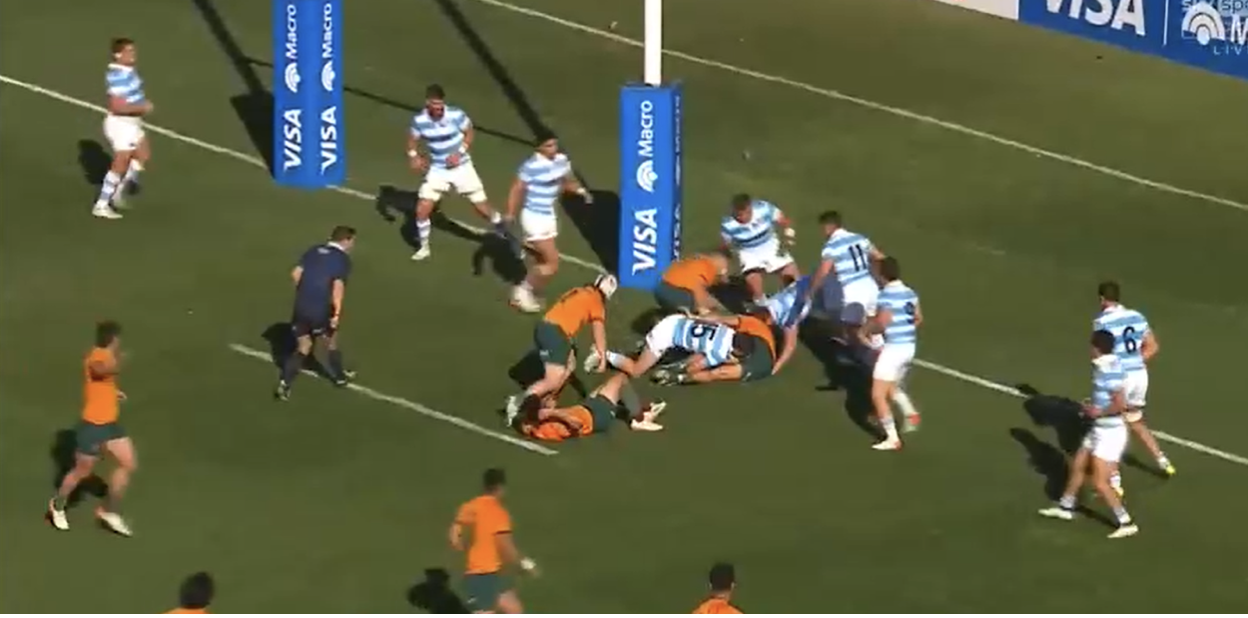 McReight's leg drive is strong, and he gets beyond Mallia. All Montoya can do at this stage is roll the ball carrier into an awkward position with the hope of slowing the ball down. With Mallia lay on the wrong side of the ruck, a legal jackal is unlikely, so Montoya opts to get lower than Nic White to counter-drive.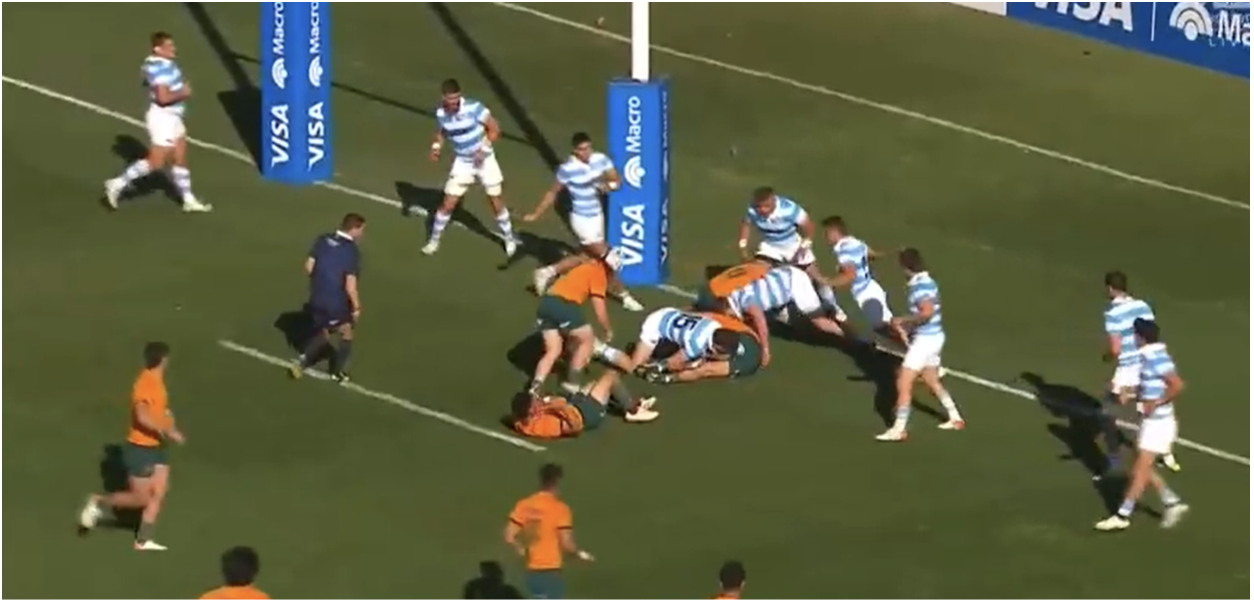 As such, he leans on McReight's back to gain some form of balance, and Nic White has no choice but to clear him out from the side – it's difficult enough for an 80kg scrum-half to clear a hooker out, let alone when Montoya's in such a good position, with McReight's body at an awkward angle. This makes it an obvious spot for the referee and White is penalised.
This second example comes once again in defence, this time from a maul in the 38th minute.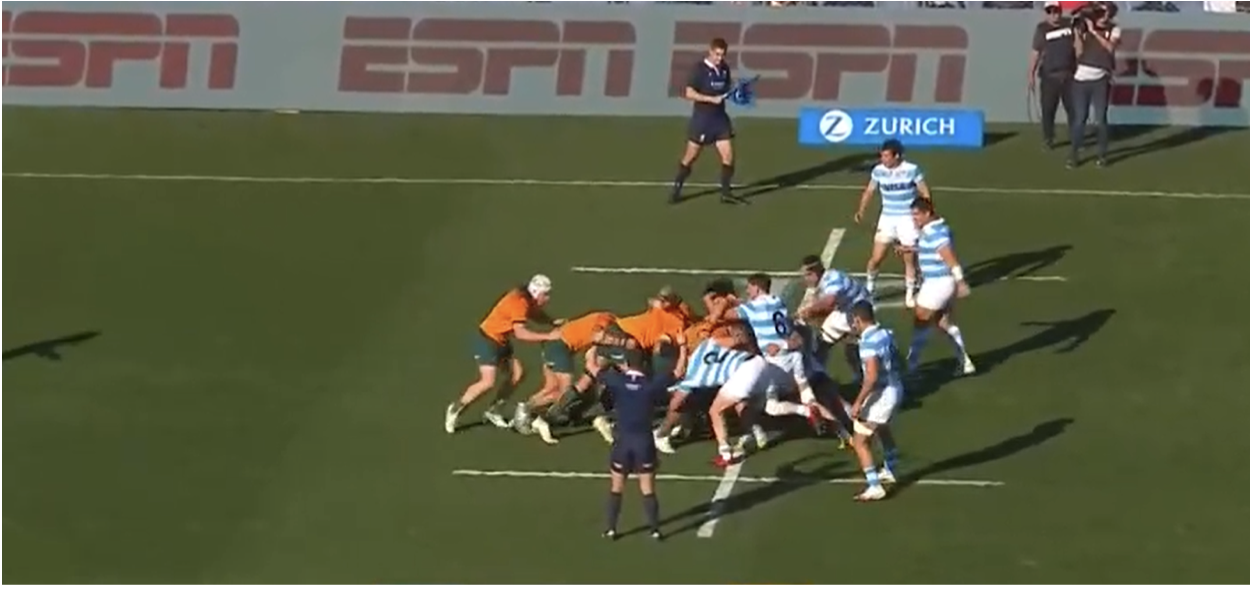 Montoya starts off as a lifter at the back of the lineout, on Australia's throw. As soon as his jumper returns to terra firma, Montoya enters the maul from the left-hand side at the back.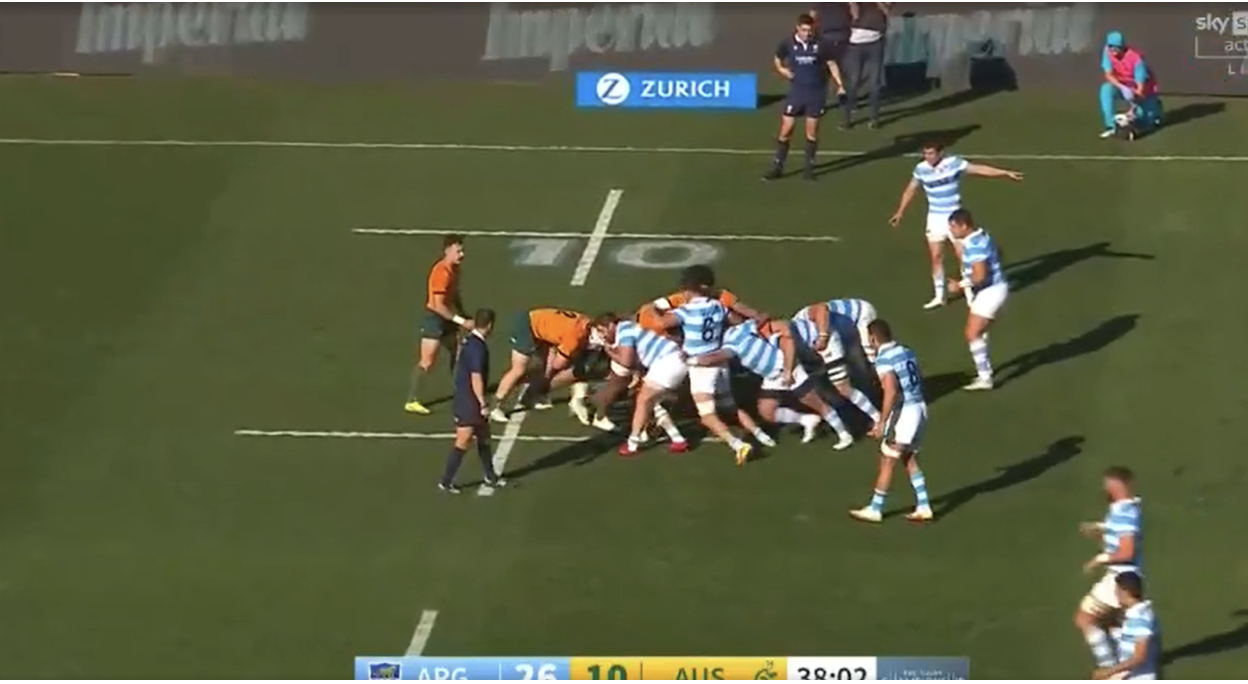 Australia don't look keen to attack his side of the maul, so as they creep upfield, Montoya stays almost completely stationary, meaning he technically hasn't 'swam' up the side of the maul, and is in close proximity to Folau Fainga'a with the ball in the drivers seat.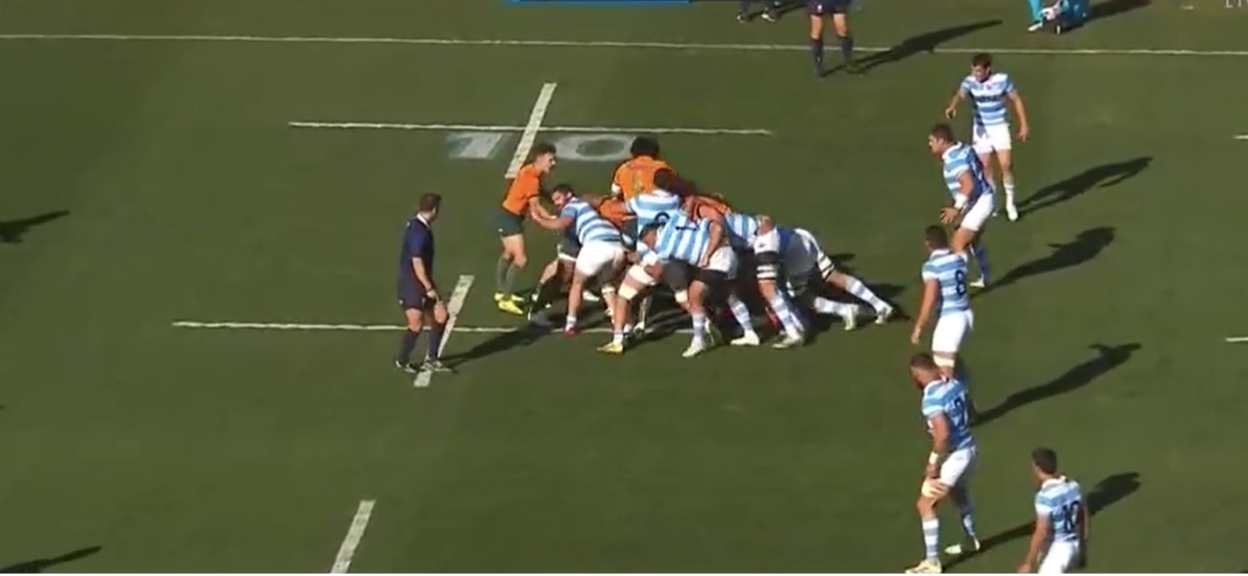 Montoya takes one small step inwards, but doesn't put his hands on Fainga'a whatsoever. He makes this clear by binding with one hand and putting the other in the air, looking at the referee the whole time. Given Australia threw to the back of the lineout, Montoya knows Argentina will have the blindside stacked with defenders, so he's happy for them to breakaway and attack the Pumas' big boys. Montoya doesn't make a tackle here, but he prevents the maul from getting going. The Wallabies are tackled just short of half-way.
This final example comes when the Pumas are in possession in the 42nd minute. The fact his team have the ball does not make the skipper any less crafty.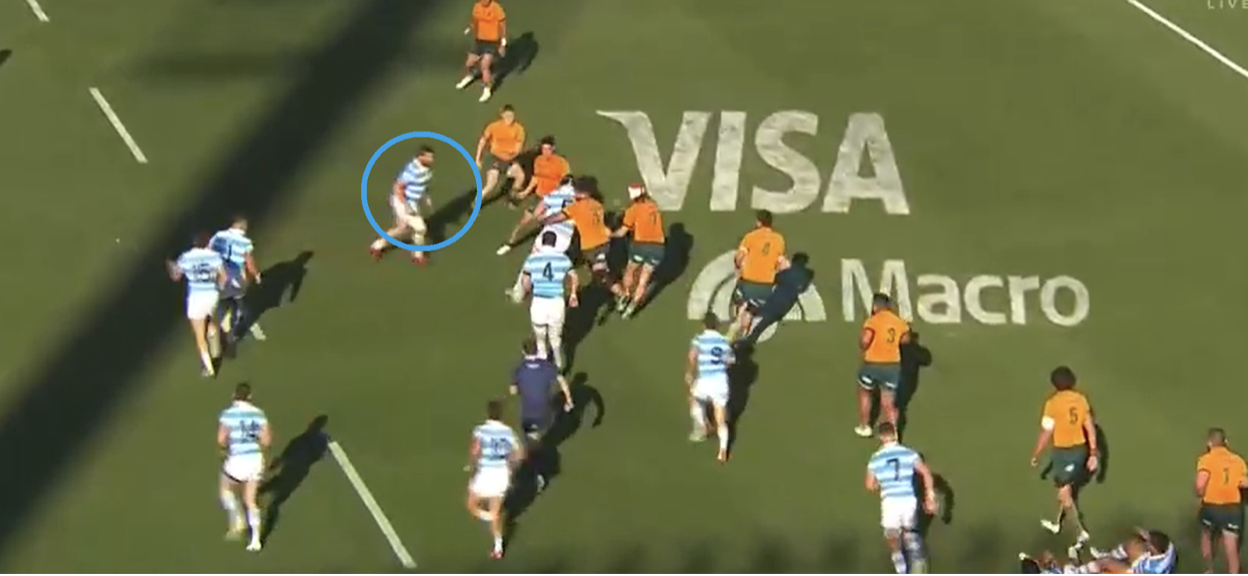 As Tomas Lavanini carries into contact, Montoya is running as his tip-on option. Rob Valetini's tackle on Lavanini is chest-high, but not dominant. Lavanini drives through the contact effectively.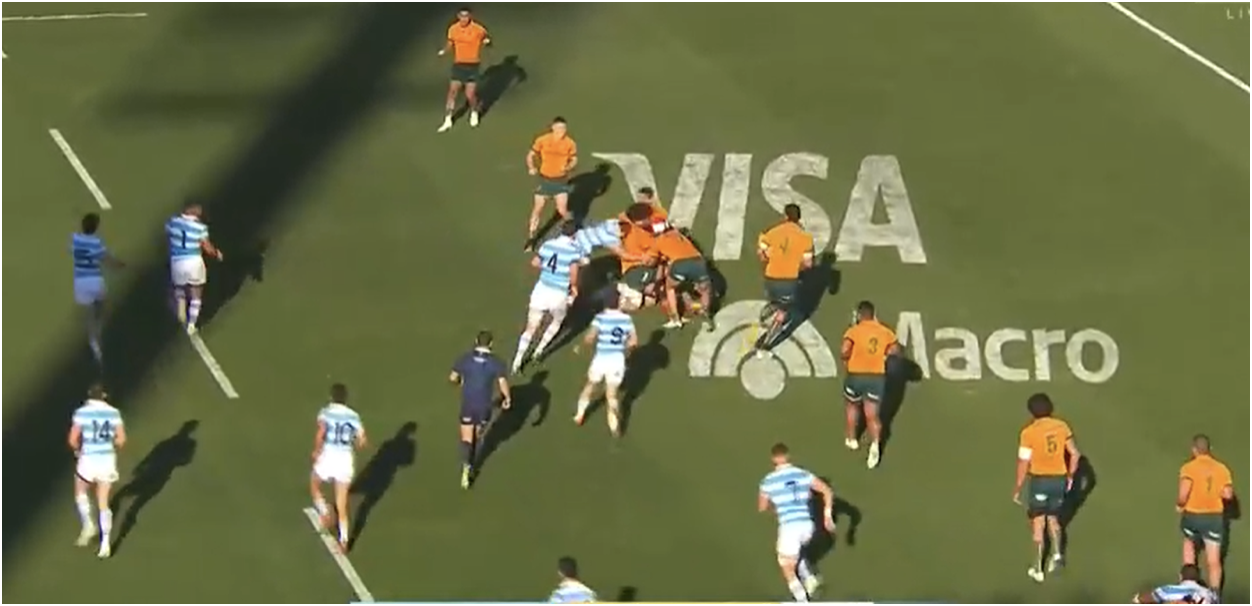 This isn't an overlap or a try-scoring opportunity for Argentina, so the fact Valetini's tackle wasn't low nor dominant means it is a mistake. Why, you ask? Well, because Julian Montoya makes it so. In the above image, you can see Montoya latch onto Valetini, whose body has twisted onto the other side of Lavanini. Montoya sees this as an opportunity to turn this into a penalty.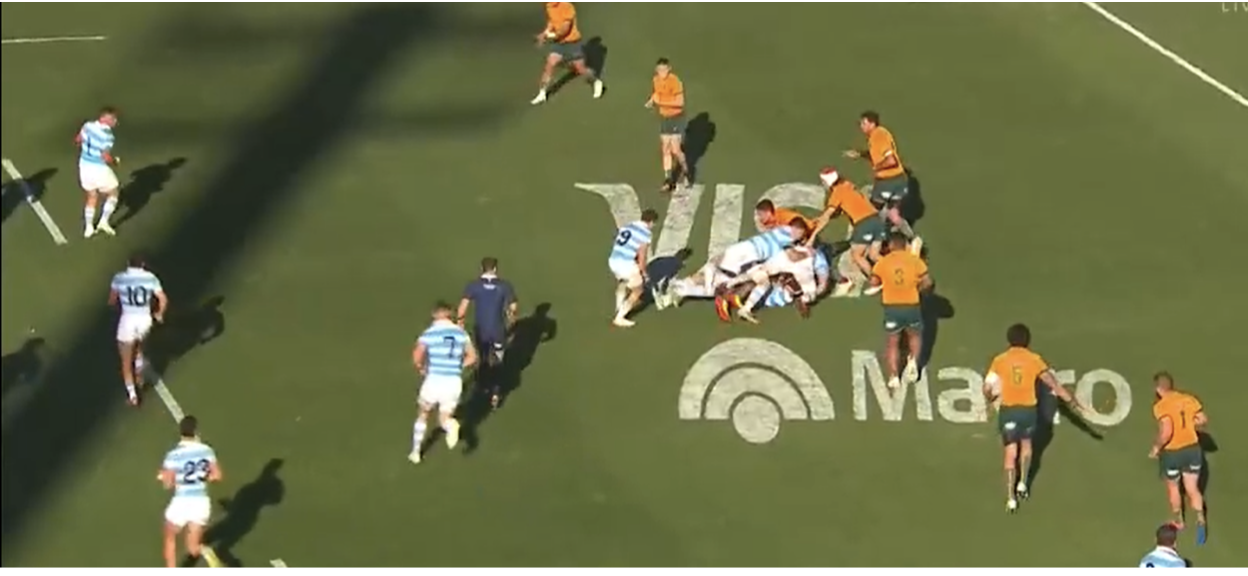 Montoya tackles his own man, Lavanini, with enough force to get him to the floor and land on top of Valetini. With 113kgs of Argentine beef on top of him, the Australian back-row forward struggles to roll away, granting Argentina a penalty. Montoya saw his lock carrying strongly and exposed the tackler being in a compromised position for a mere half-second, pinning him into the ruck. Really smart play by the captain, especially in an attacking set whereby the Pumas looked unlikely to make a line break. A penalty between the sticks near the opposition 22 will do just nicely.
So, what has changed about Montoya since he first broke into the Argentina team? He has always been a good tackler and strong ball carrier with a nose for the try-line, but as Borthwick has said, he always wants to improve. Montoya's transition from an energetic lightning bolt from the bench into a gnarled, seething starter has been seamless.
It's no surprise that Steve Borthwick and Michael Cheika both think so highly of a player who has mastered the dark arts over time like Montoya has. His form in the Premiership has been no secret to Tigers fans, but his ability to apply himself at international level is what makes him a truly world class character. It's safe to say the legacy left by Ledesma and Creevy is here to stick around for a few more years.