Back

By Russell Forbes
Why are Leinster so far ahead of the chasing pack?
The Leinster machine is revered the world over for its school development pathway, Academy structure and best-in-class first team squad. 
The four-time Heineken Cup winners, have scored more points than any other side in the United Rugby Championship and conceded the fewest, losing only one game, when understrength against the Bulls. In the Heineken Cup, they remain unbeaten, after swatting aside the likes of Gloucester, Ulster, Racing 92 and Leicester Tigers on their way to the semi-finals. They live and breathe their dream of adding a fifth star to their shirts on Saturday May 20, on their home patch in Dublin.
Their dominance is admired and coveted in equal measure, leaving many rivals to ask how they have done it. Of course, they are well-supported financially, but the forensic eye of Stuart Lancaster and Andrew Goodman on the training paddock, man-management skills of Leo Cullen and hard-worn experience of Robin McBryde and Sean O'Brien cannot be underestimated. Their players, too, are generational talents, seemingly able to cope without the iconic Johnny Sexton. The engineered system overshadows individual brilliance, it seems. Indeed, they are a beacon of excellence for others to follow.
In this article, Russell Forbes, former Performance Analyst for Wasps, pinpoints five areas where Leinster stand out above the madding crowd.
22 Conversion Rates
Despite the array of in-depth metrics that can be measured in rugby matches, success is often dictated by how many times a team can get into the opposition's 22 and how efficient they are converting these entries into points. The graph below displays the average entries into the opposition's 22 vs the average points scored from 22 entries, for each team in the URC, Premiership and Top 14, across all league and European games this season. Prior to their game against the Bulls in South Africa, Leinster averaged over 1.4 more entries per game than the next best team (Sale) and were third for the average points per entry with 2.7, behind Bulls (2.9) and Glasgow (2.8), however neither of these teams come close to Leinster's average entries (9.1 & 10.1 respectively).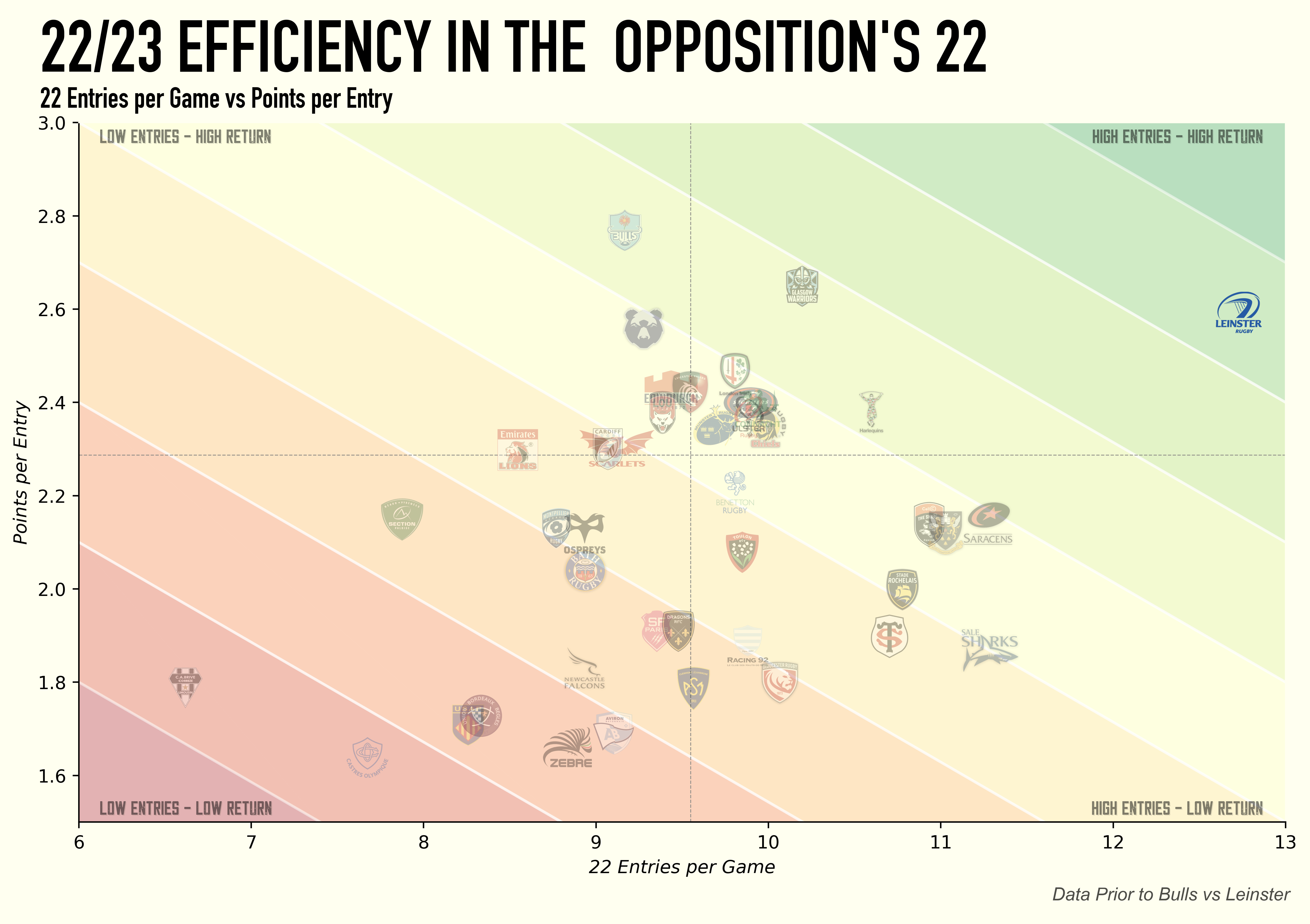 22 Entries by game
Getting into the opposition's 22 is just as important as keeping them out of your 22. Breaking down the differences between Leinster's 22 entries and opposition's 22 entries against Leinster by match, Leinster have a positive difference in 18/24 matches, with two of the negative differences coming on their recent tour of South Africa. Prior to their South African Tour, Leinster totalled 106 more entries into the opposition 22 than the opposition have had in theirs, an average of 4.8 per match. Furthermore, they have still won 4/5 matches that have had a negative difference.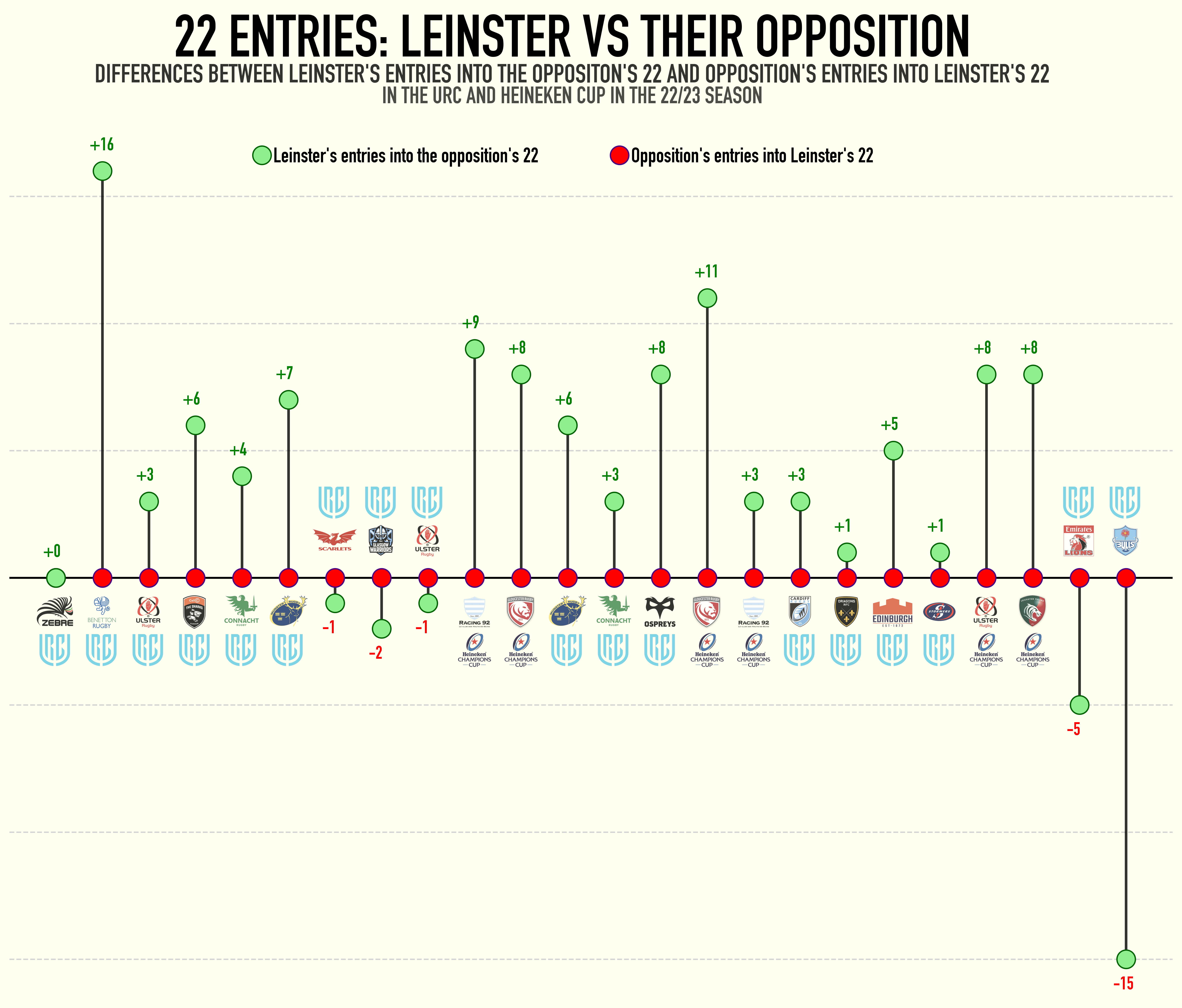 Winning margins
Not only do Leinster win the majority of their games (91%), but do so by a pretty substantial margin. Prior to their game against the Bulls, Leinster had the best average points difference of any team in the URC, Premiership and Top 14, with an average of +20.3, over double that of Toulouse, who had the next best points difference (+9.9). The graph below displays the average points scored and conceded by every team in the URC, Premiership and Top 14, ordered by the difference between the two. Leinster averaged 6.5 points more than the second-best team (Bulls) and conceded an average of one point less than Toulouse.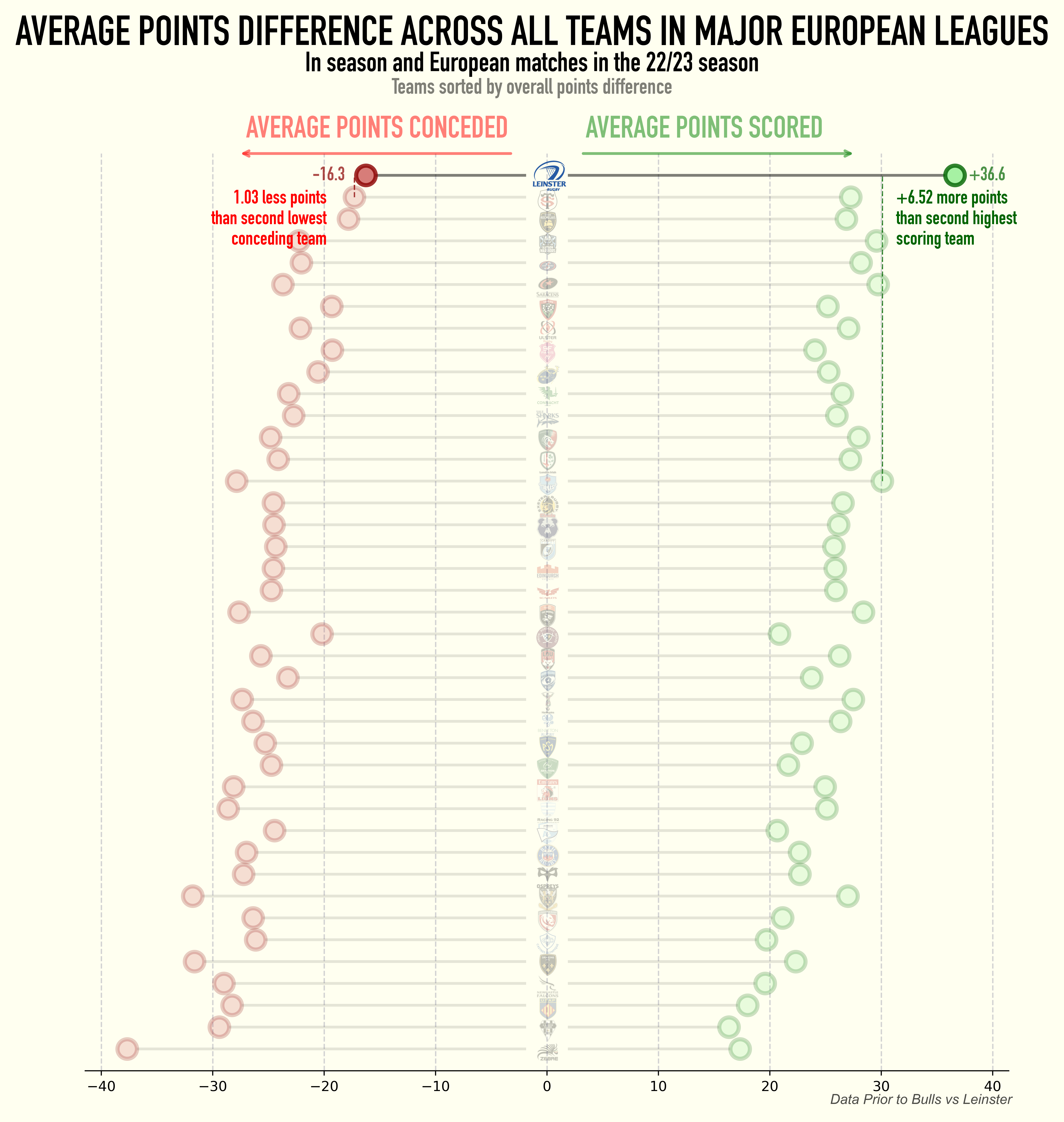 Points scored over 80 minutes
Breaking down Leinster's points scored and conceded over 80 minutes, the graph below gives the total points scored and conceded by Leinster in every minute of the 80, in all URC and Champions Cup fixtures this season. It can be seen just how strongly Leinster start games, as they are yet to concede a single point in the first 6 minutes of any game this season whilst scoring 79 in the process. The graph also highlights their ability to finish each half strongly, with their two highest scoring minutes coming in the last minute of each half, where they have conceded just 18.  They are perhaps weakest, relatively, in the opening five minutes of the second half, scoring just 15 points in this timeframe all season.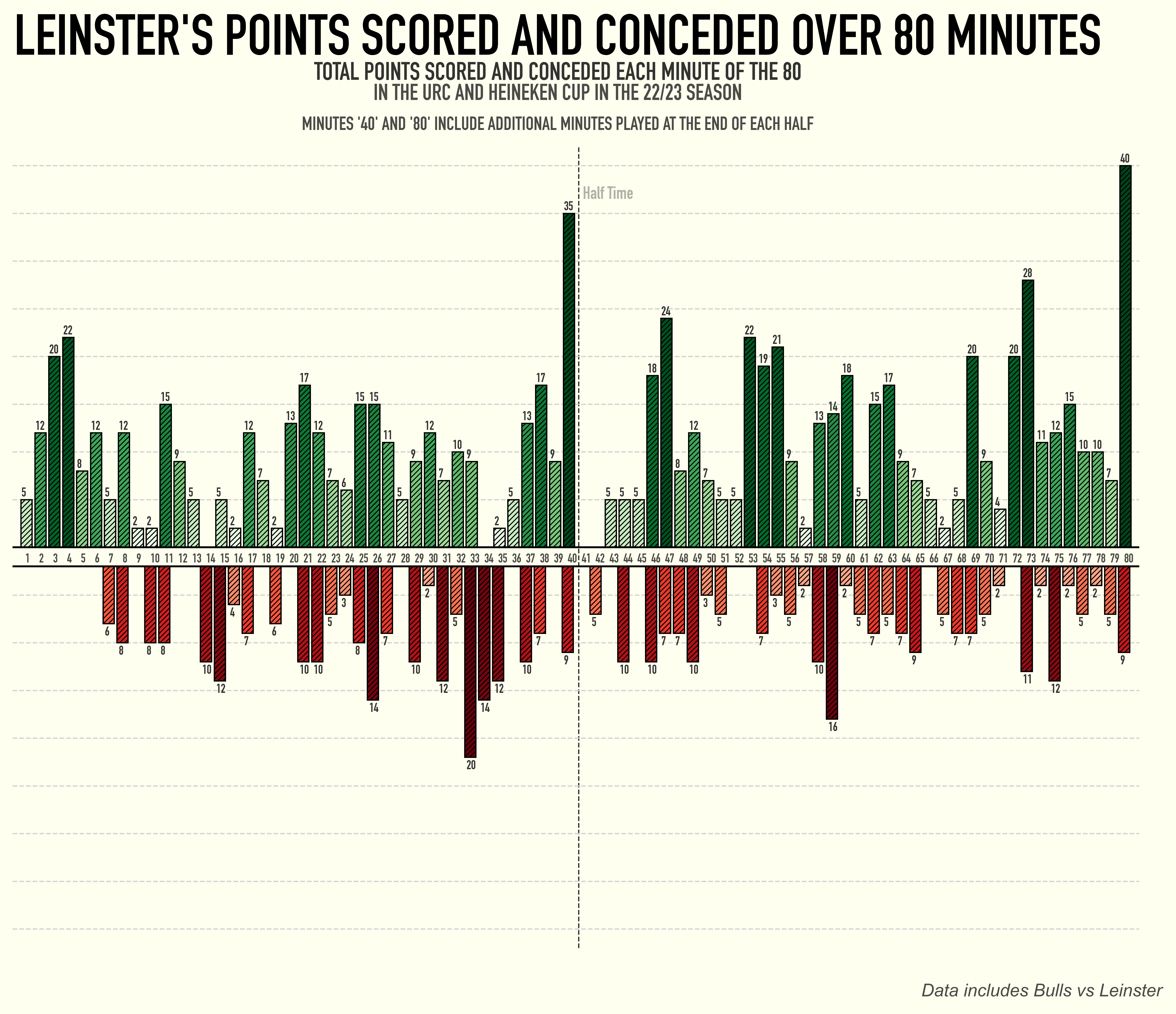 Squad depth
Leinster's squad depth is often considered one of their biggest strengths. The graph below shows the number of players used in League and European competitions so far by every team in the URC, Premiership and Top 14. Leinster sit joint top of this list (prior to their game vs the Bulls) with 58, although interestingly they sit alongside Brive, who are at the bottom of the Top 14 table and the club to use the second most players (Perpignan) are 13th in the Top 14. Although this suggests that a larger squad isn't solely associated with success, it highlights Leinster's ability to be able to successfully utilise their squad size and maintain their standards.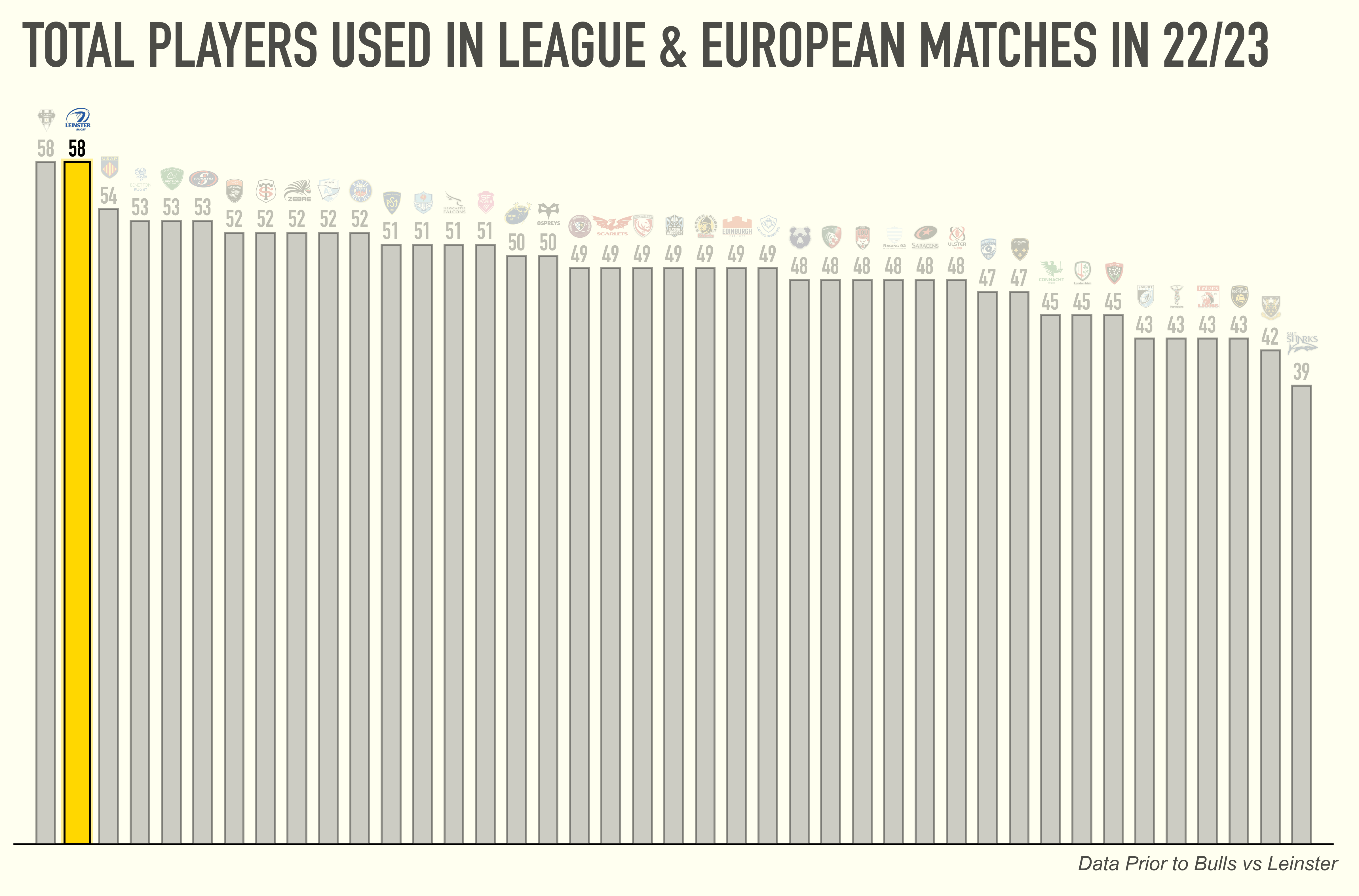 Leinster will use all their intellectual and physical prowess to unseat reigning European Champions, Toulouse as Antoine Dupont's all-conquering Toulouse seek to keep their Cup. It should be a match for the ages.