Back

By Gavin Mortimer
France get a case of the pre-World Cup jitters
Readers of a certain age will forever recall Gregor Townsend's chicken wing pass that sent Gavin Hastings in under the French posts in 1995. It was an age when such sleight of hand wasn't done, but Townsend's late moment of magic secured for Scotland their first Five Nations win in Paris since 1969.
"We never gave in and I'm very proud of everyone," grinned Big Gav after the game. "We had a good feeling about the game even though we weren't given much chance." 
Scotland repeated the feat four years later, with Townsend once more instrumental in the visitors' victory, one which incidentally secured them their last Championship title. 
This century hasn't been so propitious for Scotland in Paris. Just the one victory, in 2021, although they have beaten France in Edinburgh in three of their last four encounters. 
A fortnight ago the French wouldn't have had much fear about playing Scotland at the Stade de France on February 26. They went through 2022 unbeaten, extending their winning streak to 13 matches, stretching back to the summer of 2021. Confidence was high among the players and expectations building among the supporters that 2023 was going to be the year of the Bleu. 
So far the year hasn't gone to plan. It began with the resignation as FFR president of Bernard Laporte, convicted the previous month in a Paris court of corruption. He didn't go quietly, eventually pushed out by forces that even he was unable to resist. In-fighting has broken out among the sport's power-brokers in France, prompting one of those involved, Philippe Spanghero, to declare in an interview earlier this month that 'French rugby is on fire'.  
Against such a tumultuous backdrop, it was always going to require the utmost focus from the French squad if they were to successfully defend the title they won last year. They opened the campaign with a nervy win in Rome, edging out the Italians 29-24, the most points they've shipped against the Azzurri in the Six Nations since 2003.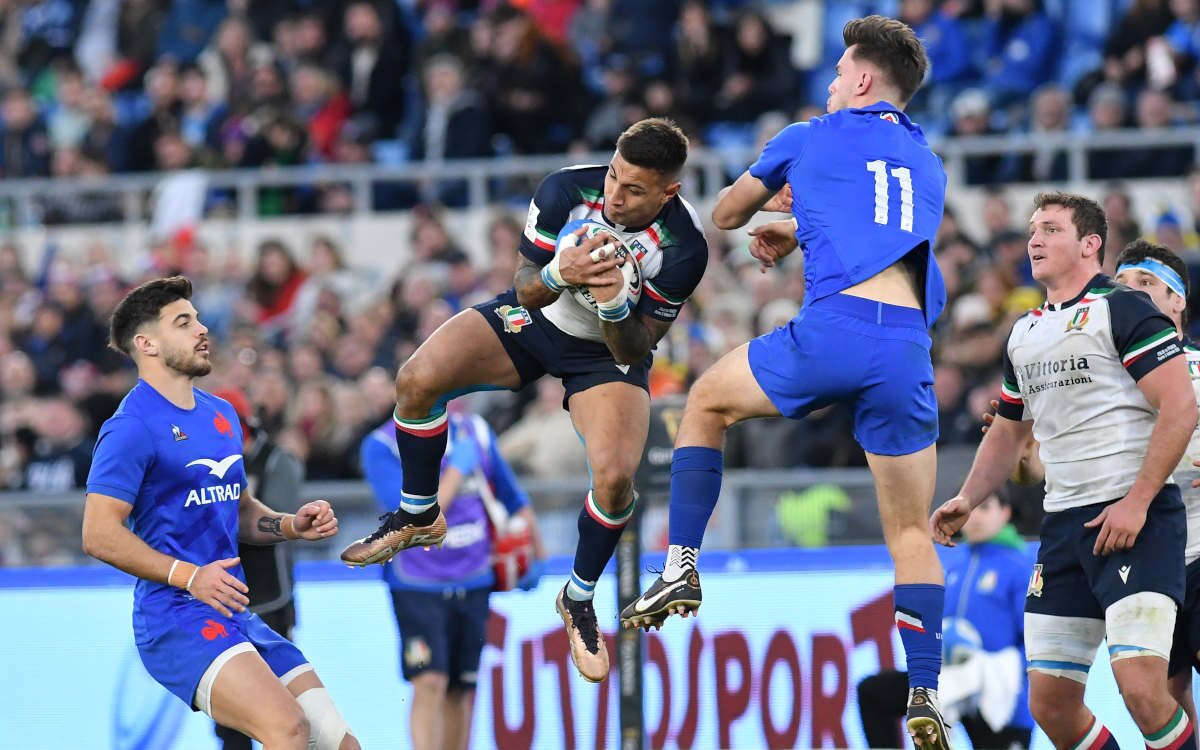 Captain Antoine Dupont was not impressed. "We'll have to try and be positive," he said after. "But there were more negatives than they were positives." 
Against Ireland there were even more negatives, not least of which was the fact that in losing 32-19 France had never before conceded so many points to an Irish side.  In winning the Grand Slam last season, France leaked 73 points in the whole championship; two games gone in 2023 and their 'points against' tally is 56. 
One wonders what France's defence coach, Shaun Edwards, makes of it. Anyone know the French for 'hair-dryer treatment'? 
Yes, this French team is enterprising, but there is a world of difference between being enterprising and being effective.

Olivier Magne
Three greats of the French game with 251 caps between them – Imanol Harinordoquy, Olivier Magne and Thierry Dusautoir – expressed their concern after the 32-19 defeat to Ireland. For Harinordoquy, defence requires the most urgent attention. "Our defence has become less aggressive, which makes us much less dominant at the breakdown…when you're on the back foot defensively, it's hard to get your hands in the ruck," said Harinordoquy. 
Olivier Magne, on the other hand, had no complaints about France's defence. What furrowed his brow was the "lack of offensive creativity". True, he said, Damian Penaud did score a magnificent try but that was an off-the-cuff counter-attack. "Yes, this French team is enterprising, but there is a world of difference between being enterprising and being effective," said Magne. "We lack efficiency when we have the ball. Look at Ireland. They are very efficient offensively, they are better than us when they have the ball…They've got some great moves, some great combinations. I'd like to see more moves like that from the French side."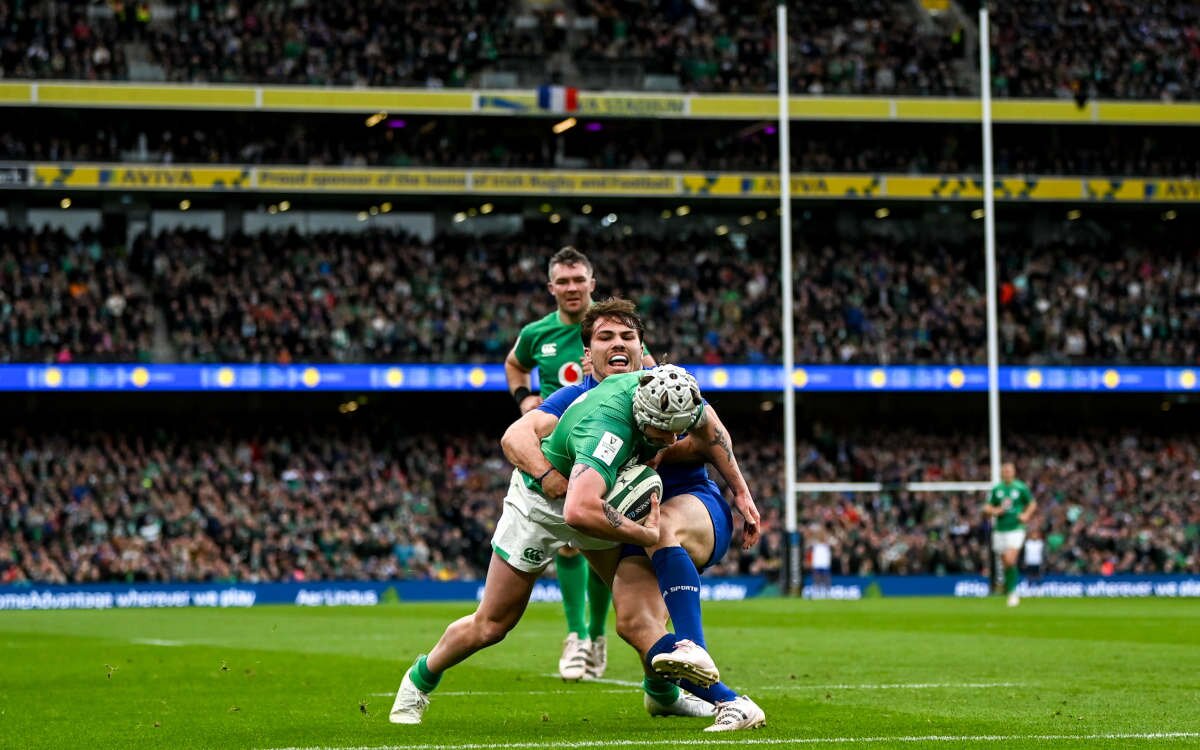 France have been predictable in attack in the last two matches; they were easily read by Ireland, and easily contained. Magne said he was particularly "disappointed" by the half backs, by which he really means Romain Ntamack. The Toulouse fly-half was criticised in the November internationals for being slow in thought and deed; he kept his place ahead of the Bordeaux 10, Matthieu Jalibert, a player more in the mould of Scotland's Finn Russell. Jalibert is a better footballer, he sees what is on quicker than Ntamack and he's got the nerve to give it a go. Ntamack's greatest flaw is his conservatism. 
Thierry Dusautoir was lavish in his praise of Ireland, who played with a pace and precision that impressed the former French captain. France aspire to this level but, according to Dusautoir, their success last season was built on how well they played without the ball; this year they're trying to evolve to play more with the ball. "France are therefore embarking on a different kind of rugby, seeking to develop their game towards more possession," he explained. "But as we saw in Dublin, they're lagging behind other nations who have been carrying the ball for longer, notably Ireland." 
No one has looked more jaded so far in the Championship than La Rochelle No 8 Grégory Alldritt. He has played 1,030 minutes of club rugby this season; Caelan Doris, has 544 minutes on the clock for Leinster
What has also troubled the French pundits and press is the health of the squad. "I felt several players were very tired," said Harinordoquy. "Some of them ran out of gas very quickly, which was not the case before." 
No one has looked more jaded so far in the Championship than La Rochelle No 8 Grégory Alldritt, who appeared physically shattered when he was replaced 11 minutes into the second half against Ireland. Alldritt has played 1,030 minutes of club rugby this season; his opposite number last Saturday, Caelan Doris, has 544 minutes on the clock for Leinster. "I'm very worried about him," said Aubin Hueber, the former national scrum-half, who coached Alldritt at France U19 level in 2016. "He's burnt out, you can feel it."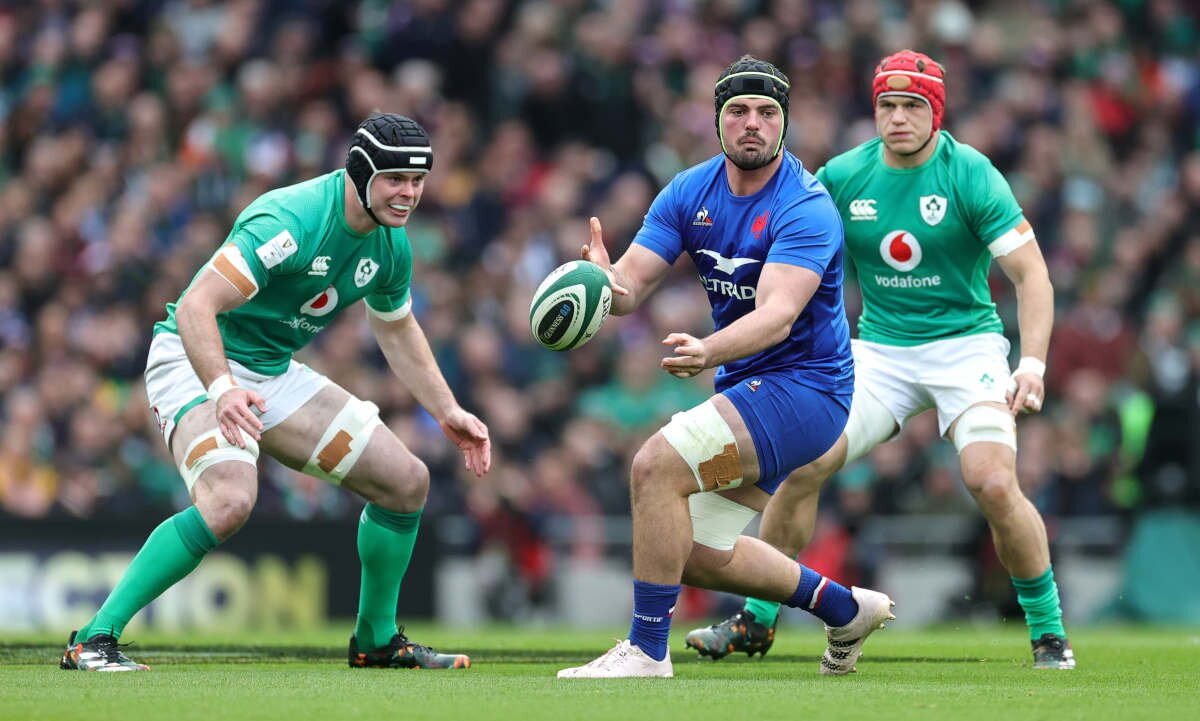 It wasn't just the defeat at the Aviva Stadium that rocked France, it was the manner of the loss, the realisation that they were second best in every facet. "I never felt that the French team was capable of winning this match," said Dusautoir. "For an ambitious team, that shows they still have a lot of work to do." 
But not much time in which to do it. After beating world champions South Africa in November, the feeling in France was that the World Cup was a foregone conclusion. Now they're not so sure. The Scotland match will be pivotal. Win well against Townsend's boys and confidence will surge once more, but defeat will unleash those familiar French demons of doubt six months before the start of the tournament.  
Scotland don't play with quite the same telepathic intensity as Ireland but, to paraphrase Dusautoir, they've 'been carrying the ball for longer than France'. They are comfortable and confident in attack and defence, and in Finn Russell they have the in-form fly-half in world rugby. "Finn Russell at the top of his game," was last week's headline in Le Figaro, the French Daily Telegraph. According to the paper against Wales he was "almost unplayable". The only sliver of comfort for the French journalist was that as he's shown for Racing 92 Russell is "capable of the best and the worst". 
France will be praying Russell has one of his off days on Sunday week. If he doesn't, if he brings his form of the first two matches to Paris, then Gregor Townsend may once more be celebrating in the French capital.