Back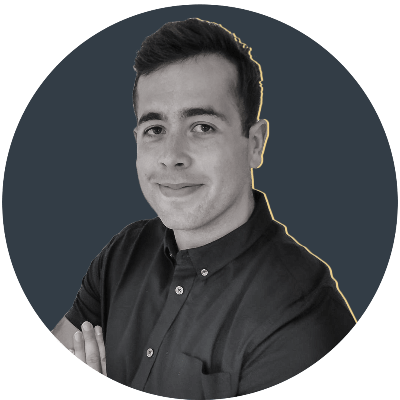 By Jamie Lyall
Family guy
Family is an omnipotent theme in the life of Juan Imhoff. Racing 92's predator on the wing talks about his father, Jose Luis, with a heartfelt reverence, the love of his five siblings and the gilded life he has cultivated in Paris with his wife, Natacha, and Bastian, their one-year-old son. He has forged bonds with his Racing brothers as deep as any blood relative.
Imhoff's story begins in Rosario, the heaving metropolis on the eastern edge of Argentina, under his parents' tender gaze. Jose Luis is a totem of the city. He won caps for the Pumas in the 1960s and coached the national team three decades later. He gave debuts to modern-day Argentine icons, many of whom went on to become skilled coaches – Felipe Contepomi, Gonzalo Quesada and Mario Ledesma – and as a widely respected cardiologist, once held the position of Argentina's health minister.
At the end of your life, he told us the most important thing is not how many medals you get at your funeral, but how many people will be there.

Juan Imhoff on his father's advice
In his 80th year, Jose Luis still commits long, sweat-drenched hours to the operating theatre, striving to make a difference to his country and his people. To his four sons and two daughters, he was a disciplinarian and an inspiration – and the imprint he has left on them is indelible.
"My father is hard work, hard work, whatever he does," Imhoff junior tells The XV. "Today, he will spend hours trying to be better and better. At the end of your life, he told us the most important thing is not how many medals you get at your funeral, but how many people will be there.
"He was really important in my city. We grew up with this family name and a heavy load in terms of values. When we were young, we were not allowed to go out and drink alcohol or whatever, but now they are my values that I'm really proud of and I want the same for my kids.
"I am so lucky to have him in my life because he is the kind of guy who sets examples through actions and words, and I try to do the same with my job in rugby. I'm just the result of what my family did."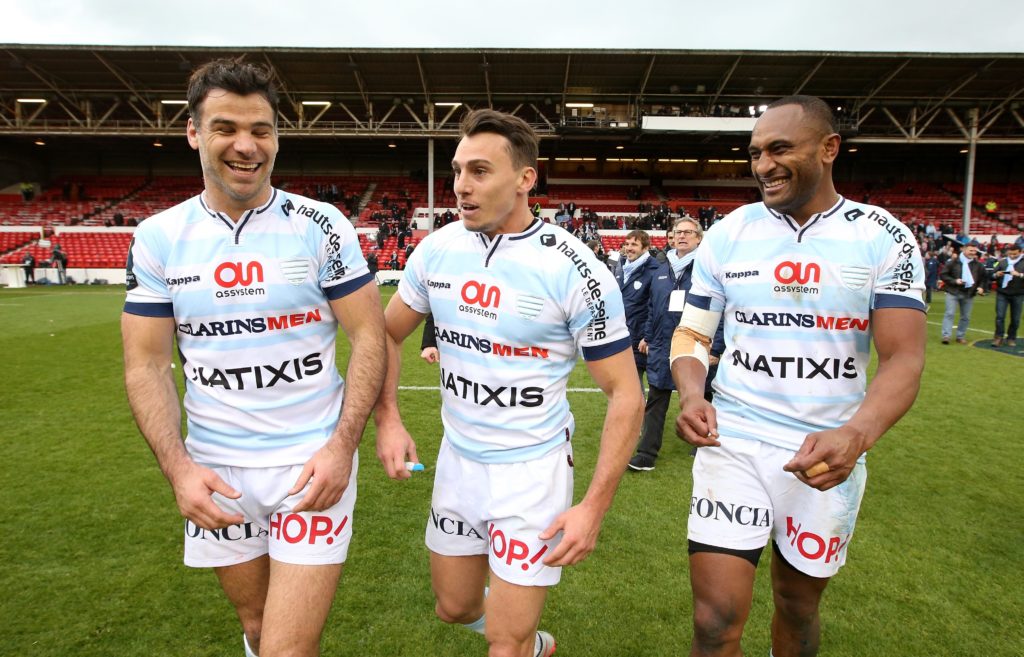 Next year, Imhoff will have spent a decade in France. At the age of 23, his 2011 move from Argentina to Racing was the fulfilment of a deep-rooted childhood dream. He has embraced the people and the culture and, fittingly, has been granted French citizenship.
Jacky Lorenzetti, the flamboyant club president, gave Imhoff an apartment in the heart of the capital with arresting vistas across the Parisian skyline. Again, Jose Luis's influence shines through like a beacon.
"My dad told me as soon as I signed, 'Before you go there, I want you to learn the culture, the history of the country and the history of the club'," said the 32-year-old.
"My father is quite hard like this. As soon as I arrived, I liked to talk with people and know the culture. I learnt French as soon as I could. I said to the president, 'I want to live like a real Parisian, let me live close to the Eiffel Tower'. Now I feel half French."
For an age now, success has been building within this grand rugby institution – the steady inward flow of talent meshing together in a mosaic of rugby expression; the construction of a stadium that is part-nightclub and part-cinema; the Top 14 title clinched in 2016 inside a pulsating Camp Nou.
To win a Champions Cup is the only thing that Racing are missing. To be like a world champion. To get the respect of the whole world.
In a sporting sense, Europe is the last realm to be conquered. Twice, Racing have made the Champions Cup final and, twice, they have been repelled. Tomorrow's seismic showdown with Exeter Chiefs is a gilt-edged chance to be anointed kings of the continent, and for Imhoff a tangible prize to the people of the club.
"It's like a real family," he says. "The kitman, he's stressing even more than us. He really wants it. Instead of extra pressure, it's extra emotion, you can harness that. From the guy playing, to the guy not playing, to the receptionist on the front desk, we all want the same – a star on the jersey.
"To win a Champions Cup is the only thing that Racing are missing. To be like a world champion. To get the respect of the whole world. It's a huge moment for the club.
"The love I have for this club won't change if we win or not. I already wrote a page in the Racing book, so I am really proud of what the club are. Of course, if you ask me, I would give my life to win the cup on Saturday."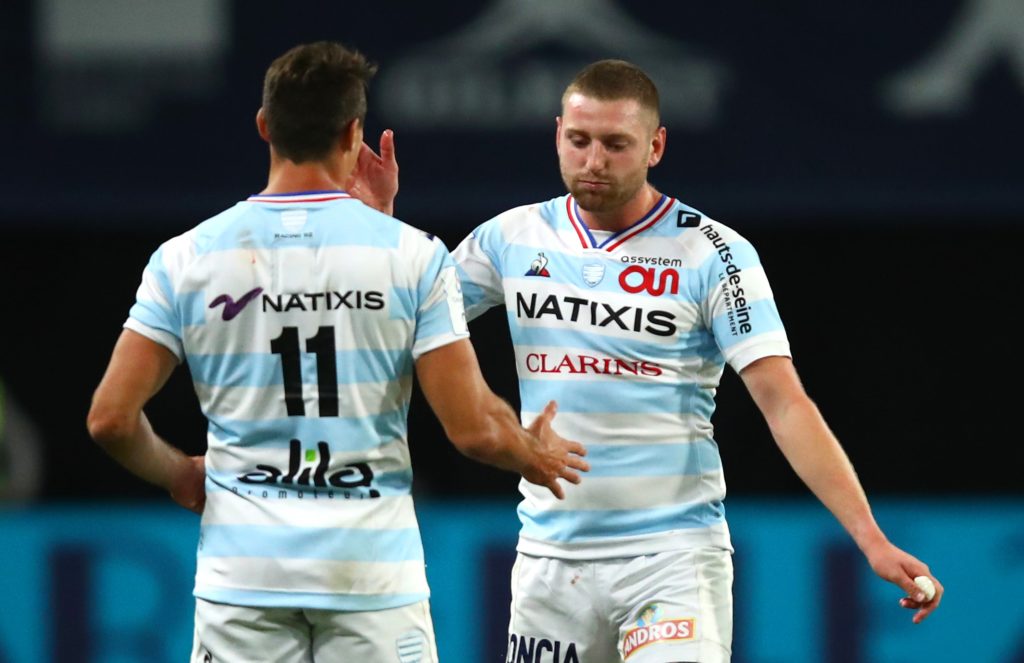 So much of what Racing do centres on their Scottish fulcrum. Finn Russell is probably the form fly-half in the game, his wizardry on the field the result of prodigious talent and graft off it.
Russell plays in a backline of rock stars, from the outrageous Virimi Vakatawa to Teddy Thomas, the languid speedster on the opposite flank to Imhoff. The Scotland star rakes around in his bag of tricks and produces killer plays, hypnotic moments, like the delicate chip from which Imhoff galloped home for the late semi-final try that sunk Saracens.
"Finn impresses me every day; he surprises me every day," says Imhoff. "I can't describe him… he is everything and nothing in the same moment. He is some guy. I love him.
"We talk about honesty – he is 100 per cent honesty. He is a good man, a passionate man, and even though he jokes, he works so much. It is true that he is one of the best fly-halves in Europe because of his mind. He has the ability to adapt himself."
Russell may be the pivot point, but Racing's game is underpinned by muscular forward carries, vicious breakdown scrappage and the unstinting efforts of Imhoff and others to cut piercing lines off the playmakers.
If Russell is the spear shaft, Imhoff is its razor-tipped prong. In 191 games for Racing, he has scored 89 tries. He is a brilliant finisher with the work-rate of a caffeinated beaver. And he knows that by tracking Russell, like seagulls in the slipstream of a trawler, the points will follow.
He is a black box, you don't see what is inside, but inside there are plenty of opportunities.

Juan Imhoff on Racing and Scotland fly-half Finn Russell
"With Finn, we call it in Spanish, 'an opportunity box'," said Imhoff. "When Finn Russell has the ball, make sure you are close to him – 1m, 2m maximum. The same if Vakatawa has the ball.
"Me, I'm not that talented, I just work hard. I know I can work hard to be beside Finn every single time. He is going to say, 'Yeah, sometimes Juan is quite heavy, yelling, 'Finn! Finn! Finn!' His job is to make opportunities for us to score, and I found someone really special.
"He is a black box, you don't see what is inside, but inside are plenty of opportunities. I don't need to play the game of my life, hand-off someone, step someone, put in a little chip and score – just be close to Finn and you will score, and it's much easier."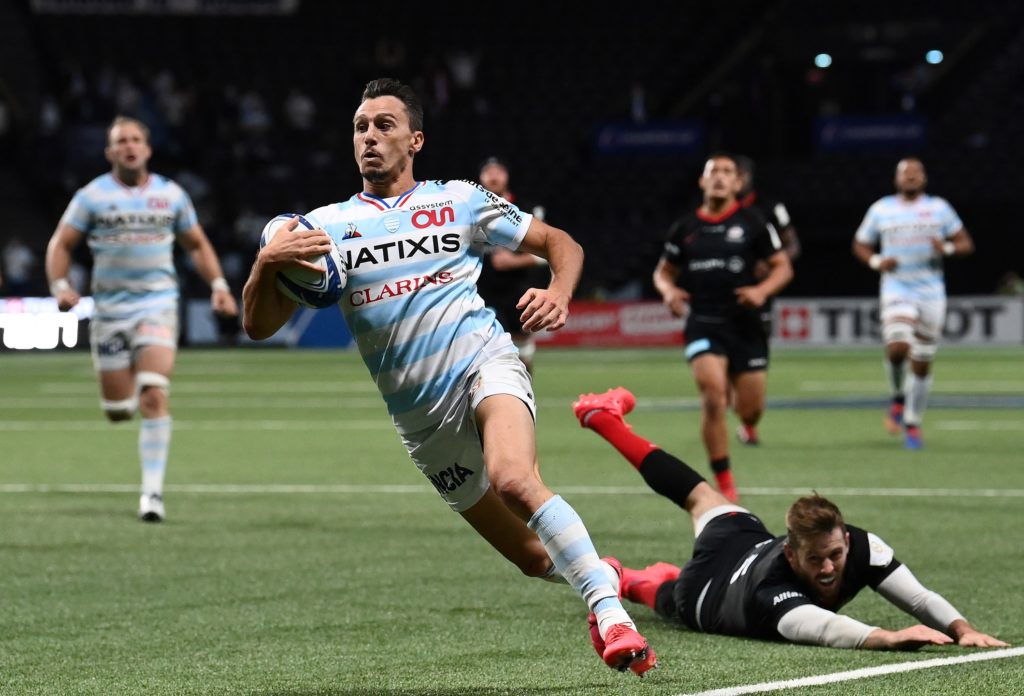 These past few weeks have been exhilarating and exhausting. After the joy of the semi-final, Imhoff and his wife contracted Covid-19 and, for four days, the winger was stupefied by the full brunt of the symptoms. A rasping cough, fever, crippling fatigue, no smell, no taste – the Full Monty. At one stage, he feared his place in the final was in jeopardy.
"For two days, I was really scared," he says. "Then the doctor said I could play the final. I'm almost at 100 per cent capacity now."
In the middle of it all, a precious bolt of delight. Ledesma selected Imhoff in his Argentina squad for the upcoming Rugby Championship.
Five long and agonising years have passed since his last involvement with the Pumas at the 2015 World Cup. For a time, Argentina would not select overseas-based players, but even when that rule was lifted, Imhoff was left out of the squad that went to Japan in last year's global showpiece.
I will go there with a knife between my mouth and give it my best.

Juan Imhoff on his international recall for Argentina
"Every time they didn't call me, I took it as my fault because I'm not good enough," he said. "Every single list they made, I said if I'm not there, it's because I don't deserve it. Maybe I was hard on myself but, because I took it like this, I could improve and keep growing and keep thinking positive.
"If I keep doing that, then maybe I will be there. If they call me or not, I gave everything to be there. Now, instead of just being really happy – which I am – I feel a huge responsibility.
"My father has told me to make the first cap with Argentina is really hard. But to come back is even harder. I have been fighting for that for five years.
"Now, I'm thinking about Racing, but after Saturday I will be thinking about how I'm going to fight for a place with the young fellas. I will go there with a knife between my mouth and give it my best."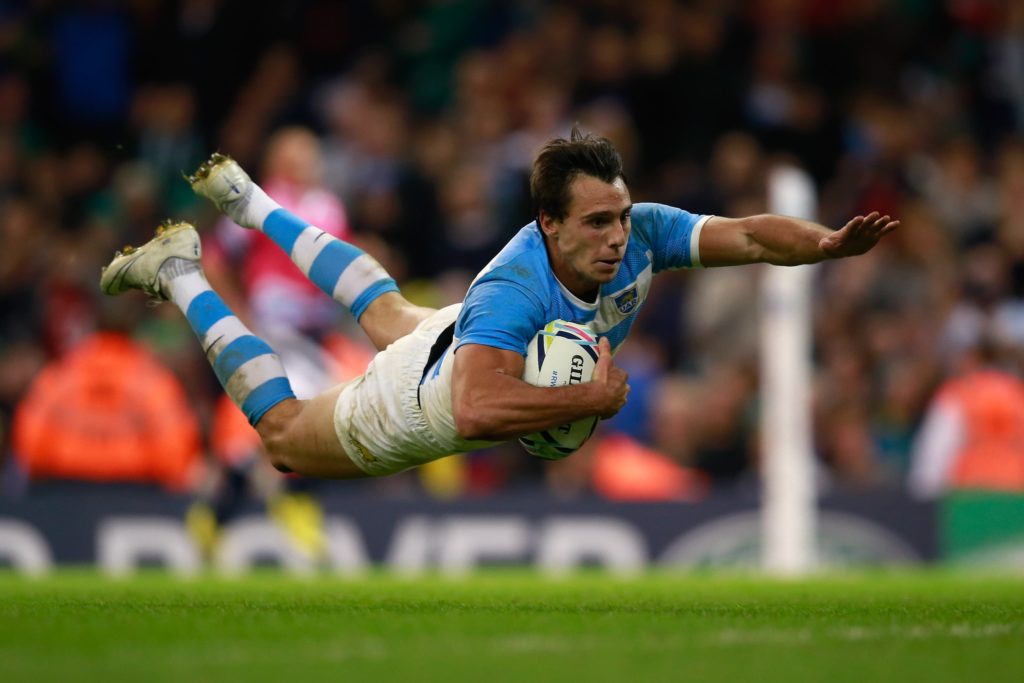 The day after the final, Imhoff will board the plane for Australia and the Pumas. If, by then, he has a winners medal tucked in his pocket, he has pledged to arrive in camp wearing his Racing gear.
Back in Paris, Natacha and little Bastian will be beaming with pride regardless of the result. The lessons learnt from Jose Luis will be prominent in his mind.
"I don't want to be a copy of my father, not at all, but I will take a lot of things from him and I will try to do what he told me," said Imhoff.
"His goal wasn't to make a rugby player. When I said, 'Are you happy? You have six children, and just one of the four brothers made it in terms of rugby', he said he wasn't happy with what I'd achieved in rugby, but happy that all six of us grew to have the same values of honesty and hard work.
"My brothers say the same as me – they work hard, they will be honest, they will not cheat – and my father made us like that. Before, he wasn't emotional – never. One of my brothers always says that my father doesn't know how to kiss someone. But now he is older, he is much more emotional and he says words that really touch your heart."
An apt tribute indeed to this colossus of cardiology. Whatever happens against Exeter, Imhoff will be drenched by the warmth of his people, propelled towards triumph by a heart of love.
If you've enjoyed this article, please share it with friends or on social media. We rely solely on new subscribers to fund high-quality journalism and appreciate you sharing this so we can continue to grow, produce more quality content and support our writers.