Back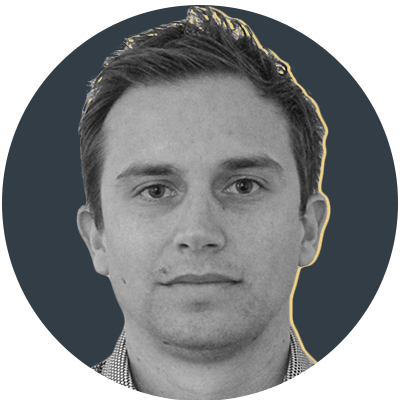 By Ben Smith
Evolution of Hogg
On the last Lions tour of New Zealand in 2017, many had picked Scotland full-back Stuart Hogg as the first-choice option at the back for Warren Gatland's Test team.
He had just won the Player of the Tournament in the Six Nations for the second time in a row, dazzling for Scotland as a broken-field runner that routinely danced out of tackles and ripped through defences on kick returns. At 25 years old, he was at the peak of his athletic powers, ready to fight fire with fire against the high-scoring All Blacks.
His tour would be cut short after a freak collision with team-mate Conor Murray broke his cheekbone in the exhibition match against the Crusaders, making Gatland's choice at No15 to play the All Blacks a lot easier.
Liam Williams was picked for all three Tests and played a critical part in the drawn series, while Hogg flew back home before a Test had been played.
Four years later, Hogg is back in contention for the Lions again, this time as a completely different player to the one that hopped on the plane to New Zealand, and will be challenging Williams for the Lions full-back role.
The Scotland star's game has undergone a vast evolution since then, transforming Hogg once again into a game-changer but in a completely different way to his younger years.
This Hogg is a much more composed tactician, a well-rounded player with balance in attack and with far more influence over his side's game-management.
Nothing illustrates Hogg's transformation more than the volume of passing that he is now undertaking in Scotland's attack. Since 2017, Hogg's balance of passing as a percentage of his total touches has increased dramatically.

As the Player of the Tournament in 2017, Hogg was a run-first full-back used to making big plays and opening up a defence but rarely passed, with just 15 per cent of his touches resulting in promotion of the ball.
As Hogg has matured with age, his role within the team has changed and his pass-rate has exploded in the past two seasons, reaching approximately 65 per cent in 2021. He now passes the ball more than he kicks or runs.
One big reason for this increase was the absence of Finn Russell in 2020 from the Scotland side. At the same time, his shift to English club Exeter Chiefs at the domestic level also appears to have influenced his playing style.
Without Russell last year, Scotland promoted Adam Hastings into the starting role, which prompted a shift in thinking to allow Hogg to shoulder some of the first-receiving load off the younger fly-half.
This partnership began to flourish and the pair seemed to find balance very quickly. Having Hogg available to step up into first-receiving duties allowed Hastings to play his natural game and attack the line, knowing that Hogg would take over should he be tackled.
The two formed a very harmonious partnership that gave Scotland an efficient 1-2 punch that was low on errors and executed very well, most notably against France at Murrayfield, where they combined on a number of Scotland's tries.
This year we saw a continuation of this role for Hogg, who even started a Test at fly-half against Italy, and moved to stand-off on occasion when required in other Tests.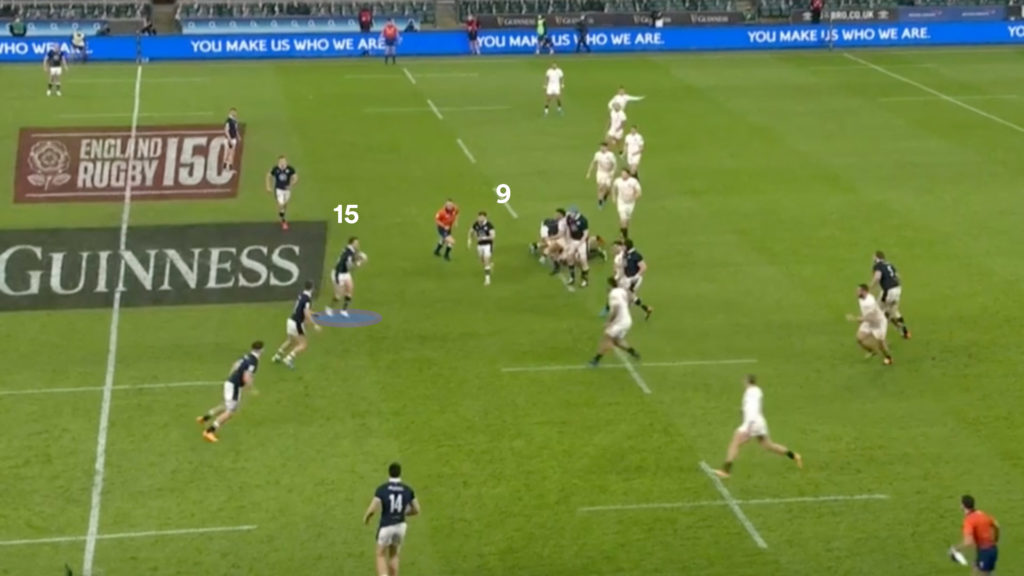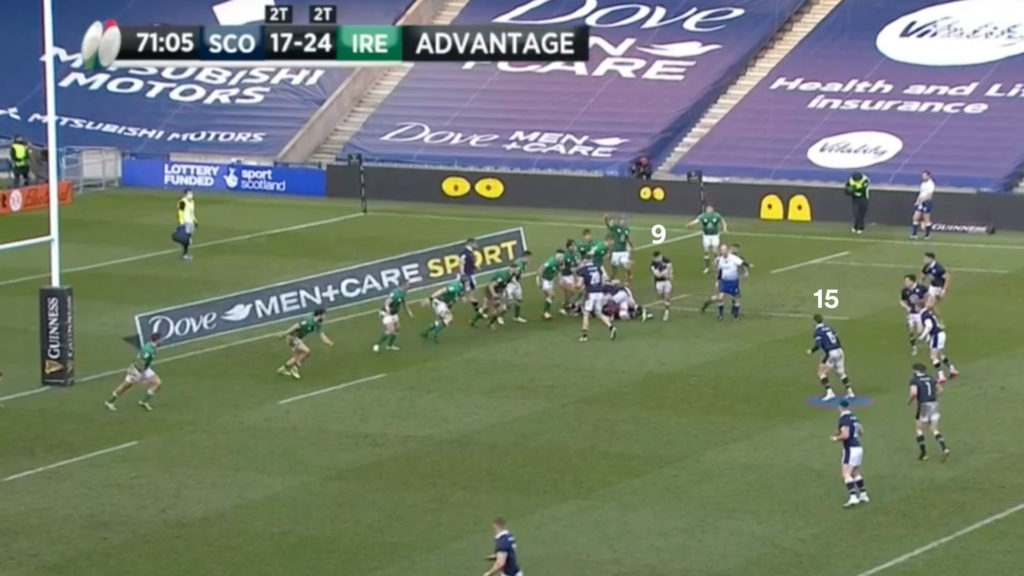 Scotland have integrated more plays around Hogg as a passer in their attacking system as his style has changed.
Against Wales below in this year's Six Nations, the full-back is set up deep outside Russell for a play structured around Hogg as a second-receiver, playmaking option.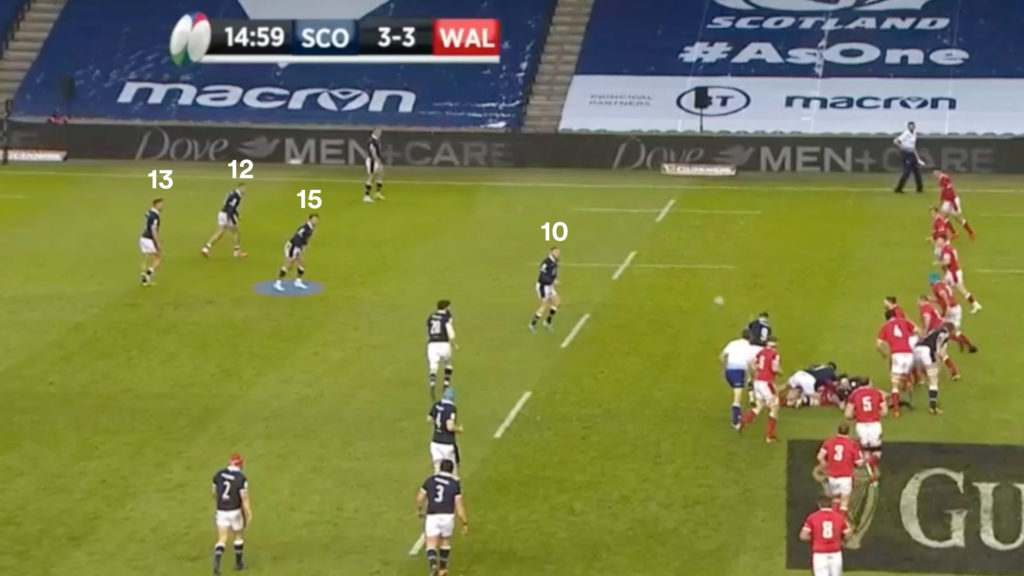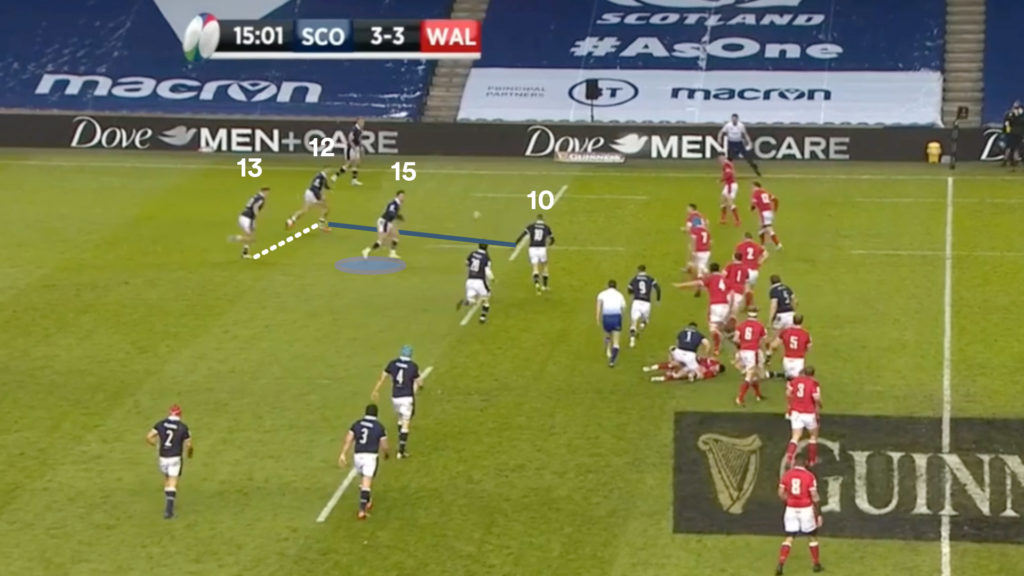 Russell delivers early ball to Hogg, who brings pace on to it as the primary playmaker and gives the cue for the timing of the running lines of his midfielders. They hit Wales with a simple screen play with an overs/unders line combination on the right edge.
Hogg plays outside-centre Chris Harris (13) out the back for a half-break down Wales' edge once he sheds the tackle of Nick Tompkins.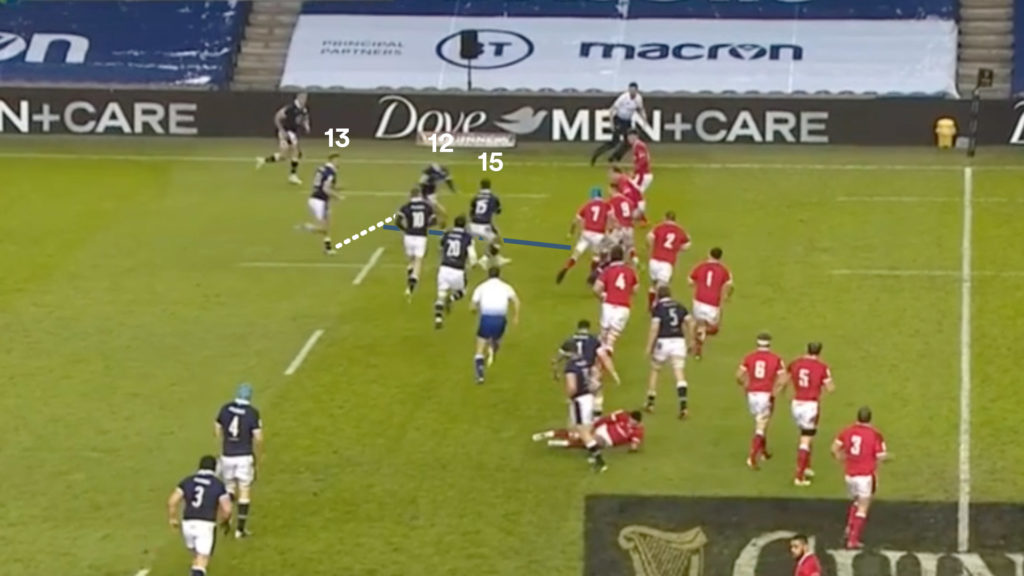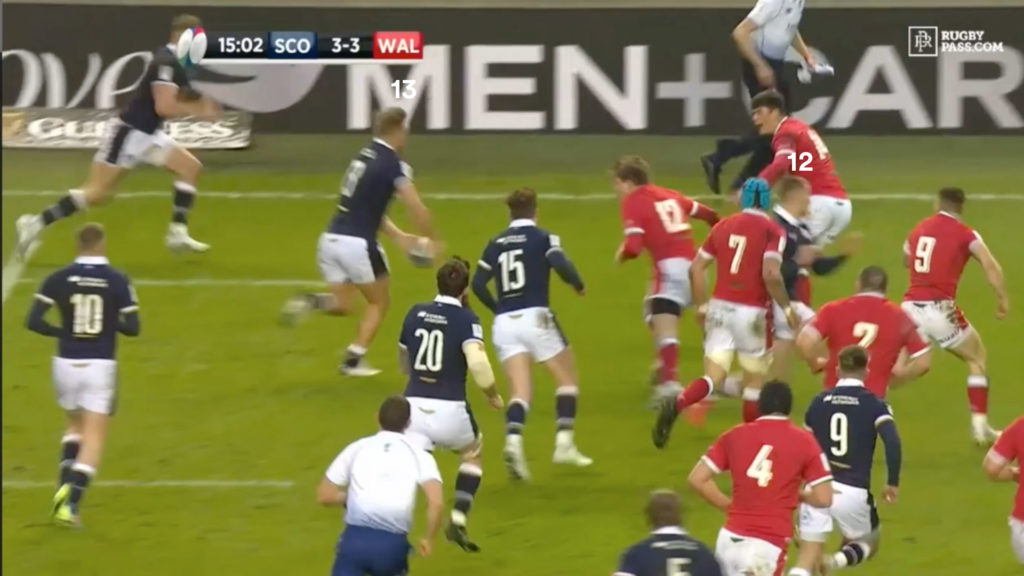 The diversity of Hogg's game would give the Lions a trusted distributor out wide and, based on the selections by Gatland and his staff, this is going to play a crucial role in the Lions' game plan in this series against the Springboks.
The selections of No8s with strong running games and top-end speed suggest the Lions would like to station some loose-forward threats in the 15-metre channels out wide on the fringes.
Sam Simmonds and Jack Conan are accomplished ball-carriers with surprising speed, while Taulape Faletau is a skilled edge runner with the ability to keep the ball alive through offloads. The Welsh No8 performed this role in New Zealand, famously scoring the first Lions try in the second Test when beating Israel Dagg in the corner that began the Lions comeback.
The addition of Simmonds and Conan makes Gatland's intention clear: the Lions want athleticism through the loose, some of whom will provide another running threat out wide.
We have seen Hogg make use of this type of 'edge forward' against England. When given the overlap after a break on the opposite side, Hogg's decision was a quick and easy one to provide early ball for hooker George Turner (2), the man in space.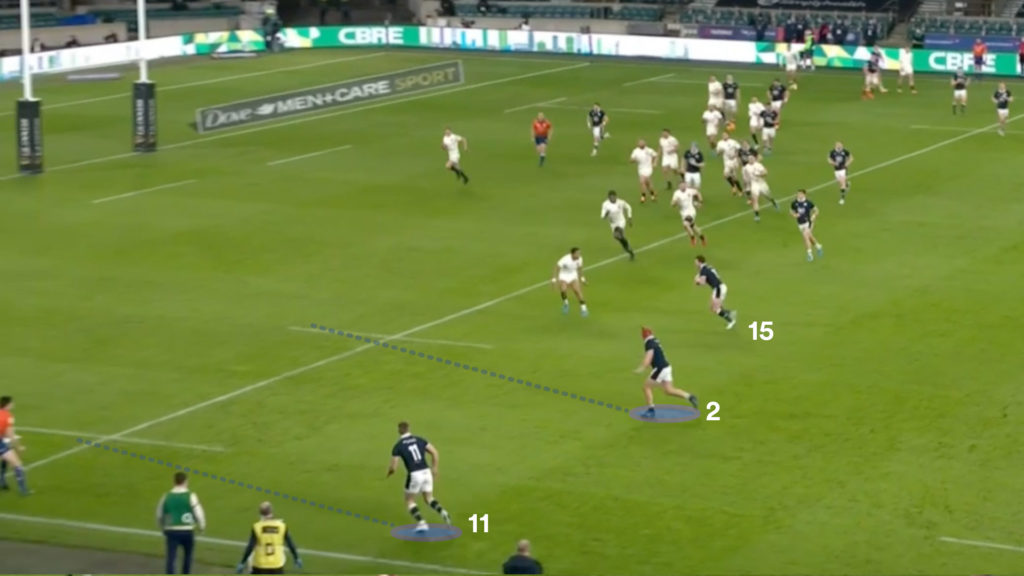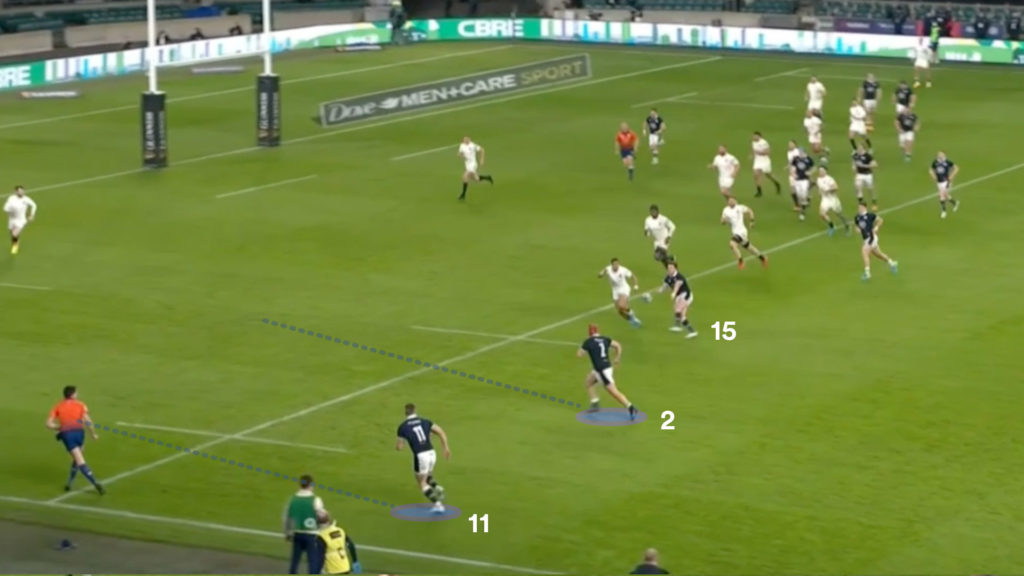 By taking the easiest option, using catch-and-pass and trusting his outside men, Scotland exploited the space effectively and Duhan van der Merwe was able to finish off the half-chance with some bulldozing running at the end.
The likes of Simmonds, Conan or Faletau will be lurking in this channel and the Lions will need a full-back who often plays one man in to provide quality ball for them. Hogg has become the ideal type of player to offer this role over the past two seasons.
Although he has become a pass-dominant full-back based on statistics, surprisingly his running game in 2021 also experienced a resurgence for Scotland.
Despite running less, he was more effective, breaking tackles more frequently than ever before over the past five years. This year became an exaggerated outlier, breaking tackles at a rate of 0.47 per run, which was double that of Hogg in his prime as a 25-year-old in 2017 with 0.24.

As he has become a more balanced player, his running game has ignited again, perhaps showing that being a rounded threat keeps defenders guessing. Running opportunities can open up if you are able to shift defenders with your hands and ball handling.
Naturally as players get older, speed and agility decline. Those that fail to adapt and develop other areas of their game often find they cannot keep playing at the highest level. Hogg has completed this evolution over the past two years into a ball-playing full-back who is now multi-dimensional.
He can offer a distribution option at first receiver, play tighter to the ruck when required, present an attacking threat on the edge that not only runs but can create space for others with his passing game, and he can still sense an opportunity for a home-run play running it back from deep.
His kicking game has also become a more important cog for Scotland with his raking spiral punts offering an option at the back to counter kicking duels and take advantage of quick turnovers.
Although he was not Scotland's primary kicking option in this year's Six Nations, he did become their third-highest kicker out-of-hand behind Russell and Ali Price.
It was often in pressure situations where his territorial range came in handy, returning attacking kicks with a long, winding spiral to find touch.
Having this kind of kicking option at the back in South Africa could be a real asset, where two of the Tests will be played in Johannesburg at altitude. If Hogg is accurate, he will able to force the Springboks into pressure lineout throws from anywhere on the park.
After having his last tour cut short, this time is different. Hogg in 2021 is a much more complete player than the one that toured New Zealand in 2017, and he is ready to start for the Lions in all three Tests against the Springboks.
On balance, he offers more than Williams – but just who Gatland will call on is anyone's guess. Williams is a trusted option who has performed for Gatland for Wales and the British & Irish Lions before. But there is no denying that Hogg has reached a new level, perhaps finding career-best form of late. He was undoubtedly one of the top three best players in the Six Nations.
If he is called upon, he will play a defining role against the Springboks if the Lions are to beat the World Cup holders in their own backyard.
More Lions stories
If you've enjoyed this article, please share it with friends or on social media. We rely solely on new subscribers to fund high-quality journalism and appreciate you sharing this so we can continue to grow, produce more quality content and support our writers.