Back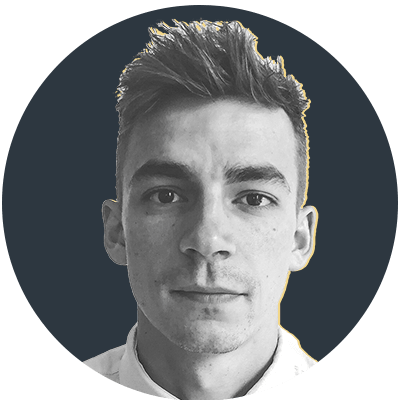 By Andy Clarke
Battle of the backrows
On the back of a Six Nations triumph, it may seem peculiar to question Eddie Jones' squad selection. Add to that a World Cup final appearance and then mix in third place in the World Rugby rankings and the subject should be considered downright pedantic. But questions continue to be asked about the deluge of back-row talent that remains on the fringes, forwards who are bulldozing their way into form that cannot be ignored.
For months, fans have clamoured for the Test-match inclusion of powerful players such as Alex Dombrandt, Ben Earl and Jack Willis, whose consistently impressive Gallagher Premiership performances have raised the standard amongst the pool of English back-row candidates. Expectant eyes eagerly awaited England's Autumn Nations Cup squad selection, only to be disappointed when the established order was maintained. But with data drawing out the quality of the contest in the back row, how long can Jones ignore the statistics?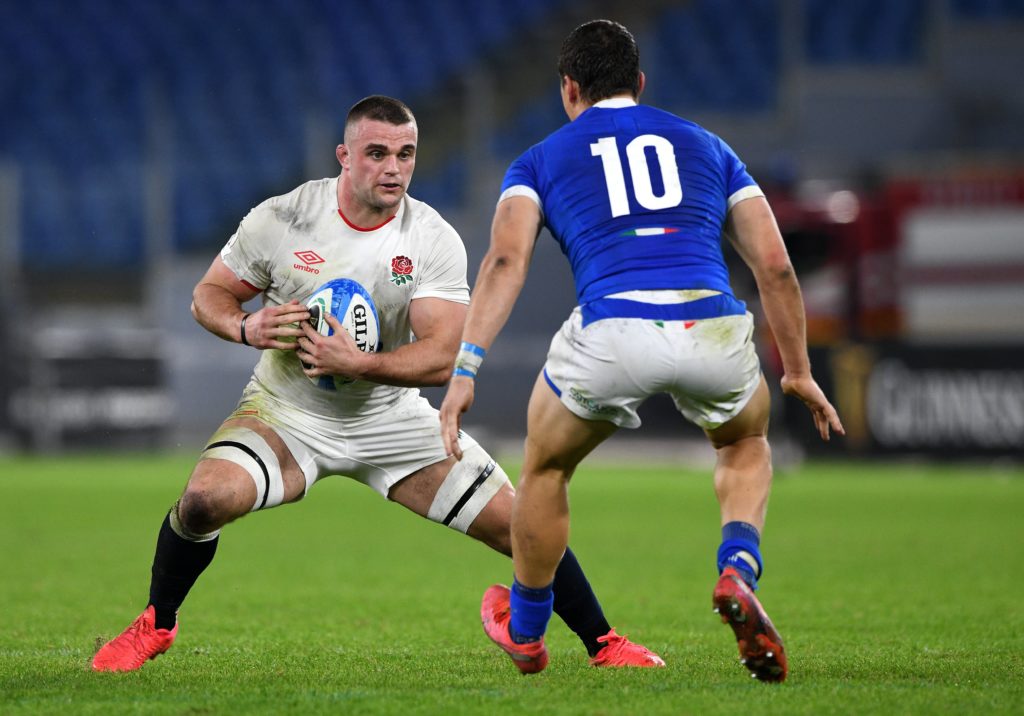 Ruthless in his own resolve, Jones' reputation as an assertive decision-maker precedes him. It's a substantial part of what continually attracts success and confidence to the teams he coaches. Jones is driven by a great belief in a system of playing the game and by a squad of professionals that can clinically execute it.
Until the culmination of the World Cup, England's back row seemingly picked itself. In Tom Curry, Billy Vunipola and Sam Underhill, Jones has three exceptional Test-match pros that would challenge for places in any pack around the world. They have carried out his brief with diligence, muscularity and tenacity. Despite desiring for flexibility around the park, the man at the helm of the English game has made clear his fixation with the traditional roles of a back-row trio. He wants a devastating ball-carrier at No 8, a 'jackal' turnover specialist at No 7 and an enforcer at No 6, all of whom should have an impeccable tackle completion ratio. Curry, Vunipola and Underhill have fitted the mould.
Eddie Jones wants a devastating ball-carrier at No8, a 'jackal' turnover specialist at No7 and an enforcer at No6, all of whom should have an impeccable tackle completion ratio.
And they still do. Tom Curry is still a master of the turnover and remains the one of the best tacklers in world rugby. Vunipola's natural ability to flatten defensive lines isn't disappearing any time soon and Underhill produced some outstanding performances throughout the Six Nations. Yet the credibility of the debate rests on the fact that they are all being outperformed in specific areas by rising stars at the back of the pack.
There isn't a rugby fan around that could cast doubt on the all-round game of Willis, who is making his Test debut against Georgia. A serious knee injury sustained before England's tour of South Africa in 2018 hasn't thwarted the Premiership's king of turnovers in the slightest. Not only does he post a tackle completion ratio (94 per cent) to rival Tom Curry (96 per cent), his average of 2.7 turnovers per match puts the Wasps man streaks ahead of his competitors in this regard.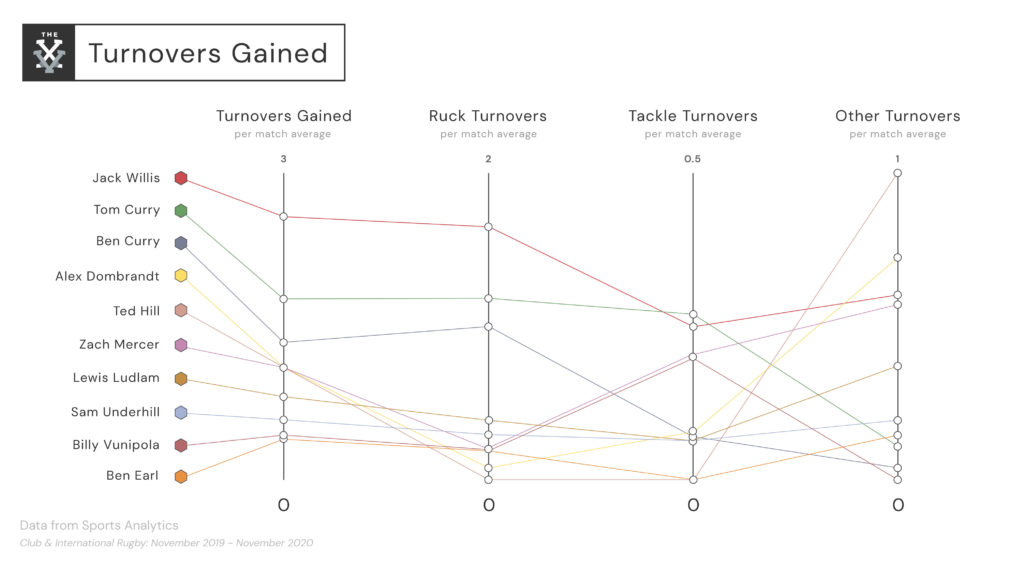 Posting a similarly strong challenge for a call-up is Dombrandt, whose attacking game is unmatched by any other English forward. Ben Curry and Earl also possess a set of world-class attacking and defensive statistics and both seem to have enjoyed previous favour from Jones. To make the competition for back-row places even fiercer, Zach Mercer, Ted Hill and Lewis Ludlam have all been in remarkable form over the past year and are hot on the heels of their compatriots.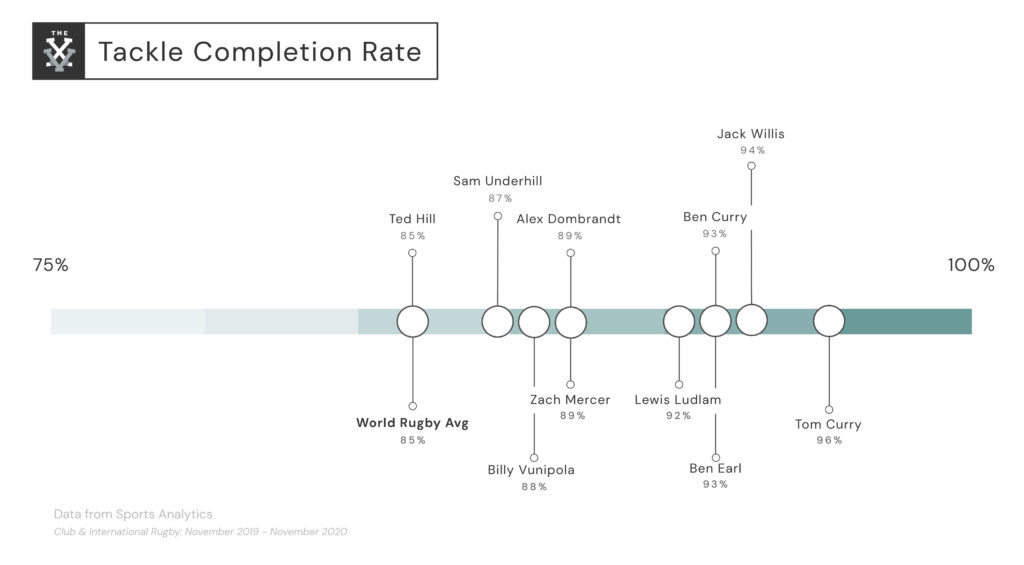 Ferocity in attack is a key aspect of a quality back-row repertoire. Not only does Jones look for battering rams that can break defensive lines, but essential qualities must also include offloading ability, acceleration and intelligent running lines. When it comes to attacking prowess, 'The Dom' shines brightly. Gaining an average of 41metres in each match for his club side (Harlequins), Dombrandt has consistently demonstrated his natural ability to carry the ball in devastating fashion.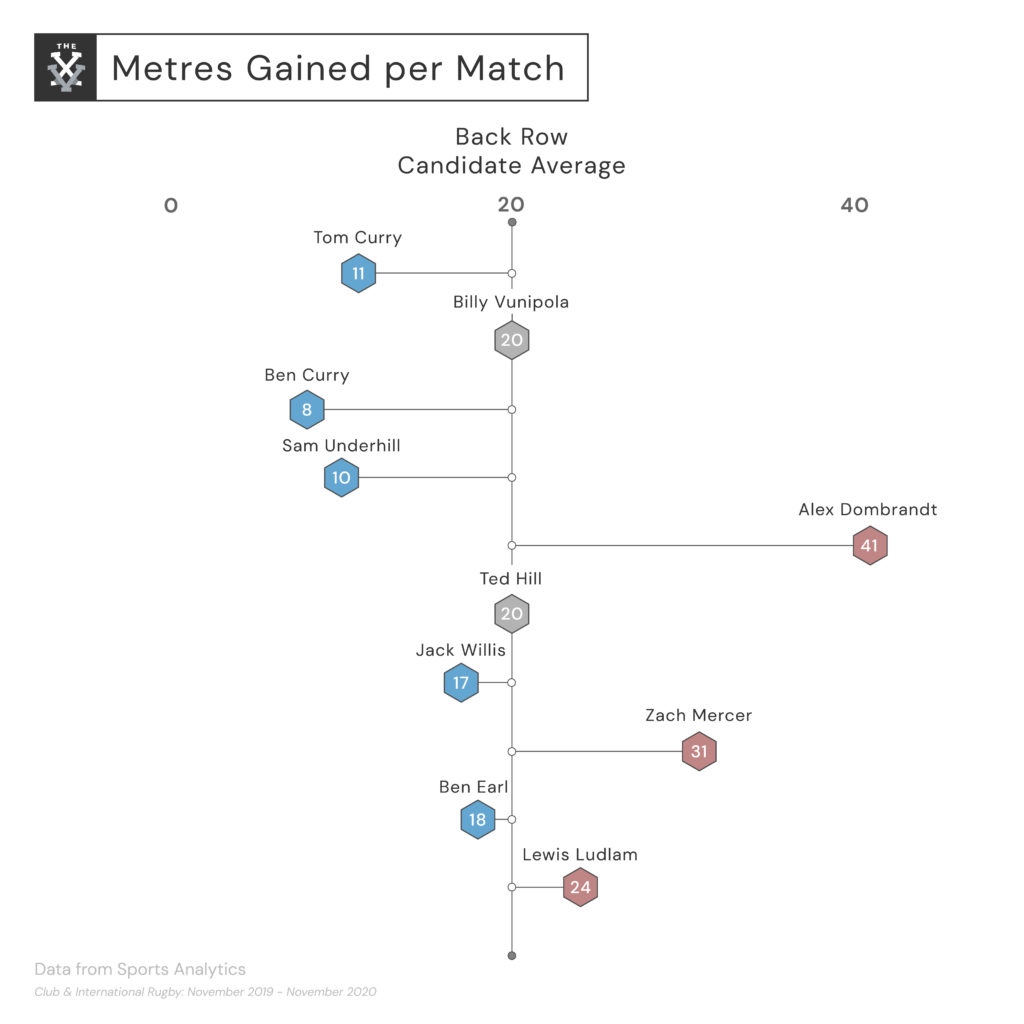 In a similar vein, Mercer has impressed for Bath with averages of 1.8 tackle busts and 1.6 defenders beaten per match, higher than any other English back-row player. The suspicion is that Jones has concerns about the work-rate of Dombrandt and Mercer and wants to see more from them defensively before giving them the chance to represent their country.
Showcasing the embarrassment of riches at play here is the revelation that half of England's back-row candidates have posted a tackle completion rate above 90 per cent since November last year. Tom Curry still has the edge over his brother in this regard, as well as in terms of turnovers gained. The player mostly likely to challenge for Jones' enforcer role is Willis, who despite narrowly trailing Tom Curry's record in tackle situations, betters his set of stats at the breakdown.
Alex Dombrandt has been accumulating a set of attacking statistics that would be the envy of some of the world's finest wingers.
It is reasonable that the existing chemistry between Vunipola, Curry and Underhill influences Jones' selection when there are very fine margins separating the challengers from the established players. As a seasoned international whose performance statistics prove that he is still at the top of his game, there can be no doubt that Tom Curry should keep his spot. In contrast, despite showing himself to be a crucial gear in England's forward machinery, the data exposes the harsh reality that Underhill has stiff competition for his place.
Nonetheless, what the statistics make immediately apparent is that Jones' attention would be best focused on the challenge for England's No8 shirt. By his own admission, Vunipola has had his "head in the clouds" in the past, whilst Dombrandt has been accumulating a set of attacking statistics that would be the envy of some of the world's finest wingers.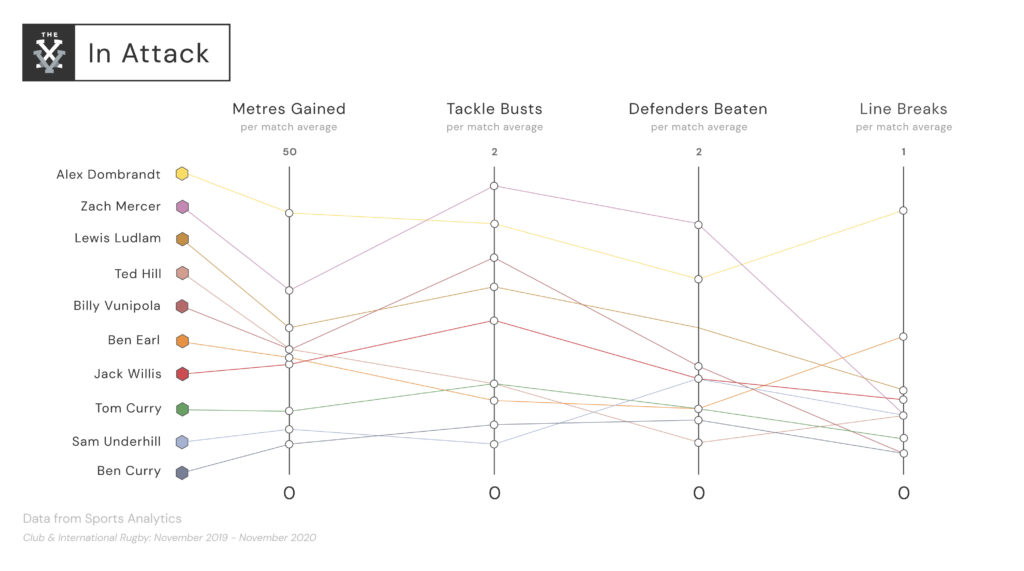 Outperforming Vunipola in every area of attack as well as posting a better turnover and tackle completion rate than the incumbent, Dombrandt has surely earned his chance to prove himself as the fulcrum of England's pack..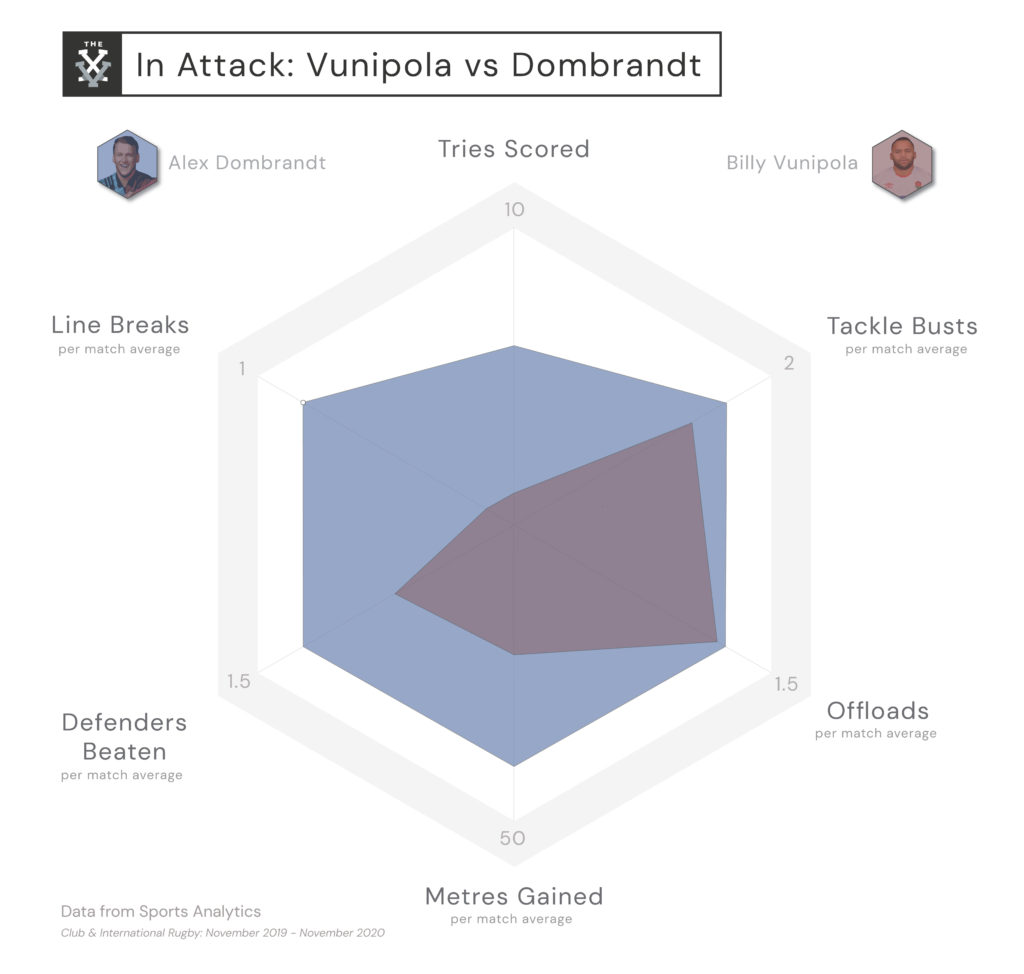 More data analysis
If you've enjoyed this article, please share it with friends or on social media. We rely solely on new subscribers to fund high-quality journalism and appreciate you sharing this so we can continue to grow, produce more quality content and support our writers.