Back
By Jamie Lyall
Edinburgh's Ben Vellacott seeks Wasps redemption
Ben Vellacott sat sullen in his kitchen, cursing the vagaries of sport. He wondered when he'd get clear of the torn ACL that struck him down before he'd played a minute of Premiership rugby for Wasps, his new club. He wondered if he'd be the same, pulse-quickening player after all the rehab. He wondered what he'd have to do to get the No 9 jersey after years of shooting stars and replacement cameos for Gloucester. Most of all, he wondered when he might catch a break.
There Vellacott languished until his fiancée came home. Beth is a rookie officer in the West Midlands Police, whose beat covers the rougher areas of one of England's roughest cities.
"We were just asking how each other's days had been," Vellacott tells RugbyPass+. "She said, 'someone tried to stab me today' and then just carried on the conversation. Oh, right…
"Coventry is pretty renowned for its gangs. It's a dangerous place. There were days where she'd tell me what she'd dealt with and I'd be like, what am I complaining about? I'm playing rugby for a living and she's on the streets trying to protect the world.
"At the time, you do an injury like that and you think it's the end of the world. Rugby is your whole life, you're so passionate about it, but you've got to think about the real world.
"I get to see that through her eyes, and there are some really poor people in really difficult situations. I know I'm going to be able to get back and play and I do it so much for enjoyment. She is out there putting her life on the line to make the country a safer place."
I don't want to be just renowned for my running game. Game management didn't come as naturally to me. I always used to try and play as fast as I could, 100 miles an hour, because that's what I thought separated me from other nines.
For eleven months, the pair have been separated by their divergent career paths. Vellacott moved north to Edinburgh in search of the starting minutes that had hitherto eluded him, and the Scotland honours for which he longed. Beth had to serve two years in Coventry before being allowed a transfer and will finally join her partner next week in their ample Lasswade home. Millionaire's row, as the Edinburgh lads chide him, though plenty of the squad have sought the rustic tranquillity of the village a few miles south of the capital.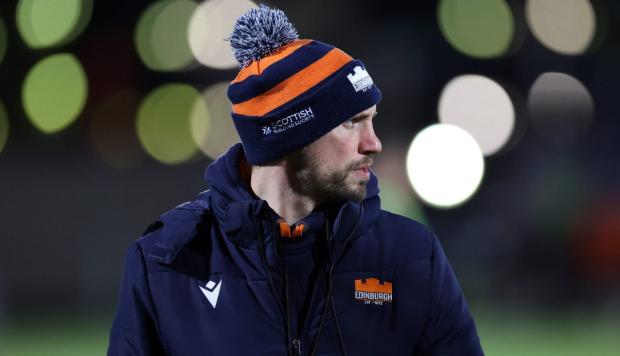 "It's been a long, long time apart," Vellacott says. "Going from living together for four or five years to going our separate ways has been really tough.
"Her dad was in the police; she was always going to go into that line of work. We knew the dangers. She loves doing what she does and I know how good she is at it; she does an amazing job."
Amazing is a pretty apt summary of Vellacott's debut Edinburgh season. At last, he is top dog, though he is too modest to say so. He has become the diminutive, captivating heartbeat of Mike Blair's new-look team. His little-and-large pairing with Blair Kinghorn has blossomed into a thing of beauty.
This isn't exactly what Vellacott signed up for, mind you. The ink hadn't long dried on his contract when Richard Cockerill left as head coach. Though he dragged Edinburgh kicking and screaming to new heights, Cockerill never had them playing cosmic rugby. The rancour of his final season weighed heavily on the players and his summer exit allowed Blair a first crack in a senior role.
It also meant that instead of playing for a notoriously combative ex-hooker, Vellacott would work under one of the finest scrum-halves Scotland has produced. In Gareth Baber, Blair's assistant, he has another former nine and Olympic champion coach as a mentor.
"The change of coach was a little unnerving at the start," Vellacott says. "A few of us had signed for Richard Cockerill. Mike didn't sign us so you never knew how that was going to go.
"Definitely, the way Mike wants to play, we're very similar and it's worked in my favour. I'm not sure how Cockers might have wanted to play, but Mike brought in a lot of energy and a change of coach was really good for the club.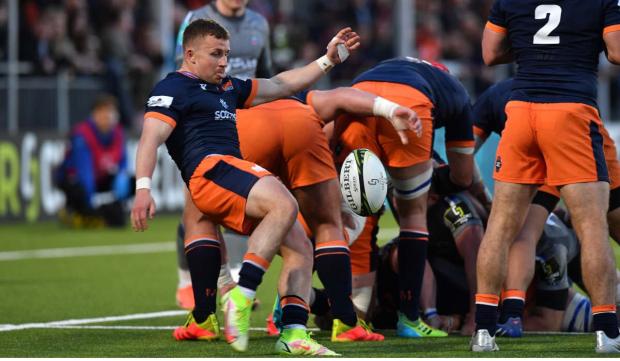 "The first few weeks, the change in environment was amazing, you could see the buzz around the boys, the way Mike wanted to play excited them."
The early numbers are compelling. Vellacott has always struggled to escape the unwanted tag of impact sub, a tempo-raising game-changer best utilised from the bench. In five years at Gloucester and Wasps, he mustered 18 starts. In eight months at Edinburgh, he already has 13.
Thirty-one starts and 81 top-level appearances at 27 years-old remain a pale reflection of his talents. Pierre Schoeman, the ferocious Edinburgh prop, is two months younger and has started more than three times as many club games.
I was never going to play unless there were injuries. The monotonous turning up every day trying to stay positive, coming in with a smile on your face knowing you're probably not going to play.
"I have got to this stage a lot later than I would have liked to, but the path is always rocky, never plain sailing," Vellacott goes on. "To be able to finally get a string of games together, my body is in really good shape, if I keep performing and being consistent in the way I train and play, I am only going to keep improving.
"I don't want to be just renowned for my running game. Game management didn't come as naturally to me. I always used to try and play as fast as I could, 100 miles an hour, because that's what I thought separated me from other nines. Now I've got that healthy balance. I've matured. The more game time at a high level you get, the more understanding you have."
Edinburgh are already assured a URC play-off berth, and now have a tantalising shot at reaching a European semi-final. Standing in their path are Vellacott's former side.
?? Let's get The DAM ????????!

Join us for a 12.30pm kick-off this Saturday as we take on @WaspsRugby in a can't-miss European QF! ?

— Edinburgh Rugby (@EdinburghRugby) May 3, 2022
His two seasons at Wasps were torpedoed by injury and coronavirus. Lee Blackett replaced Dai Young and had the team, minus Vellacott, surging to a Premiership final where they were edged by Exeter. That day, in keeping with much of his stint, he was an unfulfilled spectator.
"I enjoyed my time down there, but it didn't go the way I wanted. Getting injured early never helps, then Covid happens, there's a change of coach, and we get to a final with no fans, which was pretty surreal, the weirdest match I've ever seen.
"The opportunity arose with Edinburgh and when you say you're looking to move on, you understand clubs have to put their time and effort into players who are staying. I was never going to play unless there were injuries. The monotonous turning up every day trying to stay positive, coming in with a smile on your face knowing you're probably not going to play.
"There were some really tough moments but I'm a pretty positive guy, I'm never one to sit back and get comfortable. There was light at the end of the tunnel – I was just training to get an opportunity."
In leaving all that behind, Vellacott put an end to the long-running and frequently tedious saga of his international future. Born and raised in England, Vellacott is eligible for Scotland through his Peterhead-born mother. He played for Scottish Exiles and Scotland Under-20s. Eddie Jones and Gregor Townsend took it in turns to flutter their eyelashes. Jones selected him in a training squad. Townsend wanted him at Glasgow when he coached the Warriors and wanted him in his Test shakeup not long after. The elephant in the room was EQP – England Qualified Player. Premiership clubs are incentivised to field EQPs. Relinquish your EQP status, and your prospects in the league wither.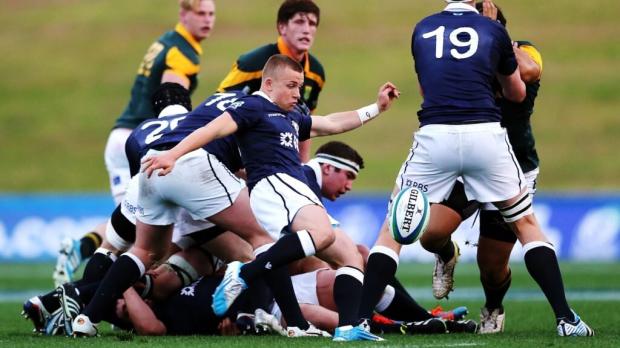 Only last year did Vellacott decide the time was ripe to go north, to plump for Edinburgh and Scotland and launch an assault on the 2023 World Cup. He was Townsend's third-choice nine during the Six Nations and on a baking hot day in Rome, won his first cap from the bench. In that joyous moment, the toil and the tumult and the angst in the kitchen became instantly worthwhile.
"I had to bide my time a bit, I wasn't involved in the first few games, but it was amazing to be involved in that environment, work hard and learn off people who had been there a long time.
"My parents were there. They would drive me up to age-grade stuff in Scotland, drive me back home, then back to school on Monday. Then they'd do it all again the next weekend. It was amazing for them to be able to witness after all the hard work they'd put in to get me where I am. Beth couldn't be there – crime doesn't stop for anyone!"
Edinburgh Rugby face Wasps in the EPCR Challenge Cup quarter-final at DAM Health Stadium this Saturday, 7 May, kick-off 12:30pm. Book your tickets at edinburghrugby.org.