Back

By Garry Doyle
David Corkery: 'I really worry about the head. I got knocked out and seconds later I was playing again'
He speaks with a softness that hides darker things. You listen out for the trademark signs of a hard-nosed forward: the devil-may-care bravado, the tall tales, the machismo, but you don't hear them because they don't exist. If we didn't know him as David Corkery, former Ireland, Munster and Bristol backrower, you wouldn't have any idea about what he did in his 20s.
The actual purpose of this call was to talk about Italy, how the team that can't win a game these days were once a side who didn't know how to lose one to Ireland. Three times the sides met in the mid-90s. Three times Italy strolled to victory. You could begin the story there, with how bad Ireland used to be, and you'd get a yarn or two. But there's something else that grabs your attention.
"Sleep is a struggle," he tells you at a point mid-way through our conversation. "My knee is gone (from playing rugby); my back has five compressed discs in it." Yet that's not the biggest problem. No, that lies with the headaches. He has been for brain scans. "Some of the results that have come back have not been great," he tells you. "I really worry about it, the head. When I played, I had no respect for my body. I got knocked out. I woke up and a few seconds later I was playing again.
"That's not right. That shouldn't have been the case. Yeah – you can say, 'that's the way it was'. True. But it's not the way it should have been. We should have been better advised. These days, if I guy brushed a fella's hair, he'd get a red card – and rightly so. We are obliged to be careful because the brain is so delicate. It gives me shivers when I see the hits in the modern-game. I got so many concussions, I lost count. I've suffered from depression for years. The black dog is always in the corner, ready to bark. It is a question nagging away at me all the time. Anxiety, you read about what has happened to the NFL players. My depression, is it related to those head injuries? I don't know."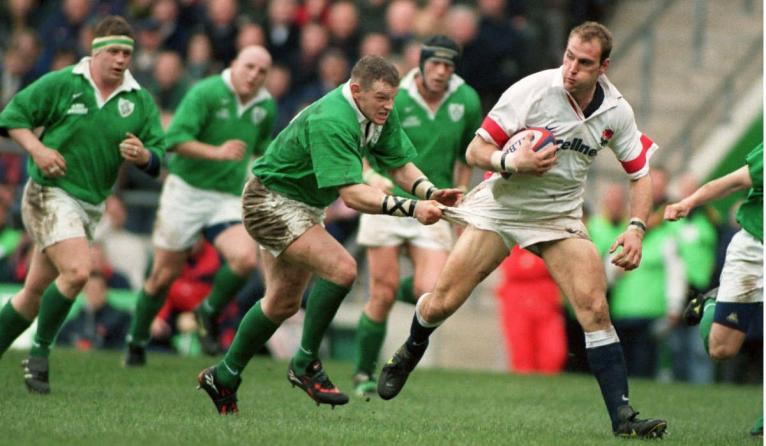 For those of you who may not know the name, David Corkery, here is a recap. He was 21 when he made his Ireland debut, 27 when his body gave up on him. At the 1995 World Cup, he was Ireland's player of the tournament, in a squad that contained some big names: Keith Wood, Nick Popplewell, Paddy Johns, Anthony Foley, Paul Wallace; Simon Geoghegan. That was the year rugby turned professional. Well, in name only.
"We were the guinea pigs, unlucky to be part of the transition. I ended up 20 stone – pure bulk and lost my speed. I could barely bend down to tie my shoelaces. I took injections to go training. I didn't respect my body. It was madness."
It was tough being an Ireland international in that time. We had no diets, no GPS, no structures, no consistency in selection, no infrastructure
Looking back now it certainly seems that way, in every interpretation of the word. This was a decade when Ireland not only lost to Italy but to everyone. Ireland's dates with Namibia, Samoa – there was only one winner there and it wasn't Ireland. Scotland? France? New Zealand? South Africa? Australia? Ireland posted 35 defeats and a draw from those 36 internationals. Twenty-seven times, David Corkery played for Ireland. Twenty times he lost for Ireland including 13 of his last 14 games. His only wins came against USA, Japan, Fiji and Wales.
"It was tough (being an Ireland international) in that time. Going into games, we knew we were not on the same level as France, England, Australia, South Africa or New Zealand. We could last 60 minutes and then bang, we collectively ran out of steam.
"We had no diets, no GPS, no structures, no consistency in selection, no infrastructure.
"It was better in England's set-up, better in Wales'. When I played at Bristol, we asked the English lads, the Welsh lads about how they did things – the general care their unions had for players. It sounded ideal. They in turn asked about you about the Ireland set-up and when I told them how it was, they were like 'what the fuck?'
"We'd play an All-Ireland League game (with our clubs) on a Saturday, then go to Dublin and train (with the international team) on a Sunday, the body battered and bruised, then go back down to Cork for work on the Monday. We had different coaches almost every year. I made my debut in 1994 and by 1998 we were on head coach number four.
"Half-way through each campaign there was talk about sacking the coach. Year after year, the same narrative played out. We'd start the campaign with everyone putting us on a pedestal. Then we'd lose a couple of games and people said we were poo.
"Ask me what type of rugby we played then and I'd tell you that I hadn't a clue. There were no patterns, no system, no shape. We were not given the facilities or the attention an international team would expect. We always underachieved because of a lack of attention. Losing to Italy three times in a row? That's unacceptable. That should have been unacceptable for the Union. The irony now is that they (the IRFU) have got it spectacularly right. They have the best system, the best care of any union in the world. It just goes to show that if you don't spend the money you don't get the rewards."
You think back to that New Zealand win in November. I have never seen an Ireland team play at such a pace like that before.
He isn't a crank. But he is blunt. If he likes something, he'll say it. If he disagrees with a tactic, he'll call the person out. It's why he prefers watching games on TV than in the stadium. "I don't have to listen to some gobshite there who knows nothing about the sport."
And it is why he prefers watching the Ireland under Andy Farrell than the Ireland who played more conservatively under Farrell's predecessor, Joe Schmidt.
"You think back to that New Zealand win in November. I have never seen an Ireland team play at such a pace like that before. They were relentless from start to finish, there was no let-up in their intensity and yes, you can say it was the end of the All Blacks season but I've always said this about the All Blacks – that once you become an All Black, you lose the right to have an excuse.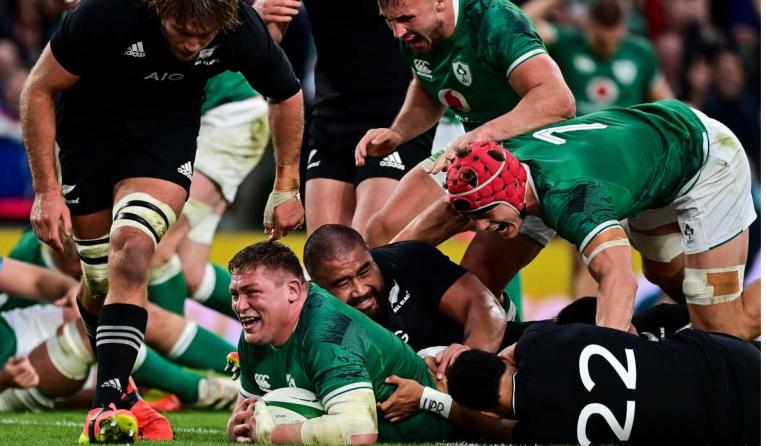 "They, as a team, just don't make them. They never did. They never will. So if you beat the All Blacks it is because you are a better side. Farrell has given the team a necessary freedom. Under Joe Schmidt, I really felt that Ireland played a game by numbers. What I mean is, from the outside, it looked as though they had to do rehearsed moves when they were in certain parts of the pitch.
"That meant we never got the best out of Simon Zebo – a player who enjoys playing off-the-cuff rugby. It meant a talent like Conor Murray had the flair knocked out of him. It was boxkick after boxkick. That was his instruction. But come on, Conor is better than that.
"It means Jamison Gibson-Park has transformed that team. It is the pace, the tempo he gets Ireland playing at – they're good to watch again."
To be fair to the (Irish) union, they got it right. They took control of the players. They manage them well
But Italy aren't easy on the eye. Their last win over anyone in the Six Nations was in 2015, their last win over Ireland in 2013. Those days of the 1990s when they had Ireland's number, well you'd swear they never happened. Only eyewitnesses to history, such as Corkery, remembers them.
"It is no good for them, the tournament, for anyone that Italy are in the Six Nations," he says. "Yes, they were better than us in the 1990s. The results tell you that. But we should have beaten them. We just didn't get our act together.
"But to be fair to the (Irish) union, they got it right. They took control of the players. They manage them well. Andy Farrell has a system that takes care of the players. The players union prepare players for the afterlife. Things are better in Irish rugby now. Things are better for rugby players now too. They have learned from the guinea pigs."
That's scant consolation.