Back
By Jamie Lyall
Cornell du Preez: 'Two people died in the beds next to mine' - from intensive care to Toulon glory
Cornell du Preez sits on his patio, sipping a fresh coffee. The morning sun beams down upon his bare arms and glistens on the surface of the private pool behind him. His home is an oasis of French tranquillity. His Toulon team have roared into the Challenge Cup final and made themselves a force in the Top 14 again. Right now, life on the Cote d'Azur is good.
This idyllic backdrop masks the turmoil of the past, a turmoil into which Du Preez unwittingly strolled during summer when he flitted south from Worcester and began a campaign that lurched from disaster to crisis. Eight months ago, he wondered what on earth he'd signed up for as a rudderless squad tumbled down the league. At one stage, Toulon sat anchored in bottom place. The players mutinied against Patrice Collazo, sealing the fate of the combustible coach. One prong of an illustrious back-row, Du Preez toiled to find his feet and the fans let him know about it.
"Being at Worcester was a bit of a struggle, I thought I could go there and we could start something special and it just didn't work out. I was very excited to come to France, it was something I always wanted to do, but it wasn't what I expected," he says.
"We were very unstructured. We didn't have a defence coach during pre-season – he only came for the first game. I was used to being in a structured team, everyone knowing what to do, whereas here it's just, give the ball and someone does something. And we weren't doing very well.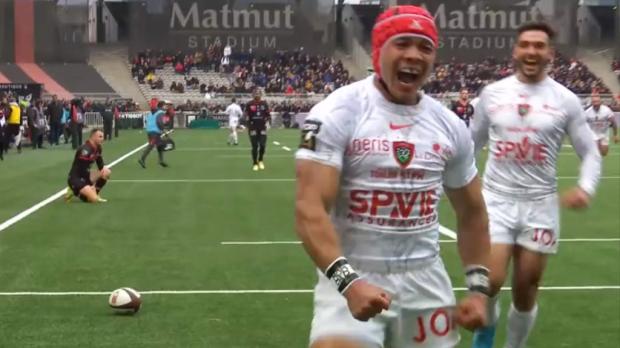 "There's a lot more pressure from the fans here. They've been used to winning with all the big teams that won three Champions Cups. We even won a game at home but didn't perform well and got booed off the field. One of our hookers, Christopher Tolofua, got racist messages. That wouldn't even be Toulon supporters, just people who are waiting for someone to have a bad game so they can say something about them.
"I came home one day and told my wife, 'this is not what I expected when I signed… if we keep going like this, we will be bottom of the league'. And that actually happened."
Patience and calm are not traits associated with French rugby, but with his players in open revolt, some signing deals elsewhere, and results abysmal, Collazo could limp on no longer. A team laden with top-class internationals should never flail so desperately. In came Franck Azema, the old Clermont supremo, who infused Toulon's harem-scarem style with much-needed framework.
"The meetings were a lot different to anything I'd experienced; it gets pretty rough in there," Du Preez says. "I couldn't understand much but I knew it wasn't good, a lot of arguing.
"The players got to a point where they didn't agree with the way we played, it wasn't working, and we had to change. Being a new guy, I didn't want to say much. You could see things weren't working because we were not getting results. Maybe some of the players who are leaving would have stayed if things had happened earlier. I don't know, but at the moment it's looking positive.
It feels like Gab is unstoppable over the ball at the moment. And he's pretty clever too, he picks his moments very well, he won't go at dead rucks.
"I remember we were sitting in a meeting after Franck arrived and he just told us, 'look across the room and see the players we have, how is it possible we are not performing?' It didn't make sense. It was a mind shift, being tough on ourselves, honest with each other, having some hard conversations about why we are not performing.
"We have got a bit of structure, boys know their roles, there is a clear plan and you can see we have won six games on the trot. Now, it's a pleasure again."
Toulon are resurgent, a team transformed. Since early February, they have played 15 games and won 12. They've beaten Bordeaux-Begles, the league's second-placed side, home and away. They stuck 40 points on La Rochelle, the Champions Cup finalists, another 40 on Lyon, their Challenge Cup showpiece opponents, and 30 on Clermont. They've won against Toulouse and Brive and Perpignan, and in roaring to the European final, dispatched Saracens, the team everyone fancied to win the lot.
Frankly, this is how Toulon should be. The days of Mourad Boudjellal's Galacticos have faded into legend, but the current crop is laced with stardust. Charles Ollivon, the France captain, is fit again. Eben Etzebeth has found his most destructive form. Facundo Isa, the Argentina No 8, vies with Du Preez for starts. They have spiky Baptiste Serin and electric Jiuta Wainiqolo. They have Louis Carbonel, a darling of the Stade Mayol, Toulon through and through. And of course, they have Cheslin Kolbe, just as soon as the dazzling pocket maestro recovers from injury.
Another deadly little winger in a red scrum cap has been grabbing the headlines lately. Gabin Villiere is the beating heart of Toulon. His impossible durability over the ball swings momentum and imbues his team with surging emotional energy. He has become a floating jackal who strikes with beautiful timing. Billy Vunipola and some of the mightiest Saracens heavies couldn't shift the 88kg tyro. Villiere came up with two enormous turnovers in that semi-final.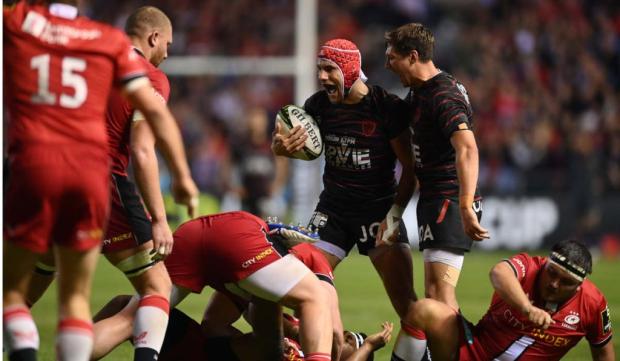 "Unbelievable," is Du Preez's verdict. "I don't know how he does it. I remember when he scored a try against Toulouse [in a 19-15 win last month], me and Eben were standing on the touchline laughing because we just don't understand how he gets through these tackles, how physical he is, he just never seems to have a bad game.
"It feels like he's unstoppable over the ball at the moment. And he's pretty clever too, he picks his moments very well, he won't go at dead rucks. Defensively, he is very sound for a winger, he hits some big boys and knocks them back.
"In the semi-final, there was one where he stole the ball but I gave away the penalty because I didn't roll away quickly enough, and I was unhappy because he actually made the right decision. Then, the scores were close and they were on our line for three or four mauls, we were defending the whole time, and he came in and got a turnover penalty.
"It's that sort of thing that gets you out of a tough situation and really energises a team. Especially in France, they are very emotional, so it is a big, big asset for the team to have a guy like that."
There were times when Du Preez wondered if he'd ever get back here, not just to within one game of a European trophy, but to rugby at all. Eight years ago, he wrecked his ankle playing a Pro12 match for Edinburgh. The image of his dangling leg, visible in match footage, was hideous. In 2018, he fractured his larynx on his Worcester debut and left the field gasping for breath. He lay in intensive care unable to talk for four weeks and eating through a tube in his nose for six.
Being in the ICU, people are very sick, a lot are on their deathbeds. Two people passed away in the beds next to mine. Experiencing that is scary, having doctors rushing in, the pastors coming to pray.
"At that time, rugby wasn't really… it was more about having a good quality of life, as the doctors told me. It was very traumatising, especially not knowing what the future holds.
"You don't know if you're going to be able to speak or breathe properly, or how long you're going to have these tubes.
"Sitting in the hospital for so long is terrible. Being in the ICU, people are very sick, a lot are on their deathbeds. Two people passed away in the beds next to mine. Experiencing that is scary, having doctors rushing in, the pastors coming to pray…"
This will be Du Preez's second Challenge Cup final. His first was a gut-wrenching near miss. Edinburgh played a Gloucester team reduced to 14 men for 17 minutes and could not get over the line. Du Preez supplied the two most eye-catching moments with ridiculous tap-tackles on the motoring Charlie Sharples and Jonny May.
Such excellence would propel him towards Scotland honours in the seasons ahead, but at 31, 18 months from his most recent caps, and four years from the previous handful, he reckons Test rugby is gone. A condition of his Toulon move was that Du Preez gave up the international game, although that is a conversation he would revisit should he become a realistic World Cup contender.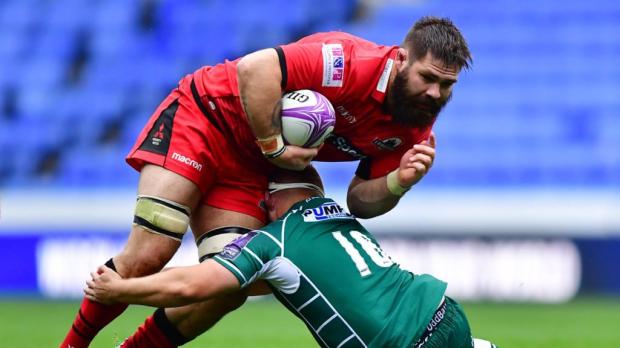 "It wasn't too hard a decision because it's not like I was a guy who was going to start a lot of games for Scotland," he says. "Obviously, I would have loved to, but that's not the case.
"I got pretty lucky with Toulon approaching me, then I had to make decisions pretty quickly. It was the first thing they mentioned on the call – they don't want to sign a lot of players who are going to be away."
The price of playing in paradise. On Friday night in Marseille, Lyon await. Toulon are favourites to claim the silver and their febrile supporters expect. Du Preez seldom looks back at what has been and all that he has overcome, the bleeping monitors and tangle of tubes and the death that hung over his hospital ward, but he feels it now as his team edge towards glory.
"I don't know, maybe that injury made me look at life a bit differently and appreciate what we have. Maybe at times when you aren't enjoying rugby as much, you realise how lucky you are to play. Maybe it was a good thing in a way, not to go through it, but to make you wake up a little."