Back
By Ben Wylie
Case for the Crusader
The calm, smooth drop goal that he struck in extra time to beat the Hurricanes a few weeks ago was a moment that typified the Crusaders' David Havili as a player.
That's not because it was evidence of any intangible ability to perform under pressure or in 'clutch' moments, but because it displayed the all-round footballing skillset that differentiates him from every other midfielder in New Zealand.
While he is most at home at fullback — the position in which has made 55 of his 80 starts in Super Rugby — the depth that the Crusaders possess in the outside backs has led to head coach Scott Robertson moving him forward into the 12 shirt for the majority of the 2021 season to date.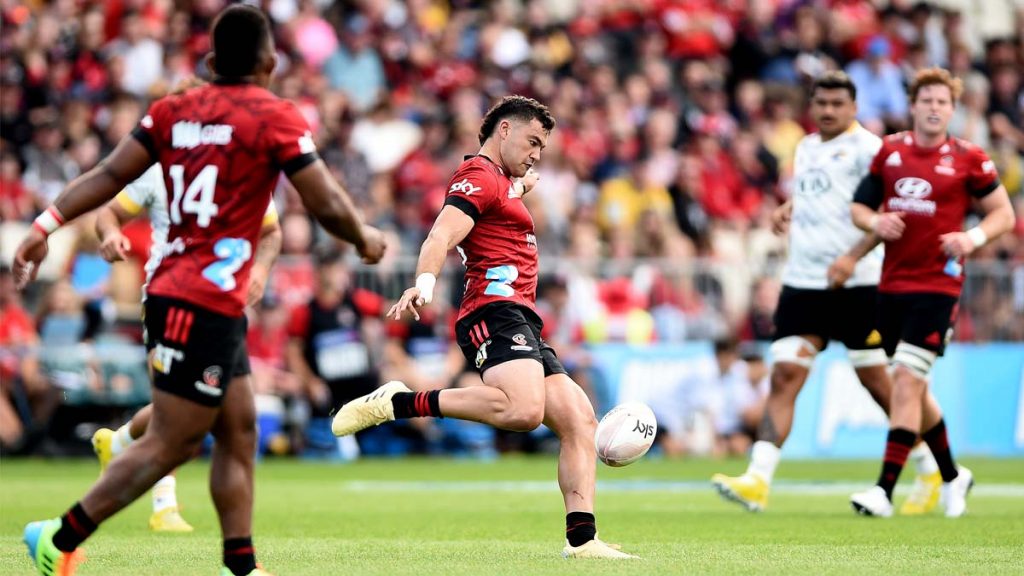 There, Havili has operated as a true second five-eighth: he often takes pressure off his 10, Richie Mo'unga, by organising the team's attack, stepping into first receiver and acting as a link player. His right foot is also utilised in a variety of situations — not just for match-winning drop goals — and the distance he can generate gives the team another tool with which to exit their own territory.
So far in Super Rugby Aotearoa 2021, he has been one of the most frequent distributing centres —completing a pass approximately half the time he comes on to the ball — and by far the most frequent kicker at the position, putting boot to ball around a fifth of the time.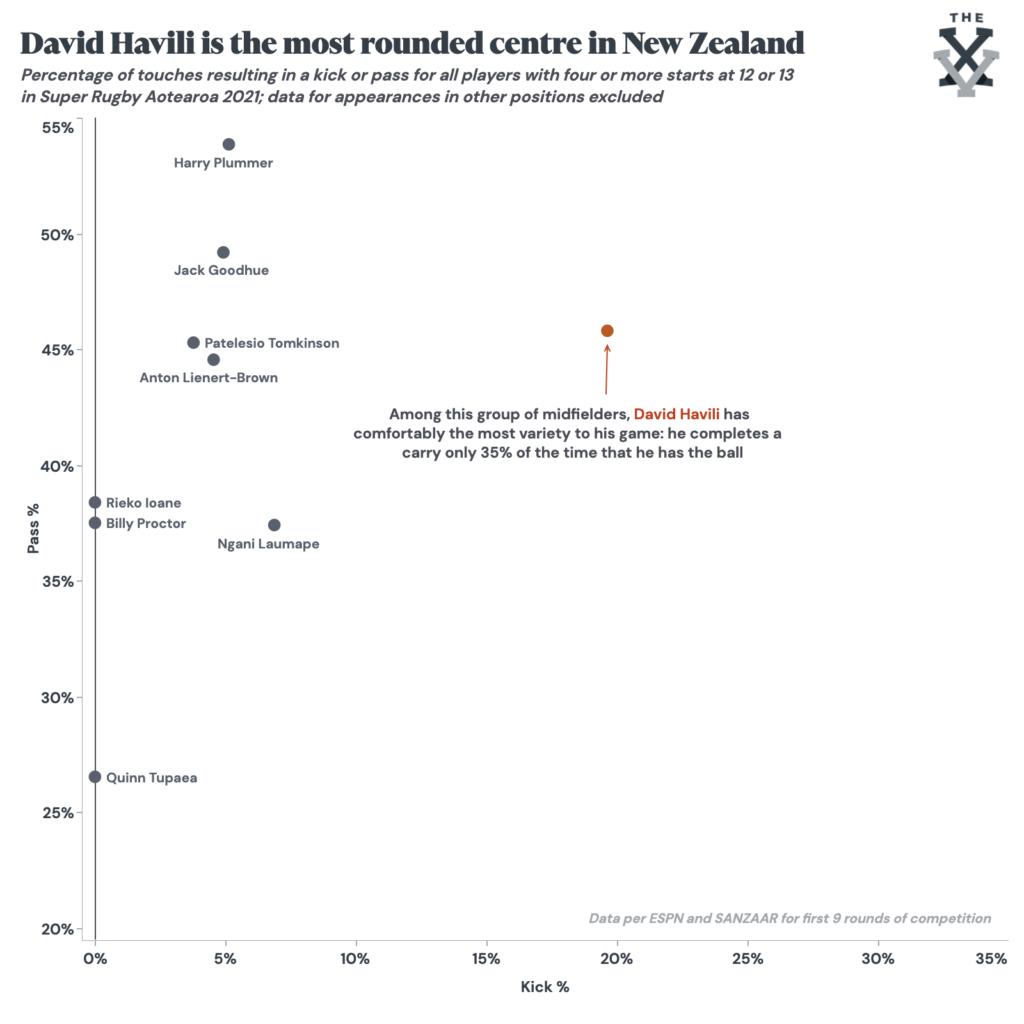 And that playmaking presence does not come at the expense of power or guile in the carry. Among players with at least four starts at 12 or 13 in this year's competition, Havili has beaten the most defenders and completed the most offloads — all while turning the ball over less than anyone not named Anton Lienert-Brown.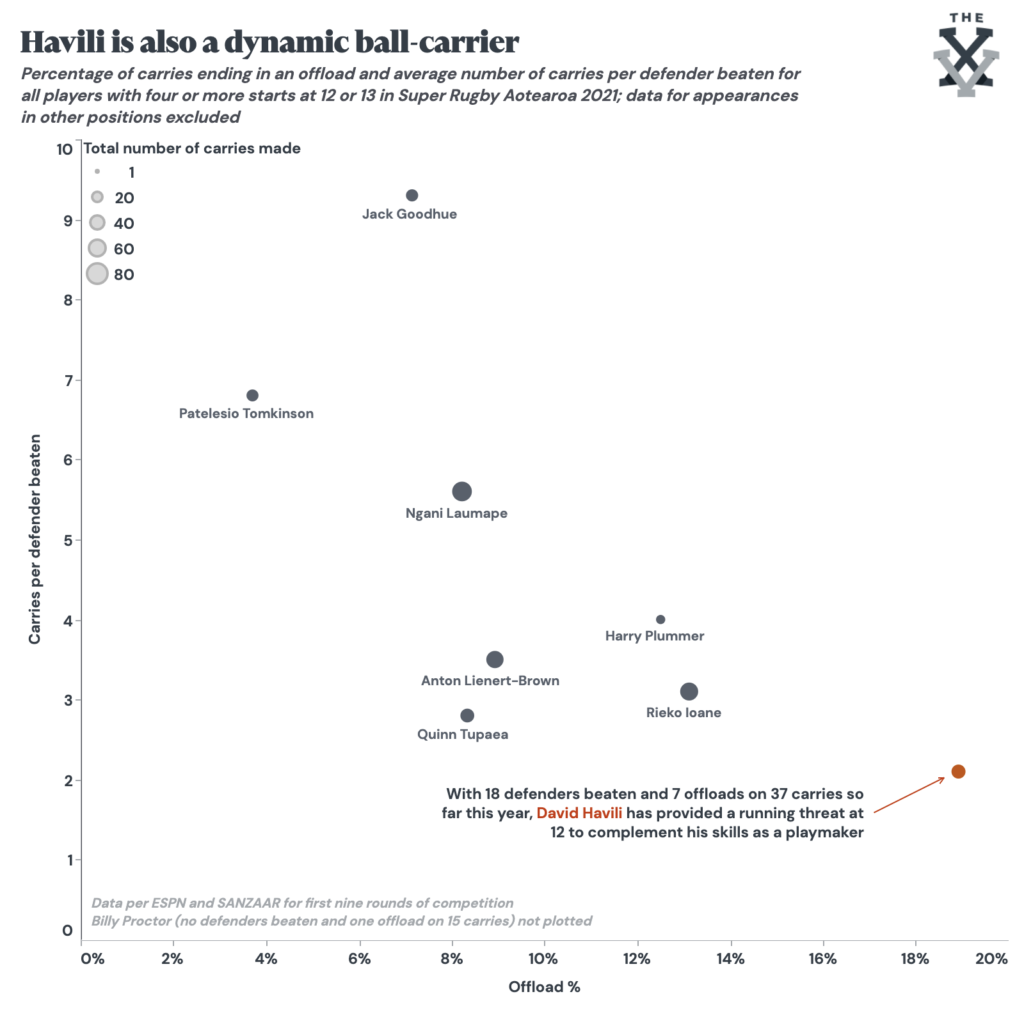 He has shown this attacking ability in his brief exposure to test rugby too, beating five defenders, making three clean breaks and completing an offload on nine carries against Argentina, South Africa and Australia in October 2017.
Havili hasn't been sighted at the top level since then but as Ian Foster prepares for his second year in charge of the All Blacks, he will surely be considering bringing the Crusader into his squad for the first time.
Foster will have an abundance of explosive, agile centres to choose from when New Zealand's international campaign gets going in July, but none that present as complete a package as Havili — and one particular aspect of his game should have caught the head coach's attention in recent months.
All year, the Crusaders have trusted the Nelson native to kick from first or second receiver in order to attack the space behind or beyond defensive lines.
In this sequence during Round 7, for instance, he steps up to take a pass directly from scrum-half Bryn Hall and drops a neat crossfield kick into the arms of Whetukamokamo Douglas, who is holding width on the right touchline.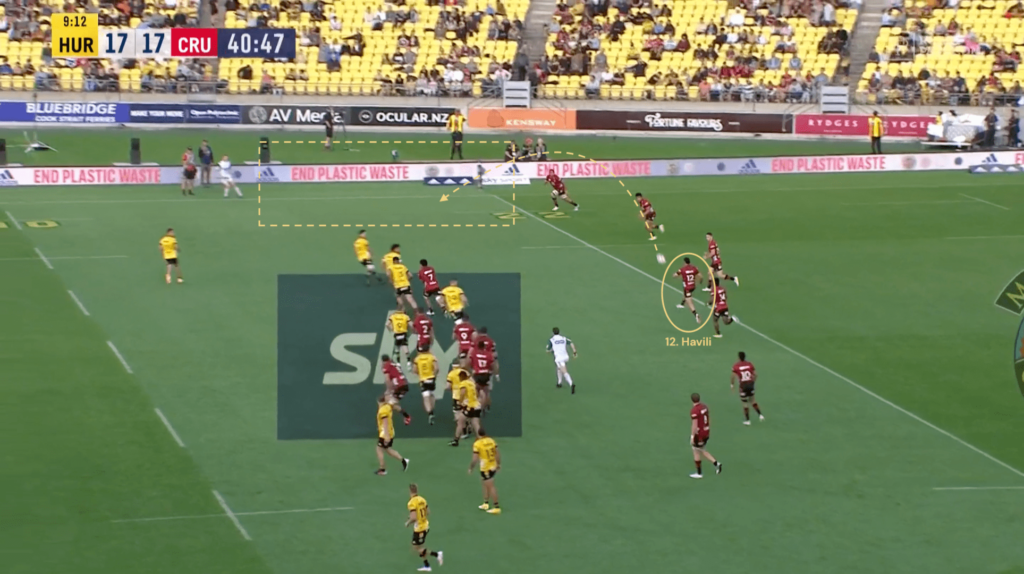 In the next round against the Chiefs, there was another example: standing at second receiver outside Mo'unga, he dinks a chip behind the midfield defence for Will Jordan to chase.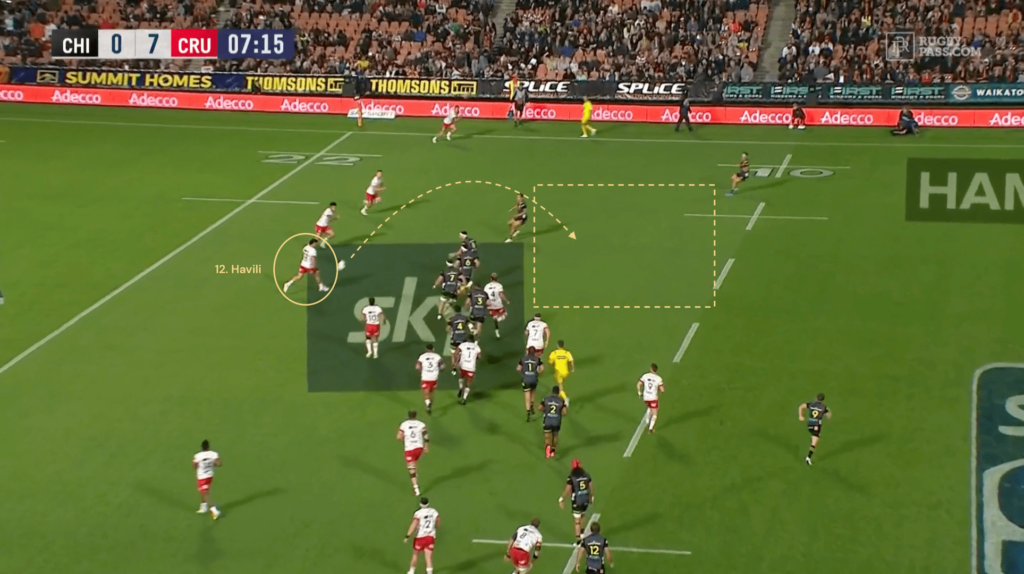 The chemistry that Havili has developed with his Tasman teammate is evident. In last weekend's comprehensive victory over the Blues, the inside centre set up the Crusaders' final try by sliding a grubber into space off his left foot for Jordan to chase. In a post-match interview aired on the team's official Instagram account, the fullback also revealed that the hard line he ran to score the team's first of the day was actually in anticipation of a chip from Havili — rather than the pass that he was still able to convert into five points with little trouble.
The Crusaders obviously put a lot of work and thought into their attacking kicking, and it's a strategy from which they generate solid returns. They have scored three tries in 2021 in which the player providing the primary or secondary assist (that is, the final or penultimate transfer of the ball between teammates) has kicked the ball — as many as the other four Super Rugby Aotearoa teams combined through nine rounds of the competition.
In contrast, after having considerable success during the last World Cup cycle, the All Blacks created fewer tries from this part of their game in Foster's first year in charge.
Nonetheless, at times last year there were signs that they were looking to develop in this area – even if they did not create as much as Foster and attack coach Brad Mooar would have liked.
Their sole try that was assisted by a kick last year came in the third Bledisloe Cup test in Sydney, and throughout the first half of that game they made a concerted effort to find space in between the Wallabies' front line and backfield.
As well as the chip from Beauden Barrett that Mo'unga collected before racing away to score, Dane Coles had a try from a Mo'unga crossfield kick disallowed. Jordie Barrett's early yellow card for leading with an elbow into contact was also preceded by a similar nudge from the fly-half, which found Lienert-Brown in space on the right wing.
Then, during their redemptive 38-0 victory over Argentina that all but secured the Tri Nations trophy, Barrett and Mo'unga really let fly. In the first forty minutes in Newcastle, the pair of playmakers were intent on peppering the same kind of space in the middle of the field that Havili targeted against the Chiefs.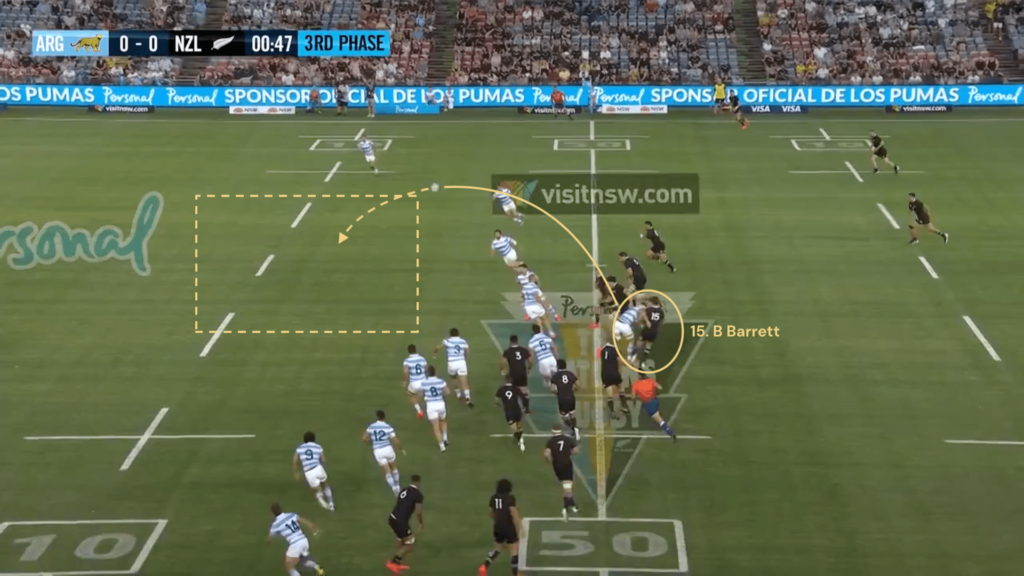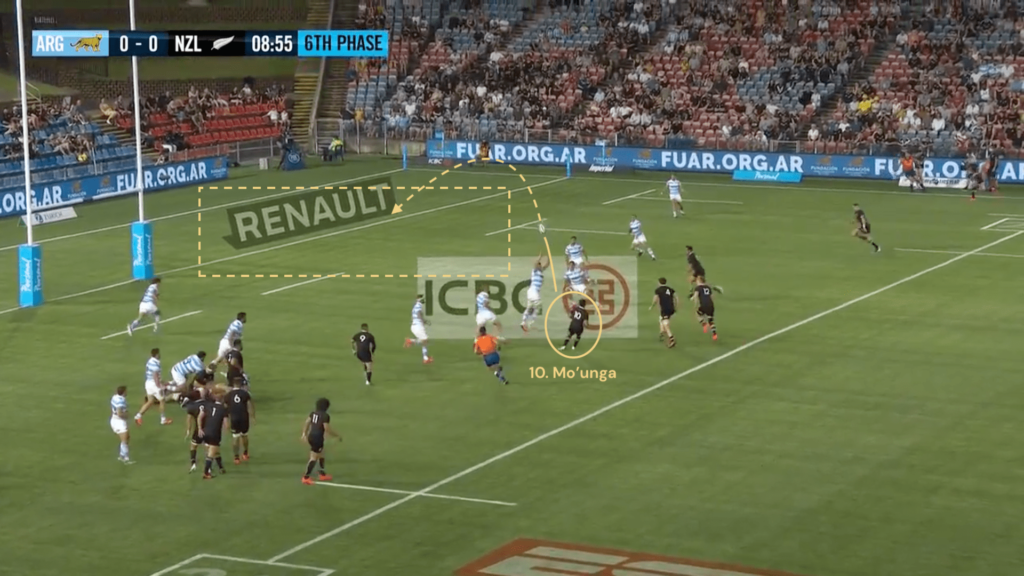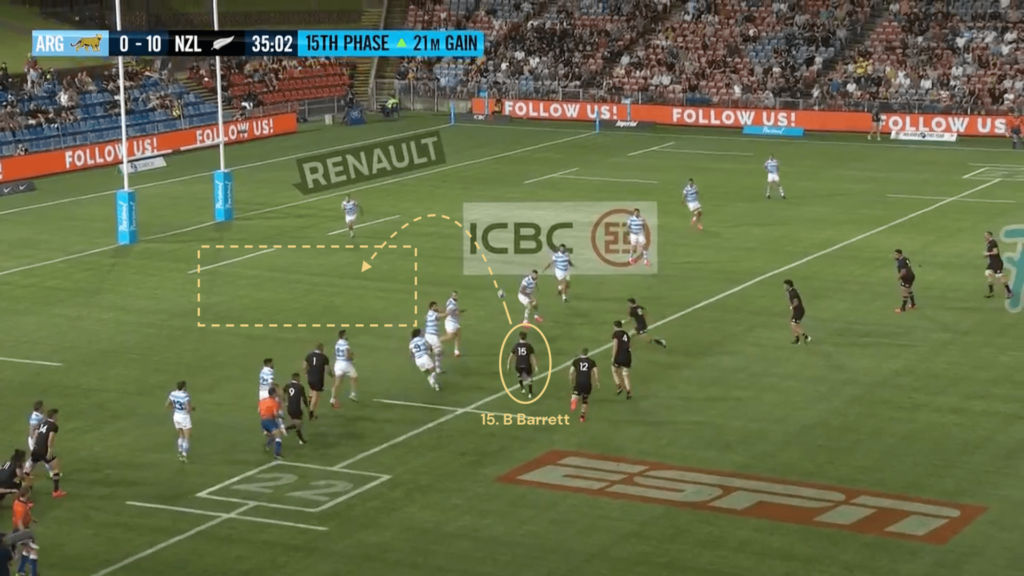 When the Pumas' defence was narrow, both players then looked to move the ball quickly across the field with the boot.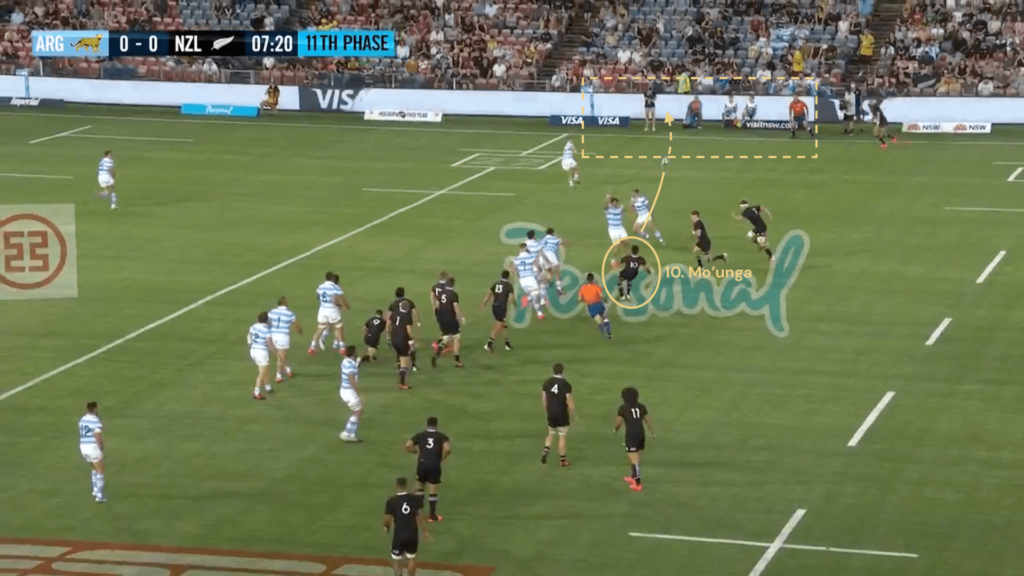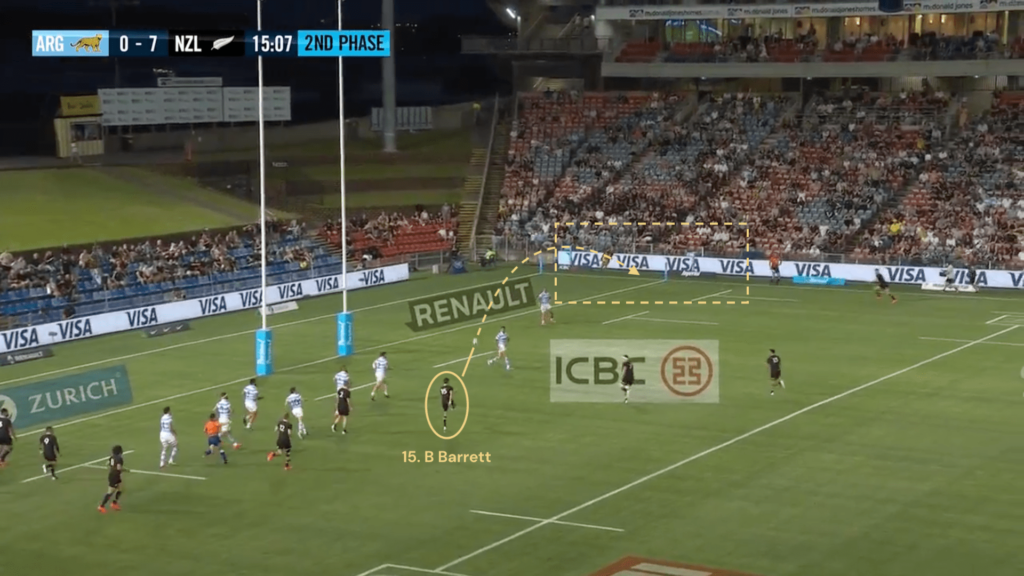 Even though these sequences did not result in scores, there was a general correlation between the pursuit of a proactive kicking strategy and success on the scoreboard for the All Blacks last year — and that means there's a good chance we'll see Foster and Mooar try and take this part of their attack further in 2021.
Regardless of who they select at 10 and 15, they will have natural kicking ability in both slots: Mo'unga, Damian McKenzie and both Barrett brothers are all adept in this area.
They should have aerial skills out wide too: on the left, George Bridge has proven his worth chasing innumerable box kicks in Christchurch, while Caleb Clarke's development in the air (thanks in no small part to his time with the All Blacks Sevens team) means that it is now a real strength of his game; on the right, the massive frame of Jordie Barrett remains an option for Foster, while the deceptively tall Jordan taking flight to snatch victory for the South Island last year is a moment that will be lodged in the memory of many Kiwi fans.
There was a general correlation between the pursuit of a proactive kicking strategy and success on the scoreboard for the All Blacks last year — and that means there's a good chance we'll see Foster and Mooar try and take this part of their attack further in 2021.
However, the addition of Havili to the mix at inside centre would really supercharge a facet of the All Blacks' game that could become even more crucial to the team's fortunes if Australia and Argentina can sustain the defensive improvements they made last year.
With both teams adapting their strategies (like many top Northern Hemisphere teams) to get two players into the tackle more often, having a third natural kicker in the backline could help New Zealand unlock the space behind or around those swarming front lines — as well as allowing them to exit more efficiently and kick for territory more effectively.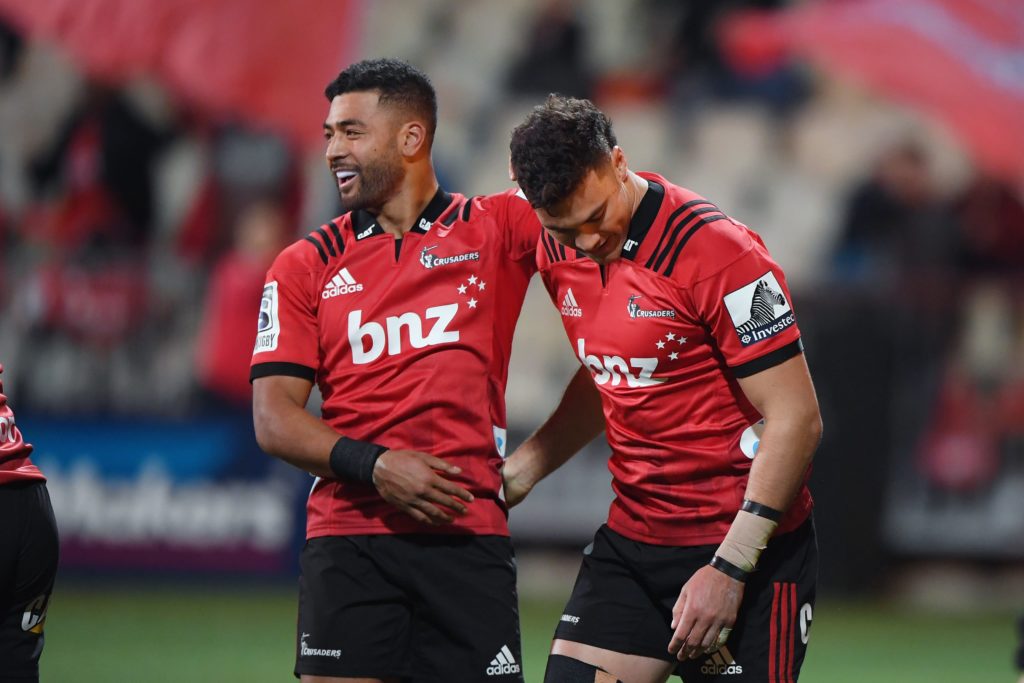 A final argument in favour of Havili's selection at 12 is the relationship that he has developed with the incumbent All Blacks fly-half by playing alongside Mo'unga every week at domestic level. Because of the importance of building cohesion with the players around you in these crucial decision-making positions in the middle of the field, skill level and style of play are not the only considerations — and the pair's 16 starts together in the five-eighth positions since 2016 should certainly count for something in Foster's mind.
What's more, with Braydon Ennor a chance to return from injury in time for the Super Rugby Aotearoa final — and having the opportunity to build himself back into the Crusaders' primary option at outside centre during the upcoming Trans-Tasman campaign — it is possible that red and black at 10, 12 and 13 may be the most attractive combination to the All Blacks selectors come July.
How Robertson would have juggled his wealth of backline talent had Jack Goodhue remained fit is unclear, but if Havili is to claim a starting role at test level in 2021 it will only have been possible as a result of such contingencies.
His preference for playing in the 15 shirt is widely known, but the range of attributes that he has proven he can bring to the game from 12 could yet make him a valuable weapon in New Zealand's midfield as they continue to retool their attack.
More analysis