Back

By Patrick McKendry
All Blacks have bounced back from disaster in the past
In 2009, after the All Blacks had lost to South Africa, France and Australia, thereby losing the Freedom Cup, Gallaher Shield and Tri-Nations Trophy in what for them was one miserable calendar year, the team's leadership group made up of management and senior players met at Clearwater, west of Christchurch.
Two years after losing to France in the quarter-final of the World Cup in Cardiff, and two years before the tournament was to be held in New Zealand for the second time, the black tide was at a low ebb.
The coaching group from that quarter-final failure had been retained, as had skipper Richie McCaw, and the odds of them winning the William Webb Ellis Trophy at Eden Park looked long at best.
So, at the review, according to McCaw in his biography The Open Side, "everything is up for grabs".
The senior players started by looking at themselves and agreeing that their leadership hadn't been up to scratch and that things had become stale. Then the coaches weighed in, saying they wanted to change roles, with head coach Graham Henry moving from defence to forwards, Steve Hansen from forwards to back attack and Wayne Smith from attack to defence and counter-attack.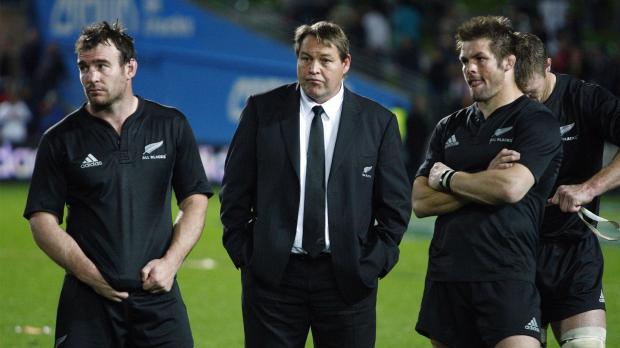 "We're a bit thrown to begin with, but can see the logic once they explain to us that while they were putting a lot of pressure on players to make personal improvements to get up every day and try to be the best in the world, they felt that they themselves were stagnating a bit, plateauing," McCaw wrote. "They felt that by changing their roles, they'd force themselves to learn again, and to work harder on getting better."
The All Blacks, of course, went on to win the 2011 World Cup, and the next one in the United Kingdom, becoming the first nation to go back to back at the tournament.
After defeats this year to the Springboks (and a narrow win over them which easily could have gone the other way), Ireland and France, two years after their failure in the semifinal against England in Yokohama, the black tide is once again low.
The coaching group dynamic is different – head coach Ian Foster and his main assistants John Plumtree and Brad Mooar are only two years into their current roles (although Foster was alongside Hansen for eight years) – but the facts remain: the All Blacks have been here before and have turned things around relatively quickly. They have looked low on energy and ideas before. They have known failure and disappointment. As shocking as they are for many All Black fans, these are not unprecedented times.
Alas, perhaps, this current group do not have the experience, resilience and utter quality of a leader like McCaw to turn to and nor do they possess one of the best ever midfield partnerships of Ma'a Nonu and Conrad Smith, but they don't lack class in terms of playing personnel, and, providing they scrutinise every aspect of their operation this year with forensic detail and put the lessons to use, they still have time on their side ahead of their first pool game against France in Paris on September 9, 2023, a meeting which became even more highly anticipated following the Tricolors' 40-25 victory at the weekend.
Familiar vulnerabilities remain for the All Blacks, vulnerabilities that were present back in 2009, plus another which has been present since 2017.
The chances of an internal coaching reshuffle are unlikely, but there is zero chance of Foster and his assistants being sacked by the New Zealand Rugby board, who rubber-stamped their contract extensions in August.
It's difficult to know how much their long tour – 10 weeks away – added to their fatigue in their defeats to Ireland and France, but it's fair to say it played a big part. A glance at the other Rugby Championship teams' performances at the weekend would suggest that was the case – South Africa losing to England at Twickenham, Australia to Wales in Cardiff and Argentina to Ireland in Dublin.
But familiar vulnerabilities remain for the All Blacks, vulnerabilities that were present back in 2009, plus another which has been present since 2017.
Back to McCaw's thoughts after the 2009 season review: "What's the formula for great All Black teams? They dominate physically up front. They have great decision makers, and they have the pace and power to kill teams if the chance comes."
The All Blacks couldn't dominate South Africa, Ireland or France up front this year. Their decision makers weren't up to scratch. And while they possessed pace and power, their rivals' suffocating tactics at the breakdown and on defence didn't allow them to use what they had effectively.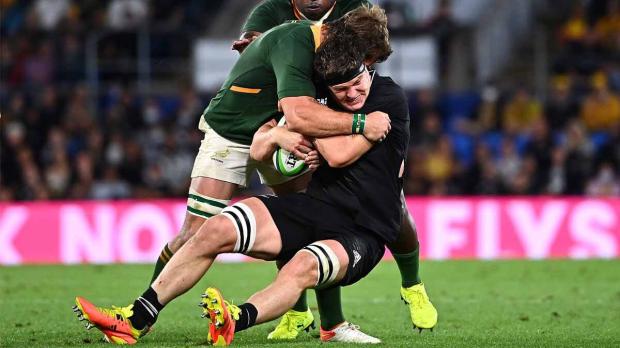 Most alarmingly perhaps, the decision makers didn't seem to have a plan to counteract the out-to-in line-speed defensive tactics which have troubled the All Blacks since the 2017 British and Irish Lions tour and which they were expecting from the opponents who beat them, and most worryingly for the All Blacks, both Ireland and France beat them comfortably.
How All Blacks fans scoffed when the Boks kicked away valuable possession during their defeat in Townsville in October. A week later on the Gold Coast, and the Boks' more intelligent kicking game helped paved the way to their victory. Ireland and France also kicked far more effectively. This is clearly one aspect of the All Blacks' game that needs scrutiny and improvement.
The All Blacks' scrum earned a pass mark, but their lineout and maul defence was inconsistent. They occasionally lacked aggression at the breakdown and ran too passively into contact which exacerbated the breakdown issues. Their tight forwards were handed a lesson in ball handling by the Irish, who also proved that creating space on the outsides is not the near impossible task the All Blacks appeared to make it if you have a plan and all parts in good working order.
The French, characterised as rugby's romantic hot heads, handed the All Blacks a masterclass in game awareness and clinical finishing.
On the bright side, loose forwards Akira Ioane, Ethan Blackadder and Dalton Papalii, hooker Samisoni Taki'aho, halfback Finlay Christie, second five Quinn Tupou, centre Rieko Ioane, wing Will Jordan and fullback Jordie Barrett enhanced their reputations.
While the All Blacks looked tired in the final fortnight of their northern tour, the coaches must investigate how much that contributed to their players' lack of composure and poor decision making.
But we didn't see the best of halfback TJ Perenara and, with Christie and Weber progressing under Aaron Smith, we may not see much more of the Hurricane in a black jersey. Richie Mo'unga failed to make the most of his opportunities in Beauden Barrett's absence. Midfielder David Havili struggled at times, as did lock Brodie Retallick who appears in need of a long rest.
It was revealed this week that midfielder Jack Goodhue will be missing from the Crusaders until April at least due to a knee injury – and how the All Blacks have missed the defensive clarity and offloading ability that he provides.
There appears to be a place too for Caleb Clarke, a wing who can provide something the other All Black fast men cannot: pure power.
The All Blacks also appear in need of props who can pass and offload. They have fantastic scrummagers in Joe Moody and Nepo Laulala, their two best, but have lost ground in terms of overall ball skills and while 23-year-old loosehead Ethan de Groot was blooded this year, the Crusaders' giant 21-year-old ball-playing tighthead Tamaiti Williams, all 1.96m and 144kg of him, appears a project the All Blacks might want to put time and resources into. Williams, a converted loose forward, has a surprising turn of pace and is set to be a big point of difference for both the Crusaders and national team over the next few years.
Elsewhere, while the All Blacks looked tired in the final fortnight of their northern tour, the coaches must investigate how much that contributed to their players' lack of composure and poor decision making because, while the Irish and French are at the start of their international seasons, it was difficult to come away from those defeats without thinking the All Black rivals appeared to have vastly higher motivation levels and that, indeed, they just looked better coached.
These will all be topics of discussion for Foster, Sam Whitelock, Sam Cane, Dane Coles, Beauden Barrett et al over the next few weeks.
Fortunately, perhaps, Coles is more than willing to get into the nitty gritty.
"We've got to look ourselves in the eye and have those tough conversations we can't shy away from," he said immediately after the French defeat, the All Blacks' first to the Tricolors in Paris since 1973.
"These last two games haven't been good enough. There's always an expectation as an All Black to perform and put our hands up, and we haven't done that the last two weeks.
The All Blacks have time and a history of rising to the challenge from a similar position. The review needs to be ruthless, though, just like Richie McCaw was.