Back

By Jim Tucker
All Blacks availability will make or break ANZAC Lions 'Test'
The delicious prospect of All Blacks Richie Mo'unga, Shannon Frizell and Brodie Retallick joining an ANZAC XV now exists for a spiritual 'fourth Test' against the 2025 British and Irish Lions.
The reforming of an ANZAC XV for the first time since 1989 was this week's major development when a well-planned nine-game schedule was unveiled for the Lions' tour of Australia.
The match will be played as the Lions' major tune-up a week before the three Tests against the Wallabies in Brisbane (July 19), Melbourne (July 26) and Sydney (August 2) in 2025.
Wallabies great Tim Horan said the most important step was now to make it a "real" ANZAC XV, not a watered-down version like in 1989.
The game in Adelaide currently bears the label as 'Invitational AUS & NZ XV' but that is more to do with the diplomacy of ongoing discussions regarding the use of the term 'ANZAC'.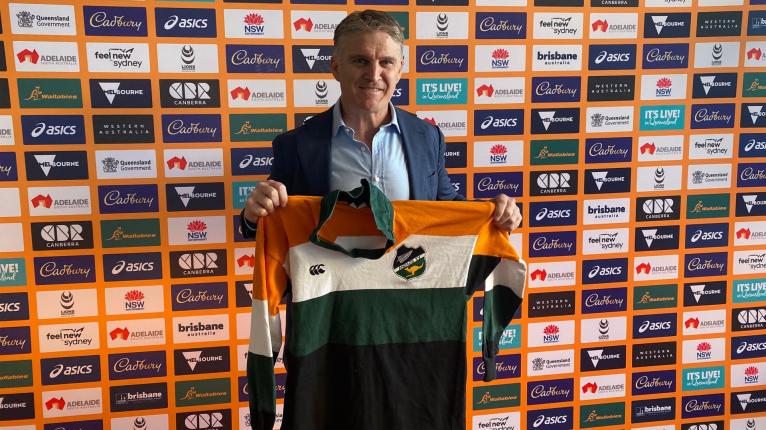 "In 2025, it should be called the ANZAC match and it should also be played in New Zealand when the Lions tour there (in 2029). It's very exciting," Horan said.
"As long as it's real with 10-12 reasonably current All Blacks, people will turn up and fill the stadium.
"You need real All Black players playing in it and that might be some playing off-shore."
That last twist is where the ANZAC XV can become viable without relying totally on a complicated process requiring the release of players by New Zealand Rugby during their own Test block.
Flyhalf Mo'unga, flanker Frizell, lock Retallick and veterans Beauden Barrett and Aaron Smith will all still be contracted in Japan in 2025.
One of the greatest memories I have of Ballymore is from that ANZAC game as a 19-year-old in 1989.

Tim Horan
A well-paid week in Adelaide at the end of the Japanese season to play against the Lions would be both alluring and box office.
In 1989, All Blacks stars Buck Shelford, Grant Fox, John Kirwan and Sean Fitzpatrick were amongst those who declined invitations to play for the ANZAC XV against the Lions because the game fell on a weekend between two Tests against Argentina in New Zealand.
In the end, only Frano Botica, Steve McDowall and Kieran Crowley appeared in a match won 19-15 by the Lions at Ballymore.
"One of the greatest memories I have of Ballymore is from that ANZAC game as a 19-year-old in 1989. The bus had to stop in Clyde Road outside the ground because there were too many people to get closer," Horan recalls.
"We had to walk through this human tunnel by the creek bank for what seemed like hundreds of metres. You got tomato sauce and beer on your jacket. I remember Frano Botica saying 'How good is this?'."
"Adelaide Oval will be big. It should be the unofficial fourth Test."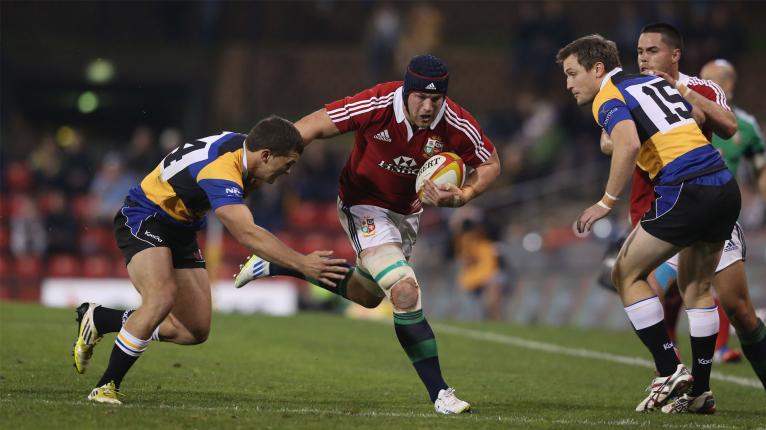 Not only have any "soft" opponents, like 2013's Combined Country (64-0) or 2001's Queensland President's XV (83-6), been removed from this nine-game tour of Australia, the schedule has been significantly fortified.
Several matches against Super Rugby sides were diluted on the 2013 tour when then-coach Robbie Deans stood down Wallabies from their club sides.
Even if Wallabies coach Eddie Jones elects to do the same, at least two big tour games seem certain to go ahead at full strength.
The Queensland Reds host the Lions (July 2) well before the first Test while the NSW Waratahs are scheduled to play the touring side a few days later.
Many will remember Quade Cooper and the under-strength Reds hitting the Lions with an exhilarating high-speed game in 2013 before bowing out 22-12.
If you ask me if I have any regrets in my career, it's that we didn't beat the Lions in that 1989 series. You only get one roll of the dice.

Nick Farr-Jones
Former Wallabies skipper Nick Farr-Jones was also involved in the 1989 ANZAC XV game. He believes the revived concept is a beauty.
"If they do it well, it'll be great. If they do it less well, like we did in '89, it will just be an exercise," Farr-Jones said.
"What you want is a combination 50-50 of Aussies and Kiwis. We fought together at Gallipoli and on other battlefronts. It's about the spirit of the ANZACs.
"Even if we are headbutting as unions, we should get together to provide the right quality of players to have a memorable game.
"If you ask me if I have any regrets in my career, it's that we didn't beat the Lions in that 1989 series. You only get one roll of the dice."
Today's launch in Brisbane provided a wonderful platform for a host of Wallabies to relive some classic tales from previous Lions tours.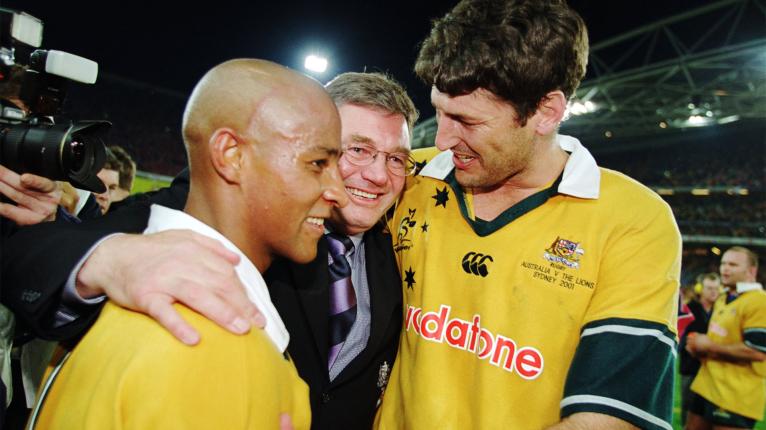 Coach Rod Macqueen recalled some of the quirky off-field tactics employed during the Wallabies' 2-1 series success in 2001.
He revealed they tried to do their bit to widen any fractures in a Lions' squad dominated by English players.
"We could only find one Achilles heel and it was the trepidation from the other nations in a Lions squad of predominantly English players," Macqueen said with a laugh.
"We organised a competition amongst the Australian players whenever anyone attended a press conference. The person who mentioned English players and the word 'England' the most had privileges for the rest of the week."
World Cup-winning Wallaby Daniel Herbert agreed it was "the most intense series he was ever involved in."
"It was a bit like the Ashes, only more special for us because it's only once every 12 years," Herbert said.
Current Wallabies coach Eddie Jones said a quality of that famous series-winning Wallabies side of 2001 is one he's working on instilling in this World Cup year.
"More and more, big moments can win a Test or dictate 10-15 minutes of momentum," Jones said.
"In that 2001 series, Joe Roff's intercept try was a game-changer in Melbourne and Justin Harrison's big mits to steal that key lineout late in Sydney made his name. You sit in the history of the game with moments like that against the Lions.
"A Lions tour is such a great event and the fans set out for a rugby party across Australia."