Back
By Jamie Lyall
Adam Hastings: 'When you're injured, you question a lot of things'
What's it like when you're competing with your best mate for a starting jersey? When you share a room in camp, a position on a rugby field and a burning desire to play at a World Cup?
Adam Hastings has found himself plunged into this odd situation lately, since close friend Blair Kinghorn's conversion from willowy full-back to Scotland fly-half. The pair have been pals from their age-grade days in Edinburgh, shone for the national under-20s and won senior caps together. For much of that period, they did so in different areas of the pitch; Hastings running the cutter as a slick pivot, the towering Kinghorn lolloping into the line and bursting free from deep. Now, though, each is vying for a seat on the plane to France in September as one of Gregor Townsend's fly-halves.
"Honestly, it's not changed the dynamic of the relationship at all," Hastings tells RugbyPass+. "Which one might think it would a little. But it has not.
"We are still roomies. I was texting him when I got in the Scotland squad saying I was selected, seeing if he was as well, and we can't wait to room together. It has genuinely not changed the relationship.
"I know we are going for the same position; it is maybe a tiny bit strange, but it's just rugby. It's not as if we're taking each other's heads off in training or smashing each other all the time. I'd imagine we will both get a chance to play in the warm-up games. The only time I could think of it being weird if we're roomies and one of us got dropped. Other than that, nah."
Kinghorn's versatility and class makes him a precious option for Townsend. Hastings is battling Finn Russell and Ben Healy, a recent arrival from Tipperary with a Scottish father, for one of those coveted berths.
The past six months have been trying. He copped a torpedo-like shot in Scotland's Autumn Nations Series win over Fiji, then blew out his shoulder playing for Gloucester a few weeks before the Six Nations began. The latest in a spree of poorly timed injuries. He has made only a single Test start since October 2020. While Scotland dazzled in the spring, Hastings lived in the Gloucester gym, bolstering his stricken shoulder with a mind-numbing bevy of rehabilitation exercises.
You just miss out on the social side, spending time with them. You are isolated.
"You want the boys to do well," he says. "I've still got great mates in that team. It's the same with Gloucester, you want them to make strides up the table. You just miss out on the social side, spending time with them. You are isolated.
"I might be in for my rehab in the morning, we'd have a different slot to the boys in the gym, and when they all went out to train, I'd be inside doing other gym bits of rehab. You feel out of it, which is the toughest thing.
"I'm keen to get in with the boys. I've missed them a lot. It'll be good to get going and hopefully get a couple of games in during the warm-up Tests and put my best foot forward. For the last four months I've tried not to think too far ahead, I wanted to just get fit, because it's bloody dull going in five days a week to do the same exercises you've been doing for two months."
Hastings has had good people around him to negotiate the mire. When he joined Gloucester from Glasgow in 2021, he moved in with Scotland centre Chris Harris and his wife, Ruby. A 'You, Me and Dupree' set-up, as Hastings called it.
"They had a baby so I had to move out," the 26-year-old chuckles. "I'm renting from one of the boys in Cheltenham, hoping to buy a place in the next couple of months. Cheltenham is a nice place. Because it's small, there are a lot for young professionals, it's hectic, slightly better buying here than up in Scotland where you've got to go about £70,000 over the survey valuation."
Hastings' recovery progressed swiftly enough for him to feature in Gloucester's final two matches of a frustrating season. Having ended one place and two points outside the semi-finals a year ago, they wound up second-bottom this time around. George Skivington has ripped up the game plan and instilled a freer attacking blueprint. The team, says Hastings, have relished this approach. Results have not yet followed.
"When you're injured you question a lot of things, and doubt a lot of things. In that regard the past four months has been pretty tough, but I'm getting there.
"The changes we've made in our game – I know we've been on the wrong end of results but you can see the way we want to play, we have been cutting teams apart just not finishing them.
"We finished last season playing some nice stuff then we had a huge, long pre-season, and put a massive emphasis on attack. We'd have liked to have clicked earlier in the season. It was there in dribs and drabs but the last eight weeks it's been there, we haven't been winning but we've been creating enough.
Everyone is on the same page. Before, boys were half in, half out of some other shapes. It was clunky.
"The difference between now and last season is with boys buying into the shape, and the shape in general is way better. We've changed our setups. We play a bit more off 10 on the edges now, we used to go quite a lot to that shape Glasgow run with 12 and 13 coming short, and 10 out the back.
"Everyone is on the same page. Before, boys were half in, half out of some other shapes. It was clunky. Now we are all 100% sure of what we're doing when we're in areas of the pitch. That buy-in has been brilliant. We've got a great backline."
Townsend has been watching closely. He will cast an eye over Twickenham on Sunday, when Hastings' anchors a World XV backline of eye-watering ability against the Barbarians. His centre pairing will be Ngani Laumape and Semi Radradra. Sbu Nkosi and Israel Folau are on the wings. Charles Piutau starts at full-back. Hastings might never play in such a team again.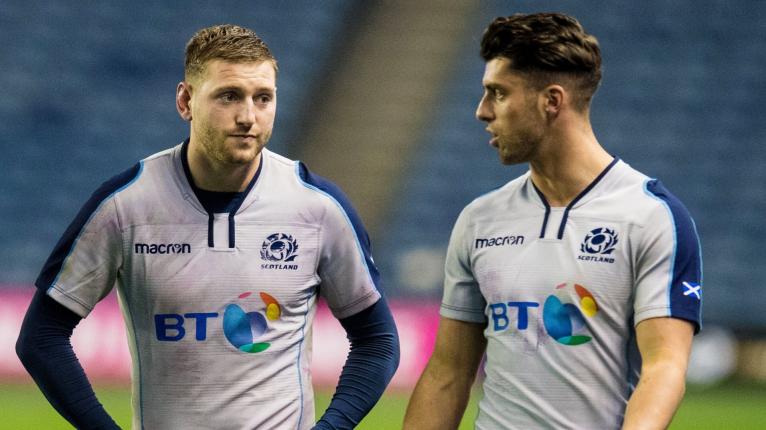 "Gregor is happy with some areas of my game but there are others which are focuses for me, and he has delivered them," he says. "Those are things I've got to go and get right.
"Playing against the Baabaas, I can hopefully showcase it there, and in the World Cup warm-up games, but I'm excited to hopefully put on a Scotland shirt again. I've been fit for two games now; I'd have liked six, but two is what I got."
Two star-studded international line-ups, coached by Eddie Jones and Steve Hansen, lock horns at Twickenham on Sunday. Buy your tickets for a blockbuster Barbarians versus World XV match here.