'You'd be surprised if I told you I only goal kick once a week'
Stephen Myler is a class act, as polished off the field as he has been on it during his stellar dual-code playing career, but don't call the Ospreys talisman a veteran and expect it to go unnoticed. RugbyPass knows this to our cost, the 37-year-old shooting back with a tongue-in-cheek Twitter response some months ago regarding a website headline reporting some game-winning exploits by him in the United Rugby Championship.
Having decisively kicked six penalties at the Liberty for his Welsh region in October, the wire match report was headlined: "Veteran Myler puts the boot in on Munster." His riposte was witty. "Hey RugbyPass, you seem to have spelt my first name incorrectly," he tweeted to his 23,400 followers with a winking face emoji. The post, naturally, was popularly received, nearly 1,000 people liking his response.
Myler has been quiet on social media since then but his boots have continued to do some serious talking at the Ospreys, firing them to another impressive league win last weekend over Ulster ahead of this Sunday's Champions Cup opener at home to English visitors Sale, a game that Gareth Anscombe was chosen for ahead of Myler.
It was down day Thursday when RugbyPass caught up with Myler for a warts-and-all run through a career that took flight in league at his native Widnes in 2003 after an academy stint at St Helens and continued at Salford before his 2006 switch to union took him to Northampton, London Irish and now to Wales, a change of scenery he is certainly enjoying.
"I'm not doing too much today actually, just boring bits of life admin and food shopping, things like that," he explained. "It's just a pretty chilled day, nothing overly exciting. It's far too cold, windy and wet for golf at the moment. I'm about 40 minutes to Swansea, 20 from Cardiff, living in quite a small village with a high street. Very, very rural but not far from the M4, so not far from Swansea and Cardiff as well."
Hey @RugbyPass you seemed to have spelled my first name incorrectly ? https://t.co/PFP0jrohfM

— Stephen Myler (@StephenMyler) October 24, 2021
It sounds like sanctuary given the difficult week it has been at Ospreys, hooker Ifan Phillips treated for life-changing injuries after being involved in a road traffic collision. "We are still getting to the bottom of the facts and stuff but we are all devastated for Ifan," reflected Myler. "Rhys Webb mentioned it Wednesday. Ifan and his family are in all our thoughts at the moment and we are just waiting to get the facts and understand how we can help him going forward. That is kind of all we know at the moment. He is foremost in our thoughts and we are wishing him the best with what that looks like going forward."
The show went on, though, in terms of a match needing to be prepared for. "It has made me refer back to a few incidents where you are kind of shocked with what happens and people's careers are cut short, those experiences in the past. It makes you reflect on how quickly things can change, how fortunate we are to be in the position we are in.
"But it is our job, we are professionals and we are paid to go out there and do our best for the Ospreys region. We are not going to forget about what has happened but we have to be on page and respect what is coming this weekend, which is a very difficult challenge for us. We need to be putting our best foot forward to be representing the Ospreys as best as we can."
Myler is at a crossroads in his own life currently, unsure if he will be at Ospreys for a third season next term and also uncertain what the future might hold when the day inevitably comes for him to finally call time on his considerable playing career. "I haven't made a decision either way. The last couple of years I have said I'd see how my body feels and see if I still have the desire to do it – and I do at the moment.
"That is my immediate thought but a lot of consideration with that is what life looks like beyond a rugby playing career. I am considering the coaching route, I am hopefully going to do my badges, my level three badge this year, but when that is I don't know yet. I couldn't give you an accurate answer for what my immediate plans are next season or anything like that. I'm still in the process of getting information together. Hopefully, I will make a decision soon."
What is definite is that joining the Ospreys during the 2020 lockdown was a welcome jolt. "It was all up in the air with what was going on but the Ospreys were the first club I spoke to and once I knew they were interested I was massively keen straight away because I knew Toby (Booth) from the Premiership and knew a few Ospreys players, particularly George North who I had played with before. Once I knew Ospreys were a possibility I was dead-set and wasn't really interested in looking at other options."
Sixteen months on from his club debut, it's safe to say the Englishman has been a successful recruit given his popularity with the Welsh. "I keep hearing this and it's interesting, it's nice. It shows I have contributed since I got to the region and that is all my focus has been on really.
"The position I play is influential and it [the appreciation] is a reward for the effort I put into buying into what Toby wants, how he wants us to play and the identity he wants us to build. I can play a part in that and if people are happy that I am at the Ospreys it shows that I have at least done some things right. That makes me happy.
Thank you guys ?? https://t.co/e4d1pNAS8h

— Stephen Myler (@StephenMyler) April 1, 2021
"I played against the Ospreys over the years and you respect the calibre of players they have had. It was one of the reasons that excited me about joining, getting to play with some of those players. They have gone through a frustrating patch in recent years, underperforming, but there is a vision now to develop the region and look forwards and Toby is at the head of that. It's a proud rugby region that wants to improve, wants to compete. It's an exciting time and a privilege to be involved."
Being such a reliable kicker – he finished last season's PRO14 with the Golden Boot for most points scored – only adds to his value, but the training ground obsessiveness needed during his Northampton heyday has given way to a more tranquil but just as accurate approach. "You'd probably be surprised if I told you I only goal kick once a week," he revealed.
"I wouldn't advise that to youngsters because I know the countless hours I put in when I was younger to get to a level I was happy with. The amount I practice has evolved over the years with how I learned about myself, about my personality. I am a bit of a perfectionist by nature and sometimes that can be a negative. You overdo it and overthink things.
"Now it's more a case of me understanding what my technique is, what my mental approach needs to be and finding the groove where I am happy and that nowadays takes less repetitive kicking of rugby balls. Much more goes into that, my work in the gym on my body and making sure I have got control of my knee, my glutes and all that sort of stuff. You need your body to function to be able to kick the ball.
"As I have got older the priorities have changed. You certainly can't go onto a field and kick (in a match) for the first time in the week. There needs to be some work done but it is a lot less than it used to be. This is going back five years now. There was a point where I started only kicking once a week because I had a knee injury at the time at Saints where I was playing through, so I couldn't really kick more than once because it would put me in a bad spot for the weekend.
? @StephenMyler deadly again from the boot#URC | @ospreys pic.twitter.com/wORQhGHjkx

— United Rugby Championship (URC) (@URCOfficial) October 25, 2021
"There have been times where I have gone into a game and I have kicked ten goal kicks in a week and that is it. Once I realised I could function at that level on game day and not feel underprepared by repeatedly doing it, I knew that it wasn't a case for me of kicking 6,000 balls in a week. There were different elements to that. It was about finding the groove that I know I can function in and staying in that for as long as I can.
"Kicking is not the reason why you win a game, it just gives you an opportunity to be in a position to win a game. For a couple of games this year I have been able to capitalise on a couple of scrum penalties that we have had with the three points and that for me is nice because it rewards the work that the forwards do to give me the opportunity. That often goes unseen.
"You start kicking a few goals and people say you have kicked this many points but there is always a reason why that happened and it is not just because of you. It is nice if I get to do my job and it contributes to a win but there are other people that have contributed. It is a team game where my role at certain times is to kick the ball through the posts and if I can do that then great."
Being a team game, there is always dressing room banter and, of course, references to his 'veteran' status. "That happens, don't worry. But I am playing with Elvis Taione this year, which is good. He is older so I am no longer the 'squad-father', which is great news for me," quipped Myler before explaining why he is still going so strong in the sport seven months before his 38th birthday.
"Having a purpose and being part of a group that is trying to achieve something is a huge one. And personally just the opportunity to compete. I'm competitive by nature – we all are in this industry – so the opportunity to try and win, to try and improve every day and contribute to a team effort is what gets you up and gets you motivated.
2?0?0?6? Take another trip back to our 2006 @SuperLeague season!

? @luke_robinson9's kick puts @StephenMyler in for a try here!

? WATCH the full match on RDTV?https://t.co/m2X5YWh2GZ pic.twitter.com/CbC5I7P2Rt

— Salford Red Devils ? (@SalfordDevils) June 24, 2020
"You have a good win and that is the feeling you can't replicate. Being part of that is what drives you. You appreciate those moments a little bit more when you are coming to the end of your career but that is essentially it, being part of a group and having a purpose within that group and having the opportunity to compete."
Myler enjoying such a distinguished career in union had its genesis in his sudden interest in the 2003 World Cup-winning England team and timely advice three years later from his father. He had been raised in league, adoring "the phenomenal" Martin Offiah until he left Widnes for rivals Wigan. His dad John has also been the Widnes full-back and other family members enjoyed great success too in the code that was all he knew growing up.
"I remember vague flash instances of being at games when I was really young but not too much. My memory is more just running around on the pitch after the games, being in the changing rooms and things like that. Rugby league was a big part of my upbringing. There wasn't really an instant moment where I thought I wanted to play rugby. It was just part of my family for generations and it just seemed it was always what I wanted to do."
But why the cross-code gamble? "I was 18 when I played my first Super League game. Everything I dreamed of was wanting to play in the Super League growing up and that was great. It was two years and a year before I went to Northampton when I had opportunities to potentially pursue union but I never really played it, so I was like, 'Why would I switch because I don't understand the game, I have not got a track record of playing?'
"But I got interested more in union when England won the World Cup in '03, just watching it a little bit more and trying to get to grips with what the rules were. It wasn't a big part of my life growing up in Widnes to play or watch rugby, it was purely rugby league. But that World Cup spiked my interest and then in '06 I had the opportunity to move to Northampton.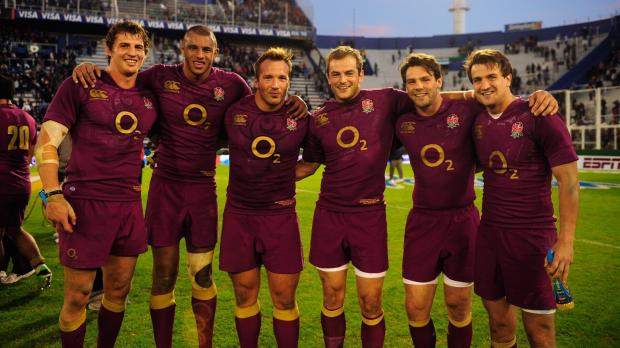 "It had been a bit of a difficult last season at Widnes and then at Salford, so I was at a bit of a crossroads but once I met with the people at Northampton and went down to watch a game I just thought it was an opportunity I couldn't pass up after speaking with my dad in particular. That was a massive part in encouraging me to make the switch because he knew my skill set, knew my mentality. His confidence that I could make the switch and make a success of it pushed me to say, 'I am going to give it a crack'."
So good was Myler that he earned an England cap on the 2013 tour to Argentina and was in multiple squads during the Stuart Lancaster era. Was that single cap, though, something to cherish or should there have been more appearances? "Both really. When I moved over my initial focus was to make a success of the transformation to union and what that looked like wouldn't have been, 'I am going to win this, I am going to do that and I am going to play X amount of times for England'.
"From what I recall nobody had made a long and successful switch in my position. Everyone was telling me it was going to be really hard for me as a 10 because the game is so complex and you have so much to control, but I was determined that wasn't going to be a reason why this wasn't going to work. I was going to make it work.
"My initial thought was that if in a couple of years they are not talking about me as a rugby league convert, that they are just addressing me as Stephen Myler, the fly-half at Northampton or where ever I was, that would have been a success because it would mean that I had taken to the game.
"There are times now when I speak to players and they are unaware I grew up in league and had three or four seasons in Super League before I moved across and I take that as a compliment, that I must have done something right if they are considering me as a union player.
?
Most games played during our Twitter lifetime and also the most played video…@StephenMyler ?#Saints100k https://t.co/Q7lAnuMeU6

— Northampton Saints ? (@SaintsRugby) June 18, 2017
"I was never getting ahead of myself in terms of international honours or anything like that. On reflection, it is a bit frustrating on a personal level that I didn't get more caps but as a player you just want opportunity and there were certain times when opportunities were restricted which is the frustrating part, but it doesn't keep me awake at night and I don't look back at it with any bitterness."
Northampton was the club of Myler's life, a dozen-year adventure with multiple highlights, and he hasn't been forgotten. "I have only been back a few times. I played against them for London Irish, I went back in pre-season this year with Ospreys but I had an injury so I wasn't able to play, and I then got back with a couple of friends from outside of the rugby circle just to catch a game earlier this season. I still have a lot of friends and colleagues there from the past who I still get on with, so it's nice to get back there from time to time.
"Some fans recognised me. That is one of the things with Northampton, they are very respectful of the history of the club, past players and things like that. You are always well received when you go back which is the nice part, the fact that people say hello and rate what you did at the club validates the effort you did to make the club a success.
"The ultimate goal was winning the Premiership which we achieved in 2014. At the time I would have said this is the best day but on reflection, it was actually the journey we went on with the players we had, a core group of players who grew up together and I certainly grew up as a person in that town and at the club. That was the thing I took from it most."
Comments
Join free and tell us what you really think!
Join Free