'Very unusual for us' - Mixed feelings for Dan McFarland after Ulster win
Ulster coach Dan McFarland was happy with the result but not the performance as his side beat Northampton 27-22 in the Heineken Champions Cup.
Leading 27-12 as the hour mark approached, with tries from Rob Herring, Ethan McIlroy and Craig Gilroy plus a penalty try, they were almost pegged back as Alex Mitchell and Courtnall Skosan crossed for Saints.
After making it two wins from two in the competition, McFarland said: "We put three tries on the board, nice counter-attack, nice phase play.
"On each occasion we were scoring and they were kicking into our half, we weren't being accurate with our exiting and it was giving them an opportunity to get a foothold and put points over, and that's what they did.
"In fact, I think a massive chunk of their points came in the three, four minutes after we scored. That is very unusual for us.
"In the last three or four games we've been excellent at exiting our half, really precise. But we did odd things, little offloads, losing the ball in contact, trying to get the ball away from mauls and giving up possession. That was a key reason why we weren't able to maintain control on the game.
"Then, in addition, the back-row battle was a very interesting one, in that third quarter they started winning a lot of collisions. We started to get very handsy with our tackles which, again, is very unusual for us.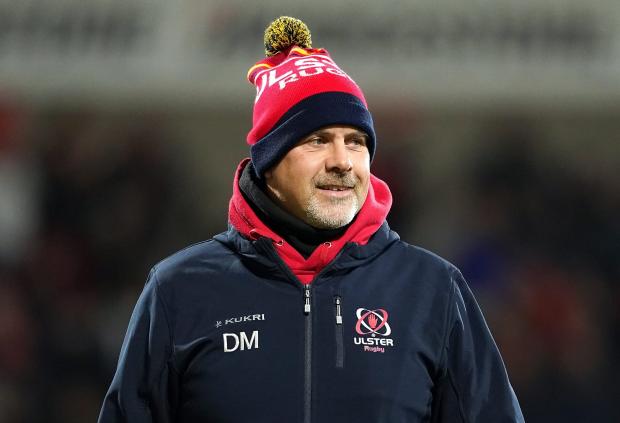 "Duane (Vermeulen) is a legend of producing a steal at the exact moment you need it, and Nick (Timoney) and Marcus (Rea) have been doing that well in recent games. I thought that was an interesting battle."
Saints coach Chris Boyd was disappointed as the English Premiership side came up short.
"It was frustrating, we let them get out to a bit of a lead and we probably clawed our way back into it but it was just little bit of inaccuracy and little bits of not reacting to what was going on," he said.
"The pivot point was the penalty try he gave, the penalty try and the yellow card (to Mitchell) was pivotal because very wisely Ulster scored their next try with a chip that the half-back would normally be in that space, so it's disappointing."
Boyd saw the losing bonus point as no consolation.
"We came here to get more than one point and I guess the only thing is that hopefully we will have a chance to play them again in three or four weeks' time," he said.
Comments
Join free and tell us what you really think!
Join Free