What the stats say about Billy Burns and the player Ulster have on their hands
The signing of the 24-year-old looks on the surface to be a canny pick up by Ulster rugby. Burns, Irish-qualified with over 100 appearances for Gloucester despite his age, will add some considerable experience and quality to Ulster at flyhalf.
He can cover a number of positions across the backline, namely at out-half and at full back. In this piece we want to dig down into Burns' performances over the last two seasons at out-half in particular.
The reasoning behind looking into the last two seasons only is because he was getting consistent game time for Gloucester at 10. His appearances were scattered from 2014 when he made his Aviva Premiership bow against Worcester Warriors until the 2015/16 season.
Billy played 29 times last season with a healthy 24 starts over the 2017/18 season. However, we will only consider his performances at 10 because including performances at fullback can bias the numbers. For example, you would expect a fullback to have more metres run over a match than an out-half as they sit back guarding the back field against kicks in behind with free space to run into.
Below we can see his overall scoring statistics covering 55 games at 10 over the last two seasons. What jumps out here is the number of conversions, penalties scored and the number of tries he has assisted in.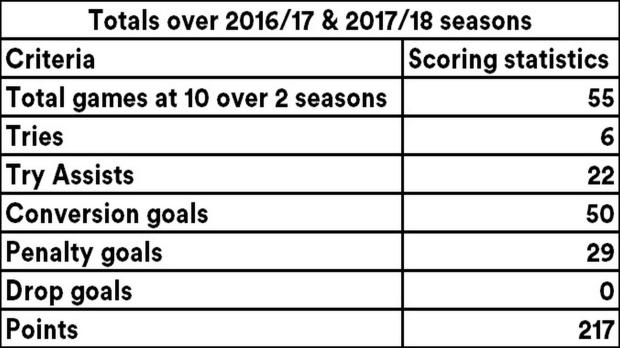 The former Cherry and Whites out-half doesn't score a huge amount of tries but he is a reliable kicker when called upon. It is encouraging to see 22 try assists over the last two seasons which should help bring out the best in Ulster's backline.
If we check his attacking performances over the last 55 games below, we find more encouraging statistics for Ulster supporters. He has an impressive average of 4.2 metre per run across two seasons.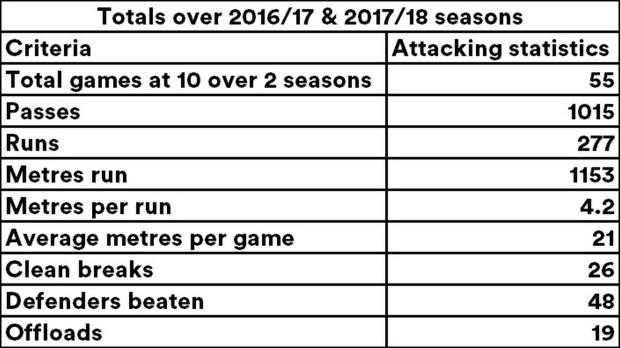 Burns has a pretty decent record in relation to clean breaks, defenders beaten and offloads with 26, 48 and 19 respectively.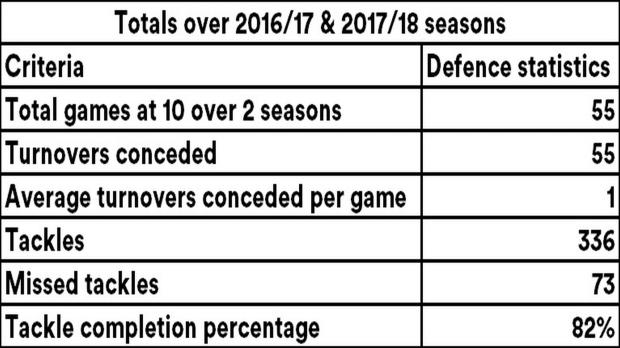 Looking at his defence over the last 2 seasons in the image above, we do find a slight chink in the armour with an average of 1 turnover conceded a game over 55 games. His tackle completion percentage is actually not too bad with 82% overall. He made 336 tackles with 73 tackles missed. That gives us an average of about 6 tackles.
That isn't to say that Burns doesn't roll up the sleeves at times when it comes to defence. In contrast Billy made an outrageous 19 tackles with 2 missed in a 24-19 win against Worcester warriors in 2017. That's a tackle success rate of 90%.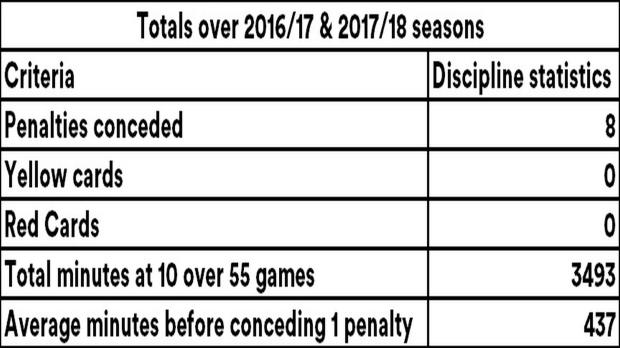 Discipline is another area of strength for the youngster with only 8 penalties given away over 3493 minutes which gives us about 1 penalty conceded every 437 minutes.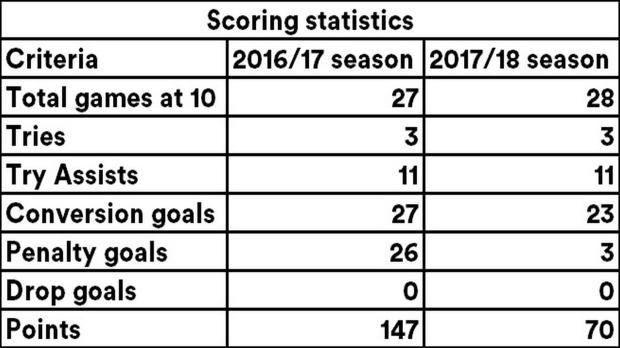 Digging down deeper into individual seasons, we find a huge discrepancy with 26 penalties scored in the 2016/17 season but only 3 scored last season. The explanation for this small amount of penalties scored last season was because Billy Twelvetrees and Owen Williams were primarily given the kicking duties.
It must be noted that in the 2016/17 season, Burns had to contend with Twelvetrees, James Hook and Greg Laidlaw for the kicking responsibilities but still amassed quite a number of conversions and penalties. There is some consistency to be found with 3 tries and 11 try assists made in each season.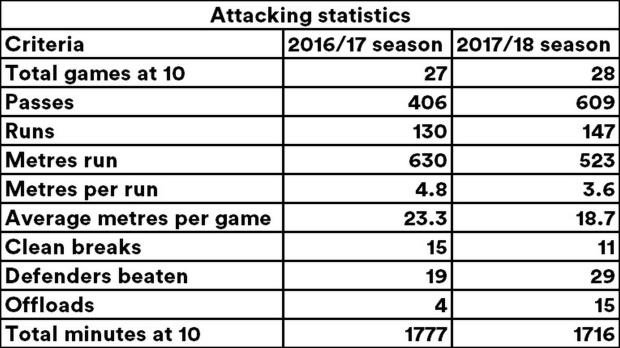 His metres per run performance decreased from 4.8m to 3.6m for the 2017/18 season. The number of clean breaks dropped by 4 but there was an increase in the number of defenders beaten by 10. He tripled the amount of offloads he made last season from the 2016/17 season.
Counterintuitively despite playing in 28 games last season compared to 27 games in the previous season, we find that Billy's minutes played at flyhalf were actually lower than the previous season. He played 1716 minutes last season compared to 1777 minutes in the previous season at 10.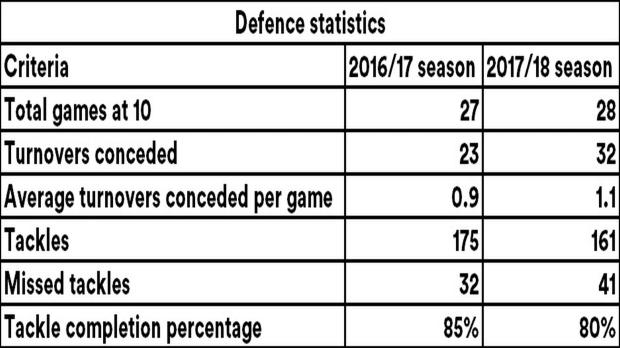 Burns has underperformed in terms of defence this season giving away 9 more turnovers with 32 conceded last season. His tackle success rate also decreased from the 2016/17 season to the 2017/18 season going from 85% to 80% respectively.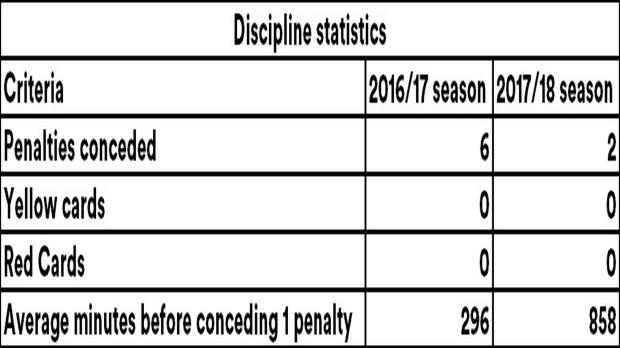 The Bath-born out-half improved in terms of discipline conceding only 2 penalties last season compared to 6 in the previous season. Also Burns received no yellow or red cards over two seasons despite playing 55 games.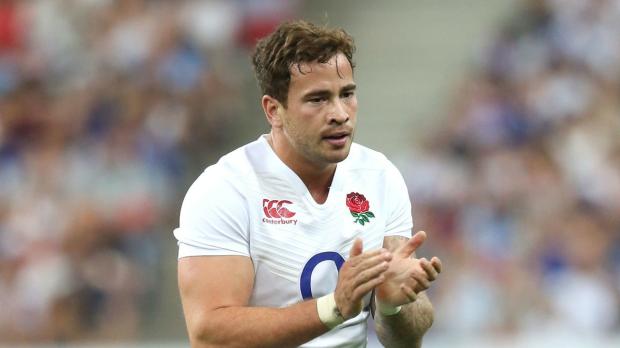 With Cipriani having just signed for Gloucester, Burns might have found himself coming on from the bench more often. Ulster were lacking an experienced out-half to steer the ship and he seems to tick all the boxes. Burns wants to play at the highest level and through a paternal grandparent, he could well find himself with an opportunity to show what he is capable of on the international stage.
All things considered, this seems like a sensible conclusion for all parties involved.
Comments
Join free and tell us what you really think!
Join Free