Ref Watch: A novice performance that favoured Australia
James Doleman is a relatively new name on the international refereeing scene having made his debut last summer at the – in officiating terms – tender age of 30.
The Kiwi's appointment to as competitive a fixture as the first test of an Australia v England series suggests he is highly rated in World Rugby's refereeing department. Despite the proximity of the next World Cup, with a run of good displays he could therefore still make the starting grid in France next autumn.
Unfortunately for Doleman, while his display in Perth was by no means a disaster it was also far from impressive. He looked exactly what he is – a novice at the top level – who therefore lacked the polish which comes with experience.
Darcy Swain and Jonny Hill Cards
Getting the game's defining moment out of the way first, in the current climate and based on the guidelines provided, Doleman got this 100 per cent correct.
I can already hear 'the game's gone soft' brigade chuntering about the proper punch-ups which typified rugby in the 1970's and 80's, and there was initially a hint of this in the Sky commentary when the excellent David Flatman joked: "What has the game come to when a pair of international second rows are pulling each other's hair?"
However, Flatman is rugby union's no.1 pundit for a reason, and when he saw Swain's butt on a replay he retracted his earlier opinion and immediately suggested that a red card would follow.
Hill appeared to initiate the incident and he was certainly not taking a backward step when his opposite number responded, which made his yellow card an appropriate sanction. Presumably both players would have gone to the bin had the incident not gone beyond this bout of hair-pulling, but once Swain butted Hill – even with fairly minimal force – by working through the head contact protocols, a red card was unavoidable.
It was interesting to note both that Doleman received no hint of dissention from the touch judges or the TMO when he asked if they were happy with his proposed award of one yellow and one red card. In addition, when the ref mike then picked up Michael Hooper in the gap between Hill being sent to the bin and Swain being spoken to, it was impossible not to detect the hopeful tone in his voice when he asked Doleman: "We're looking a yellow then?"
As I tried to explain to someone who I recently heard suggest that every international fast bowler from before 2000 was only medium-pace when compared to today's quickies, there is no point in making comparisons between eras.
But in an attempt to pacify the 'game's gone soft' brigade I am happy to confirm that 25 years ago Messrs Hill and Swain would have been told not to be so stupid, shaken hands and the game would have restarted with a penalty to England based on the final retaliatory act being Swain's butt.
Breakdown Woes
My first note written about 15 minutes into the game said: "The breakdown is a mess, there's bodies everywhere," and Doleman never really got to grips with the tackle area across the 80 minutes. In total there were 15 penalties awarded for tackle-related offences or in the immediate aftermath, split 8-7 across the two teams – so put another way he never found a solution.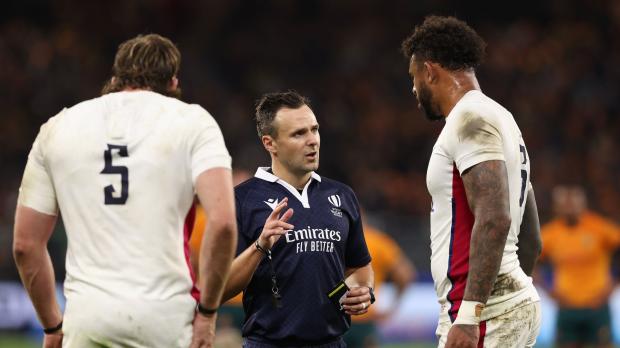 When things start to run away from you as a referee it is really difficult to reel them back in, which is why the comment: "the ref is setting his stall out" is regularly heard when no leeway is offered during the opening quarter of big matches.
This early 'zero tolerance' approach is usually most evident in the scrum and the tackle area. This is because refs are aware that free-flowing contests rarely result on a day when either of these are poorly officiated.
Doleman allowed the tackler too much time on the ground; the subsequent level of competition hugely reduced the amount of quick possession available to both sides. The contrast with Karl Dickson's display in the earlier New Zealand v Ireland match – where there were nine breakdown penalties in total plus a yellow card against the hosts when four came in quick succession – was vivid.
| | | | | |
| --- | --- | --- | --- | --- |
| | Quarter 1 | Quarter 2 | Quarter 3 | Quarter 4 |
| Pens against Australia | 4 | 2 | 4 | 2 |
| Pens against England | 3 | 3 | 3 | 3 |
The Big Calls
19th Minute Breakdown Penalty
With England pressing the home line hard following Tom Curry's break a try seemed inevitable. Marcus Smith then went left and a little away from his support, but he was still only three metres from the home line when Australia hooker Dave Porecki killed the ball on the ground. A 'red zone' yellow card all day long, but Porecki got away with a warning and a penalty.
22nd Minute Scrum Penalty – 3 points to Australia
With Australia's tight head Allan Alaalatoa face down on the floor after his bind slipped and Ellis Genge on his feet, when the hosts were awarded a scrum penalty, in the commentary box former England prop Flatman wryly commented: "It's a struggle to see how bind alone keeps a 19 stone tight head on his feet." Should have been a penalty to England.
40th minute Breakdown penalty – 3 points to Australia
The penalty call was fine, but in contravention of the newly-emphasised law edict, Wallabies flanker Rob Leota had previously claimed possession at the front of the lineout from which Australia set up field position from around a metre inside the five-metre channel. Free kick to England.
56th minute Hooper jackal
Australia's skipper won a crucial turnover penalty on his own line with a brilliantly-timed jackal. However, the split-second delay which allowed him to nip in and poach the ball came as a result of Porecki being on the wrong side on the ground. Should have been an England penalty.
Billy Vunipola Yellow Card
Finishing on a positive note for referee Doleman, as with the earlier cards I thought he got this entirely correct.
Vunipola's left arm definitely made contact with the ball-carrier's head, and by asking for an additional look at the replay in real time the official allowed himself to accurately assess the amount of force involved in a contact which in slo-mo he initially assessed as being "passive."
"In real time it looks a harder contact," he advised, and subsequently upgraded the sanction applied from a penalty to a yellow card having first assessed that body height provided mitigation from any thought of a red.
Comments
Join free and tell us what you really think!
Join Free