'His physique makes you hesitate rather than confident of taking him on'
England may have the mercurial talents of Marcus Smith, but Italy possesses their own brilliant outside half in Paolo Garbisi who is also destined to be a rugby superstar.
That is the verdict of former All Black Bruce Reihana, the ex-Northampton captain, who is skills coach at rejuvenated Montpellier, where Garbisi has eclipsed Springbok World Cup winner Handre Pollard to grab the No10 jersey.
Despite Italy's dreadful record of 33 successive Six Nations defeats, Reihana believes 21-year-old Garbisi has the talent and physique to cause England real problems in Rome.
Garbisi, 6ft and 14st 7lbs, carries a major threat with his goal kicking which has taken him to fourth place in the Top 14 leading scorers with 121 points in his debut season in France with Montpellier currently on an eight-game unbeaten run.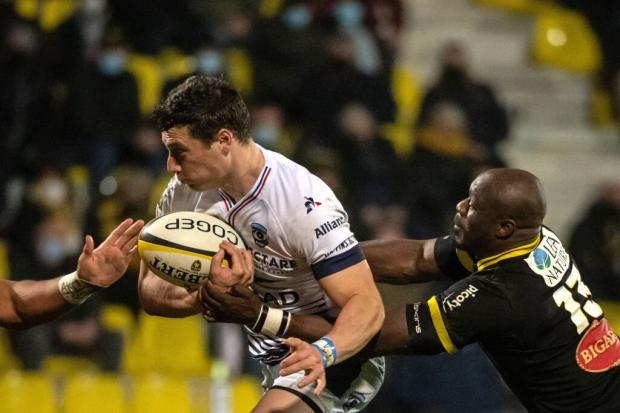 Reihana said: "Paolo and Marcus Smith will be a great battle at No10 and it will be really fascinating to see how they go. Paolo has the potential to be a big star and what I enjoy about Paolo is that he is really coachable and understands what it takes to be good and is hungry.
"Paolo can make things difficult for England and if Italy ensure the 12 and 13 have his back then you will see his true talent by giving him a freedom to be a threat.
"I am sure England will have talked about trying to put pressure on him, but when you see someone with his physique it makes you hesitate rather than confident of taking them on. He takes everything on board and his work ethic is phenomenal which makes him so good at this age but he has so much more to develop.
"He is a great talent and arrived at Montpellier with a great skills set; his passing was sharp, has a lot of power, his footwork, agility and kicking is already at a high standard and with time he will get even better. Paolo was already selected by the club when I arrived and I knew about him as a new kid on the block and a potential star of the future."
Reihana has also warned England that trying to physically intimidate Garbisi will be a waste of time as the 21-yeard-old has developed the kind of body normally featured in men's health magazines. He explained: "Paolo has a muscular physique and I am pretty sure he has worked really hard to get that strong muscle tone. That is down to true professionalism and we saw after he arrived at Montpellier that he is very diligent in the gym with his stretching and his recovery is on the money.
"He has been doing this from an early age and is still developing and it will be interesting to see where he can get to in the next few years. He is part of the new generation and these youngsters recognise that they have to start earlier to make their bodies stronger because the contact area these days is brutal.
"In the Top14 he has been great handling the pressure and because he is passionate and works so hard when he is in those (difficult) situations he can make the right decisions. The biggest thing I talk to Paolo about is when you make mistakes then it is about the next job and to switch onto that and go again."
Having arrived at Montpellier from Italy this season, Garbisi, who has 11 caps and 64 points for Italy, helped the club knock Exeter out of the Heineken Champions Cup to reach the last 16 with his left footed kicking a major asset.
"Paolo is one of those 10s who is in top shape and is such a humble kid. He is very professional, easy to coach and listens well:" added Reihana. "On his kicking, I have worked with him about keeping his composure and to take every kick as if it is his last and then reset. His technique is good and he has an ability to transfer his weight through the kick to get power. That is why he gets such good distance.
"Paolo and Handre offer different capabilities and we have found they can be at 10 and 12 in the (Montpellier) team. The best 10-12 combination I have seen in the Top 14 was Jonny Wilkinson and Matt Giteau at Toulon – it was phenomenal and they just controlled the game and were able to kick off left and right. They were also very intelligent players who could get their team out of trouble with good decisions.
"For Italy to get Paolo and Tommy Allen (now at Harlequins) playing together could be really important and with the improvement at club level in Italy means players are now able to step up to test level. "
Comments
Join free and tell us what you really think!
Join Free