'Plainly, we can't have a situation whereby Sam Hill lines out for Sale against Chiefs in the Premiership Final' - Andy Goode
It's obviously a waiting game for rugby clubs at all levels at the moment, and people's health is far more important, but the financial situation is a perilous one.
Clubs are businesses and the government announced a £330 billion business loan package yesterday so every single one should be looking into how they can avail themselves of whatever they're entitled to in order to survive.
The stark reality is that may not be enough for some lower down the food chain if things do get worse but, whereas those at the top of the game in football no doubt could filter money down to those less well off, the financial picture in rugby isn't as rosy.
We're coming up to April and the end of the financial year and Premiership clubs lost getting on for £50 million collectively in the last year we have the numbers for. Only Exeter Chiefs made a profit according to the figures submitted to Companies House.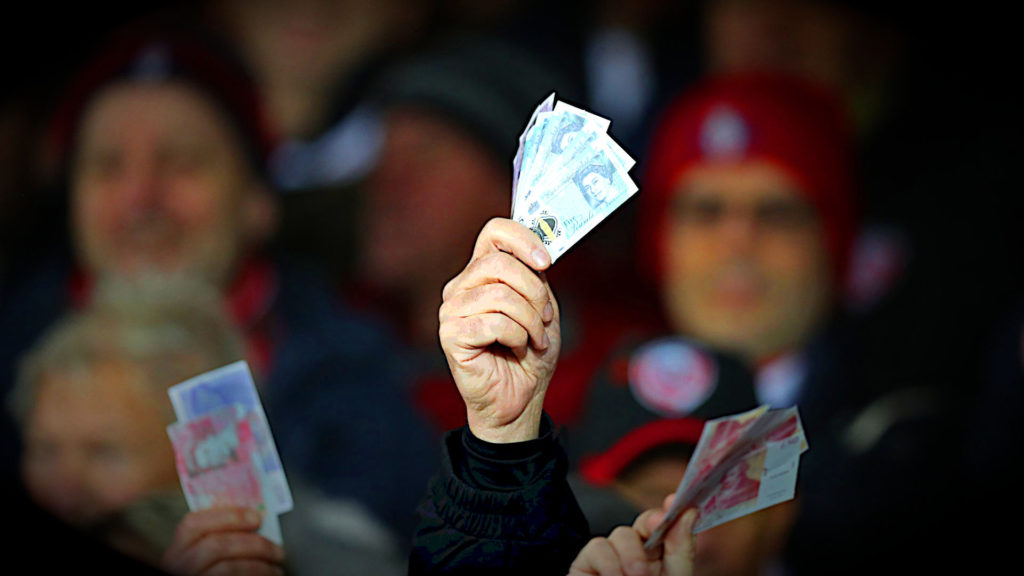 That collective deficit has grown considerably in the last few years and the likes of Leicester and Northampton are no longer posting figures in the black as they were not so long ago.
Those elite clubs rely on match day income, including bar revenue and all sorts as well as the cost of tickets, but that clearly represents an even bigger proportion of a club's income lower down the leagues.
The one thing we have to hope at all levels is that the situation with regard to Coronavirus improves quicker than many fear and the season can be resumed in five weeks' time or at least a couple of months' time and not too much longer.
If that is the case, then the international summer tours can be cancelled and there is a chance for the Premiership and Champions Cup campaigns, for example, to be completed. Even if that means the start of next season is delayed and the Premiership Cup has to be scrapped for 2020/21.
The other major issue that we will definitely face at the top of the game because of this suspension relates to player contracts. They generally expire at the end of June and the season is now sure to finish after that.
Plainly, we can't have a situation whereby, for example, Exeter and Sale reach the Premiership final and Sam Hill has been playing for the Chiefs all season and then turns out for the Sharks in the final as he has signed for them for next season and is now their player.
The obvious solution is for existing contracts to be extended automatically for however long until the current campaign is finished but there will be issues with that as some players will be taking pay cuts or getting pay rises with their new clubs so something will have to be decided on that.
You would hope that common sense could prevail on that front and a solution wouldn't be too difficult to find but insurance really could be a problem. It won't matter if players aren't switching clubs but if they are, what happens if they get injured after June 30?
The RPA have got a massive role to play too in terms of ensuring that the players have a voice and any issues arising out of the season being extended and players being caught between two contracts are resolved satisfactorily.
At the moment we're just hoping that the season can get back underway at some point in the not too distant future but these are the things that clubs will be discussing already and they'll have to come together and reach an agreement in order for it to continue.
We have to hope that time doesn't run out as well because you can't play two games in three days in rugby like you can in football. We've spoken about five-day turnarounds in recent times and how that's just not on in the modern game so any less just isn't possible.
I have played two games a week in the past but you just can't do that any more and player welfare has to remain paramount. If the suspension goes on any longer than five weeks as well, there will have to be at least a mini pre-season before we resume playing.
There's no substitute for bone on bone rugby and you can't just take a couple of months off, potentially self-isolating and training alone for most of that, and then just get straight back into playing at the top level.
Clearly, there are a lot more questions than answers at the moment and we'll have to wait patiently, taking on board the appropriate advice before a plan can be put in place, but it's going to take a collaborative approach to get things done when we do know more.
Mailing List
Sign up to our mailing list for a weekly digest from the wide world of rugby.
Sign Up Now