France and the evolution of the modern fly-half - and the rebirth of a prototype
Historically, France has had a love-meh relationship with its 10s – think Jules Plisson, David Skrela, Francois Trinh-Duc, Remi Tales, Lionel Beauxis, Camille Lopez. 
Go back further, and recall Gerald Merceron, Francois Gelez, or Christophe Lamaison – the latter perhaps the only player, thanks to his repeated All Blacks-killing talents, in relatively recent history to make the French, briefly, reconsider their position on fly-halves as a nine wasted.
The best-loved of them – such as Freddie Michalak, capable of genius amid the humdrummery – were damned with the sobriquet 'mercurial' and the auto-excuse that they were playing in a team incapable of keeping up with their fleet-witted brain. 
The rest, better-than decent club players all, were weighed, tested, found wanting, cast aside at international level – their faults magnified and laid bare in the media, and never forgotten or forgiven.
Continue reading below…
WATCH: Jim Hamilton discusses the affects Shaun Edwards will have on the French team's hope at future success.
Suddenly, however, it's no longer Lopez or bust. Now, France have several hugely talented, homegrown young fly-halves to play with. 
There's 20-year-old Romain Ntamack, World Rugby's Breakthrough Player of the Year. 
There's Louis Carbonel, two-time under-20 World Championship winner, who turned 21 in early February. He's the fly-half who, in 2018, prompted Les Bleus' under-20 coaches to shift Ntamack out to 12, so they could accommodate him in their first world title-winning side. 
And there's Mathieu Jalibert – who is two months older than Carbonel. But for a serious knee injury 30 minutes into his France debut, against Ireland in February 2018, that kept him out for more than a year, he may have had 20-odd caps and a World Cup under his belt, and be ahead of Ntamack in the pecking order.
With Anthony Belleau, 23, who has 12 senior men's international appearances, and Stade Francais' Joris Segonds, 22, keeping Fabien Galthie's trio of fly-half favourites honest, France have a pretty healthy supply of 10s for a few years yet.
They have not sprung, fully formed, from nowhere. Rugby evolution has been at work. 
Racing 92's attack coach Mike Prendergast – a former scrum-half himself, who played for a season at Bourgoin – told Rugby Pass the shift in playmaking from nine to 10 in France has been a process, and that the influx of foreign players has played its part.
Can he beat his fathers 3rd place finish in '95? #Ntamack #FrenchRugby #RugbyWorldCup pic.twitter.com/papnlZHDi6

— RugbyPass (@RugbyPass) September 3, 2019
"I played at Bourgoin about 12 years ago or so," he said. "It [playmaking off nine] was a thing when I came over. I didn't have the language or anything at the time. I was expected to make calls and it didn't sit well with me," he said.
"As time has gone on, you've had more foreign 10s coming in [to the Top 14], so the goalposts have shifted because of that. There are a lot of world class french nines in French rugby at the moment. But [their role] has changed. 
"The 10 has a bigger view from where he is. And the game has expanded as well. Back in the day there was more play off nine. Now you play with your first receiver as a 10 and maybe your second receiver as a 12, so they call the shots a lot more than the nine.
"Your nine still naturally barks at the forwards, but those goalposts have shifted."
Ahead of France Italy, @rhigarthjones dissects the performance of Anthony Bouthier in Le Crunch, who stole the show last weekend in Paris ??? #FRAvITA ??https://t.co/zO8dsVP73h

— RugbyPass (@RugbyPass) February 8, 2020
Ironically, those star halfbacks referred to by Prendergast – Dan Carter, Johnny Sexton and Finn Russell at Racing 92; Jonny Wilkinson at Toulon; Aaron Cruden and Handre Pollard at Montpellier; Stade Francais' Diego Dominguez; or Brock James, who retires at the end of this season having played for Clermont, La Rochelle and Bordeaux – have been blamed, almost entirely, for the lack of resources at 10 in France. 
At face value, it's a compelling argument. These players denied French talent its chance to shine, it says. But it overlooks a fundamental point. There never was a 'French Dan Carter', because French clubs – as recently as a dozen years ago – played off nine. 
Evolving was relatively straightforward for the clubs. They could bring in game-ready stars at fly-half and build a gameplan around them. Growing a French one from scratch for the national side has taken a while longer – time the 'where's the French Dan Carter?' crowd wouldn't allow.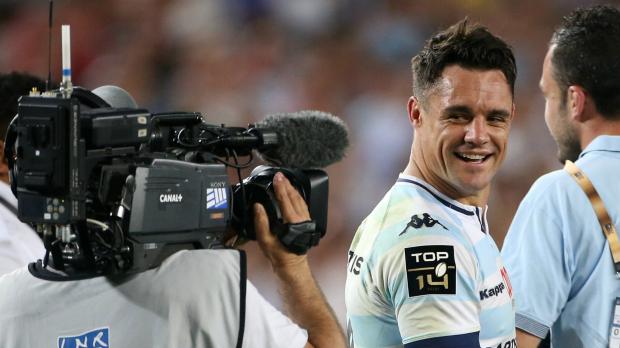 Which is a shame, because the Top 14's increasingly rigid JIFF player quota regulations are developing genuine talent across the pitch. There are still holes – French locks appear to have a tendency towards the lightweight, which doesn't necessarily sit well in the modern game – but elsewhere, Les Bleus have a growing pile of riches to pick from.
Interestingly, an early France prototype of the modern fly-half, Jules Plisson, is enjoying something of a renaissance since switching mid-season from his boyhood club, Stade Francais, to La Rochelle. 
The chances of the 28-year-old figuring in Fabien Galthie's current thinking are slimmer than a rogue electron in a proton factory. His age may even count against him in the brave youthful new world of French international rugby.
Wales, you have been warned. #GuinnessSixNations https://t.co/w1NDKvVIAP

— RugbyPass (@RugbyPass) February 12, 2020
But the Rochelais' coach Ronan O Gara, who knows a thing or two about fly-halves, has publicly speculated Plisson may force his way back into the international reckoning, or at least media speculation surrounding it, sooner rather than later. And the possibility, quietly, is starting to be mentioned.
As Plisson told Midi Olympique this week, in answer to that very question: "If I manage to follow up and be successful, who knows what could happen. But, I'm fine here, and I don't think about that at all."
It's astonishing what a bit of confidence has done to a player once feted, then faded.
His turnaround in fortunes since leaving Paris for the Atlantic coast has been rapid. Scarcely given a look-in by former coach Heyneke Meyer, he managed just 94 minutes playing time at Stade in four outings, with just one start, before his switch to La Rochelle. Since his move, he's won Midi Olympique's 'Oscar of the week' award once, and been awarded maximum three-star ratings several times.
His kicking game, which had become increasingly … mercurial … at Stade is back. Off the tee, he's managed 25 out of 30 for his new club. In open play, his bold kick pass to winger Jules Favre against Agen would have graced viral rugby posts aplenty, had he not chosen the same game to make that outrageous scoring pass to Vincent Rattez.
This new-look, newly confident Plisson could face his old club on Saturday, as La Rochelle head to Stade Francais' Stade Jean-Bouin. He'll have a point to prove – just not, necessarily, to Fabien Galthie.
Comments
Join free and tell us what you really think!
Join Free